The Best QB in Each NFL Team's History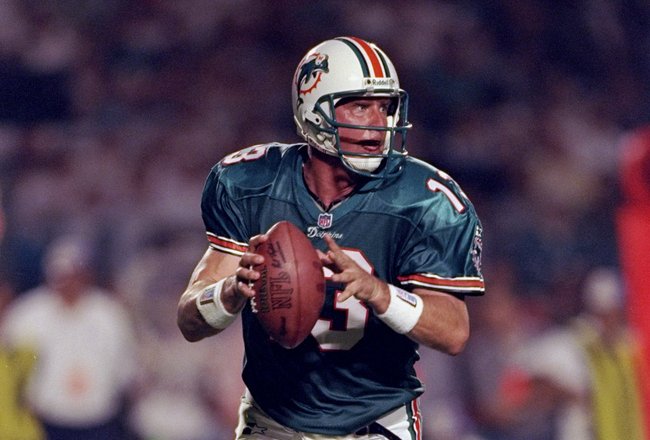 Andy Lyons/Getty Images
The NFL and its 32 teams have played with or against their fair share of outstanding quarterbacks. Each team has at least one quarterback that was more memorable than the rest, and this slideshow is meant to single out the best of the best from each of these franchises.
This is by no means a new topic and has been talked about on all levels of sports journalism. Being a former quarterback myself, I felt that it was necessary to make my own list of the NFL's greatest, which is what I've done here.
There were some incredibly difficult choices because there were so many to choose from, and I expect to be challenged on a few of my picks.
Here are the best quarterbacks from each of the NFL's 32 franchises.
Arizona/St. Louis/Chicago Cardinals: Jim Hart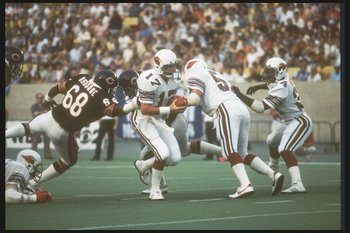 Jonathan Daniel/Getty Images
Tenure: 1966-1983
From 1974-1976, he guided the then-St. Louis Cardinals to three straight 10-plus-win seasons along with back-to-back division crowns in 1974 and 1975. He was also selected to the Pro Bowl four times from 1974 to 1977.
Hart played 16 NFL seasons and led the Cardinals to an overall record of 87-88-5, while passing for 34,655 yards.
Honorable Mention: Kurt Warner, Jake Plummer
Atlanta Falcons: Steve Bartkowski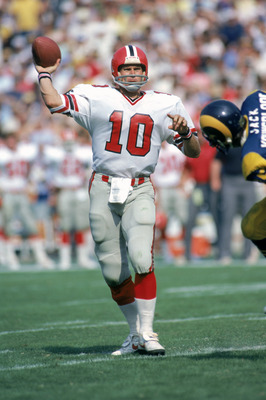 George Rose/Getty Images
Tenure: 1975-85
While there already is an argument for Matt Ryan in this spot, Steve Bartkowski has still been the most consistent quarterback in the history of the Atlanta Falcons.
Named Rookie of the Year in 1975, Bartkowski led the team to three separate playoff appearances during his tenure and managed to win a wild-card game in 1978 against the Philadelphia Eagles.
Bartkowski posted back-to-back 30-touchdown seasons (1980-81) and compiled a record of 55-66-0 during his time in the ATL.
Honorable Mention: Matt Ryan, Chris Chandler, Michael Vick
Baltimore Ravens: Joe Flacco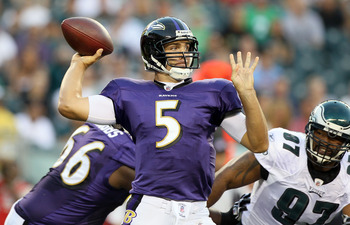 Jim McIsaac/Getty Images
Tenure: 2008-present
Joe Flacco is the best quarterback the Ravens have ever had in their young but rich history. If you don't believe me, here is a list of NFL records that already hold Flacco's name beside them:
* First rookie quarterback to start all 16 games and make the playoffs (along with Matt Ryan)
* First rookie quarterback to win two playoff games
* Most starts by a quarterback in first season: 19
* Most starts by a quarterback in first two seasons: 37
* Most starts by a quarterback in first three seasons: 55
* First quarterback to start and win a playoff game in each of his first three seasons
* Most combined regular and postseason wins in first three years as a quarterback: 36 (tied with Dan Marino)
* Most playoff road wins: four (tied with Len Dawson, Roger Staubach, Jake Delhomme and Mark Sanchez)
Honorable Mention: Tony Banks, Steve McNair, Trent Dilfer
Buffalo Bills: Jim Kelly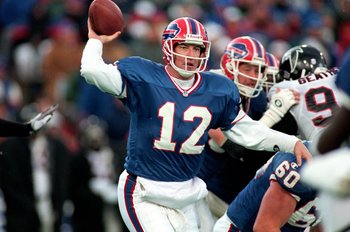 Rick Stewart/Getty Images
Tenure: 1986-1996
Jim Kelly is a four-time Pro Bowler who led the Bills to four consecutive Super Bowl appearances but remarkably lost all four.
Kelly threw for over 35,000 yards during his career, all while revolutionizing the "K-Gun" or what is now called the no-huddle offense. Opposing defenses found it hard to adjust to the fast pace the Bills set, and the team experienced a ton of success because of it.
Kelly compiled a record of 101-59 with the Bills and was inducted into the Pro Football Hall of Fame in 2002.
Honorable Mention: Jack Kemp, Joe Ferguson
Carolina Panthers: Jake Delhomme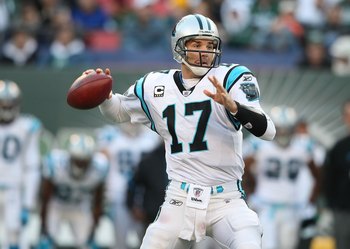 Nick Laham/Getty Images
Tenure: 2003-2009
Cam Newton is already making a strong case for this spot, but Jake Delhomme was the bread and butter for the Panthers after he took over in 2003.
Delhomme led Carolina to its first Super Bowl appearance during the 2003 NFL season, and he threw for 323 yards, three touchdowns and a passer rating of 113.6 in that game.
Although he would go on to lose the game, 32-29, that game is still considered one of the best in Super Bowl history.
Honorable Mention: Cam Newton, Kerry Collins
Chicago Bears: Sid Luckman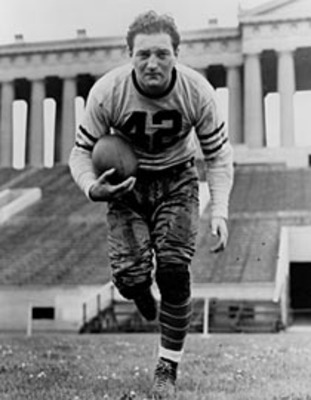 Tenure: 1933-1950
The pick of Sid Luckman over Jim McMahon and Jay Cutler may surprise most fans, but when I looked at the tale of the tape, he was the clear winner. Luckman was the first modern T-formation quarterback, and during his 12 seasons with the Bears he led them to four NFL championships.
He is considered the greatest long-range passer of his time and was named the NFL's Most Valuable Player in 1943.
I expect Jay Cutler to overtake him by the time he retires, but for now Sid still lives on as the best in Bears history.
Honorable Mention: Jim McMahon, Jay Cutler
Cincinnati Bengals: Ken Anderson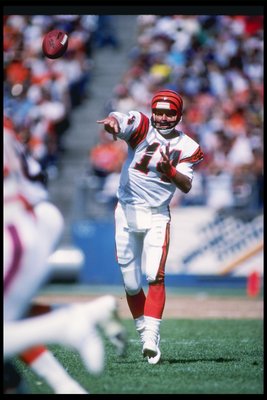 Getty Images/Getty Images
Tenure: 1971-1986
Ken Anderson was one of the first quarterbacks to ever run the West Coast offense, and he led the league in quarterback rating four times during his career because it.
Anderson would win MVP and Offensive Player of the Year honors in 1981 after passing for 3,754 yards, 29 touchdowns and 10 interceptions on his way to a 12-4 record with the Bengals.
The Bengals would reach the Super Bowl during that season but eventually lost to the San Francisco 49ers.
Anderson compiled a record of 91-81 during his 15-year career and was a four-time Pro Bowler and All-Pro selection in the process.
Honorable Mention: Boomer Esiason, Carson Palmer
Cleveland Browns: Otto Graham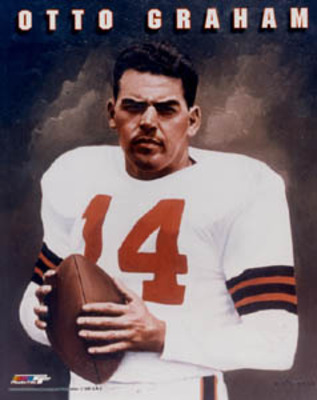 Tenure: 1946-1955
Graham was named to four Pro Bowls, was an All-Pro nine times and even made it onto the NFL 75th Anniversary Team, as well as the NFL 1950s All-Decade Team.
Graham has gone down in NFL history as one of its winningest quarterbacks, as he ended his career with an astounding record of 105-17-4.
In the 10 seasons that he played in the NFL, he was able to lead his Browns to the NFL title game in each season, while helping the team capture seven of those titles.
Honorable Mention: Bernie Kosar
Dallas Cowboys: Troy Aikman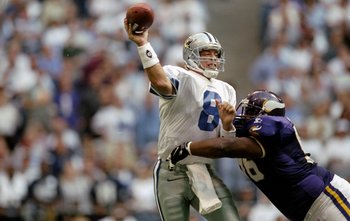 Stephen Dunn/Getty Images
Tenure: 1989-2000
I went back and forth between Troy Aikman and Roger Staubach, but in the end Aikman's three Super Bowls give him the edge.
The argument that most people have against him is that any quarterback could have won with the talent Aikman had surrounding him, which is a valid argument.
I'll agree to disagree, though, because Aikman finished his career with over 32,000 yards and 165 touchdowns and was one of the most accurate passers of his day. No matter how you look at it, Aikman is still 3-0 in the big game, which stands above every other Dallas quarterback.
Honorable Mention: Roger Staubach, Tony Romo
Denver Broncos: John Elway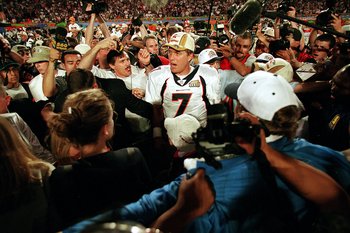 Rick Stewart/Getty Images
Tenure: 1983-1999
Was there ever any doubt?
During his 15-year career with the Broncos, Elway set numerous franchise records in passing, completions, attempts and touchdowns. He also led his team to 47 game-winning or game-tying fourth-quarter drives.
Elway was able to retire on top after he won his two Super Bowls in 1998 and 1999 after failing in three previous attempts.
He was named MVP in 1987, was named to the Pro Bowl nine times and is the best player to ever play for the Denver Broncos. Elway compiled a record of 148-82-1, which speaks volumes to how consistent he was over his long career.
Honorable Mention: None
Detroit Lions: Bobby Layne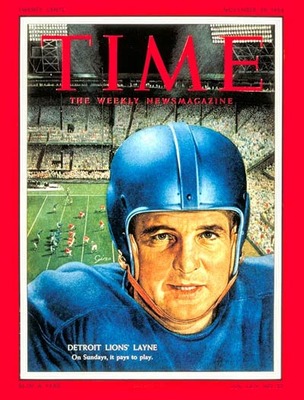 Tenure: 1950-1958
Bobby Layne was a six-time Pro Bowler and two-time first-team All-Pro selection. Layne led the Lions to three consecutive NFL championships from 1952-1954 and is considered one of the toughest players to ever play the game.
Matthew Stafford is making some noise for this spot, and I expect him to take it over in the next few seasons.
Honorable Mention: Matthew Stafford
Green Bay Packers: Brett Favre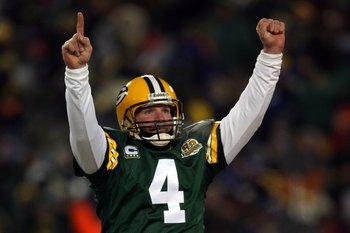 Jonathan Daniel/Getty Images
Tenure: 1992-2007
Brett Favre may not have the championship résumé that Bart Starr has, but he does hold a majority of the NFL's passing records and is the NFL's iron man.
Favre started in 297 consecutive games at the quarterback position, while failing to finish a game due to injury on only eight occasions after taking control of the Packers as quarterback.
Fave is also a three-time Associated Press MVP (1995, 1996 and 1997, the last shared with Barry Sanders), an 11-time Pro Bowl selection and a six-time first- or second-team All-Pro selection and was named to the NFL 1990s All-Decade Team.
Brett Favre is the greatest Packers quarterback of all time, without a doubt.
Honorable Mention: Bart Starr, Aaron Rodgers
Houston Texans: Matt Schaub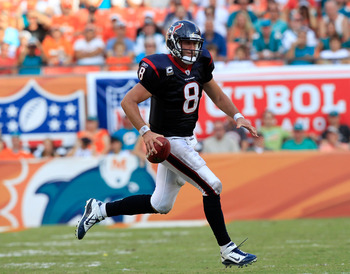 Sam Greenwood/Getty Images
Tenure: 2007-present
David Carr never materialized into the superstar the Texans thought he would be, but it was due in part to how many times the quarterback was sacked.
Schaub led the league in passing yards with over 4,700 and almost brought the Texans to their first playoff berth in 2009.
He passed for 4,300 yards in 2010 and is already off to a fast start in 2011.
Schaub is one of the NFL's best and looks poised to lead the Texans to their first playoff berth in franchise history.
Honorable Mention: David Carr
Indianapolis/Baltimore Colts: Peyton Manning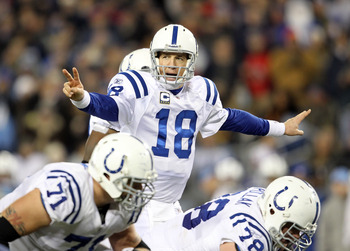 Andy Lyons/Getty Images
Tenure: 1998-present
Let me first take note that Johnny Unitas could easily be swapped here for Manning.
Unitas is one of the NFL's greatest players ever. He holds a record that will arguably never be broken, as he somehow managed to throw at least one touchdown pass in 47 straight games.
That feat in itself proves how great he was, but was he really better than Peyton Manning?
Manning may not have the multiple championships like Unitas does, but when you look at how bad the Colts are without Manning now, it shows just how valuable he is.
Manning is an 11-time Pro Bowl selection and five-time first-team All-Pro and holds NFL records for consecutive seasons with 4,000 or more yards passing and the most total seasons with 4,000 or more yards passing in a career.
He is the all-time Colts franchise leader in career wins, career passing yards, pass attempts, pass completions and passing touchdowns, making him the best Colts quarterback of all time.
Honorable Mention: Johnny Unitas
Jacksonville Jaguars: Mark Brunell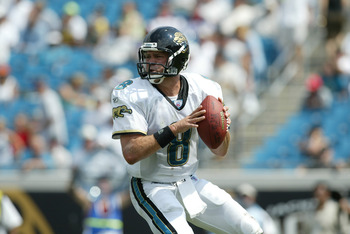 Allen Kee/Getty Images
Tenure: 1994-2003
When Jacksonville decided to play home to the expansion Jaguars, I'm not sure if anyone thought they would be as successful as they were early and often.
Mark Brunell was a tremendous key to the Jaguars' successes, which started during their second year of existence.
Brunell guided the Jaguars to become the first expansion team in NFL history to make it to the playoffs in three of their first four seasons and led the team to two AFC championship games during his tenure.
The Jaguars' best season led to a 15-3 record, in which all three of their losses came to the Tennessee Titans.
Honorable Mention: David Garrard
Kansas City Chiefs: Len Dawson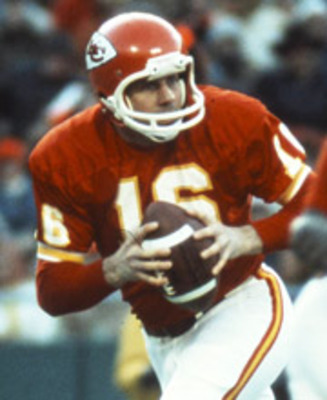 Tenure: 1963-1975
Despite the shaky start to his career, Len Dawson ended his career with over 28,000 yards passing and a quarterback rating of 82.6.
In his 10 years as an AFL player, he won four passing titles and threw more touchdown passes than any other quarterback during that time (182).
Dawson guided Kansas City to its one and only Lombardi Trophy in 1969, which is why he edges Trent Green for Kansas City's best of all time.
Honorable Mention: Trent Green
Miami Dolphins: Dan Marino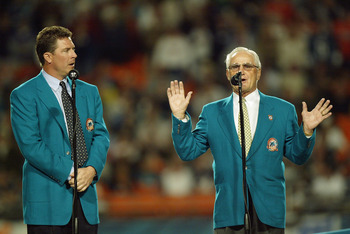 Eliot J. Schechter/Getty Images
Tenure: 1983-1999
Dan Marino would go on to have a record-setting career, leading the league in passing yards, passing touchdowns and passes completed for three consecutive years ('84, '85 and '86) while on his way to 61,361 career yards passing.
The Dolphins would make the playoffs in 10 of Marino's 17 seasons but would only earn one Super Bowl trip, which came in Marino's second season.
Dan will always be atop the list of the greatest quarterbacks to never win a Super Bowl, which is really disheartening for how great this guy was.
At the time of his retirement, Marino had surpassed Fran Tarkenton as the NFL leader in every major passing category, while compiling a record of 147-93-0.
Despite his lack of a championship résumé, Marino is by far the best quarterback in Dolphins history.
Honorable Mention: Bob Griese
Minnesota Vikings: Fran Tarkenton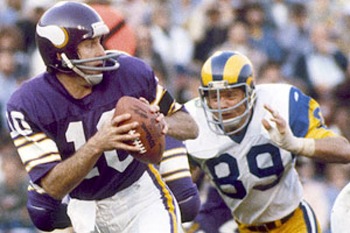 Tenure: 1961-1966, '72-78
Fran Tarkenton ended his career with nine Pro Bowls, three Super Bowl appearances and every major record in NFL history and is easily the greatest Viking quarterback of all time.
Daunte Culpepper received some consideration, but he failed to be as consistent as Tarkenton was over his career in Minnesota.
"Scramblin' Fran" guided his Vikings to a record of 91-73-6 over his tenure and was one of the greatest quarterbacks of all time.
Honorable Mention: Daunte Culpepper
New England Patriots: Tom Brady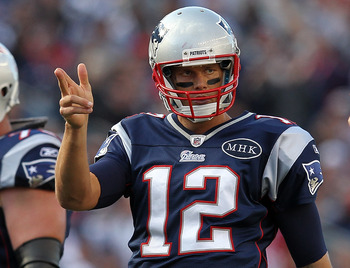 Jim Rogash/Getty Images
Tenure: 2000-present
Tom Brady has been the league MVP twice (2007 and 2010) and has set a number of NFL records throughout his historic career.
Brady is also a two-time Super Bowl MVP and holds a total of three rings dear to his name. He is easily the greatest quarterback to ever wear a Patriots uniform.
Brady will always be remembered for the Patriots' historic 2007 season, in which he threw an NFL-record 50 passing touchdowns, while leading the Patriots to the first 16-0 regular season record in NFL history. The season would extended to an 18-0 record before New England finally fell to the underdog New York Giants in the Super Bowl.
It seems Brady still has four to five good years ahead of him, which means another Super Bowl could very well be added to his résumé.
Honorable Mention: Drew Bledsoe, Steve Grogan
New Orleans Saints: Drew Brees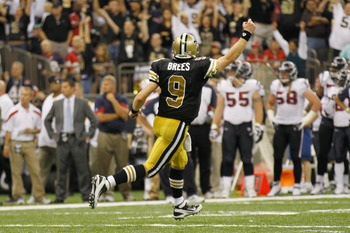 Chris Graythen/Getty Images
Tenure: 2006-present
Drew Brees has only been with the New Orleans Saints for five full seasons, but he is already the best quarterback in the history of the franchise.
Brees led the Saints to a Super Bowl victory in only his third season in New Orleans, and he has passed for some prolific numbers in the process.
Archie Manning will always be beloved by Saints fans, and he deserves a mention here, but every Saint fan will tell you that they owe Brees a special place in their heart.
Honorable Mention: Archie Manning, Bobby Hebert
New York Giants: Phil Simms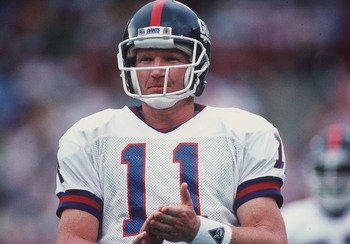 Mike Powell/Getty Images
Tenure: 1979-1993
Although he shares or holds many of the Giants' passing records, Phil Simms is still considered by many to be one of the most underrated quarterbacks in NFL history.
Simms guided the Giants to a Super Bowl in 1987, in which he was 22-of-25 for 268 yards with three touchdowns.
Simms was injured before the 1990 playoffs but was a main catalyst in helping the Giants make the playoffs in a season in which they eventually beat the Buffalo Bills in the Super Bowl.
Simms was plagued by injuries for most of his career, but he is still the best quarterback in Giants franchise history.
Honorable Mention: Eli Manning, Y.A. Tittle
New York Jets: Joe Namath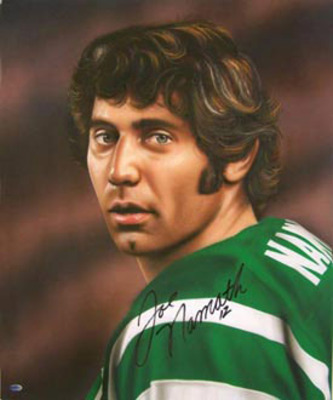 Tenure: 1965-1976
Joe Namath was drafted by both the Jets and the St. Louis Cardinals, but Namath elected to go to the Jets and play for the AFL in 1965.
"Broadway Joe" signed for a then-NFL record $400,000 a year contract but proved to be worth it after earning AFL Rookie of the Year and becoming the first professional quarterback to pass for 4,000 yards in a season (1967).
Namath led the Jets to the league title in 1968 and is best remembered for his guaranteed victory against the Colts in 1969.
His team upset the mighty Johnny Unitas in one of the most memorable games in NFL history.
Namath finished with a losing record during his time with the Jets, but he still goes down as the franchise's greatest of all time.
Honorable Mention: Ken O'Brien
Oakland/Los Angeles Raiders: Ken Stabler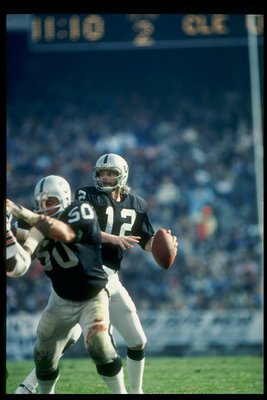 Getty Images/Getty Images
Tenure: 1968-1979
Kenny Stabler is what Raider Nation is all about: toughness and swagger.
Stabler led the Raiders to their first Super Bowl championship in 1977 and compiled a winning record of 69-26-1 during his time as a Raider.
Stabler was also named AFC Player of the Year twice ('74 and '76) and earned a passing championship ('76), which proved that Stabler was a very able passer.
Honorable Mention: Jim Plunkett and Daryle Lamonica
Philadelphia Eagles: Donovan McNabb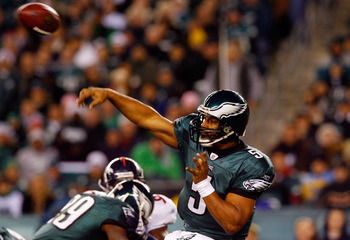 Jim McIsaac/Getty Images
Tenure: 1999-2009
No quarterback has endured so much success for a franchise only to see himself as hated as Donovan McNabb has.
A five-time Pro Bowler, McNabb holds almost every Eagles passing record and led the Eagles to a Super Bowl appearance in 2004.
McNabb lead the Eagles to five NFC championship games, but he will always be negatively remembered in Philly for never being able to get over the top.
His 32,000 passing yards and record of 82-45-1 as an Eagle should prove otherwise.
Honorable Mention: Ron Jaworski, Randall Cunningham
Pittsburgh Steelers: Terry Bradshaw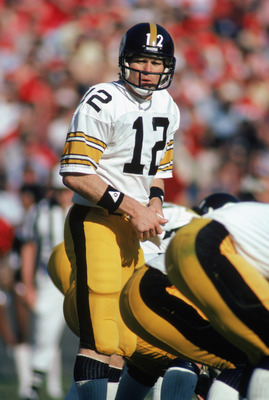 Scott Cunningham/Getty Images
Tenure: 1970-1983
Let it be known that Ben Roethlisberger is not far behind Bradshaw, and with another Super Bowl run he will most likely overtake him.
Bradshaw was not a great passer, but he was an outstanding leader on the field for the Pittsburgh Steelers.
He led the Steelers to four Super Bowl victories and eight AFC Central championships.
Bradshaw was selected to the Pro Bowl three times, was a two-time Super Bowl MVP and compiled an impressive record of 107-51-0 during his time in Pittsburgh.
Honorable Mention: Ben Roethlisberger
San Diego Chargers: Dan Fouts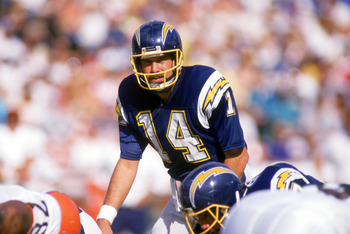 Stephen Dunn/Getty Images
Tenure: 1973-1987
Dan Fouts is one of the most prolific quarterbacks in NFL history. He posted three consecutive 4,000-plus-yard seasons and was named MVP in 1979 while being one of only two players to have his jersey retired by the team.
Fouts averaged 320 yards per game in nine starts during the strike-shortened season of 1982, which is still an NFL record.
Dan never led his team to a championship, but he was named to the Pro Bowl six times and led the Chargers to four playoff appearances in a five-year stretch.
Honorable Mention: Philip Rivers
San Francisco 49ers: Joe Montana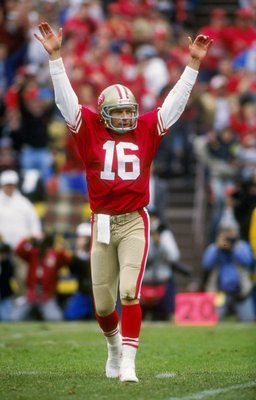 Otto Greule Jr/Getty Images
Tenure: 1979-1992
Joe Montana was intelligent, accurate and precise in the short-range game, which made him the perfect candidate for Bill Walsh's West Coast offense.
Montana is a three-time Super Bowl MVP and led his 49ers teams to four Super Bowls overall.
Montana's career completion percentage with the Niners was an astounding 63.7 percent, and he made eight Pro Bowls because of it.
Montana is the best 49ers quarterback of all time and very well could be the best NFL quarterback of all time.
Honorable Mention: Steve Young
Seattle Seahawks: Dave Krieg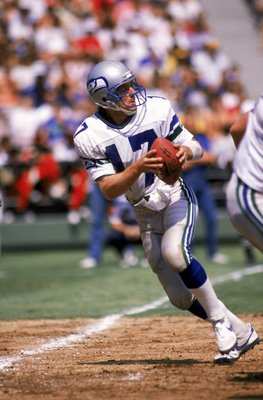 Stephen Dunn/Getty Images
Tenure: 1980-1991
Dave Krieg spent 12 of his 17 seasons in Seattle, reaching the postseason four times.
He went undrafted out of the small school of Milton College, but he surprised everyone by becoming the greatest quarterback in Seahawks history.
Krieg passed for 195 touchdowns and over 26,000 yards in his tenure with the team, all while dealing with a recurring thumb injury would limit him in multiple seasons.
Honorable Mention: Matt Hasselbeck
St. Louis/L.A./Cleveland Rams: Kurt Warner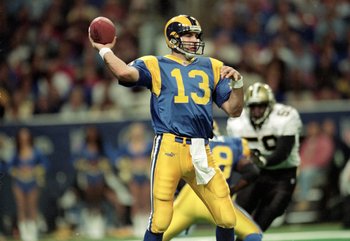 Elsa/Getty Images
Tenure: 1998-2003
In just three seasons as the full-time starter, Kurt Warner helped the Rams go 35-8 in the regular season, as he was the most important piece of the "Greatest Show on Turf."
He led the Rams to their first and only Super Bowl in franchise history and compiled over 12,000 yards and almost 100 touchdowns in his first three years as the Rams starter.
Warner has three of the best Super Bowl performances of all time and owns the three highest single-game passing yardage totals in Super Bowl history. Warner currently holds the seventh-highest career passer rating of all time (93.7) and the second-highest career completion percentage in NFL history with 65.5 percent.
Honorable Mention: Norm Van Brocklin
Tampa Bay Buccaneers: Brad Johnson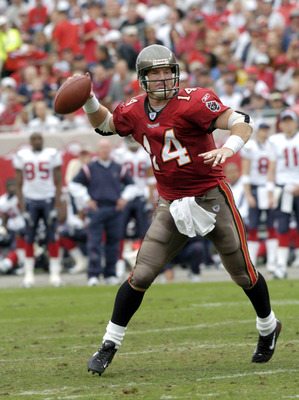 A. Messerschmidt/Getty Images
Tenure: 2001-2004
Josh Freeman will over take Johnson by the time his career is all said and done, but for now Brad Johnson is the cream of the crop when talking about Tampa Bay quarterbacks
Johnson had three consecutive 3,000-plus-yard seasons, including 3,800 yards thrown in 2003, a Pro Bowl appearance and, most importantly, a Super Bowl win in 2002.
Honorable Mention: Doug Williams
Tennessee Titans/Houston Oilers: Warren Moon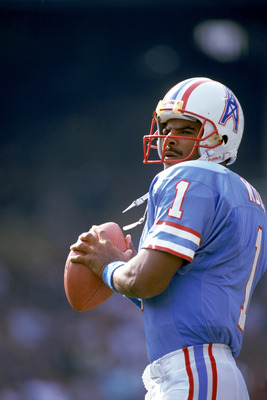 Brian Masck/Getty Images
Tenure: 1984-1993
Warren Moon was denied the opportunity to play in the NFL for the first five years of his career, but he was still the first modern African-American quarterback to be elected to the Pro Football Hall of Fame.
Moon set numerous records in the CFL, and when you combine his stats there with those in the NFL, the numbers are outrageous.
Moon held the record for most passing yardage in professional football until surpassed by Damon Allen in 2006, and he held the record for most passing touchdowns in professional football until he was surpassed by Brett Favre in 2007.
Moon also held the records for most pass completions and most pass attempts in professional football history until he was again surpassed by Favre in both categories.
Moon threw for nearly 6,000 more yards than Steve McNair while playing one fewer year for the franchise and has the clear edge over his late competitor.
Honorable Mention: Steve McNair
Washington Redskins: Sammy Baugh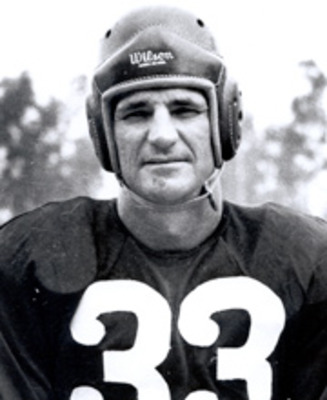 Tenure: 1937-1952
Sonny Jurgensen, Billy Kilmer, Joe Theismann, Mark Rypien and Doug Williams are all viable candidates for this spot, but Sammy Baugh was revolutionary when he played the game of football.
He played not only quarterback but defensive back and punter as well, and during the 1943 season he led the league in passing, pass interceptions and punting.
Baugh made Washington Redskins football what it is today and won three championships and six NFL passing titles, and he led the league in punting four straight years.
Honorable Mention: Sonny Jurgensen
Keep Reading