Has Rex Ryan Hit His Ceiling of Success?
Jeff Zelevansky/Getty Images
September 6, 2011
When trying to describe Rex Ryan, I come up with an identity cocktail of Jackie Gleason, Bum Phillips and say, Bon Jovi with the new leg tat. The Jets are the perfect place for this flamboyant cult character. Rex embraces the media circus and he's in a great position to needle his antithesis colleague Bill Belichick.
This is a critical year for Rex Ryan and Mark Sanchez to move forward to the next level. Otherwise, Rex might be remembered as more of an entertainer than a successful football coach. As ESPN Anchor Radio Host Colin Cowherd points out, being funny and drawing attention to yourself doesn't always translate to results, especially in the labor-intensive environment of NFL coaching.
The Jets have indeed been competitive in Ryan's short tenure. The question this year is, have the Jets hit their ceiling as a second fiddle, as a Houston Oilers clone in the Hard Knocks and Big Laughs system. Is Rex just a Bum?  
Here's a capsule of how I see things shaping up in the NFL this season: 
NFC
North
Green Bay          12-4       Much the best in a weaker division...still hard to repeat
Detroit                10-6       Healthy Stafford & surging defense key to a run at playoffs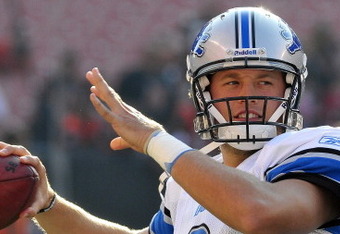 Will Matthew Stafford Finally Give Detroit a Full Season?
Jason Miller/Getty Images
Minnesota           6-10       McNabb Mojo waning with limited offensive weapons; defense solid
Chicago              6-10       Offensive line the worst; regression inevitable with new kickoff rule  
South
New Orleans      10-6        Sprolls a key replacement for Reggie Bush, maybe even better
Atlanta              10-6        Opening it up on offense doesn't translate to more success
Tampa Bay          9-7        Opens season against the other NFC upstart; head coach a plus
Carolina             3-13        Deep hole only gets deeper with Cam at QB; Andrew Luck next? 
East
Philadelphia        11-5       Only the over-expectation hype can hold them back (again)
Dallas                10-6        Better vibe with Garrett; another Dallas upset of a "Dream Team?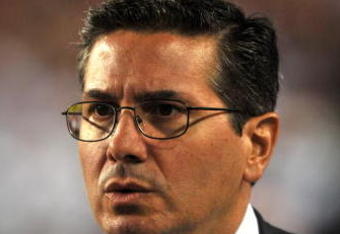 Who Else is Going to Get a Kick Out of Daniel Snyder Suffering Through Another Season?
Larry French/Getty Images
NY Giants            8-8        Weaknesses in defensive backfield will cost them (again)
Washington        6-10       My favorite owner Snyder right where he belongs; scrubs at QB
West
Arizona               9-7        Any semblance of a quarterback rights the ship here
St. Louis             8-8        Sound fundamentals in this Division will make a team competitive
San Francisco     7-9        Harbaugh will be proven over his head just like Singletary
Seattle              5-11        Enthusiasm can only carry you so far, Pete. Get Charlie in there
AFC
North
Pittsburgh          11-5       Provided James Harrison doesn't start writing poetry to Goodell
Cleveland            9-7       The Holmgren era begins; McCoy sharper; good early schedule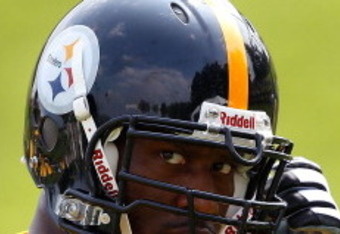 Will James Harrison Bring His Brand of Brutal Football to Opposing QBs This Season?
Jared Wickerham/Getty Images
Baltimore            9-7       Another overrated Harbaugh; lost too much on the outside; aging "D"
Cincinnati          4-12       Where's Sam Wyche when you need him? Owner needs a Wonderlic
South
Houston              9-7       By default with Indy's lingering pain-in-the-neck; too finesse  
Indianapolis         8-8       2nd half rally might get them close if Peyton returns
Tennessee         6-10       Lost top-5 NFL Head Coach Fisher who was coaching them up
Jacksonville       5-11       Lackluster offense overachieved last year, C-ya Jack
East
New England      12-4       Improved defense/special teams play enough in regular season
NY Jets             11-5       Becoming the Oilers of the 70s?; or what Phil was to Tiger?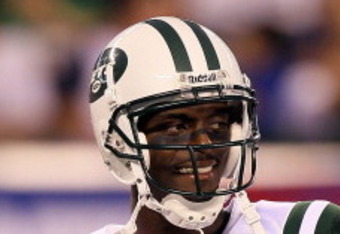 Can Plaxico Help Mark Sanchez to Take His Game to the Next Level?
Jim McIsaac/Getty Images
Buffalo               6-10       Fairly competitive in most games last season; a few weapons
Miami                4-12       House started to crumble when Parcells bailed
West
San Diego         10-6       Soft early schedule benefits perennial slow starter; Norv still a scrub
Oakland             8-8        Have some talent; as competitive as they can be with current QB
Kansas City       8-8        Tougher schedule this year; minor regression likely in store
Denver               6-10       Expect better defense and discipline under Fox; Orton OK  
Upstarts:   Detroit, Tampa Bay, Cleveland
Regression Alert:   Chicago, Baltimore; Indy, Seattle, Miami, Jacksonville 
Semi-Resurgence:  Dallas, Arizona
At Ceiling with Current Personnel:  Atlanta, Houston, Oakland
Dead as a Doornail:  Carolina, Cincy, Miami
NFC Championship   Philly over Green Bay    Hard to repeat, so the Pack get beat
AFC Championship   NY Jets over Pittsburgh   Knock the door down Rex, its not a hex
Super Bowl               Philly over NY Jets  Lots of hype from Joe Willie, but not over Philly
Like the new article format? Send us feedback!