2011-12 NFL Predictions: Division Standings and Playoff Series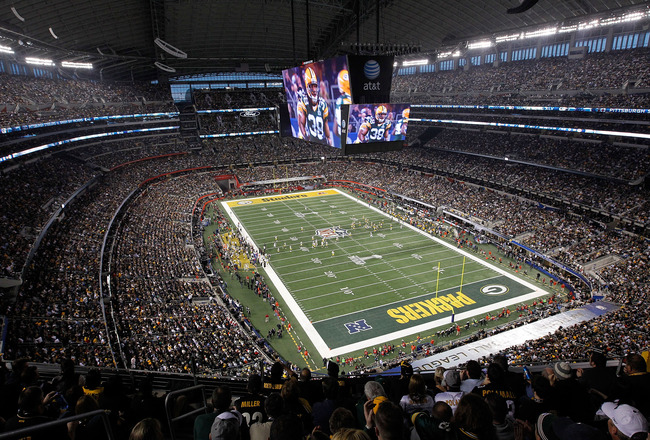 Tom Pennington/Getty Images
The lockout is over and football is back without having missed a single game. Thank goodness!
This season shapes up to be a very exciting one, and many questions are being asked. How will Peyton Manning's injury affect the Colts? Can Michael Vick replicate his storybook season? Is this the year the Detroit Lions jokes stop? Will Rex Ryan's Super Bowl guarantee come true?
Here are my answers to these questions.
AFC East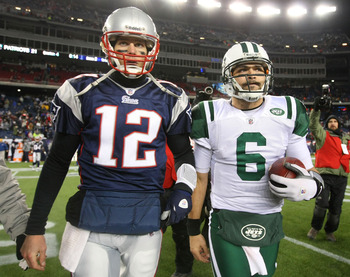 Al Bello/Getty Images
1. New England Patriots (13-3)
2. New York Jets (11-5)
3. Miami Dolphins (6-10)
4. Buffalo Bills (3-13)
New England only got better with the addition of Chad Ochocinco. He gives Tom Brady yet another standout receiver as an option to throw to, which makes the passing game even more unpredictable for the defense. The Patriots' decent defense is good enough to back up what is possibly the best offense in football.
The Jets added Plaxico Burress in the offseason, and it will be interesting to see how he plays for the first time since 2008. They did not add as much defensive help as they wanted to in free agency, but they already have one of the top defense corps in football and it is solid enough to back up a decent offense and lead the Jets to another postseason run.
Miami went through a roster overhaul in free agency, but it is still just an average team and has too much to compete with to make any splashes.
Buffalo is at the bottom of one of the best divisions in football, and as usual, the Bills do not have enough to do anything big this year. The team looks to have a promising future with a lot of young talent, but it will have to wait another year at the bottom of the cellar before anything can happen.
AFC North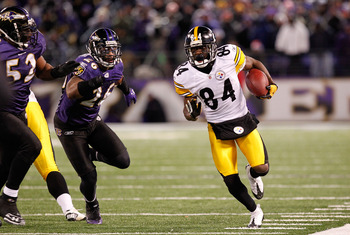 Geoff Burke/Getty Images
1. Pittsburgh Steelers (12-4)
2. Baltimore Ravens (9-7)
3. Cleveland Browns (6-10)
4. Cincinnati Bengals (2-14)
The Steelers should be good enough to win this division again; they kept many of their AFC Champion team intact and Roethlisberger is not starting the season under suspension this year.
Baltimore still has a stellar defense, but the offense took a big hit in free agency as it lost some key components. The Ravens will make a push for the playoffs, but I do not see them being as good as they were last year.
Cleveland took some positive strides and won some big games last year, restoring hope for its fans. The team isn't good enough to make an impact this year, but it is steadily improving and the Dawg Pound should remain optimistic about its team in the coming years.
The Bengals, in my opinion, are probably the worst team in football. They suffered losses like Chad Ochocinco, Terrell Owens, Carson Palmer and Jonathan Joseph in the offseason while gaining basically nothing besides rookie quarterback Andy Dalton. Most of the players mentioned above have had attitude issues, but they were some of the most talented members on the team.
AFC South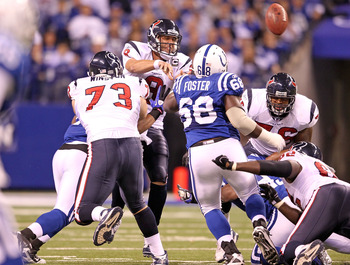 Andy Lyons/Getty Images
1. Houston Texans (11-5)
2. Indianapolis Colts (10-6)
3. Jacksonville Jaguars (7-9)
4. Tennessee Titans (5-11)
This will be the year that the Houston Texans finally win the AFC South. The addition of Jonathan Joseph adds a lot more depth to a team with an already terrific offense led by Matt Schaub, Andre Johnson and Arian Foster.
Even if Peyton Manning does not miss any football, the injury will probably have an effect on his play. He is still one of the greatest quarterbacks in the game, but his supporting cast is not as good as other star quarterbacks such as Tom Brady, which will cause the Colts to not be able to keep up with the Texans.
Jacksonville showed some promise and almost made it to the playoffs as one of the biggest surprises last season. Even though Mike Sims-Walker is gone, David Garrard is still an acceptable quarterback and Blaine Gabbert should be a decent backup if anything goes wrong. The team will not be good enough to compete for a playoff spot, but it will not be too bad.
It will be interesting to see how Matt Hasselbeck performs in his first season with the Titans and whether or not Chris Johnson can have a bounce-back season, but the team is not good enough to compete with the others in the AFC South.
AFC West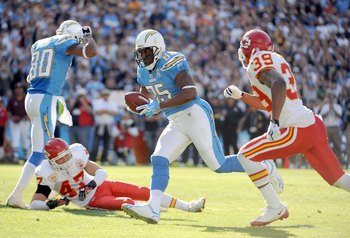 Harry How/Getty Images
1. San Diego Chargers (11-5)
2. Kansas City Chiefs (9-7)
3. Oakland Raiders (6-10)
4. Denver Broncos (4-12)
After an injury-riddled 2010 season, look for San Diego's high-powered offense to be back this year. Star quarterback Philip Rivers has a great receiving corps, arguably the league's top tight end and a decent running game—especially if Ryan Mathews can stay healthy and perform to his potential.
The Chiefs were a great story last year, but San Diego has too much talent for them to keep up in the division, and opposing defenses will be warier of stopping star running back Jamaal Charles.
Oakland had a decent season last year by its standards, going 8-8 and sweeping the division. However, Al Davis decided to fire coach Tom Cable and some key players were lost in free agency. Looks like the Raiders may have to take another step back.
Denver is clearly the worst team in this division, and the Orton-Tebow battle is one of the only things that will keep fans entertained this year. The Broncos may be able to win a game or two more than I'm giving them if Orton starts and plays well, but that still might be a long shot.
NFC East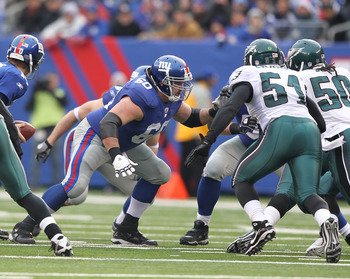 Al Bello/Getty Images
1. Philadelphia Eagles (13-3)
2. New York Giants (9-7)
3. Dallas Cowboys (8-8)
4. Washington Redskins (6-10)
The Eagles stacked up their team and seem like the consensus pick to be at least NFC Champions. They are loaded with talent and should be set to win this tough division if Michael Vick can play anywhere as good as he did last year.
The Giants lost some key players in the offseason, but they still have a great defense and a decent quarterback in Eli Manning.
Dallas had somewhat of a quiet offseason, but the hiring of Rob Ryan may help out the defense and make this team a little better.
The 'Skins are stuck in the bottom of a tough division. They have some talent, but it's not good enough to get them anywhere this year.
NFC North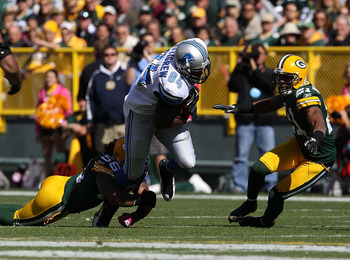 Jonathan Daniel/Getty Images
1. Green Bay Packers (13-3)
2. Detroit Lions (9-7)
3. Chicago Bears (8-8)
4. Minnesota Vikings (4-12)
The Packers are one of the most well-rounded teams in football, and they won the Super Bowl without Ryan Grant or Jermichael Finley, who will be back this season. This team is a force to be reckoned with and one of the favorites to repeat again.
Everyone is saying that this is the year that the Lions will rise to be a contender. The season-ending injury of Mikel LeShoure doesn't help, but a solid defense that only got better should help out an offense which, if Matthew Stafford can stay healthy, can be very good.
Da Bears had a surprisingly terrific season last year, winning the division and posting a record of 11-5. However, the schedule this year is much tougher, and so is the competition within the division.
Minnesota is the only team in this division that will not contend for a playoff spot. It is not very deep other than star running back Adrian Peterson, and it will be in a lot of trouble if Donovan McNabb's troubles carry over from last year.
NFC South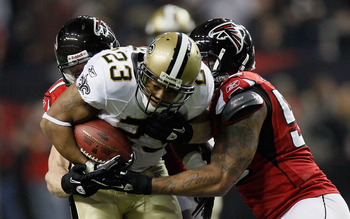 Kevin C. Cox/Getty Images
1. New Orleans Saints (12-4)
2. Atlanta Falcons (11-5)
3. Tampa Bay Buccaneers (10-6)
4. Carolina Panthers (2-14)
New Orleans lost some decent players, but gained running backs Darren Sproles and Mark Ingram. Pair those two with Pierre Thomas and Christopher Ivory, and you get one of the best running games in football. Also, don't forget that this team's quarterback is Drew Brees.
The Falcons were practically unstoppable at home last year, and they still have the same explosive offense. They will still make the playoffs, but the Saints will be too much competition for the division.
Tampa Bay was one of football's greatest stories last season, and it will be trying to duplicate that success. The Bucs have a plethora of young talent, but are in too tough of a division to win.
Carolina sticks out like a sore thumb in this division. The Panthers did draft Cam Newton, but I cannot see them finishing much better than last year.
NFC West
Dilip Vishwanat/Getty Images
1. Arizona Cardinals (9-7)
2. St. Louis Rams (8-8)
3. Seattle Seahawks (6-10)
4. San Francisco 49ers (6-10)
With the additions of Kevin Kolb, Todd Heap and Patrick Peterson, Arizona should win what is definitely the worst division in the conference.
Sam Bradford is maturing into a decent quarterback, and Mike Sims-Walker has joined St. Louis, but the Rams have another year to go before the young talent develops into playoff talent.
Seattle pulled off a miracle upset against New Orleans last year after finishing the season 7-9 and still making the playoffs, but I don't see the Seahawks as a playoff team this year...even if they probably should not have been one last year.
Jim Harbaugh is the new coach of the 49ers, but we all know by now that Alex Smith is not going to lead a team to the playoffs no matter who the coach is.
AFC First Round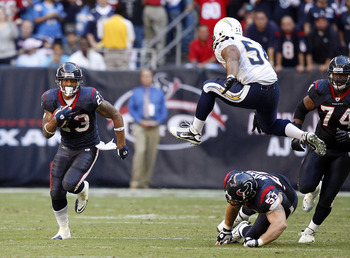 Bob Levey/Getty Images
1. New England Patriots
2. Pittsburgh Steelers
----------------------------------------------
3. San Diego Chargers over 6. Indianapolis Colts
By this time, Peyton Manning should be fully healthy. However, the Colts have always had trouble against the Bolts in the playoffs, and this game would be in San Diego instead of Indy. The Chargers seem to have a slightly better team offensively than Indianapolis, even if Peyton Manning is fully healthy.
4. Houston Texans over 5. New York Jets
Some people may call this an upset, but the Texans have more offensive options than the Jets and have a decent defense that can stop the Jets offense. Another factor in this game would be that it would be in Houston, which may put the Texans over the top for a close victory.
NFC First Round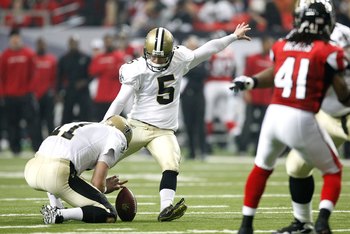 Kevin C. Cox/Getty Images
1. Green Bay Packers
2. Philadelphia Eagles
----------------------------------------
3. New Orleans Saints over 6. Tampa Bay Buccaneers
The Saints have more playoff experience than the young Bucs, and they are also nearly unstoppable at the SuperDome.
5. Atlanta Falcons over 4. Arizona Cardinals
This could be a very good game, but Atlanta clearly has many more weapons (especially offensively) than Arizona.
AFC Second Round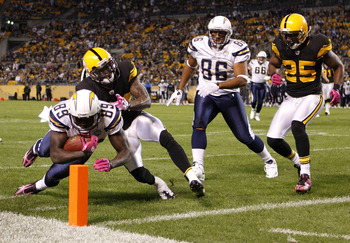 Gregory Shamus/Getty Images
1. Patriots over 4. Texans
The Texans' stellar combination of offense and defense will give the Patriots a tough time, but Brady and co. will prevail in Gillette stadium and not succumb to another first-playoff-game heartbreak.
3. Chargers over 2. Steelers
For some reason, I don't see the Steelers being as dominant this year in the playoffs as they were last year, and this could be the year that the Chargers get over the hump of being able to beat teams other than the Colts.
NFC Second Round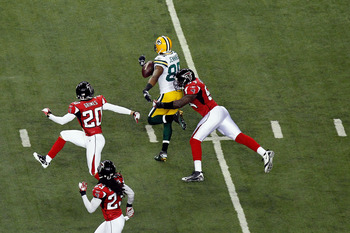 Kevin C. Cox/Getty Images
5. Falcons over 1. Packers
Yes, I am going with the upset. There may be a Super Bowl hangover, and the Falcons want nothing more than to exact revenge on the team that shocked them in the Georgia Dome last year. Both teams are well-rounded, but the Falcons and Matt Ryan will have another year of experience under their belt, and they will be determined to give the Packers a taste of their own medicine on the road.
2. Eagles over 3. Saints
The Saints have a terrific team, but Philadelphia's combination of offense and defense will be too much for the mostly offensive-minded Saints to deal with in Philly.
AFC Championship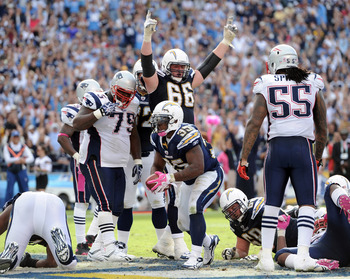 Harry How/Getty Images
3. Chargers over 1. Patriots
Most people probably will not agree with this, but when I look at the Chargers, I see so many different weapons offensively. Rivers can throw to Jackson or Floyd, who are both very good receivers (not to mention star tight end Antonio Gates) or he can hand the ball of to Tolbert or Mathews, who have the potential to be star running backs.
If their defense, which gave up the least amount of yards in football last year, can cause some trouble for Tom Brady and the Patriots offense, San Diego's offense matches up nicely with New England's defense. That should be enough to pull off the upset.
NFC Championship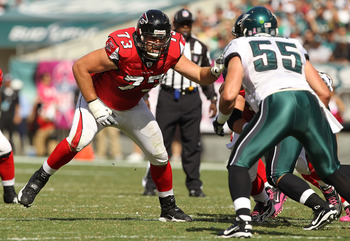 Al Bello/Getty Images
5. Falcons over 2. Eagles
I might get some bad comments about this pick too, but the Falcons have a great amount of talent at every offensive position. Michael Turner is a terrific running back, and Matt Ryan has two great receivers and a decent tight end to throw to in Julio Jones, Roddy White and Tony Gonzalez, respectively.
This should be a terrific matchup, as I see Atlanta's offense as slightly better and deeper than Philadelphia's, but I see Philly's defense as slightly better than Atlanta's. The Falcons, however, will be the team to prevail and head to the Super Bowl.
2012 Super Bowl XLVI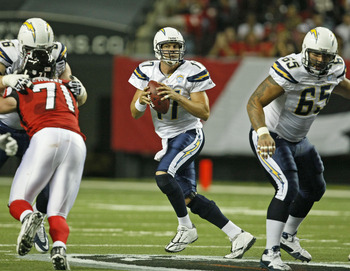 Mike Zarrilli/Getty Images
These two teams have very similar offenses. While both of them have dangerous weapons in every aspect offensively, the Falcons have the edge in the running game while the Chargers have the edge in the passing game.
On defense, San Diego seems to have the edge. This would be a great matchup as it would pit two very talented and balanced teams against each other for football's greatest prize. However, I think the entire game comes down to the Chargers running game. Mathews and Tolbert can both be very good, but they haven't been good on a consistent basis.
If the San Diego running game is decent enough to keep the Falcons defense guessing, the Chargers defense should be able to play well enough to win San Diego the game and the Super Bowl.
San Diego Chargers 30, Atlanta Falcons 24
Keep Reading