Lions and Johnson and Fines: Bizarre Predictions for the 2011 NFL Season
August 25, 2011
The fun of the NFL season comes from its wild and unpredictable nature. With financial resources spread evenly among the league's 32 teams, every fanbase welcomes each new year with unbridled optimism. But it's arguable that the events off the field are just as amazing and newsworthy as those on it. The stuff that transpires each week, we couldn't make up if we tried...or could we?
What follows is a rigorous (and disingenuous) set of predictions for the 2011 NFL season. The best part of NFL predictions is that there's no penalty for being wrong. Or even really wrong. We'd be stunned if any of these unreasonable reasonings came to fruition, but then again, nobody knows what to expect on any given Sunday.
Week 1:
In the Thursday night kickoff game, Al Michaels pronounces New Orleans with four syllables as "Noo OR-Lee-Ins." Somewhere, a baby dies.
The Tennessee Titans and running back Chris Johnson reach an agreement on a new contract that will pay the running back $49 million over four years, with $29 million guaranteed. "Chris Johnson deserves quarterback money, playmaker money," Johnson's agent, Joel Segal says in the ensuing press conference. "Chris is happy to have this negotiation behind him and focus on being the best running back in the NFL."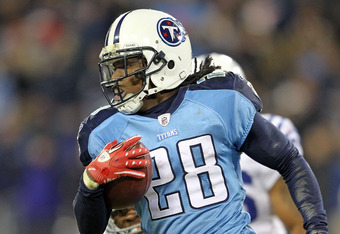 Detroit beats Tampa Bay in overtime, 17-14, after the Buccaneers fumble their first snap in sudden death. That allows 41-year-old kicker Jason Hanson to drill a 37-yard field goal on the ensuing play. It's the Lions' first season-opening win since 2007.
Week 2:
Vikings punter Chris Kluwe draws something funny on a whiteboard. The image gets passed around the Internet and everyone finds it humorous and refreshing.
Week 3:
Steelers defensive end James Harrison is fined $25,000 for a helmet-to-helmet hit on Ravens running back Ray Rice. A group of Steelers fans on Facebook, calling themselves "Helmets To Helmets To Hearts," set out to raise enough money to pay for Harrison's fine. They reach their goal within three hours.
Week 4: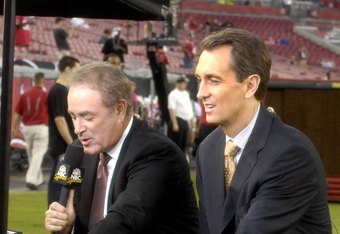 The New York Jets beat the Baltimore Ravens in the national Sunday night game. Cris Collinsworth says something informative and folksy.

Week 5:
Lions quarterback Matthew Stafford leads a downfield drive late in the game against the Chicago Bears. Trailing 23-20, Stafford throws a 34-yard bullet to receiver Calvin Johnson, who makes a diving catch in the end zone with two seconds remaining.
The Lions win by four and, with a 5-0 record, assume sole possession of first place in the NFC North. Despite having his contract renewed in February, Bears coach Lovie Smith is declared to be "on the hot seat."
Week 6:
The New England Patriots draw a season-low 17,421 fans for their home game against the Dallas Cowboys, as the Boston Red Sox face the New York Yankees in Game 7 of the ALCS on the same day. Coincidentally, both the Patriots and Red Sox lose by an 11-3 score.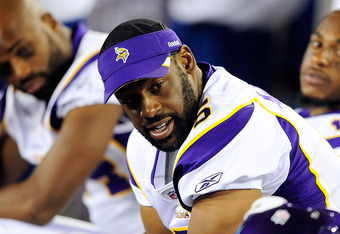 Week 7:
Donovan McNabb plays well at home in a win against the Packers and is generally underappreciated for his effort.

Week 8:
Veteran Matt Hasselbeck and rookie Jake Locker suffer season-ending injuries in a close win over the Houston Texans. Instead of signing a free-agent quarterback off the waiver wire, Titans owner Bud Adams demands that his team start Chris Johnson at quarterback. "If he can make quarterback money," Adams says, "then he should be playing quarterback."
Ravens wideout Lee Evans catches 12 balls for 189 yards and three touchdowns as Baltimore blows past the Arizona Cardinals, 41-24. Evans does absolutely nothing the rest of the year, to the discontent of fantasy owners everywhere.
Week 9:
James Harrison is fined $50,000 by the league for tweeting a link to a recipe for French quiche Lorraine not found in the league's officially licensed "The NFL Gameday Cookbook." Goodell issues a stern warning about such behavior. "Rogue recipes have no place in our game."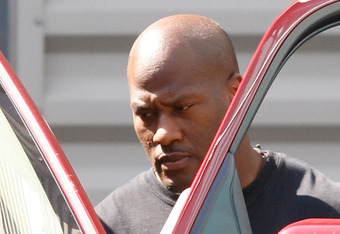 Week 10:
Chris Johnson plays the entire game at quarterback in Charlotte, completing only 3 of 29 passes and throwing four interceptions, all returned for touchdowns. However, Johnson also runs for 281 yards and five TDs, as the Titans beat the Carolina Panthers, 38-28.
Week 11:
New England Patriots defensive lineman Albert Haynesworth is suspended indefinitely after being charged with DUI. After crashing his vehicle near an orphanage in rural eastern Connecticut, Haynesworth says, "So what if I crashed near a bunch of kids? Who's gonna miss 'em? Their parents?"
Donovan McNabb plays well at home in a win against the Raiders and is generally underappreciated for his effort.
Week 12: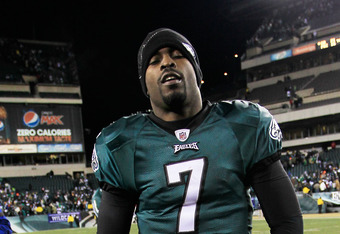 Families gather around the television on Thanksgiving Day to watch a full slate of football. Your father-in-law tries to act like he knows what's going on with each game, and you get annoyed.
Michael Vick starts his 11th consecutive game as the Philadelphia Eagles play the Patriots in Foxboro, throwing for 245 yards and rushing for 87 more as the Eagles win and clinch an NFC playoff berth. The next day, a prominent white sports columnist asks if it's finally time "to drop the whole dogfighting thing."
Week 13:
Jahvid Best runs for 157 yards and three touchdowns as the Lions edge the New Orleans Saints, 29-28. At 12-0, the Lions have matched their all-time record for regular-season wins.
Week 14:
James Harrison is fined for the third time in four months. Roger Goodell docks Harrison $100,000 for attending a Wesley Willis tribute concert and exchanging mock head-butts with several of the patrons in attendance. "Helmets To Helmets To Hearts" goes silent.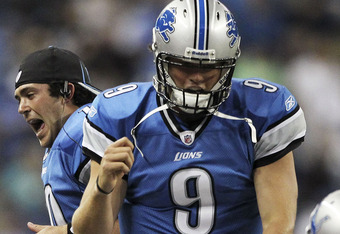 Week 15:
Undefeated Detroit (yup) escapes Oakland with a win after quarterback Terrelle Pryor throws an interception and fumbles in the last four minutes. In a post-game interview Lions rookie defensive end Nick Fairley says of his club, "We're a team of density." The press within earshot offer no argument.

Week 16:
Donovan McNabb throws three interceptions against the Washington Redskins—his former team—and is lambasted by the national media.  
Week 17:
Despite leading the AFC in interceptions, Titans "halfback" Chris Johnson is named to the conference's Pro Bowl roster as both quarterback and running back. Some columnist refers to Johnson as a "three-quarters back," which nobody really finds funny.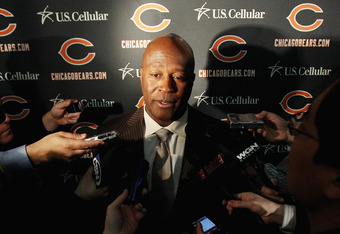 NFC Pro Bowler Matthew Stafford throws the game-winning touchdown pass to tight end Tony Scheffler as the Detroit Lions edge out the Green Bay Packers, 16-13. The Lions become only the third team in the modern era (1972 Dolphins, 2007 Patriots) to finish the regular season undefeated.
PLAYOFFS

Wild Card Round:
Steelers 21, Texans 17. On a sloppy Heinz Field, Matt Schaub throws three picks and fumbles once as Houston loses its first-ever postseason game. Play is delayed for 12 minutes in the third quarter after the kid that runs to get the tee after kickoffs gets stuck in the sod.  
Jets 27, Chiefs 20. Jets quarterback Mark Sanchez throws a late-fourth-quarter interception but the Chiefs turn it over on downs, and the game ends. Sanchez is praised after the game for his poise anyway.
Eagles 28, Bears 10. Chicago coach Lovie Smith finally gets off the hot seat when, on the day after his fourth playoff appearance in eight seasons, the Bears fire him.
Niners 12, Packers 9. Green Bay quarterback Aaron Rodgers completes 40 of 41 passes, but only for 180 yards and no TDs. Niners linebacker Patrick Willis scores all of his team's points with a pick-six and three tackles in the endzone for safeties.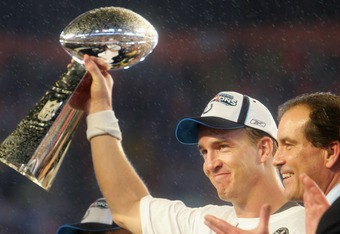 Divisional Round:
Eagles 34, Lions 0. The Detroit Lions, hosting their first playoff game since 1994, are blown out by Philadelphia. Michael Vick tosses three touchdown passes in the first half and runs for a fourth score. Lions fans immediately deem their season to be a failure.
Saints 24, Niners 10. Drew Brees plays well and is very humble in post-game interviews.
Patriots 17, Steelers 15. Steelers fans immediately deem their season to be a failure. Patriots fans suddenly start paying attention again.
Colts 31, Jets 28. The Colts' time of possession for the game is 25:51, not including the 42-minutes worth of commercials featuring Peyton Manning.
Conference Championships:
Colts 24, Patriots 17. The Colts celebrate their third AFC title in six years...until they realize that they have to play the Super Bowl in Indianapolis. Patriots fans immediately deem their season to be a failure.
Eagles 21, Saints 20. Oh great, we're talking about dogfighting again.  
Super Bowl XLVI:
The Colts beat the Eagles, 31-27, becoming the first-ever team to win the Super Bowl on their home field. When asked about his place in the pantheon of great leaders in the NFL, Colts coach Jim Caldwell replies, "Huh?"