There are dumpster fires. Then there is Chernobyl. Then there is an asteroid colliding with the Earth, wiping out the dinosaurs. Then, after all of that, there are the Detroit Lions.
Matt Stafford threw four picks (the last one wasn't really his fault) in Sunday's 24-21 loss to the Buccaneers. The Buccaneers. There is a phrase that is used often, has been for some time, and it always applies: Same. Old. Lions.
Lions fans always troll and flame when you criticize their team, but the SOLs are the LOLs for a reason. Just when you want to believe, the rug gets pulled from under your comfortable feet, and they are the Lions yet again.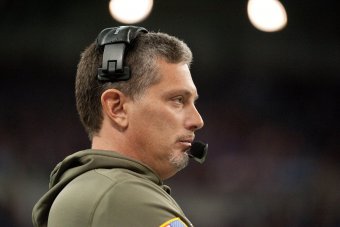 Tim Fuller-USA TODAY Sports
It's an inexcusable loss from a franchise that makes a great many excuses when it loses.
The problem in Detroit remains culture. How else do you explain it? The Lions have mega-talent on both sides of the football, but it's Detroit's mentality that's the problem.
The Lions make so many mental errors because the coaching staff either hasn't figured out or doesn't give a damn about correcting those errors. When you allow a culture of mistakes and mental sloppiness, you get days like that one, where you get beat by Tampa Bay.
The Lions are in a heated division race, and losing a key game like this speaks volumes about the coaches' inability to reach the players.
Now, on to the grades.
| | | |
| --- | --- | --- |
| Team | Grade | Analysis |
| 49ers | B+ | The offense came back to life a bit, and the 49ers defense bashed Robert Griffin III into the ground. At times, it was almost disturbing to see the beating they inflicted on the hapless quarterback. |
| Bears | F | The Rams matriculated down the field for 258 rushing yards. That's obscene. Before the final minutes of the game, when the Rams were downing the ball, the Bears were giving up 10 yards rushing per attempt. That's double obscene. |
| Bengals | | Bye |
| Bills | | Bye |
| Broncos | B+ | Massive choke job, but they lost to Tom Brady, thus the positive grade. And Peyton Manning made it a game at the end. They just couldn't match wills with Brady, and the cold weather again strangled Manning. |
| Browns | D- | Cleveland got debacled. And blow'd out. Remember all that talk in the preseason about how the Browns would dominate the division? |
| Buccaneers | A++++ | The rare A++++ designation goes to Tampa. The Buccaneers have fought back from 0-8 to win three straight. They thoroughly outplayed and out-coached the Lions. They also outsmarted them. Greg Schiano has taken a sonic screwdriver to this team. |
| Cardinals | A | It's time to say it: This is a Super Bowl team. |
| Chargers | A | That game-winning TD throw Philip Rivers made: deep ball, just inches past the outstretched arm of cornerback Sean Smith. This is why Rivers can at times be the best quarterback in football. |
| Chiefs | D | Kansas City's defense allowed 41 points and got just one sack and no turnovers at home. After starting the year playing stiffs at QB, the Chiefs have lost to Peyton Manning and Philip Rivers. |
| Colts | C- | An injured, battered team with almost no healthy weapons on offense other than the quarterback. As good as Andrew Luck is, he can't win games by himself. |
| Cowboys | B+ | I'm just as guilty as anyone of mocking Tony Romo's chokatility, but with the win against the Giants, he has two game-winning drives in three games. In the game-winner against New York, he was methodical, accurate and brilliant. |
| Dolphins | B- | Quarterback Ryan Tannehill almost connected with Mike Wallace for a 60-yard score. And that's the problem: The two almost connect. Their history is a series of "maybes" and "sometimes" and "nearlys." |
| Eagles | | Bye |
| Falcons | C- | The saddest part of this game for Atlanta: The Falcons played one of their best games this season and still lost. It remains amazing to see the precipitous step backward they have taken this year. |
| Giants | C- | Inexplicably dumb mental errors: late hit on the quarterback, hitting a player out of bounds. It's been that kind of season. |
| Jaguars | A | Another win for Jacksonville. Super Bowl! What was key in this game was that Maurice Jones-Drew had 84 yards rushing and a score, adding six catches for 60 yards. It was the old MJD. |
| Jets | F | They scored three points. Geno Smith throws his, oh, I don't know, 79th and 80th interceptions of the season. Ed Reed, the guy who was supposed to change things, burned like a Pop Tart against an offense that was previously struggling. Other than that, greatness awaits the Jets. |
| Lions | F---- | They deserve the rarely used F---- grade. |
| Packers | B- | Green Bay got a tie—and a backup to Aaron Rodgers—as Matt Flynn led a rally from a 16-point deficit. |
| Panthers | B | The Panthers are the first team in two years to extend a win streak to at least seven games with a game-winning, come-from-behind TD in the last 60 seconds of the fourth. |
| Patriots | A | The biggest comeback in team history, but the fact there had to be such a dramatic win in the first place loses them the plus. Brady was again epic in the cold and again displayed the kind of guts and stubbornness few quarterbacks in history have possessed. |
| Raiders | D | Oakland gave up a 14-play, 80-yard drive that ended with a go-ahead touchdown with 10 seconds left. Choakland. |
| Rams | A | Their first win against the Bears in the past five meetings. The reason: The speed of the Rams on both sides of the ball. Tavon Austin, speaking of speed of the warp-factor kind, scored on a 65-yard run. |
| Ravens | B | They decimated an opponent that has no idea how to run a modern offense, so their grade is slightly lowered. But the win keeps Baltimore in the thick of an ugly division race. |
| Redskins | D | They couldn't run basic offensive plays. Couldn't protect RGIII. Couldn't stop the 49ers offense. Couldn't do jack. Nice Super Bowl pick, idiot. |
| Saints | B | Played one of their worst games of the year, against a division rival, and still won. Bodes well. |
| Seahawks | | Bye |
| Steelers | B | Give Pittsburgh credit, but this was more about what the Browns did than what the Steelers did. The Browns, when Brandon Weeden came into the game, were terrible. The Browns, when every Brown was in the game, were terrible. Thus, the Browns are terrible, and all the Steelers had to do was use a broom and dustpan to clean up the mess. |
| Texans | F | They lost to Jacksonville. It wasn't really as close as the 13-6 score. That's about all that needs to be said on this game. |
| Titans | A- | Ryan Fitzpatrick was almost flawless. Not sure if you guys knew this, but he went to Harvard. |
| Vikings | C- | They let the Packers get back in the game. Massive dose of fail for Greg Jennings, who in his Lambeau return dropped a crucial third-down pass with 2:11 remaining. |