NFL Power Rankings: How All 32 Teams Stack Up After Week 7 in Wild Season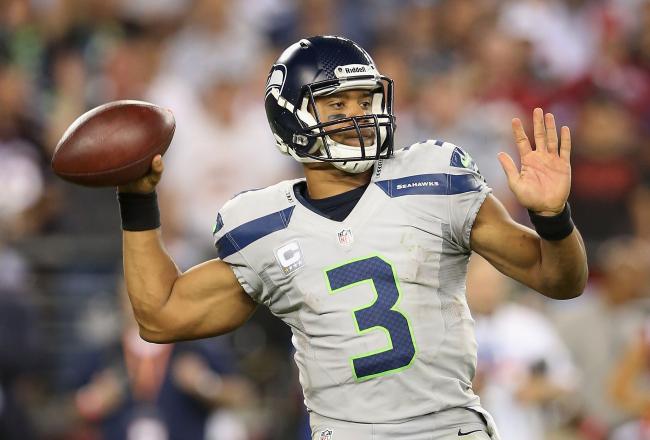 Christian Petersen/Getty Images
We are almost at the halfway point of the 2013 NFL season, and it is nearly impossible to identify the best team in the league.
The Indianapolis Colts' victory over the Denver Broncos this past Sunday night ensured that fact.
Now, several teams can make a claim to the top spot, but all have serious arguments working against them.
I'm going to attempt to sift through the madness and lay out the league's pecking order as we close the book on Week 7.
1. Seattle Seahawks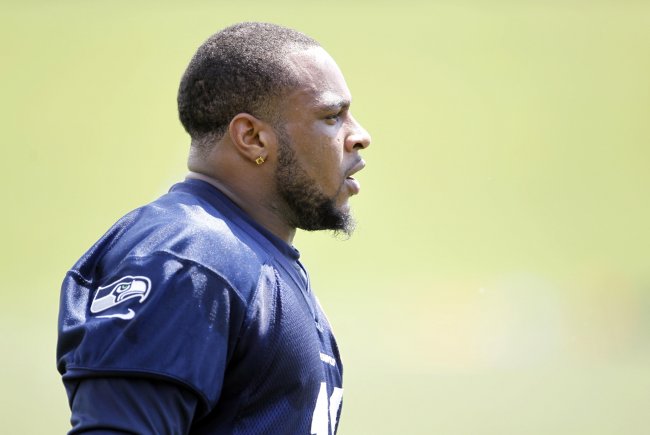 Joe Nicholson-USA TODAY Sports
I can't wait to see how the Seahawks use Percy Harvin. He will get plenty of snaps out of the slot, but he also is likely to get some looks out of the backfield.
He has 107 career rushing attempts for 683 yards, and his receiving skills are still a threat from the position.
What a dynamic backfield Seattle will have with mobile quarterback Russell Wilson and powerhouse running back Marshawn Lynch being joined by perhaps the most dangerous player in space in football.
My biggest concern with the Seahawks, however, is that the offensive line is allowing Russell Wilson to get pressured way too often.
2. Denver Broncos
Are the Broncos better than the undefeated Chiefs?
I'm not at all surprised the Broncos fell from the ranks of the undefeated while playing at Indianapolis. However, I was surprised at the way they lost. While the self-inflicted wounds were stunning, it also means that Denver could have won that game had it played a little cleaner.
Still, for Denver's sake, I'm worried it has already played its best football of the season.
The pass defense continues to erode and Peyton Manning is getting hit too often. He already appears to be losing power on his passes.
3. Kansas City Chiefs
The Chiefs are hard to rank. They are undefeated, but they also have enjoyed an easy schedule. With a defense spearheaded by a great pass rush, the Chiefs can win any game they enter.
However, this is a limited offense, and Kansas City will not be able to survive a string of quality opponents with an offense that is 27th in yards per pass.
4. New Orleans Saints
With an improved pass defense, the Saints have put themselves firmly back into the Super Bowl picture. However, this is supremely troubling:
Had Saints played Sunday, it would have been difficult for TE Jimmy Graham to play with his foot injury. Status for Sunday vs BUF uncertain.

— Adam Schefter (@AdamSchefter) October 21, 2013
Foot injuries can linger, and if Graham isn't at 100 percent, the offense will not be as unstoppable. While the defense is improved in New Orleans, it still needs a dominant offense to force teams into passing situations and light up the scoreboard.
Can Indy survive Wayne's absence?
5. Indianapolis Colts
Losing Reggie Wayne for the season is obviously a big blow to this strong team. However, Andrew Luck is deft enough in his reads to help the team overcome the absence of the star wide receiver, and as the Colts proved against the Broncos, this defense has the pass rush to force crucial stops.
6. San Francisco 49ers
The 49ers offense has gotten back on track by averaging 33 points per game over their current four-game win streak. On top of that, quarterback Colin Kaepernick is closer to getting his favorite target back in Michael Crabtree.
7. Cincinnati Bengals
The Bengals picked up a quality win over the Lions, but they suffered a costly loss in the process:
No surprise but Bengals will place CB Leon Hall of season-ending Injured reserve after he tore his Achilles on Sunday. Significant loss

— Chris Mortensen (@mortreport) October 21, 2013
This injury places even more pressure on the defensive line to dominate in order for the defense to succeed.
8. New England Patriots
As a lifelong fan of the Raiders, it caused me no inner turmoil to watch the Patriots lose on an obscure and largely pointless rule. Lost in the shuffle of the fallout of that call, however, is the fact that New England looked bad.
Tom Brady looked worse than I can remember seeing while completing less than 50 percent of his passes, and that was despite the fact that Rob Gronkowski grabbed eight catches for 114 yards. I wonder if Bill Belichick regrets losing Wes Welker? He should.
9. Green Bay Packers
If the Packers could ever manage to get and stay somewhat healthy, this team has a chance to make a serious run. Injured players include James Jones, Randall Cobb and Jermichael Finley, and that's just on offense.
Still, with the emergence of Eddie Lacy and the now sixth-ranked running game, this offense is a nightmare to plan for.
10. Detroit Lions
Just last week, I wondered if the Lions had finally matured. So what do they do? They lose a close game to the Bengals largely due to silly gaffes on special teams and in pass defense.
So this week I'll speculate that the Lions are still plagued by the same issues, and that will doom their season.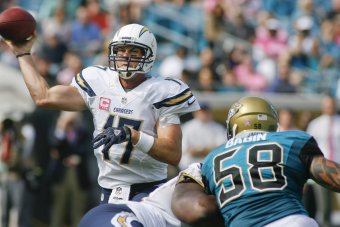 Phil Sears-USA TODAY Sports
11. San Diego Chargers
This season sure feels like another where a team will get hot at the end of the year and make a run from the wild-card spot to the Lombardi Trophy. If I'm picking a team to do that, I'm going with the Chargers.
Philip Rivers has had this offense humming all season. And a defense that was absolutely terrible has showed signs of improvement while allowing just 15 combined points over the last two weeks.
12. Dallas Cowboys
The Cowboys are undefeated in division play. This is putting them in a great position to take the division. If this team can get healthy come postseason time, something remarkable could happen. Of course, there is a strong chance that would be another remarkable late-game failure.
13. New York Jets
Rex Ryan is running away with coach of the year. Rookie quarterback Geno Smith already has 11 interceptions and he's working with a less-than-stellar group of receivers and an average run game. It's remarkable this team is 4-3, thanks in large part to a surprisingly stingy defensive unit.
14. Carolina Panthers
If Cam Newton can manage to sustain a string of consistent play, the Panthers will make the playoffs. This defense is excellent and is currently ranked fifth in passing and fourth in rushing.
15. Miami Dolphins
The Dolphins are who we thought they were! After a 3-0 start, Miami has dropped three straight behind a sinking pass defense and a bad offensive line.
There are plenty of signs of hope in Miami, but this team won't make the postseason with its deficiencies in those two areas.
16. Chicago Bears
Injuries are destroying a once-promising season in Chicago. Jay Cutler's groin injury is getting all the headlines.
I don't care if Cutler is healthy or not, though. Unless this defense can get healthy and improve from being ranked 27th in passing and 25th in rushing, this team is going nowhere.
17. Baltimore Ravens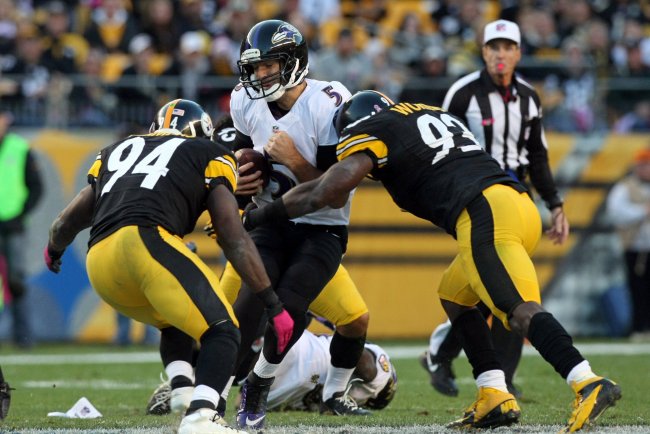 Jason Bridge-USA TODAY Sports
The Ravens have lost two straight games where they've allowed just 19 points. The offensive line is killing this team.
If Baltimore can manage to get improved performances from the offensive front five, this season is not lost. However, there are few signs of that happening.
18. Tennessee Titans
The Titans are strong along the offensive and defensive lines. This is going to keep them in almost every game. However, this offense is too limited to survive multiple turnover efforts against good teams, which is exactly what happened last week in a 31-17 loss to the 49ers.
19. Arizona Cardinals
The Cardinals are now 0-3 in division play and just 3-4 on the season. This team has a quality defense, but a bad offensive line and a turnover-prone quarterback mean there is no hope of the Cards reaching the postseason from their current situation.
20. Cleveland Browns
Brandon Weeden is killing the Browns.
However, no matter what happens, Cleveland should view this season as a positive. The Trent Richardson trade looks better each week.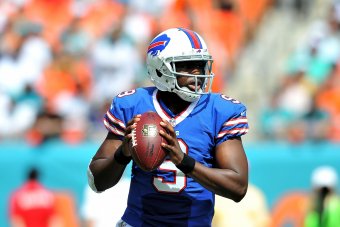 Steve Mitchell-USA TODAY Sports
21. Buffalo Bills
The Bills are 3-4 and haven't lost a game by more than seven this season. Given they've pulled this off with a rookie quarterback and former practice squad quarterback Thad Lewis, that is an impressive feat.
22. Philadelphia Eagles
Remember at halftime of the Eagles-Redskins game in Week 1 when we were all giddy over the Chip Kelly offense in the NFL? Those were the days for coach Kelly.
The Eagles scored three points last week against a subpar Cowboys defense.
23. St. Louis Rams
The St. Louis Rams entered last week having won two straight and were launching a bid to get over .500. Instead, they fell 30-15 to the Panthers and lost quarterback Sam Bradford in the process.
With a once-promising defense underachieving, perhaps it was for the best that the Rams began preparing for next season anyway.
24. Pittsburgh Steelers
The Steelers have won two in a row and the offensive line has been slightly better. Still, at 2-4, with the offense still struggling and a defense that is not as dominant as it was a few years ago, the Steelers will not be able to make a postseason run out of the AFC North.
25. Washington Redskins
Robert Griffin III is back!
I'm not a Redskins fan, but this is still great news. He is a joy to watch. Of course, it is wonderful news for the Redskins. And despite the fact this team is just 2-4, the playoffs aren't out of the question since this team is a member of the terrible NFC East.
26. Oakland Raiders
The Raiders' offensive line is banged up and was suspect to begin with. This team is playing sound football, but with that group eroding the running game and keeping Terrelle Pryor running for his life, victories will continue to be hard to come by.
27. Atlanta Falcons
Daniel Shirey-USA TODAY Sports
The Falcons picked up a much-needed victory this past week, but it was just a 31-23 effort over the Tampa Bay Buccaneers. This season is still going terribly wrong for the 2-4 Falcons.
28. Houston Texans
The Texans have now lost five straight and are picking up significant injuries at an alarming rate. This franchise is going to face a lot of big decisions in a long offseason.
29. New York Giants
Well, the Giants got their first win of the season on Monday night behind...Peyton Hillis?
As they continue a miserable season, at least no one can take that victory away from them.
/Getty Images
30. Minnesota Vikings
So the Vikings picked up a quarterback who has struggled this season, had him learn a new system in two weeks, started him and had him throw the ball 53 times. I can't believe that resulted in just seven points and a loss to the Giants.
31. Jacksonville Jaguars
The Jaguars passing game is making some strides under quarterback Chad Henne and with the return of receiver Justin Blackmon. This team is still terrible, but at least there is a sign of progress.
32. Tampa Bay Buccaneers
The Buccaneers have done the impossible and passed the Jaguars at the bottom of the rankings. Tampa just keeps finding ways to lose and will now be without Doug Martin for an indefinite amount of time. This season is going to get uglier before it gets better.
This article is
What is the duplicate article?
Why is this article offensive?
Where is this article plagiarized from?
Why is this article poorly edited?