Detroit Lions Mock Draft: Post-Free Agency Predictions for Every Round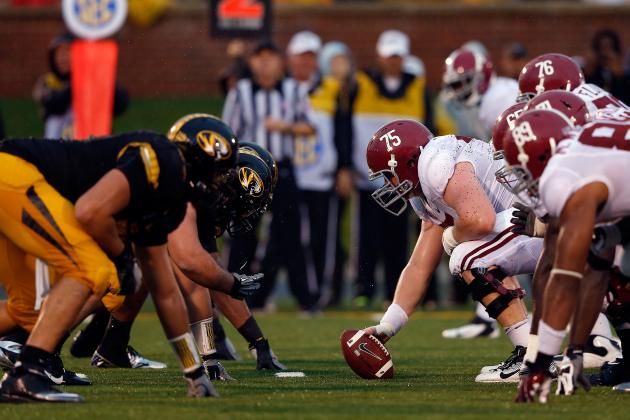 Jamie Squire/Getty Images

It's finally April and that means two things: Baseball is back, and NFL mock drafts are at their most consistent.
Though there are some names in play, the Detroit Lions are effectively done with free agency, which means the majority of the Lions' opening day roster is already on the team. The only thing left to do is figure out the new guys.
With that in mind, this is, yes, another mock draft.
If you've been following my mock drafts since the end of the regular season, you know that for a good portion of the season, I've tried to create drafts with unique players each time. That made sense in January and February, when the Senior Bowl and combine threw everyone's big board into chaos.
But now we have a good idea of what the Draft is going to look like, and it makes more sense to stick with sensible picks than trying to consider a number of different possibilities.
So from here on, my mock drafts will entail the most likely actual draft situations (by my estimation), with repeated picks showing up in bold lettering at the bottom. It might not be as interesting to read this way, but it will likely (hopefully) be more accurate.
Criticize away.
Previous mock drafts:
Begin Slideshow

»
If there's one thing we've learned about the Lions' coaching staff, it's that they're good at maximizing defensive line talent.
Whether we're talking about Cliff Avril, Lawrence Jackson, Willie Young or Sammie Hill, the Lions have taken D-line players from all different circumstances and turned them into productive players.
Ziggy Ansah would be the magnum opus of those kinds of players. He is more talented, and he has a higher ceiling that any of those aforementioned players, including Avril.
But, he's undeniably a project.
This could be an interesting case study into how exactly the Lions measure the "talent" that they value over "need."
Is that current talent? Amount of upside? Some combination of the two?
As he is now, Ansah is probably not the most talented player on the board, but he may be in a year or two, if he falls into the right situation. With a talented line around him, and a history of proven success at spinning raw talent into gold prospects, Ansah could be a very good long-term answer for the Lions' question at defensive end.
Previous Picks
Manti Te'o, LB, Notre Dame (01/07/13)
Damontre Moore, DE, Texas A&M (01/26/13)
Bjoern Werner, DE, Florida State (02/04/13)
Eric Fisher, OT, Central Michigan (02/11/13)
Kenny Vaccaro, S,Texas (02/27/13)
Ezekiel "Ziggy" Ansah, DE, BYU (03/14/13)
DeMarcus "Dee" Milliner, CB, Alabama (03/18/13)
Eric Fisher, OT, Central Michigan (03/27/13)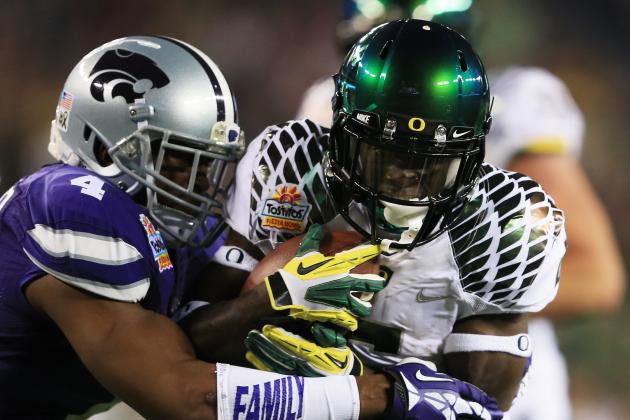 Doug Pensinger/Getty Images

It has been barely two weeks since the last time I mocked Arthur Brown to the Lions. There is a reason for that: he has absolute star potential.
The Lions have been solid at linebacker for a while now but there isn't a really huge impact player there.
Stephen Tulloch is good, but he falls short of true stardom. He's more of a very solid, above-average starter. DeAndre Levy is decent as long as he's having a good day, and the other starting spot is a question mark.
Brown would bring great instincts and athleticism to a unit lacking a great deal of explosion.
The knock on Brown is that while he appears to be a complete player at linebacker, he's just an inch or two shorter and a few pounds lighter than a prototypical 4-3 linebacker. But that didn't affect him too much at the college level, and it hasn't bothered Tulloch, who faced many of the same criticisms early in his career.
Maybe we just need to admit to ourselves that size isn't that important for linebackers.
Previous Picks
Barrett Jones, OL, Alabama (01/07/13)
Tavon Austin, WR, West Virginia (01/26/13)
Matt Elam, S, Florida (02/04/13)
Giovani Bernard, RB, North Carolina (02/11/13)
Sam Montgomery, DE, LSU (02/27/13)
Eric Reid, S, LSU (03/14/13)
Arthur Brown, LB, Kansas State (03/18/13)
Cornellius "Tank" Carradine, DE, FSU (03/27/13)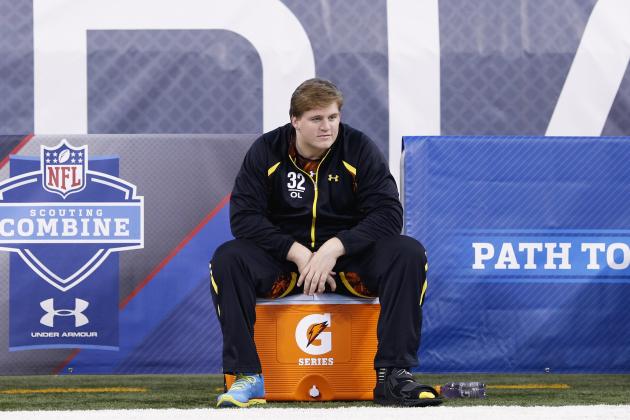 Joe Robbins/Getty Images

Barrett Jones played three positions in as many years with Alabama, and won honors at each of them.
As a right guard in 2010, he was an All-SEC starter.
As a left tackle in 2011, he won the Outland Trophy as the best offensive lineman in the country.
Jones could likely have carried that momentum into the draft, but he instead decided to return to Alabama, moving to center and collecting another national title and a Rimington trophy...and a Lisfranc injury.
Lions fans should be well-acquainted with the Lisfranc injury; it's the one that ended the career of former Lion Kevin Jones, better known as the last man with 1,000 yards rushing in a Lions uniform.
That obviously sets off alarm bells for anyone looking into Jones, especially with the rumor that he will start the season on the PUP list (h/t Walter Football).
Foot injuries are no joke, especially for nimble big guys like Jones, but without the injury, he's almost undoubtedly a first-round pick. This could be where value outweighs risk, because he won't last until the Lions' next pick at the bottom of the fourth round.
Previous Picks
Cornellius "Tank" Carradine, DE, Florida State (01/07/13)
Dallas Thomas, OT/G, Tennessee (01/26/13)
Kyle Long, OT/G, Oregon (02/04/13)
David Amerson, CB, NC State (02/11/13)
Andre Ellington, RB, Clemson (02/27/13)
Travis Frederick, G/C, Wisconsin (03/14/13)
Cornelius Washington, DE, Georgia (03/18/13)
Khaseem Greene, LB, Rutgers (03/27/13)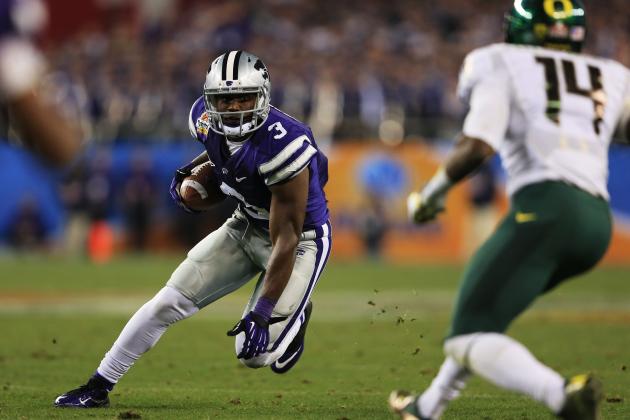 Doug Pensinger/Getty Images

In no uncertain terms, the Lions need another wide receiver.
It doesn't seem like they would, because they've drafted them with the same approximate frequency that characterized the Lions of old. But the bust that was Derrick Williams and the mind-blowing stupidity that was Titus Young have made it so that the Lions only have one Martin Mayhew-era draft pick on the roster at receiver.
As such, there is nobody to go down the field with Calvin Johnson and make something happen.
Nate Burleson and Ryan Broyles are slot receivers by skill set, and while the Lions are very satisfied with Calvin Johnson, it would be nice to field another deep threat.
Now, to be sure, the Lions wouldn't get an instant star with Harper in the fourth-round. He needs some work, and he isn't physically imposing enough to just overpower guys out of the gate.
Still, Harper has slightly above-average speed, size, and strength. He's nowhere near elite in any of those areas, but he's good enough to be effective. Where he is really great is in locating and catching the ball. He knows how to create separation with his defender and catch the ball in all kinds of situations.
If there's one thing the Lions need in a receiver right now, it's a reliable pair of hands, and Harper, who finally accepted the move from quarterback to wide receiver after transferring from Oregon to Kansas State, is one of the more underrated and reliable pass-catchers in the draft.
Previous Picks:
Brian Schwenke, C, California (03/27/13)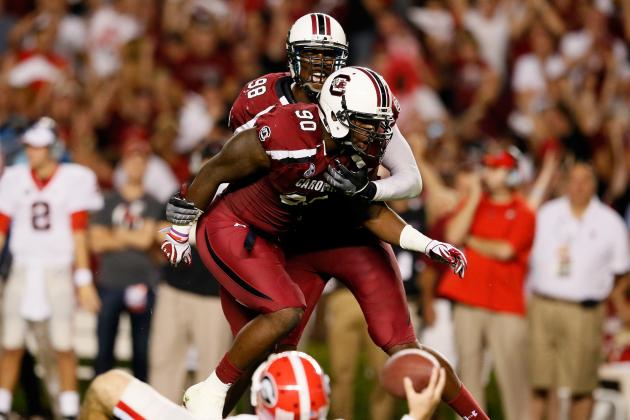 Kevin C. Cox/Getty Images

When you think defensive ends and South Carolina, you're probably going to come up with Jadeveon Clowney, and understandably so.
But across from Clowney was a productive player in his own right.
Devin Taylor surely benefited from favorable matchups at South Carolina, as opposing lines were focused almost solely on keeping Clowney contained.
Taylor doesn't have the same athleticism or quick-twitch ability as Clowney (who does?), but he has fantastic straight-line speed and his overall athleticism is above-average.
The problem with Taylor is that his 6'7" frame lacks the kind of flexibility required of elite pass-rushers. He doesn't have the quickness or agility to get around tackles with good footwork or make adjustments in small spaces.
However, Taylor could thrive in Detroit's wide-nine scheme, which would privilege Taylor's speed and freakish wingspan (87"), while covering up his lack of burst off the line. Barring that, he could be an instant impact player on running downs, where he exhibits the ability to set the edge on runs to the outside.
And yes, I realize this is the second DE mocked to the Lions in this draft, but it's hard to argue they don't need that many or more considering the roster's current construction.
Previous Picks
Bacarri Rambo, S, Georgia (01/07/13)
Mike Gillislee, RB, Florida (01/26/13)
Johnathan Franklin, RB, UCLA (02/04/13)
Devin Taylor, DE, South Carolina (02/11/13)
Hugh Thornton, G, Illinois (02/27/13)
Knile Davis, RB, Arkansas (03/14/13)
Chris Faulk, OT, LSU (03/18/13)
Dion Sims, TE, Michigan State (03/27/13)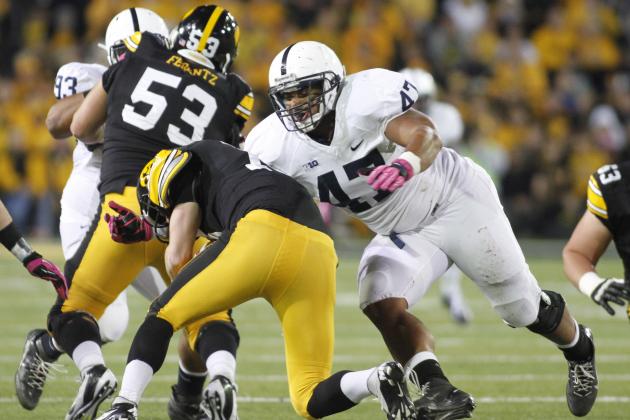 Matthew Holst/Getty Images

Anyone who objects to the Lions spending this many picks on the defensive line should look at the current defensive line. Thin doesn't even begin to describe it, especially compared to past years.
So the Lions take a shot on Jordan Hill of Penn State, the kind of quick, one-gap tackle the Lions like in their defense.
Hill is proficient at getting himself into the backfield, but his draft stock suffers from a lack of size and a so-so performance at the combine.
Hill projects best as a rotational player, which is exactly the role the Lions would have in mind for him behind Nick Fairley and Ndamukong Suh. His play style is based more on quickness than power, which could mean the Lions could use him on stunt packages and potentially mix him in at DE.
Previous Picks
Dion Sims, TE, Michigan State (01/07/13)
Brian Schwenke, C, California (01/26/13)
Jordan Hill, DT, Penn State (02/04/13)
Conner Vernon, WR, Duke (02/11/13)
Dwayne Gratz, CB, Connecticut (02/27/13)
Terron Armstead, OT, Arkansas-Pine Bluff (03/14/13)
Akeem Spence, DT, Illinois (03/18/13)
Kenny Stills, WR, Oklahoma (03/27/13)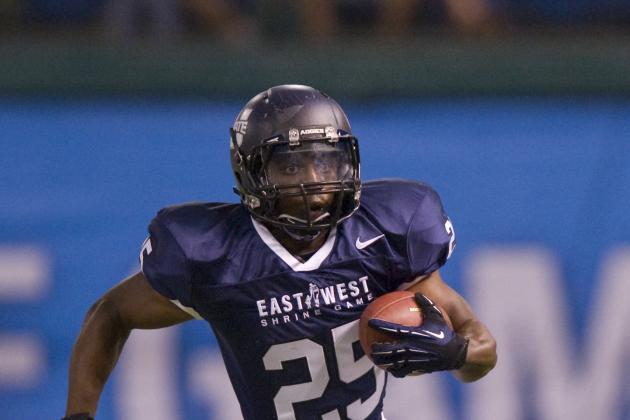 Jeff Griffith-USA TODAY Sports

So the Lions got Reggie Bush, and that's good. He brings a speed element to the Lion offense that wasn't there before.
He also brings a history of injuries, which raises the question: what happens if Bush gets hurt?
The Lions saw the transformation their offense went through when Jahvid Best went down with injury. With the speed drained from the backfield, the running game ceased to be a threat in any phase of the game.
Kerwynn Williams, to an extent, could safeguard against that. His skill set is similar to both those players, with pass-catching ability and pure speed high on his list of credentials (he was among top RBs at the combine in the 40-yard dash and 20-yard shuttle).
He would be a bit like Aaron Brown, only he might actually care about learning the playbook.
In fact, Williams rarely improvised at Utah State. If anything, his vision came into question as he had a tendency to unquestioningly run the ball where the play was designed, regardless of whether there was a hole there or not.
There are a lot of holes in Williams' game, not the least of which are vision, yards after contact and some issues with ball security. But he brings great speed (and with it, some insurance) to the Lions, and gives them a potential answer at kick returner, which is an understated need this year.
Previous Picks
Josh Boyd, DT, Mississippi State (01/07/13)
Rashard Hall, FS, Clemson (01/26/13)
Marquess Wilson, WR, Washington State (02/04/13)
Joe Madsen, C, West Virginia (02/11/13)
DeVonte Holloman, OLB, South Carolina (02/27/13)
Brad Wing, P, LSU (03/14/13)
Quinn Sharp, P, Oklahoma State (03/18/13)
Kwame Geathers, DT, Georgia (03/27/13)

Brett Deering/Getty Images

According to Tim Twentyman of DetroitLions.com, the Lions would feel much better about bringing Jason Hanson back if they had some insurance for his kickoff distance.
Hanson, according to Hugh Bernreuter of MLive.com, understands the concern but disagrees.
"They're talking about getting a punter who can kick off into the end zone, maybe save some wear and tear on my leg so I can concentrate on field goals," Hanson said in the MLive piece. "But I battled plantar fasciitis last season, and that hurt my distance. I believe that I have the strength to put it in the end zone. It's not a concern of mine."
That may be true, and it may be a negotiating ploy. The Lions and Hanson are facing some disagreement as to what an acceptable contract would look like for the oldest active player in the NFL (h/t the Detroit Free Press), and if the Lions have Hanson in mind purely as a field goal specialist, he's far less valuable than if he were also on kickoff duty.
So of course he'll say he can still put it in the end zone.
Still, the Lions need a punter on the roster. They signed Blake Clingan after a workout, but he hasn't played a down of football since 2010—at the University of Central Florida. He didn't even make a training camp roster as a UDFA in 2011 or 2012, so it's questionable whether the Lions see him as a long-term option.
Quinn Sharp, who was among the best punters and kickoff men in college football last year, would help the Lions answer a large range of questions, and they wouldn't have to wait for adjustment time, since kickers' responsibilities are the only ones that don't really change from college to the NFL.