Detroit Lions Mock Draft: Updated 7-Round Projections After Senior Bowl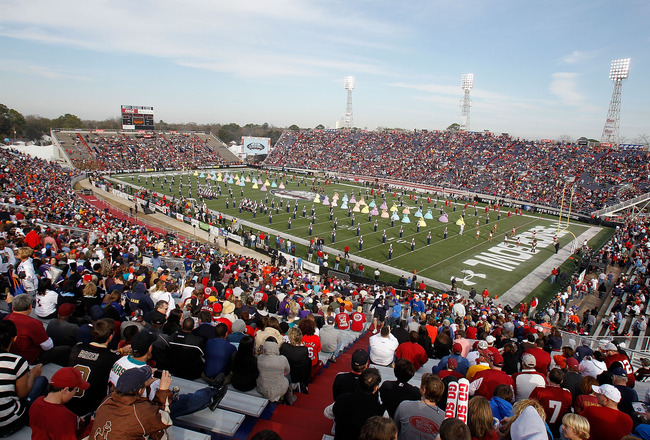 Sean Gardner/Getty Images
The Senior Bowl, aside from the NFL Combine, is the biggest chance for draft prospects to impress their (potential) new employers, post-college career.
Some may be under the impression that the Senior Bowl is just the Pro Bowl for college seniors. That's true to an extent, but the game itself is generally of minimal importance. The week of practice that precedes it is where the magic happens.
Throughout the draft process, the word "coachability" comes up a number of times. A kid may have all the physical tools to succeed, but can he learn and grow from NFL coaches? Can he fit multiple schemes? Is he a one-trick pony, or is he versatile?
That's what coaches are looking for a hint of this week, and Lions head coach Jim Schwartz is at the forefront of it.
The Senior Bowl means new data on these players, who will be endlessly analyzed, again and again, for the next three months.
And new data means new mock drafts.
In case you're unfamiliar with my particular method of mock drafting, I have a rule about repeating picks. Once I've selected a player with a particular draft pick, he won't be selected in that slot again (though he may show up in a different slot if his stock rises/falls).
That means you're in for six different picks than the ones I posted last time, and that's just as well, since a lot has happened to the former first-round selection in the last three weeks.
1st Round, Pick No. 5: Damontre Moore, DE, Texas A&M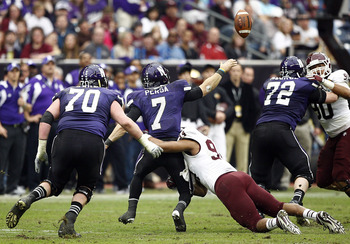 Bob Levey/Getty Images
Previous pick: Manti Te'o, LB, Notre Dame
This whole Manti Te'o girlfriend business is just strange, and the strangest thing is how it will likely drop his draft status, despite the fact that he hasn't done anything wrong and his on-field status is not in any sort of question.
But for first-round picks, teams are skittish. Nobody wants to make a mistake, so anything is a reason to jump off a bandwagon.
That's irrelevant here anyway. Even without the "switching picks" rule, Te'o hugely underperformed against Alabama, and his position was one the Lions don't really need, much less at fifth overall.
What the Lions do need, and what does make sense to draft fifth overall, is an elite pass-rusher. The Lions play in a division with Jared Allen, Julius Peppers and Clay Matthews. All three are typically (and are this year) top 10 in sacks each year.
The Lions answer with Cliff Avril, whose 9.5 sacks in 2012 tied him for 23rd. And he might be gone in free agency. Kyle Vanden Bosch should probably be cut as well.
That leaves the Lions with, potentially, two starting defensive end positions to fill. Damontre Moore sits in with Bjoern Werner, Barkevious Mingo, Dion Jordan and Jarvis Jones as potential top 10 pass-rushers.
Moore is a bit small for a DE at 250 pounds, due in part to him playing 3-4 rush linebacker at Texas A&M, but his 6'4" frame can take some more weight, and it likely won't take long to bulk him up to 4-3 size.
Meanwhile, Moore averaged more than a sack a game at A&M, plays well against the run (especially in the backfield), and could be the elite pass rush threat the Lions front has been missing.
What? Nobody said all the picks had to be at the Senior Bowl, did they?
2nd Round, Pick No. 4: Tavon Austin, WR, West Virginia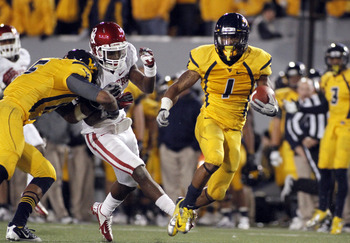 Justin K. Aller/Getty Images
Previous pick: Barrett Jones, OL, Alabama
I expect there may be some backlash at the prospect of the Lions drafting wide receivers in the second round three years in a row, flashing some back to the Millen era, just in a different round.
But the sad fact of the matter is the Lions are going to be in the market for another wide receiver. Titus Young just took to Twitter to punch his ticket out of town, and maybe out of the NFL.
Like I said I never been selfish but if I'm not going to get the football i don't want to play anymore
— Titus D Young Sr (@TitusDYoungSr) January 22, 2013
Never have I ran the wrong route, just put my self where the ball was going
— Titus D Young Sr (@TitusDYoungSr) January 22, 2013
Oh, boy.
The Lions haven't taken any action yet, but considering Young was effectively put in a timeout three times last season, it's kind of assumed that there's about to be a last straw.
Young's status for 2013 was already in doubt, and now that he's decided to pull a Twitter rant to defend himself, months after the fact, should pretty much solidify his status as unsalvageable.
In 2011, the Lions passed on Randall Cobb to draft Young. They can correct that error, in part, by parting ways with Cobb and drafting Tavon Austin.
Austin, like Cobb, is a smaller, quick receiver who can also play in the backfield and is electric in the return game. He's kind of like a bigger, faster Stefan Logan, if Logan were good at any of the things he was supposed to do.
If this pick works out, this one player could help replace Young, Jahvid Best and Stefan Logan, all in one package.
3rd Round, Pick No. 3: Dallas Thomas, OT/G, Tennessee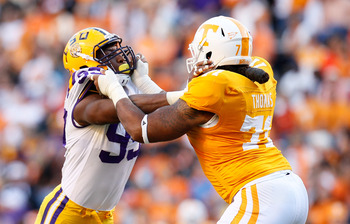 Kevin C. Cox/Getty Images
Previous pick: Tank Carradine, DE, Florida State
Dallas Thomas is currently seen as a second-round prospect, in part because he played at both tackle and guard in college, and nobody seems quite sure which position he fits at yet.
Some would suggest that Thomas lacks a true position, and stay away. The Lions call that "versatility." They would also call Thomas a steal in the third round.
With Gosder Cherilus slated for free agency, and Stephen Peterman coming under fire for yet another weak season, the right side of the offensive line is ready for a complete upheaval. The Lions might appreciate bringing in a guy who could play multiple positions (and they usually do).
The only real question is whether Thomas is comfortable on both sides of the line. The Lions would most likely ask him to play on the right side of the line primarily, after playing his entire college career at left tackle and guard.
If he can handle that switch, he should be a good pick for the Lions early in the third.
5th Round, Pick No. 4: Mike Gillislee, RB, Florida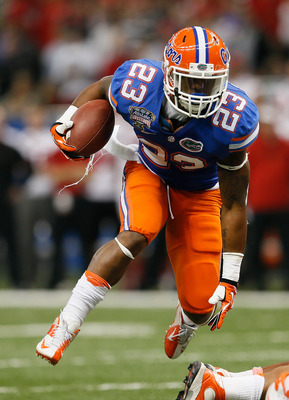 Kevin C. Cox/Getty Images
Previous pick: Baccari Rambo, S, Georgia
The Lions have talent at running back. What they don't have is any speed.
They have a handful of players that can grind and plod along for yardage, but they went most of the season without a run of 20 yards or more.
The Lions were able to open up running lanes at times, but they field a set of running backs who aren't so much "elusive" as much as they "seek contact."
Mike Gillislee doesn't have the kind of elite speed the Lions would have loved to have gotten from Jahvid Best, but he's faster than Mikel Leshoure and Joique Bell, and he can catch passes out of the backfield. He's not flashy, but by the fifth round, the flash is likely to be off the board.
Gillislee has roughly the same skill set as Best, just without the explosive athleticism and cranial trauma. With a fifth-round pick, the Lions would be lucky to stumble upon Gillislee, Florida's first 1,000-yard back since 2004, though perhaps as a more natural replacement for Kevin Smith than for Best.
6th Round: Pick No. 3: Brian Schwenke, C, California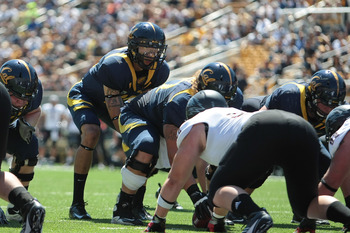 Kelley L Cox-USA TODAY Sports
Previous pick: Dion Sims, TE, Michigan State
It's early in the draft process, and there is still plenty to be determined about draft positions. Even on draft day itself, everybody's always surprised about something.
So when I put Cal Bear center Brian Schwenke at the top of the sixth round, despite some having him in the fourth, just roll with it. A lot could still happen.
The Lions may not be ready to split with Dominic Raiola just yet, despite his ever-growing salary cap hit. But Raiola is a free agent in 2014, and there is nobody primed to take his place.
Bill Nagy is a possibility, but it remains to be seen whether the Lions see him more as a center or a guard. Provided they haven't already pegged Nagy at center, there's no reason to pass on the 305-pound Schwenke, because the odds of the Lions re-signing the rapidly-declining Raiola are, well, rapidly declining.
7th Round: Pick No. 5: Rashard Hall, FS, Clemson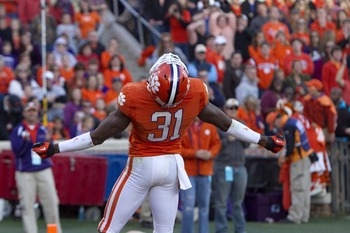 Joshua S. Kelly-USA TODAY Sports
Previous pick: Josh Boyd, DT, Mississippi State
This is the part where everybody notices I haven't had the Lions pick a defensive player since the first round and angrily takes to the comments box.
That's fine, and understandable, but the Lions drafted three cornerbacks last year, and none of them have shown any particular reason to give up on them after one season. How many under-25 cornerbacks can the Lions keep on the roster?
That's why the Lions may surprise everyone and refrain from going cornerback at all in the draft this year. They already have enough youth to develop; they're more likely to make the splash at corner in free agency (by which I mean they'll try to re-sign Chris Houston).
But at safety? It's hard to say whether the Lions truly believe in any of their options at safety. Louis Delmas would be the only sure thing, but he's seemingly always injured and is now entering free agency.
Who else, then?
Ricardo Silva is as unproven as he was undrafted.
Amari Spievey should be ready to be a consistent starter, but who knows? He also has his share of injury issues, and has struggled to keep his head in the game.
John Wendling has proven somewhat serviceable on the defense in a pinch, but he's far from a long-term option there.
So the Lions take a shot on Rashard Hall out of Clemson. Why? He has decent size and speed, and a nose for the big play. All things the Lions like on the back side of their defense.
Part of the reason the Lions were so effective in 2011 is because they showed the ability to force turnovers. That fell off drastically in 2012, and so did the Lions' win total.
Hall forced 17 turnovers in his time at Clemson, including four interceptions during his senior year. That's the third-most for a single player in Clemson history. Not a bad mark for a seventh-round pick.
Ultimately, the turnover number means Hall plays with good instincts, but it also means he'll take chances and make mistakes. There's nothing a big-armed quarterback likes better than a safety that bites on his instincts.
That means Hall will need some coaching, but what seventh-rounder doesn't? The talent is there.
Keep Reading

Detroit Lions: Like this team?