Detroit Lions Mock Draft: Predicting All 7 Rounds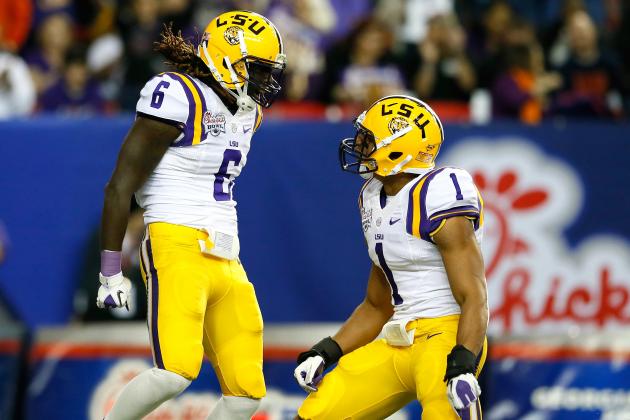 Kevin C. Cox/Getty Images

Free agency has begun, pro days are on, and the call of Radio City Music Hall in New York City is getting closer and closer.
That's right, folks. The NFL draft is a little closer now than it was the last time you read a mock draft, and before you know it, half of every team's fan base will be talking about the Super Bowl while the other half talks about Jadeveon Clowney.
To an extent, the Lions' fanbase is already split along those lines. But then, it often is, and I don't claim to always be on the right side of history. Sometimes I'm very, very wrong, as many of you gently suggested I might be on my last mock draft.
That's okay, nobody's perfect, and I'd rather not pretend I am.
I'd rather acknowledge my own mistakes than pretend I don't make them. Of course, I stand by my decisions in the last mock—nobody will know whether they're good picks or not until about 2015—but that's old news now, right?
Rather than dwell, I present another mock draft for your perusal. And if you want to go back and laugh at some of my previous...er... questionable decisions, feel free. Enjoy the gift of retrospect.
Previous mock drafts:
Begin Slideshow

»
Ziggy Ansah might be the ultimate high-upside pick in this draft.
Highly coachable and possessing almost ideal measurements for a 4-3 DE, Ansah's biggest issue is having only three years of experience in football at any level.
Ansah only played one year at defensive end, but in that year, he showed tremendous growth. He did the same at the Senior Bowl, with Lions coach Jim Schwartz himself talking about his rapid progression in just one week of practice (h/t MLive.com).
Given Ansah's size and physical tools, there seems to be little doubt he has the potential to become the best pass-rusher in this year's draft. But the problem with high ceilings is that they're very hard to reach—Ansah might be one of the few who can.
In his senior year at BYU, the Senior Bowl and eventually at the combine, Ansah has shown nothing but rapid progression and unparalleled measurables.
He's inexperienced but he's big, strong, quick and learns extremely fast.
In effect, he's a higher-risk, higher-reward version of Sammie Lee Hill. The Lions have had success with Hill, so there's little reason they can't do the same with Ansah.
Previous picks:
Manti Te'o, LB, Notre Dame (01/07/13)
Damontre Moore, DE, Texas A&M (01/26/13)
Bjoern Werner, DE, Florida State (02/04/13)
Eric Fisher, OT, Central Michigan (02/11/13)
Kenny Vaccaro, S,Texas (02/27/13)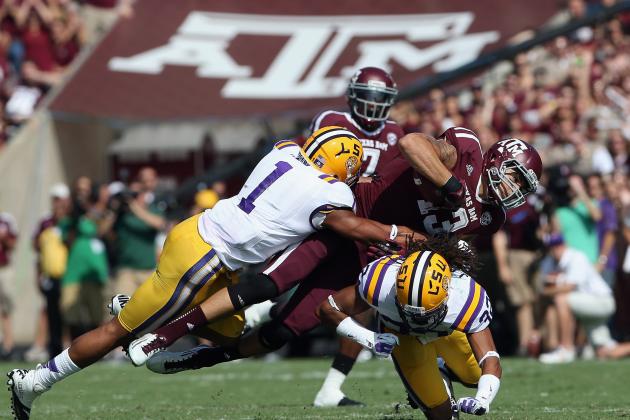 Ronald Martinez/Getty Images

On another team, Eric Reid might become a player tasked with competing with Calvin Johnson for those deep jump balls.
Standing 6'1" with a vertical leap of 40.5", Reid would...well, okay, he'd still lose the jump ball, like everyone does against Megatron but it would at least have to be a high-pointed ball.
The point is, Reid is a talented safety who is skilled in both the run and pass games. He likes to hit receivers over the middle and has the athleticism to cover them downfield.
He can make plays in the backfield, but isn't really a consistent tackler against bigger backs.
Still, Reid should be the best all-around safety talent the Lions can find in the second round, if he even gets that far.
He'll be an instant starter, and has room to grow from there.
Previous picks:
Barrett Jones, OL, Alabama (01/07/13)
Tavon Austin, WR, West Virginia (01/26/13)
Matt Elam, S, Florida (02/04/13)
Giovani Bernard, RB, North Carolina (02/11/13)
Sam Montgomery, DE, LSU (02/27/13)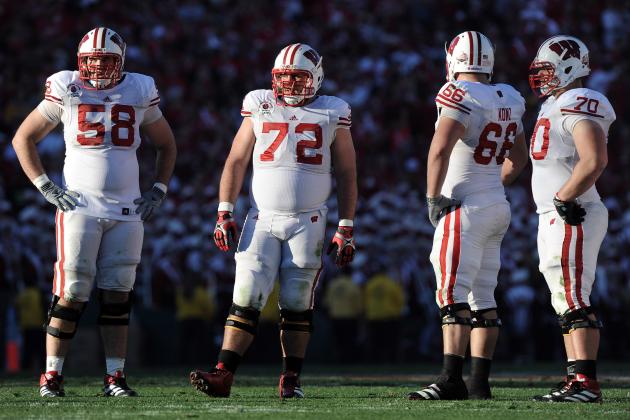 Harry How/Getty Images

Wisconsin has a storied history of producing NFL-quality offensive linemen.
Peter Konz, Gabe Carimi, Kevin Zeitler, John Moffitt, and the Lions' own Bill Nagy cover only some of the more notable active players.
Oh, those and five-time All-Pro Joe Thomas, who doesn't know what it's like to not be elected to the Pro Bowl.
So here comes Travis Frederick, the latest of a long line of successful Wisconsin linemen.
He isn't the most physically imposing guy ever to wear a Badgers uniform, but at 6' 4", 312 pounds, he's an awful lot bigger than Dominic Raiola.
Frederick and Alabama's Barrett Jones are pretty much co-leaders as center prospects go in this draft, but Frederick's stock has fallen after showing an across-the-board lack of athleticism in the Combine.
That's Detroit's gain if he slides into the third round.
Bottom line, Frederick is a thick-bodied prospect who can drive defenders out of running lanes. He's not a road-grader, but he has the size and strength to resist getting bulled into the backfield (something that happens to Raiola regularly).
In addition, Frederick is a reliable shotgun snapper, which he'll need to be if Detroit drafts him.
Previous picks:
Tank Carradine, DE, Florida State (01/07/13)
Dallas Thomas, OT/G, Tennessee (01/26/13)
Kyle Long, OT/G, Oregon (02/04/13)
David Amerson, CB, N.C. State (02/11/13)
Andre Ellington, RB, Clemson (02/27/13)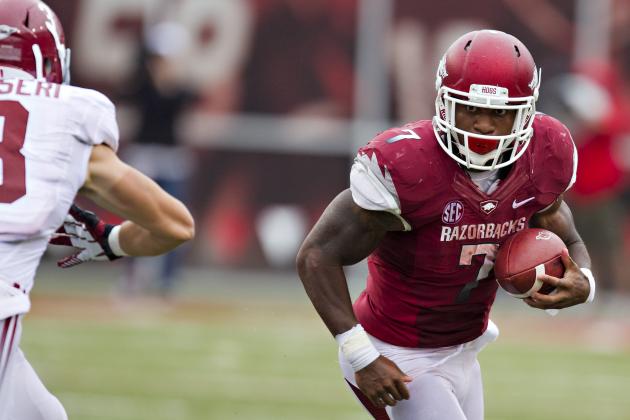 Wesley Hitt/Getty Images

There's a strong possibility Knile Davis is gone before this point, because there are some talent evaluators who think the Combine is more important than game tape.
And every once in a while, they're right.
In this case, his sub-4.4 second 40-yard dash at the Combine shouldn't supercede his injury history, lack of balance, inconsistency in the passing game (both as a receiver and a blocker) and the fact that he never shows his workout speed on the field.
Still, if he's around in the fifth round, then a running back with a sub-4.4 second time in the 40 is still around in the fifth round. Enough said.
The Lions can, at that point, take a chance on a superior physical talent and try to get it translated to the field as they go.
Anybody in the fifth round is a project. Few will have Davis' raw speed.
Previous picks:
Baccari Rambo, S, Georgia (01/07/13)
Mike Gillislee, RB, Florida (01/26/13)
Johnathan Franklin, RB, UCLA (02/04/13)
Devin Taylor, DE, South Carolina (02/11/13)
Hugh Thornton, G, Illinois (02/27/13)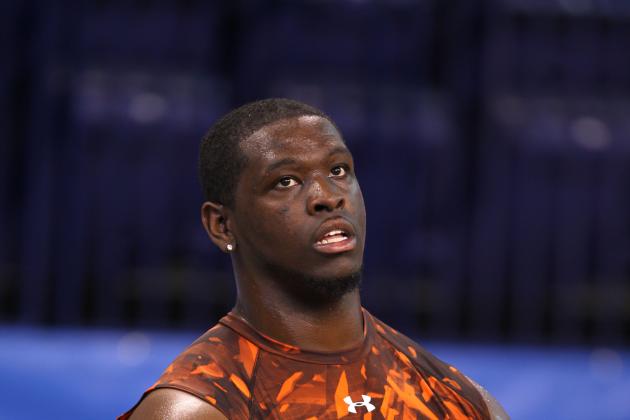 Brian Spurlock-USA TODAY Sports

Okay, so it's no secret that offensive lineman don't typically run 40 yards in a straight line, and so a blazing 40 time for an offensive lineman should be a non-issue.
Theoretically.
But athleticism is important to offensive linemen, and Armstead has shown that in very large quantities. He has problems in his game, and isn't a massive force on the line, but in the sixth round, the former track and field star is worth a look.
These athletic, high ceiling project players are what the late rounds are all about. Armstead isn't exactly a safe play, but he's low-risk with potentially moderate reward.
Previous picks:
Dion Sims, TE, Michigan State (01/07/13)
Brian Schwenke, C, California (01/26/13)
Jordan Hill, DT, Penn State (02/04/13)
Conner Vernon, WR, Duke (02/11/13)
Dwayne Gratz, CB, Connecticut (02/27/13)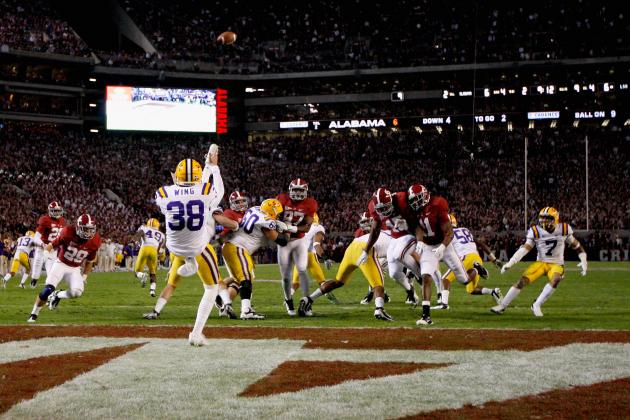 Streeter Lecka/Getty Images

Normally I wouldn't advocate using a draft pick on a kicking specialist, but it's about the only way the Lions find an everyday starter at this point.
Nick Harris was awful last year and won't be re-signed.
Right now, the Lions have zero options for punters, and Wing is the best punter in this draft class with a sixth-seventh-round grade. Assuming no team goes all Jaguars on him this year, he could be a value pickup in the seventh.
After all, the Lions have had success drafting kicking specialists in the past.
Previous picks:
Josh Boyd, DT, Mississippi State (01/07/13)
Rashard Hall, FS, Clemson (01/26/13)
Marquess Wilson, WR, Washington State (02/04/13)
Joe Madsen, C, West Virginia (02/11/13)
DeVonte Holloman, OLB, South Carolina (02/27/13)