Lions Mock Draft: Predicting All 7 Rounds, Pre-Scouting Combine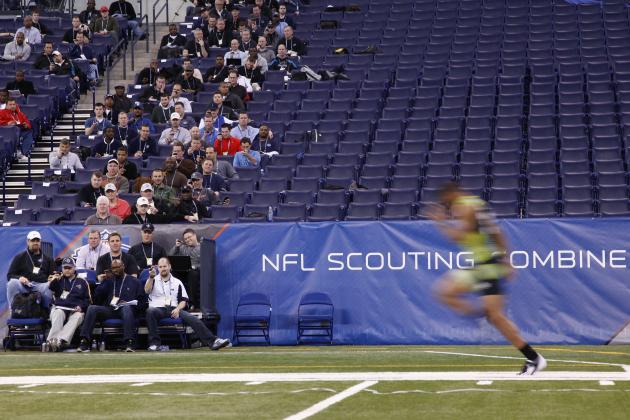 Joe Robbins/Getty Images

The NFL combine is a fickle beast. More than 300 players will report to the combine and be worked out under the same circumstances, and we will talk for months about how their stocks rose or fell accordingly.
Everybody knows it's a spectacle, everybody knows that its results get overblown and every year, a workout warrior busts and a player that posts bad measurables ends up being hugely successful.
The problem is, everybody knows it, but nobody thinks it will happen to them. The combine gives scouts concrete figures to work with. It's impossible to quantify how a Mountain West pass-rusher will stack up against NFL competition based solely on their play, but everybody knows what a 4.4 40-yard dash time means for a skill position player.
It means they're fast. And fast is good. NFL teams like fast. Sometimes too much, in fact.
The best way to approach the NFL draft is with critical interest. There is good information to be found in it, but if the fastest player at the combine was not especially effective on the field, it's worth considering why. It's not always just scheme and coaching.
Where the Detroit Lions will be especially interested at the combine is conducting interviews. After disastrous personality results in the 2011 draft (four arrests and a mutiny in three picks), and with many of the Lions' locker-room leaders aging or being cut, the Lions may put a premium on character in this year's combine.
Of course, that doesn't mean they won't be looking for talent. It just means they may not privilege talent over glaring personality flaws this time.
Previous mock drafts:
Begin Slideshow

»
The combine isn't the only place prospects can find a meteoric rise to the top. Eric Fisher did it at the Senior Bowl, and now he is considered in the top two tackle prospects in this draft along with Luke Joeckel of Texas A&M.
I'll be honest about this. I'll be a little surprised if the Lions go with an offensive lineman (especially a tackle) here with other needs more glaring.
But when have the Lions ever truly cared about immediate need and instant impact in the draft? They haven't, and that's what makes this a possibility (and a potentially good pick).
Fisher, standing a massive 6'7", 305 pounds, is surprisingly athletic, and he uses his length to keep pass-rushers at bay. If he performs at the combine the way he did at the Senior Bowl, the Lions might not even get a chance to draft him.
I know what you're thinking: "But wait! The Lions drafted Riley Reiff to be their starting left tackle! Why would they draft another one?"
That's a fair question, but remember that Jeff Backus is considering retirement and Gosder Cherilus is a free agent who is unlikely to be retained. The Lions don't need one tackle—they need two. Jason Fox and Corey Hilliard are fair counterpoints to this, but we don't really know if they've developed to the point of consistent starters yet (or if they ever will).
Reiff may have been drafted as the left tackle of the future, but his stouter build and elite-tier run blocking are attributes more typical of a right tackle (which is where he's likely to play this year, anyway). Would it be that bad seeing Reiff and Fisher anchoring the ends of the offensive line for the next 10 years?
Previous picks: Manti Te'o, LB, Notre Dame (01/07/13)
Damontre Moore, DE, Texas A&M (01/26/13)
Bjoern Werner, DE, Florida State (02/04/13)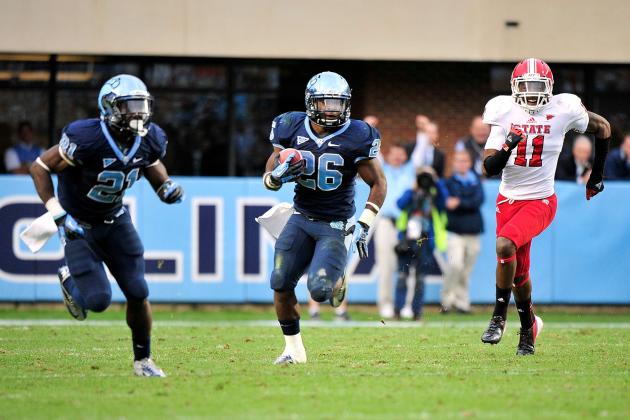 Grant Halverson/Getty Images

Three years ago, the Lions were in almost this exact position in the draft when they traded up with the Minnesota Vikings for Jahvid Best.
That would have been a slam dunk of a pick. When Best was on the field, he transformed the offense into one that could go the distance on a checkdown under almost any circumstances.
Unfortunately, his injuries, the very reason a player of his caliber was available at the end of the first round, proved too difficult to overcome, and now the Lions are back at the drawing board.
Giovani Bernard isn't Jahvid Best. Very few people are. That's why he was a first-round pick even with debilitating head injuries.
But Bernard can run. He's elusive and can run away from contact, which is something basically no Lions running back is able to do right now.
Mikel Leshoure punishes defenders. Joique Bell can break tackles. But they're both rumblers and grinders. The Lions went a majority of the 2012 season without a single rush of more than 20 yards. Nobody was worried about getting beat by the Lions' rushing attack, and it showed.
Perhaps Bernard, who led the ACC in every conceivable running back category, can put some of the big-play fear back into opposing defenses and give the Lions the quality depth and options at running back they've sorely missed.
This is a situation where the Lions will be watching Bernard's speed, agility and pass-catching drills very closely. If they think he can bring back some of what they had and lost with Jahvid Best, they may take a shot.
Previous picks: Barrett Jones, OL, Alabama (01/07/13)
Tavon Austin, WR, West Virginia (01/26/13)
Matt Elam, S, Florida (02/04/13)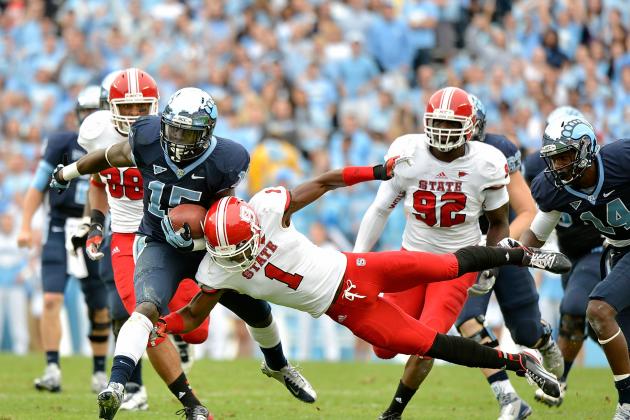 Grant Halverson/Getty Images

Depending on whom you ask, the Lions' biggest need on defense may be either cornerback or safety. So why not draft a guy who could play both?
I like David Amerson, and the Lions likely will too. As a sophomore safety, Amerson posted 13 interceptions, including four multi-interception games and two defensive touchdowns.
Amerson stands at 6'2", and he played safety in college, which means he's not afraid to play physical. Size and physicality are two things the Lions want in a DB, and Amerson has them in excess for his position.
What Amerson lacks is elite straight-line speed and discipline (the on-field kind, not the "stay out of jail" kind). Part of Amerson's 13-interception season had to do with his tendency to rely on his instincts and jump short routes.
That's great for big plays, and Amerson had no shortage of those. But his aggressiveness makes him susceptible to double-moves, and his average speed and fluidity make those mistakes more damaging. This is partly why Amerson's junior season fell so flat, and consequently why he's a possibility in the third round instead of a top-10 lock.
With his skill set (and weaknesses), it might make a lot of sense for the Lions to bring Amerson on as a safety, Amari Spievey-style. His fluidity on the wings and lack of elite speed would be less notable there, he would have more opportunity to play physical. Plus, the Lions have needed a safety who is skilled as a ball hawk rather than just a run-stopper.
But that's not a decision the Lions have to make immediately. They can draft Amerson first and figure out where he's comfortable in the scheme later. He has skills to be successful, but he'll need some coaching up either way.
Previous picks: Tank Carradine, DE, Florida State (01/07/13)
Dallas Thomas, OT/G, Tennessee (01/26/13)
Kyle Long, OT/G, Oregon (02/04/13)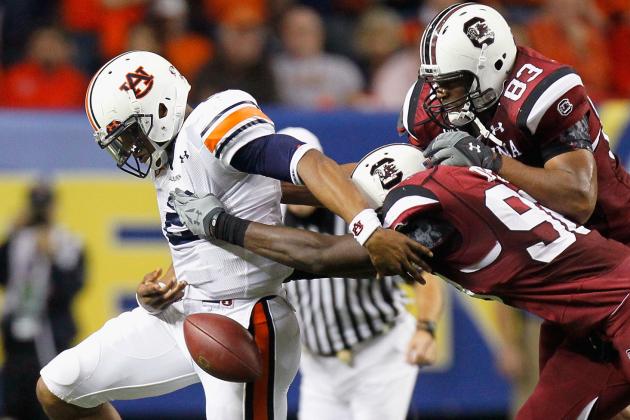 Kevin C. Cox/Getty Images

This may be a bit too much of a fall for Devin Taylor, who grades out around the third or fourth round. But the Lions are known for taking the value pick, so if Taylor is there, he's a solid pick.
Taylor is one of those guys who seems to have everything. He'll probably do very well at the combine (which makes his availability here that much less likely), with a good mix of size, strength and speed.
What Taylor lacks is good technique or fluidity. If he's your create-a-player in Madden, Taylor is what happens when you max out strength and speed but forget about awareness and agility.
Taylor plays a very stiff brand of football, which makes him susceptible to tackles with good footwork. Still, Taylor was able to get into the backfield with some regularity at South Carolina. Problem is, he'd often get back there and find himself out of position. And because of his athleticism and length, he'd often make the tackle anyway.
The result is that Taylor is the kind of guy who makes the routine play look like a highlight. Still, the measurables are there, and his flaws can (theoretically) be coached. His flaws might also be minimized if he takes over for Cliff Avril. Taylor had better success against right tackles in South Carolina, and the wide-nine (love it or hate it) will make his lack of agility less of an issue.
Taylor looks like a project with high upside right now, but high upside is often what teams are looking for in the fifth round. Sammie Hill and Willie Young are proof that the Lions can find success with defensive linemen in the middle/late rounds, so this could conceivably be like that.
Previous pick: Baccari Rambo, S, Georgia (01/07/13)
Mike Gillislee, RB, Florida (01/26/13)
Johnathan Franklin, RB, UCLA (02/04/13)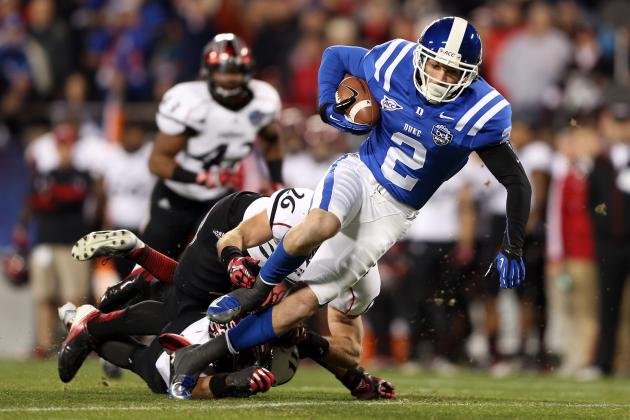 Streeter Lecka/Getty Images

Yes, a wide receiver from Duke is worth something other than an obligatory UDFA training camp invite.
I'm surprised, too, believe me.
But the fact of the matter is, Vernon caught 85 passes for more than 1,000 yards and eight touchdowns during his final year at Duke. He produces, and he's the kind of down-the-field receiver that the Lions really need to complement Calvin Johnson.
Reviews on Vernon's Senior Bowl performance were mixed at best. He had high points and low points—one of the low points being when Lions receivers coach Tim Lappano chastised him for signaling his cuts.
But this is all the more reason why the combine will be important to Vernon. Strong measurables will help level out an uneven Senior Bowl performance and quell natural concerns about taking what amounts to a small-school prospect. There may be serious potential here, but it's on Vernon to prove it.
Previous picks: Dion Sims, TE, Michigan State (01/07/13)
Brian Schwenke, C, California (01/26/13)
Jordan Hill, DT, Penn State (02/04/13)
Streeter Lecka/Getty Images

Joe Madsen has some things in common with Dominic Raiola. His game is predicated on making holes with quickness and technique rather than power, and he's an experienced shotgun snapper who can read opposing defenses.
The difference between Madsen and Raiola is that Madsen is three inches taller and 10 pounds heavier. Raiola has played his entire career compensating for the fact that he is smaller than the prototypical center.
Madsen won't have that issue. He has the frame to put on more weight, and he can (and likely will) play stronger with a year in an NFL weight-training program. He may not be a road-grader, but he should at least be difficult to push around.
All that doesn't mean Madsen is a can't miss or anything. He's a seventh-round pick who projects as such. He's definitely a project, but the Lions need to be thinking about who follows Raiola up, and they might consider getting that guy on the team while he can still learn a thing or 3,000 from the wily veteran.
Previous picks: Josh Boyd, DT, Mississippi State (01/07/13)
Rashard Hall, FS, Clemson (01/26/13)
Marquess Wilson, WR, Washington State (02/04/13)