NFL Draft: Ranking Each Team's First-Round Pick from 2009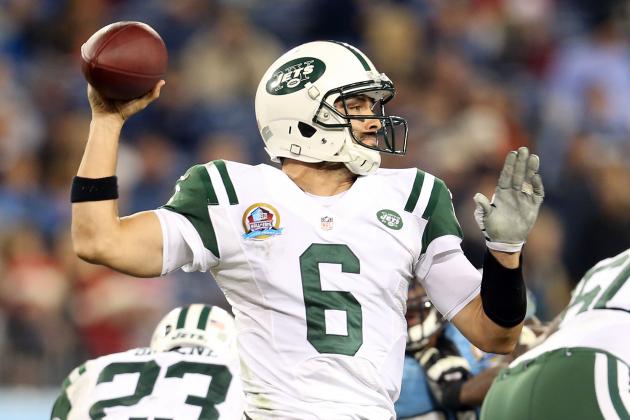 Andy Lyons/Getty Images

It's been four years since the 2009 NFL draft. That's more than enough time to fully evaluate the performances each team has gotten from its first-round pick.
The Detroit Lions got themselves a franchise quarterback when they made Matthew Stafford the first overall pick in the draft. After that though, the following picks have been extremely subpar. Jason Smith, Tyson Jackson, Aaron Curry and Mark Sanchez have all underperformed.
That means just one of the top five picks has been a star player. Even the sixth overall pick, Andre Smith, has been very good but may leave in free agency. Still, others like Michael Crabtree and Eugene Monroe started very slow but have started to gain strides as of late.
The following ranks the players in order of the performances they've given their teams so far. Players like Stafford who were drafted first overall will be graded on a stricter scale. A player's departure from his team in free agency (A. Smith) will not negatively affect his rating because it is based solely on what he's done so far in the league.
Click here for the 2010 version, 2011 version or the 2012 version.
Begin Slideshow

»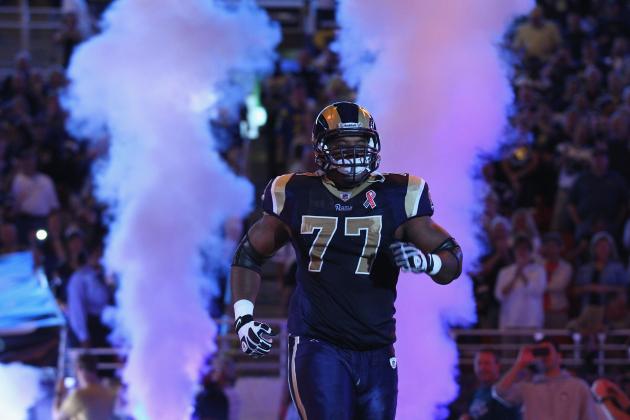 Dilip Vishwanat/Getty Images

This pick has set the St. Louis Rams franchise back several years. The team picked offensive tackle Jason Smith second overall, expecting him to be the cornerstone of its offensive line for the next decade.
Instead, Smith was mercifully traded after three miserable seasons. During his time in St. Louis, Smith was beaten out by rookie left tackle Rodger Saffold for the starting left tackle spot. Smith missed 19 of a possible 48 games due to injury. His bout with concussions, poor run-blocking skills and failure to deal with NFL speed-rushers were a big reason the Rams went 11-37 during the seasons he was on the team (and 7-22 in games in which Smith actually played).
The Rams are still putting forth an underwhelming offensive line, one that may shorten Sam Bradford's career in the NFL. Smith's selection will undoubtedly lead the Rams to draft another tackle this year, which would be better used on a wide receiver for Bradford.
Grade: F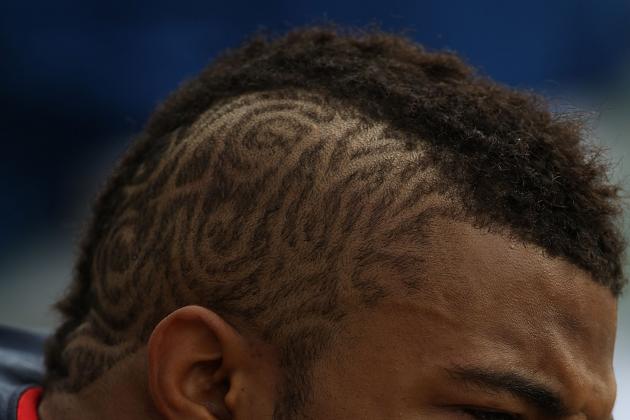 Jonathan Daniel/Getty Images

It says something about the ineptitude of Jason Smith that he manages to beat out Aaron Maybin for the last spot on this list. Maybin was as ineffective as it gets. He played in all 16 games as a rookie, appearing in 231 snaps and providing virtually no positive impact to his team.
By year two, Maybin was a healthy scratch for a Week 6 game. He was released after the season. His lifetime totals with the Buffalo Bills include 26 games played, zero sacks, zero interceptions and 14 tackles. The New York Jets took a gamble on him and managed to squeeze six sacks and four forced fumbles out of him in 2011.
Maybin saw action in eight more games in 2012, registering no sacks and one tackle before the Jets released him midseason. He's actually been a worse player than Smith, but he didn't go second overall, which is why Smith rates worse.
Grade: F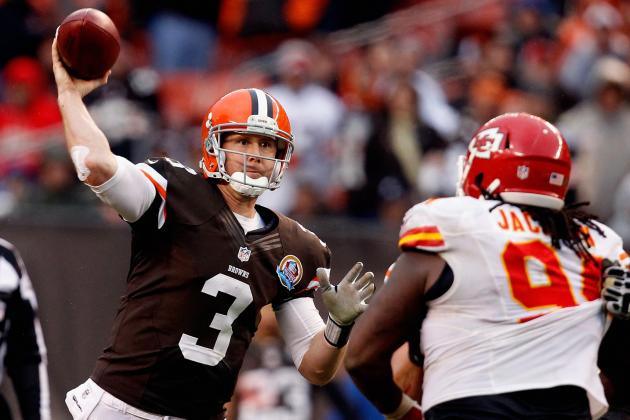 Matt Sullivan/Getty Images

The Kansas City Chiefs haven't had much success picking defensive linemen in the top 10 overall. They whiffed on Ryan Sims in 2002, and they managed to screw up picks on both Glenn Dorsey and Tyson Jackson in consecutive years.
Jackson was expected to be a prototypical 3-4 defensive end like Richard Seymour. He's played in 59 games since being drafted but has registered just a grand total of five sacks, zero forced fumbles and zero fumble recoveries. Jackson is used primarily as a run-stuffer, but he's not particularly effective in that aspect either.
Considering he's going to make $14.72 million this year, Jackson won't be on the Chiefs in 2013.
Grade: F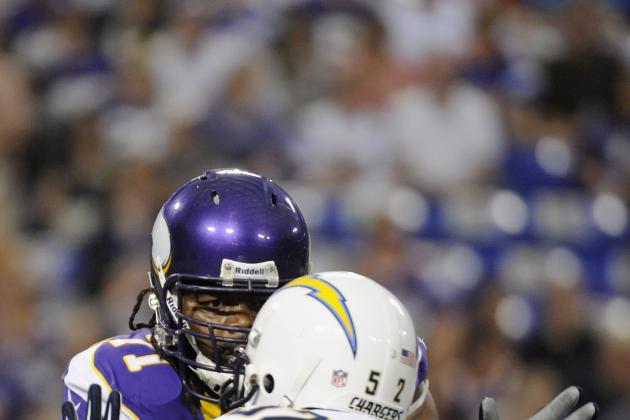 Hannah Foslien/Getty Images

Add Larry English to the list of pass-rushers from the first round in 2009 who didn't pan out.
English has played in just 43 of a possible 64 games because of foot injuries that cost him time in consecutive seasons. English has started just four games since '09. His grand totals as a San Diego Charger include 8.5 sacks and one forced fumble.
He's only going to make a little over $2 million in 2013, so he's probably going to play out his rookie contract. After that though, all bets are off as to where he'll play.
Grade: F
Kevin C. Cox/Getty Images

Peria Jerry doesn't get the recognition of some of the more notable busts, but he's been extremely unproductive. Since 2009, Jerry has started just 15 games with a grand total of two sacks.
He missed extensive time as a rookie due to injuries, but he hasn't made an impact in the three seasons since. Jerry was drafted to be a nose tackle, but he's even seen limited time as a backup. His rookie contract carries him through next season, but if he wants to revive his career, he better do it quickly.
Grade: D-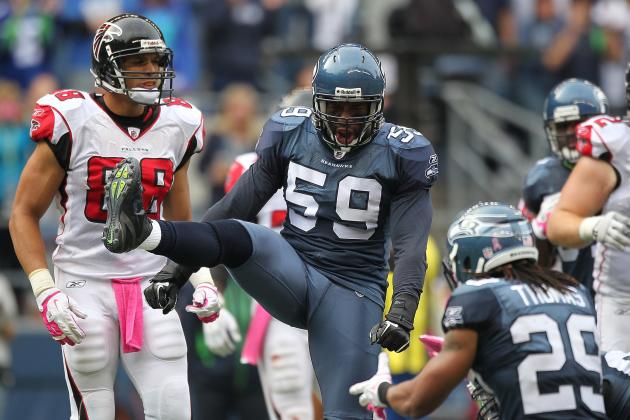 Otto Greule Jr/Getty Images

Getting traded to the Oakland Raiders halfway through year three is normally a sign that a top-five pick didn't make it.
Aaron Curry was rumored to be selected No. 1 overall prior to the 2009 NFL draft. He received a massive contract worth $60 million, including $34 million guaranteed.
Curry is a physical freak of nature whose skills never translated to the NFL level. He picked up 5.5 sacks in his first two seasons but never intercepted a pass. Curry was eventually traded for a seventh-round pick and then released midway through 2012.
Grade: D-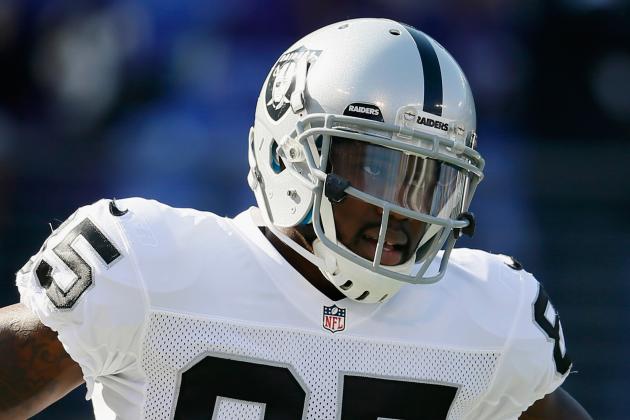 Rob Carr/Getty Images

Darrius Heyward-Bey's 40-yard dash was the biggest reason Al Davis drafted him in the top 10. Heyward-Bey took several seasons to get accustomed to the NFL before putting up a solid campaign in 2011 (64 receptions, 975 yards, four touchdowns).
He followed that this past year with a drop-off, and he may be released this offseason. At the very least, he will need to restructure his contract, considering he's set to make a base salary of $7.72 million in 2013.
Heyward-Bey hasn't had a Pro Bowl quarterback throwing to him, and his supporting cast has been inferior. But his biggest problem has been route running and a high percentage of drops. A DUI incident off the field didn't help his case.
Grade: D-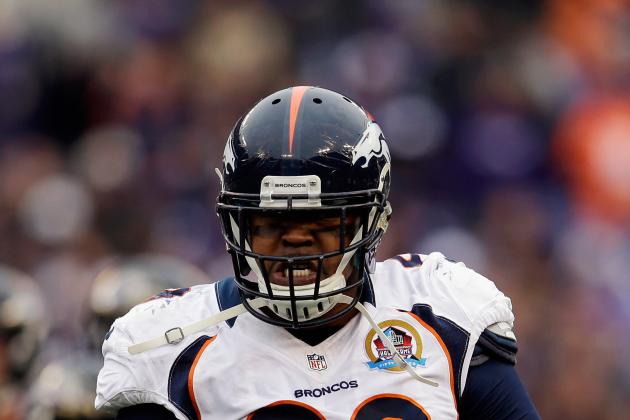 Rob Carr/Getty Images

Robert Ayers hasn't seen success at any position so far in the NFL. He struggled as a defensive end and wasn't any better as an outside linebacker.
Ayers has started just 24 games in four seasons for the Denver Broncos. He's racked up only 6.5 sacks and two forced fumbles. That eventually led to Ayers entering the 2012 campaign as a reserve in defensive coordinator Jack Del Rio's system.
Grade: D-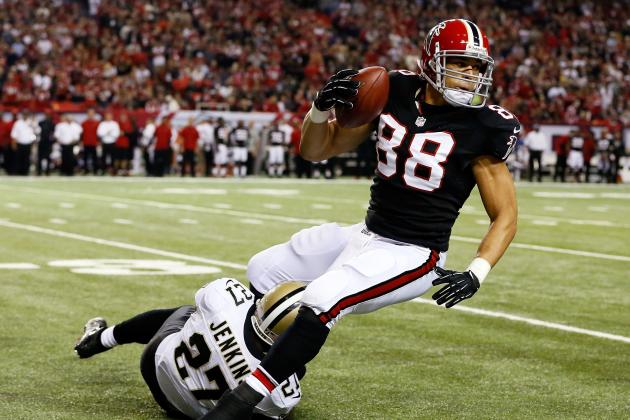 Kevin C. Cox/Getty Images

One year into his NFL career, the New Orleans Saints shifted Malcolm Jenkins to safety. He's had his moments, but he's nowhere near the ball hawk in pass coverage the team thought he might be.
Jenkins has just four interceptions in 59 career games. He's a four-year starter, but he's coming off by far his worst season in the pros. Jenkins is subpar against the run, he's not an effective blitzer and he commits too many penalties. He was a big reason why the 2012 Saints gave up more total yards than any team in NFL history.
Grade: D
Tom Pennington/Getty Images

It took Ziggy Hood awhile to crack the starting lineup for the Pittsburgh Steelers. He's played in 64 of a possible 64 games but has started just 39 of them. After starting just nine of his first 32 games though, Hood has started 30 of the past 32.
Hood is a terrible pass-rusher. He's picked up just 8.5 sacks and zero forced fumbles since 2009. Strictly by Pro Football Focus' standards, Hood grades as one of the worst defensive players in the league over the past four seasons. He's an adequate run defender, but he really doesn't offer too much to the Steelers.
The best bet for the Steelers is that Hood would have turned into an Aaron Smith type of player. But when his contract terms after 2013, he may be looking for a new team.
Grade: D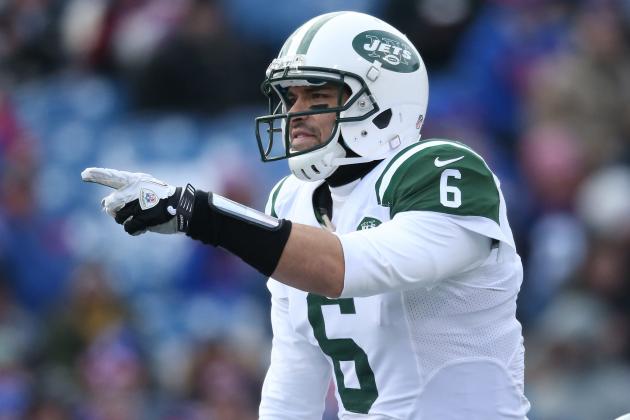 Tom Szczerbowski/Getty Images

Mark Sanchez's flaws are evident; that's for sure. The whole world knows about his shortcomings: He's never completed higher than 56.7 percent of his passes in a single season, he's thrown at least 18 interceptions three times, he has a career passer rating of 71.7 and his yards per attempt of 6.5 is nothing to brag about.
What Sanchez does have going for him is that he's shown a surprising knack for performing in the clutch. That's what has kept him from ranking lower on the list. Sanchez has led 10 fourth-quarter comebacks in four seasons. He's won four playoff games, all on the road, and he's turned in some truly fine performances (see the 2010 game against the Pittsburgh Steelers).
Sanchez probably won't ever be the quarterback of the future for the New York Jets. But it would be nice to see him work with a fine running back and a good group of wide receivers.
Grade: D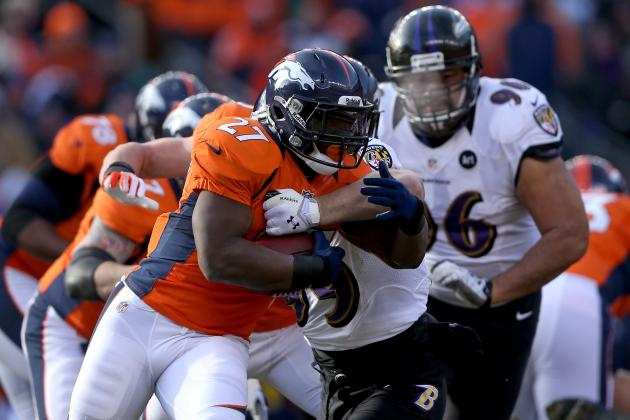 Jeff Gross/Getty Images

In four seasons since the Denver Broncos drafted him, Knowshon Moreno has never rushed for more than 947 yards or seven touchdowns in a single year.
His career totals so far of 2,430 rushing yards, four yards per carry and 16 rushing touchdowns are nothing special. Even when the Broncos revolutionized their offense under Tim Tebow in 2011, it was Willis McGahee, not Moreno, who got the bulk of the carries.
Grade: D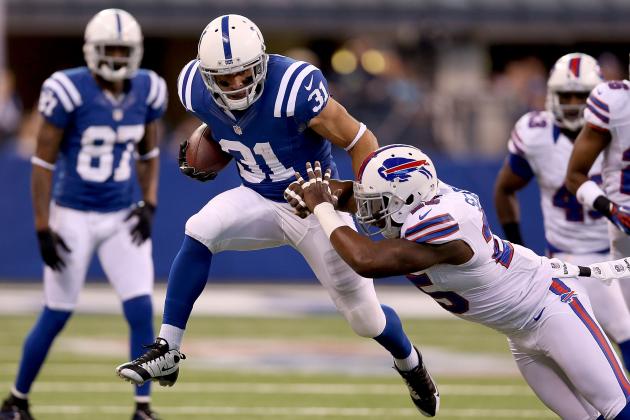 Matthew Stockman/Getty Images

Yet another running back who didn't live up to his first-round potential is Donald Brown.
Brown has never topped 645 rushing yards or five touchdowns in a season. He offers virtually no assistance as a receiver out of the backfield and has been a no-show in all three postseason games he's played in with the Indianapolis Colts.
It was a strange pick for the Colts, who threw it 600-650 times per season with Peyton Manning anyway.
Grade: D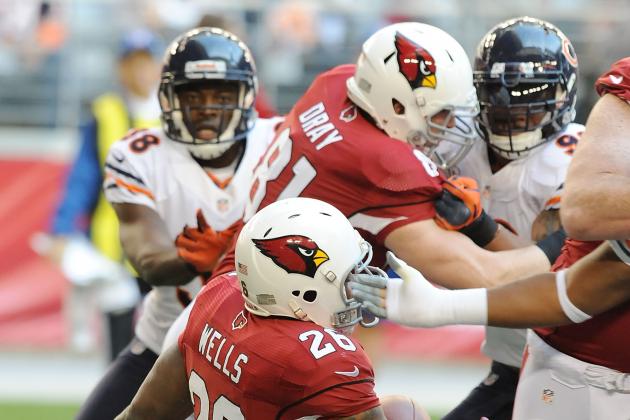 Norm Hall/Getty Images

Beanie Wells has nearly identical career numbers to Knowshon Moreno. Wells has 2,471 rushing yards to Moreno's 2,430. Each has a lifetime four yards per carry, which puts them in the exactly average category (maybe even slightly below).
Wells has played behind a worse offensive line though, and he's scored 24 touchdowns to 22 for Moreno. And the big reason he ranks higher is that he was drafted 19 picks after Moreno.
His '12 season though was an all-time worst. Wells became the third running back since 2000 to rush the ball at least 88 times with a yards per carry average (2.66) that low.
Grade: D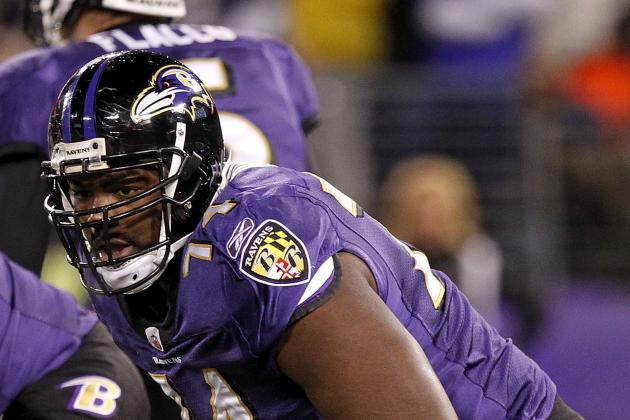 Geoff Burke/Getty Images

Michael Oher has had a strange career with the Baltimore Ravens. His rookie campaign in 2009 put him immediately in the class of the top 10 tackles in the game. Oher spent the campaign rotating between the blindside and the right tackle positions.
Oher played left tackle full-time in 2010, struggling for 16 games, giving up a ridiculous nine sacks and 28 hurries. He was moved to right tackle in '11 and let up 10 sacks, 43 hurries and committed 11 penalties. He was really exposed in the Ravens' playoff win over the Houston Texans, allowing three sacks.
Oher spent 2012 at left tackle until he moved to right tackle down the stretch. In all, he's started all 64 games, which gives him major points for durability. But he's given up 35 sacks and committed 44 penalties in just four seasons. That's really bad, even if the Ravens continue starting him.
Grade: D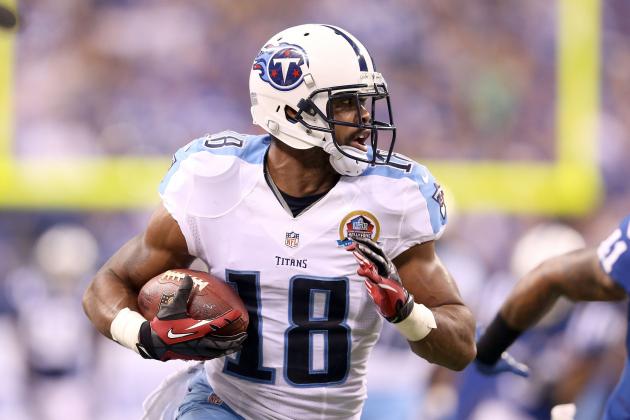 Andy Lyons/Getty Images

It's time for Kenny Britt to break out, but it just isn't happening.
Since being drafted, Britt has never topped 45 receptions or 775 yards in a single season. He's struggled with injuries and inconsistent play at the quarterback position. He's also had a slew of off-the-field issues.
The bottom line is that Britt has averaged 11 games played, 37 catches and 588 receiving yards per season since he was drafted.
Grade: C-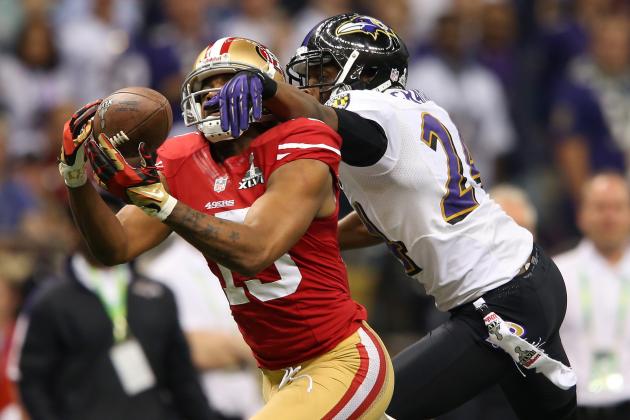 Mike Ehrmann/Getty Images

San Francisco 49ers fans have to be ecstatic with the recent emergence of Michael Crabtree. He looked like a bust for several seasons.
There was the lengthy holdout and broken foot his rookie season, and then another broken foot his third season. But he's quietly upped his receptions and yardage total every year of his career. In 2012, he totaled 85 receptions for 1,105 yards and nine touchdowns.
In the final nine games, he averaged 5.7 receptions, 82 yards and a little over a touchdown per game. In the playoffs, he caught 20 passes for 285 yards and three scores in three games. His overall grade does get docked though because he started slowly.
Grade: C-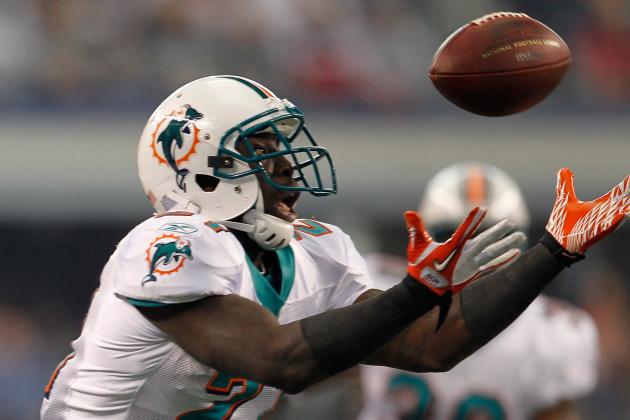 Tom Pennington/Getty Images

Vontae Davis was a pretty good corner for the Miami Dolphins for three seasons, which is why it was surprising that the team shipped him off to Indianapolis for a second-round pick.
Davis had probably his worst year in Indianapolis in 2012, although he wasn't playing opposite Sean Smith. It's tough to grade Davis, who gave the Dolphins three solid years before he was traded away.
Grade: C+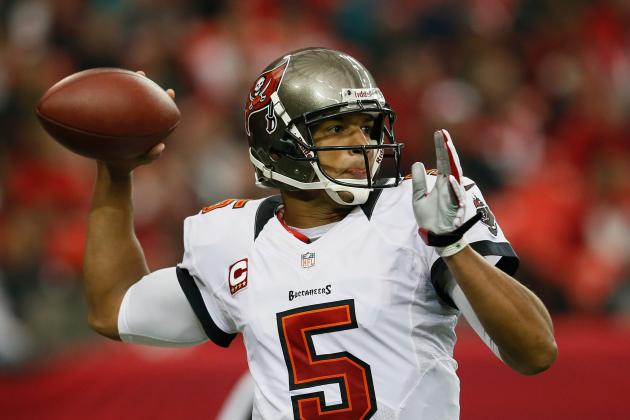 Kevin C. Cox/Getty Images

Josh Freeman is a tough quarterback to grade. I don't fault him for his awful rookie season because he was still getting adjusted to the NFL.
He was terrific in 2010 though, throwing 25 touchdowns to just six interceptions. He led five fourth-quarter comebacks and threw 15 touchdowns to just one pick down the stretch.
Freeman really regressed in 2011. The Tampa Bay Buccaneers lost their final nine games, during which Freeman threw 16 interceptions. And then Freeman was as up-and-down as he's ever been in 2012. He threw for over 4,000 yards and 27 scores but saw his completion percentage drop eight points as the Bucs went just 7-9.
The numbers don't lie. Of the 18 quarterbacks with at least 1,500 pass attempts since 2009, Freeman has the second-lowest completion percentage (Mark Sanchez is the only one lower). Freeman has the fifth-most interceptions, the third-worst passer rating and he's never been to the playoffs.
Simply put, 2013 will be a huge year for Freeman, who becomes a free agent after the campaign.
Grade: C+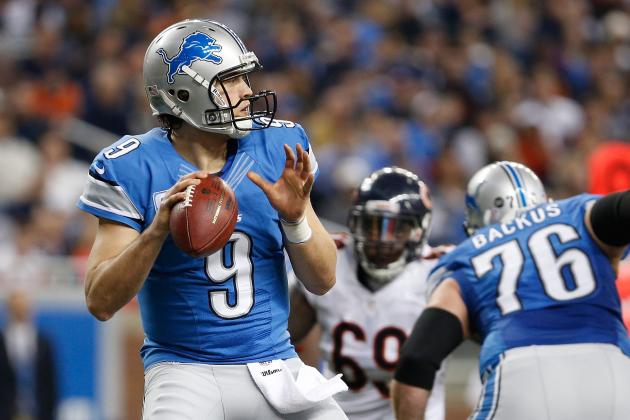 Gregory Shamus/Getty Images

Matthew Stafford is a significantly better quarterback than Josh Freeman; that's for sure. But Stafford is held to much higher expectations because he was the No. 1 overall pick in the 2009 draft.
Stafford struggled with injuries his first two seasons before breaking out as a third-year player. He topped 5,000 passing yards, threw a ridiculous 41 touchdowns and led the Detroit Lions to their first playoff appearance in over a decade.
That didn't carry over to 2012 though. Stafford barely threw more touchdowns than picks, and the Lions went 4-12. Stafford's almost-5,000 passing yards aren't nearly as impressive considering he threw the ball 37 more times than any quarterback in league history.
He could certainly use a better running game around him and a defense that keeps opposing teams off the board. He's probably going to have a great career, but his grade is relatively low because he's only had one good season in four years.
Grade: C+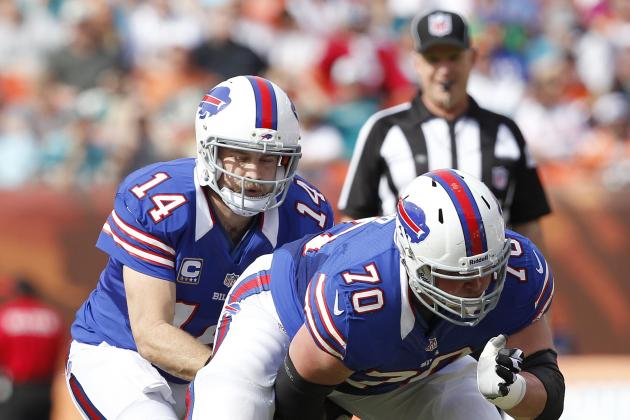 Joel Auerbach/Getty Images

When he's been healthy, Eric Wood is a very productive player. The problem has been staying healthy.
Wood suffered a gruesome leg break in his rookie season that caused him to miss six games. He missed just two games in 2010 but then tore his ACL in '11 and played in just nine of 16 contests. This past year, Wood missed two more games due to a partially torn MCL.
That means he's played in just 47 of 64 games since he was drafted. Wood has been excellent when healthy. The key will be putting it together for a full season, especially since he's set to become a free agent.
Grade: C+
Al Bello/Getty Images

It's safe to say Jeremy Maclin hasn't reached his full potential with the Philadelphia Eagles. Despite playing in a passing offense that thrives on the vertical game, Maclin has never reached so much as 1,000 receiving yards in a season. He's a free agent after 2013, and it's still up in the air as to whether or not he will return.
But he has been productive despite not having a breakout campaign. Maclin has averaged 65 receptions, 865 receiving yards and 6.5 touchdowns per season. He's just the fourth receiver ever with at least 55 catches and 750 yards in each of his first four seasons. That's good production, although it could and should be better.
Grade: C+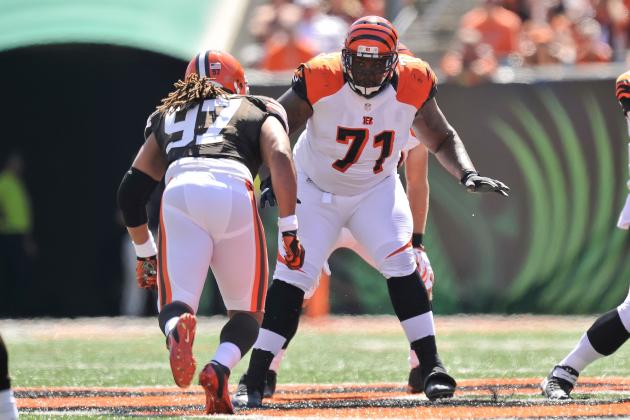 Jamie Sabau/Getty Images

Two seasons into his NFL career, it looked like the Cincinnati Bengals really blew it with Andre Smith. He had broken his foot twice and looked like the next bust.
But Smith came on strong in 2011 and played at a Pro Bowl level in '12. He rated as the fourth-best offensive tackle in the NFL, per Pro Football Focus. Smith is a star run-blocker, and he's going to be a top tackle in free agency.
Grade: B-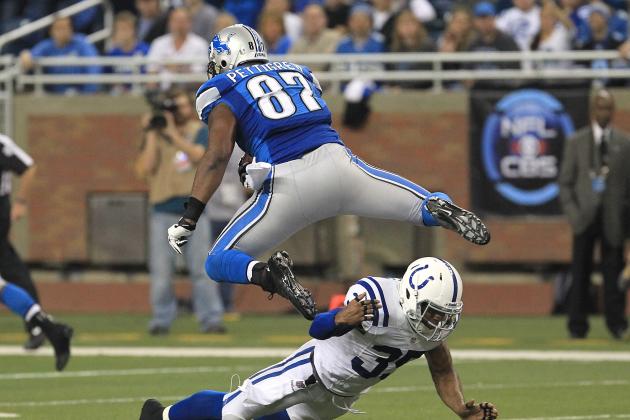 Dave Reginek/Getty Images

Spending a first-round pick on a tight end isn't the wisest move because too often the production is similar to players obtained in the second or even third round.
Brandon Pettigrew has been a good, even very good, tight end since the Detroit Lions drafted him. He's never made a Pro Bowl, but his numbers are pretty solid comparatively. Among all tight ends since 2009, Pettigrew is third in receptions, ninth in receiving yards and tied for 16th in touchdowns.
That's not stellar production in a passing offense. It's good, but Pettigrew's numbers aren't that much better than his backup, Tony Scheffler.
Grade: B-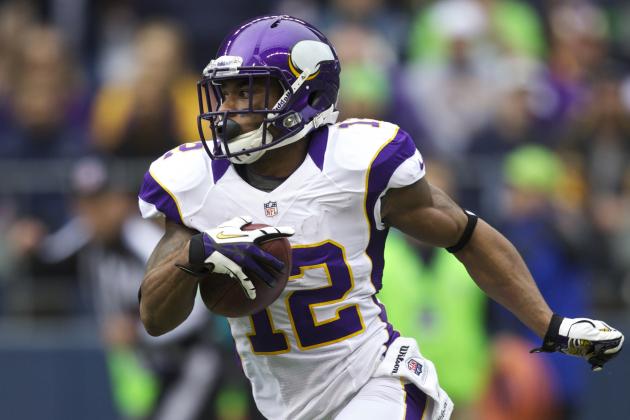 Stephen Brashear/Getty Images

Like Jeremy Maclin, Percy Harvin has never topped 1,000 receiving yards in a season. He's been a weapon though all over the field.
Harvin has returned five kicks for touchdowns and has averaged a ridiculous 27.9 yards per return for his career. He's averaged 70 receptions, 826 yards and five receiving touchdowns per season. And he's a threat to run the ball too, as he's picked up 683 rushing yards and four scores on 6.4 yards per carry.
Harvin this year was at his all-time best (until he got hurt). He caught 62 of the 81 passes thrown his way, which comes out to a 76.5 completion percentage (third-best in the NFL). Harvin dropped just one pass and caused defenders to miss 22 tackles, five more than any other receiver. And his 35.9 yards-per-return average on kickoffs was the third-greatest single-season total in NFL history, minimum 15 returns.
Grade: B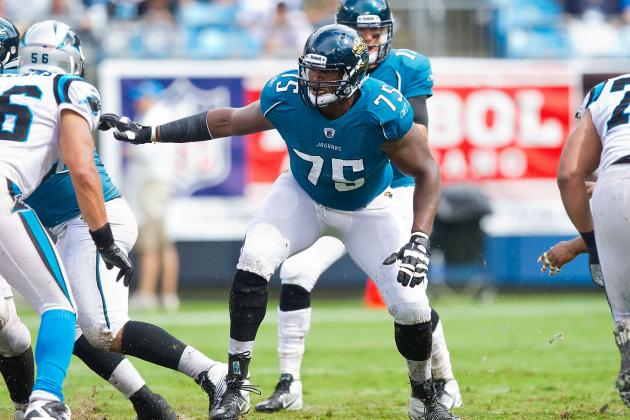 Brian A. Westerholt/Getty Images

Eugene Monroe's first game in the NFL was one for the ages. He played all 58 snaps, giving up one sack, two QB hits, seven pressures and committing a penalty.
He got back on track, though, and finished his rookie season as a pretty solid left tackle. Monroe dropped off as a sophomore player but played at a Pro Bowl level in 2011 and 2012.
Monroe still gives up too many sacks (nine and five the past two seasons). But that's much more indicative of his shoddy quarterbacks then his own liabilities as a pass-blocker. Monroe has also played a big part in the success of Maurice Jones-Drew running the football.
Grade: B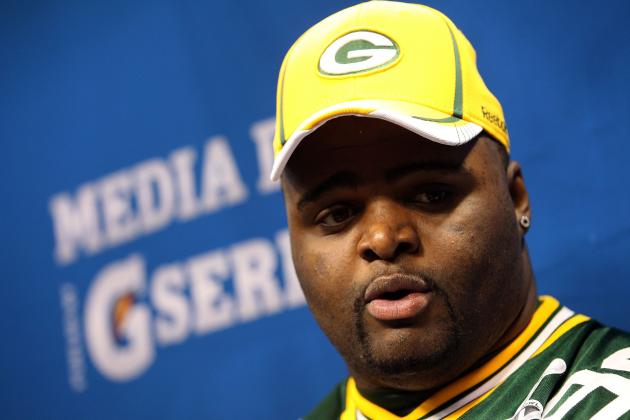 Ronald Martinez/Getty Images

Don't underestimate the importance of a quality nose tackle to a defense. In 2010, B.J. Raji was one of the finest in the business. He made life significantly easier for defenders Clay Matthews, Tramon Williams and Charles Woodson. Raji picked up 6.5 sacks from the 3-4 nose tackle position, and he helped the Green Bay Packers win the Super Bowl.
Raji's play really dropped off in '11, which coincided with a Packers defense that ranked 32nd in total defense and in passing defense. Raji was better in 2012, although he didn't register any sacks or forced fumbles.
In all, Raji has been inconsistent, but he's a quality nose tackle in a league where the 3-4 outside linebackers seem to be the best pass-rushers.
Grade: B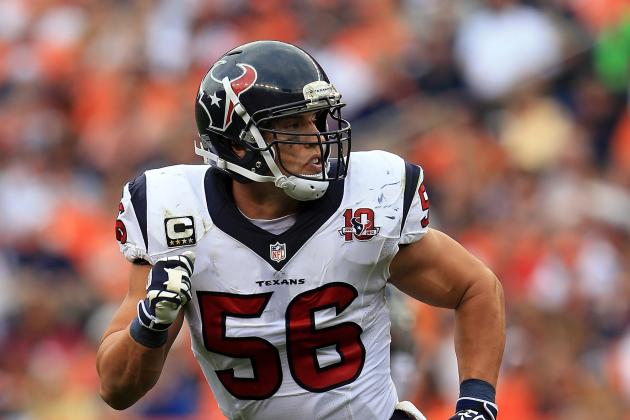 Doug Pensinger/Getty Images

Brian Cushing was the second Houston Texans player in four seasons to win the AP NFL Defensive Player of the Year award. That was for a 2009 season in which he registered four sacks, four interceptions, 10 passes defensed, two forced fumbles and 86 tackles. He helped lead Houston to their first winning season in franchise history.
The tremendous rookie year was dealt a hard blow, though, when Cushing tested positive for a banned substance. That caused Cushing to miss the first four games of 2010.
Cushing had a fine year still in '10 but returned to elite status in 2011. He continued his strong play into this past year before he tore his ACL and missed the final 11 games. Still, Cushing is a top-10 linebacker in the NFL, and he's a big reason the Texans have become one of the AFC's elite teams.
Grade: A-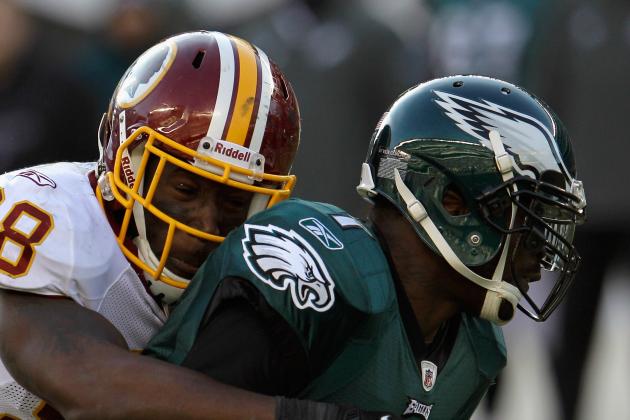 Rob Carr/Getty Images

There are a lot of similarities between Brian Orakpo and Brian Cushing: Each was taken around the middle of the first round in the 2009 draft, each is a linebacker in a 3-4 defense and each missed the majority of the 2012 season due to injury.
Orakpo has been to two Pro Bowls to Cushing's one. He's a pass-rusher who averaged 9.5 sacks his first three seasons. Cushing has probably been a slightly better player, but Orakpo gets the edge because he was not suspended for performance-enhancing drugs.
Grade: A-
Elsa/Getty Images

Hakeem Nicks has been a terrific receiver since he was drafted, but he has the potential to be even better. Nicks is a two-time 1,000-yard receiver, and he played a major role in the New York Giants' Super Bowl championship in 2011.
That year, Nicks caught a ridiculous 28 passes for 444 yards and four touchdowns in a four-game span. He had 10 catches for over 100 yards in the Super Bowl.
Nicks is a superior route-runner, and he picks up lots of yards after the catch. He missed a handful of games in 2012 due to injuries, but he is a top-seven receiver when healthy.
Grade: A-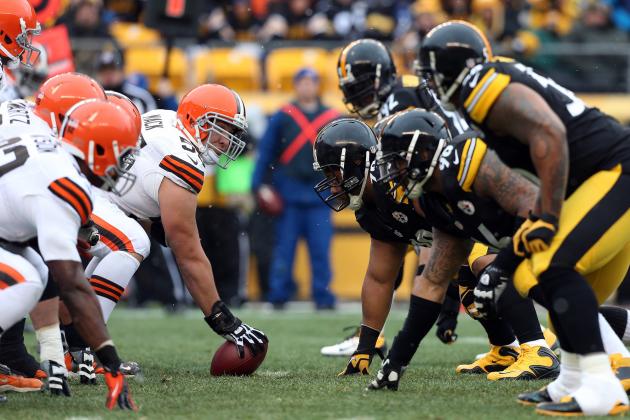 Karl Walter/Getty Images

Alex Mack has been one of the more underrated offensive players in the league since he was drafted. He's started 64 games out of a possible 64 since he was drafted.
Mack isn't the anchor of the line; that honor would belong to Joe Thomas, the all-world left tackle. But Mack is a top-five center in the game, and he's been instrumental for runners Jerome Harrison, Peyton Hillis and Trent Richardson.
Mack was named to the NFL All-Rookie Team in '09 and the Pro Bowl in '10. He's an exceptional player as both a pass-blocker and a run-blocker. Mack is quick enough to get downfield on screen passes, and his games-played streak shows his durability.
Grade: A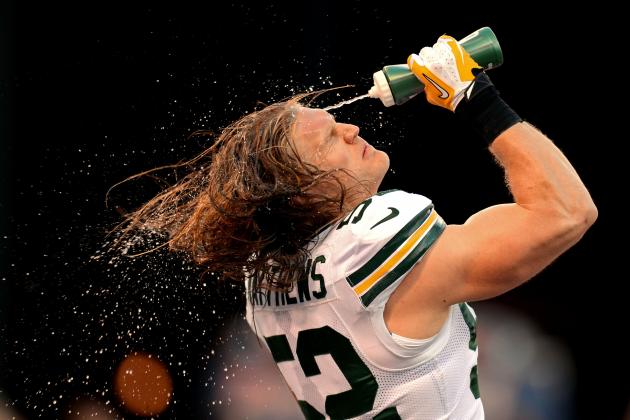 Thearon W. Henderson/Getty Images

Clay Matthews III didn't waste much time making his mark as a rookie. He comes from a family of greatness at the NFL level, and Matthews has a chance to be the best of his family.
He registered 10 sacks, three forced fumbles and a defensive touchdown as a rookie. Matthews has made four Pro Bowls in four seasons, the only first-round pick from this draft to have done so. He's averaged 10.5 sacks and two forced fumbles per campaign, and he's made two AP All-Pro teams.
Matthews has been at his best in the playoffs. He has 7.5 lifetime sacks in eight playoff games. He had 3.5 in four games the year the Packers won the playoffs. And he's just the sixth linebacker ever with at least 42 sacks in his first four NFL seasons.
Grade: A+