NFL Draft: Ranking Each Team's First-Round Pick from 2010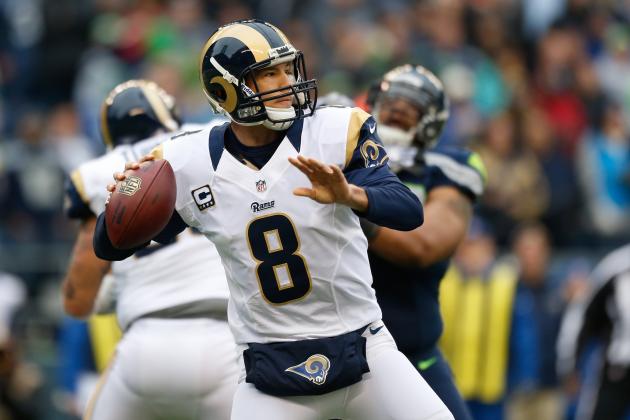 Otto Greule Jr/Getty Images

It's been three years since the 2010 NFL draft, meaning teams have had time to see the results of their picks.
The 2011 and 2012 drafts are new enough that a player's future is in no way done in by a rough start. But if a first-round pick from '10 still hasn't gotten on track, he might never live up to his potential.
This draft was one of the weaker ones in recent memory. Just two quarterbacks were taken in the top 32 picks, and it's safe to say neither team has gotten the production they hoped for from their signal-caller.
The rest of the draft has produced up-and-down results. But six of the top 10 picks have already made the Pro Bowl, and Joe Haden is well on his way to being the seventh.
That's good, even if the level of dominance from the best players isn't as high as 2011 or 2012.
Click here for the 2011 version or the 2012 version.
Begin Slideshow

»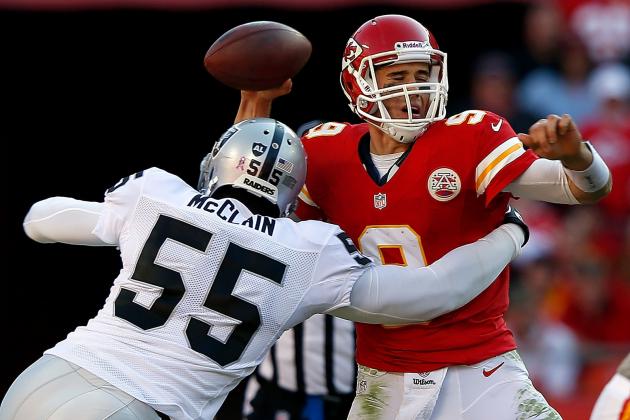 Jamie Squire/Getty Images

Rolando McClain's tenure in Oakland nearly ended this past year in the middle of just his third NFL season. McClain even went as far as to post on Facebook that he's glad he isn't a Raider anymore.
McClain has been largely unproductive since 2010. He's been a three-year starter, but he's posted low totals in sacks and interceptions. McClain may be a better fit on a different team.
He's reminiscent of the recent Raiders picks, as the team has selected players like Michael Huff, Darrius Heyward-Bey, Robert Gallery and Fabian Washington in the first round.
Grade: F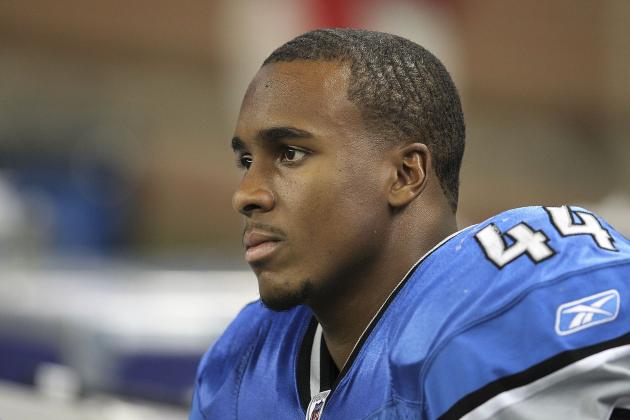 Leon Halip/Getty Images

It's not really his fault, but Jahvid Best's injuries put him near the bottom on this list almost by default.
The running back missed the entire 2012 season due to extended effects from the concussions he suffered. He actually hasn't played in an official game since October 16, 2011. It's still unknown whether Best will ever play again.
Even when he has played, the results haven't been stellar. He has just a 3.7 lifetime yards-per-carry average with six touchdowns on 255 carries.
Grade: F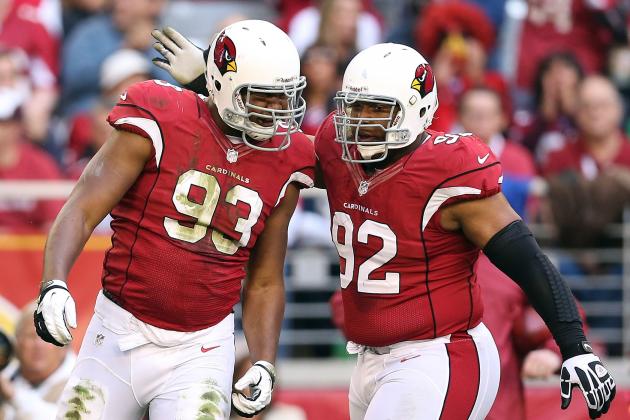 Christian Petersen/Getty Images

Dan Williams' impact on the Arizona Cardinals has been minimal. He has played in just 40 of a possible 48 games since he was drafted, starting only 21 of them.
Williams hasn't picked up a sack or forced a fumble, and he's recovered just one. He's much more of a run-stopper than a pass-rusher. That he's splitting reps speak volumes about his performance so far.
Grade: F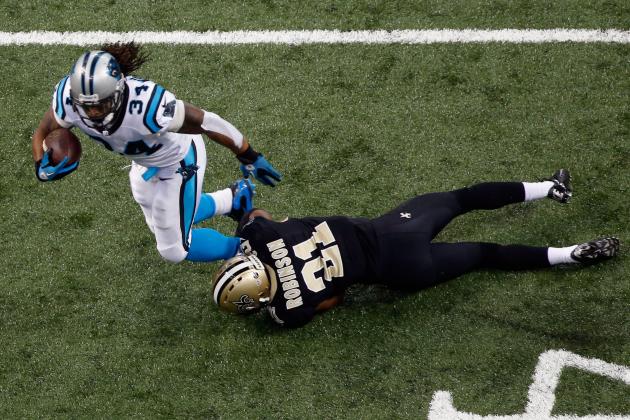 Chris Graythen/Getty Images

Patrick Robinson was replacement-level bad in 2012. He was a starter on the New Orleans Saints defense that surrendered an all-time record 7,042 yards.
Robinson started all 16 games at corner last year, picking off three passes and taking one back for a touchdown. But he allowed 1,071 passing yards and nine touchdowns in coverage. Both of those totals were the worst of any player at his position.
Grade: D-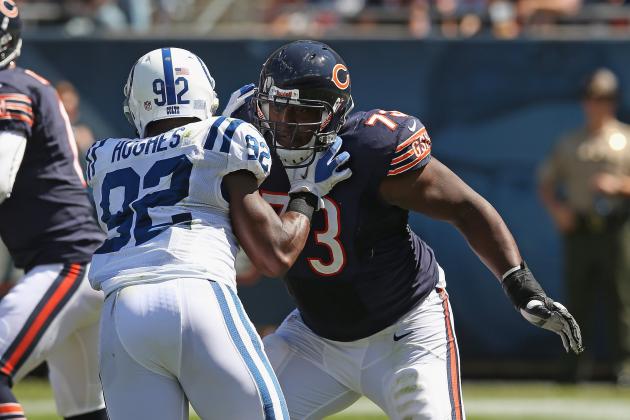 Jonathan Daniel/Getty Images

Except for last year's selection of quarterback Andrew Luck, Jerry Hughes symbolizes the recent draft picks the Indianapolis Colts have made. He's had virtually no success at the NFL level.
Hughes has played in just 40 of 48 games, starting only seven of those. He's registered five sacks and no forced fumbles. Four of those sacks came this past year, meaning Hughes' first two years in the NFL barely put him on the stat sheet.
Grade: D-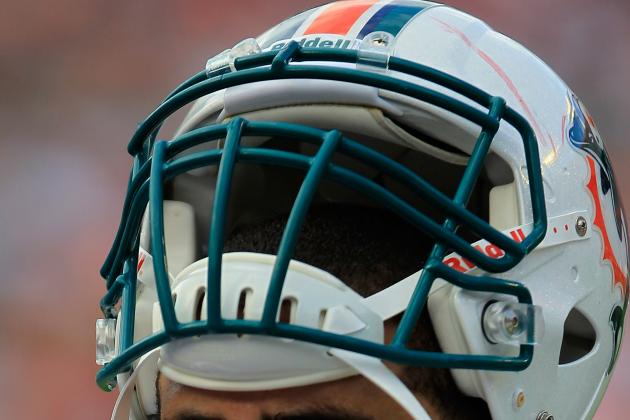 Chris Trotman/Getty Images

Jared Odrick's stats in two seasons aren't awful. But 11 sacks in three seasons is pretty subpar. Odrick has started just 20 games since 2010.
He's also just average against the run, and this is with All-Pro pass-rusher Cameron Wake lining up opposite him on the line.
Grade: D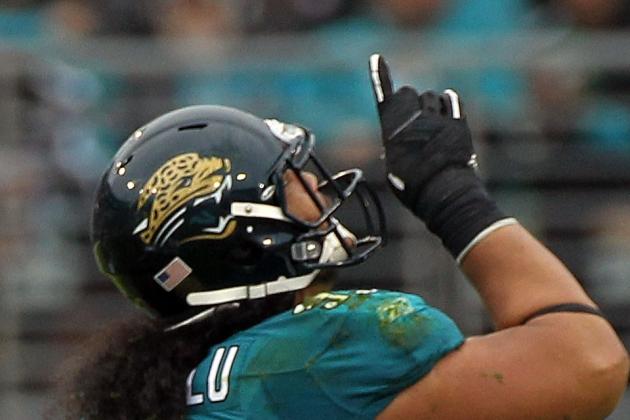 Sam Greenwood/Getty Images

If there's one thing that can be said about Tyson Alualu, it's that he's remarkably consistent. He's started all 16 games every year since the day he was drafted. That's 48 of a possible 48 games. He's registered 3.5, 2.5, and 3.5 sacks in his three seasons.
The problem is that Alualu hasn't been particularly effective. He's rated below average as a pass-rusher and he's nothing special as a run-stopper.
Alualu was drafted as a prospect with a high-end motor. The problem as of late though has been his knee. Alualu had microfracture surgery on his knee last offseason, which is a pretty serious procedure for a defensive lineman to undergo.
Grade: D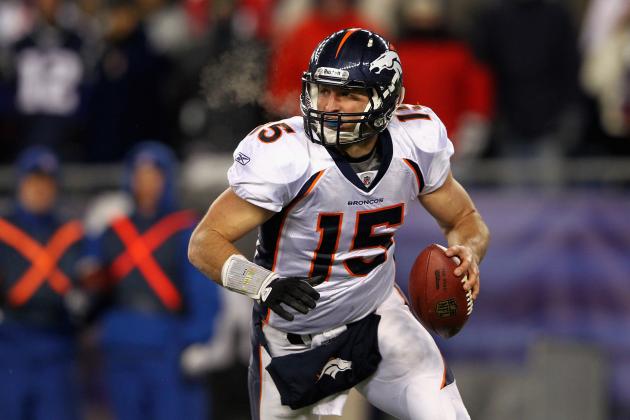 Al Bello/Getty Images

Tim Tebow is the only player on this list who is already off his original team. He's been an extremely controversial figure during his three NFL seasons.
He's had less-than-spectacular numbers (47.9 completion percentage, 6.7 yards per attempt, 75.3 passer rating and an extremely high sack percentage). But he's also thrown 17 touchdowns to just nine interceptions, ran the ball very well and, of course, won a now-famous playoff game over the Pittsburgh Steelers.
That the Broncos—and the rest of the NFL—didn't want to give him a chance to start in '12 says a lot about his physical skills.
Grade: D+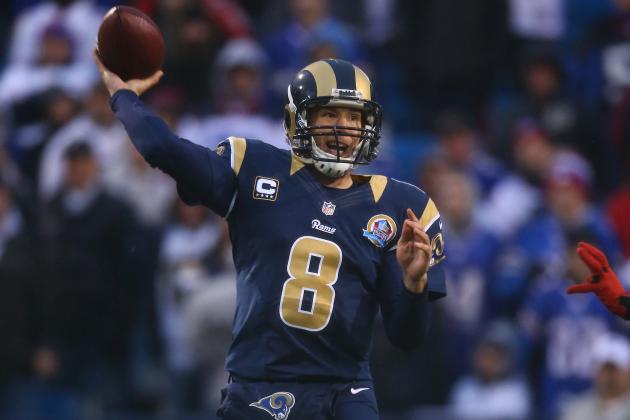 Tom Szczerbowski/Getty Images

Sam Bradford still hasn't taken that next step the St. Louis Rams expected when they made him the first overall selection. He had a strong rookie season, winning the Rookie of the Year award. He's posted fair enough statistics. He keeps his interceptions low (sixth-best rate in NFL history), and he led an impressive four fourth-quarter comebacks in 2012.
But he has to show some improvement fast, especially considering he's making an average of $13 million per year (with $50 million guaranteed). He's posted a passer rating of better than 100 just seven times in three seasons. Compare that to Cam Newton (12 times in two seasons), Robert Griffin III (eight times in one season), or Russell Wilson (nine times in one season).
Bradford's offensive line has been far below average, but then again, so was Andrew Luck's in 2012. A big-play receiver and a better left tackle should help Bradford reach his potential
Grade: D+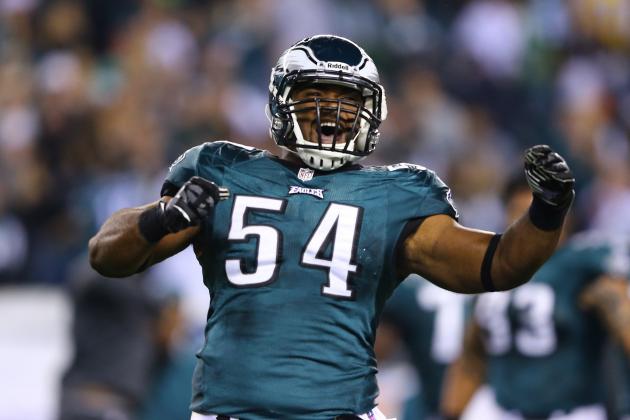 Al Bello/Getty Images

For his first two NFL seasons, Brandon Graham was a complete no-show. He registered just three sacks and one ACL tear until this past year, and was well on his way to looking like the next Jerome McDougle.
Graham finally broke out this past year. He was the team's best pass-rusher, even forcing the Philadelphia Eagles to release veteran sack specialist Jason Babin. Graham registered 31 quarterback hurries in just 435 snaps. That's ridiculously high production.
The Eagles will need Graham to keep that going into 2013. If the team switches to a 3-4, Graham may be at his best as a pass-rushing outside linebacker.
Grade: D+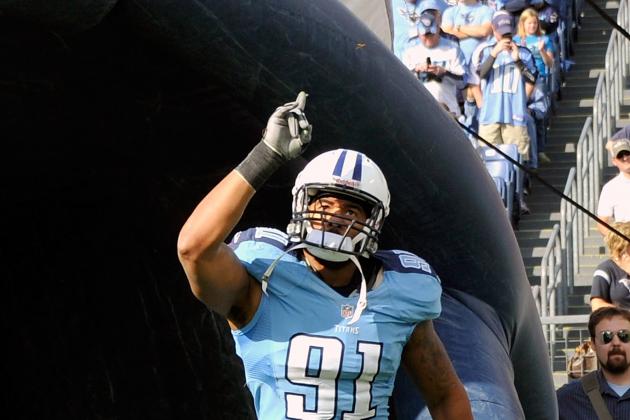 Frederick Breedon/Getty Images

Derrick Morgan has had an extremely similar career to Brandon Graham. Graham registered one ACL tear and three sacks in his first two seasons. Morgan had one ACL tear and four sacks in his first two seasons.
Graham broke out last year in terms of quarterback hurries, although his sack total wasn't all that high. Likewise, Morgan registered a ridiculous 42 hurries but just 6.5 sacks.
Both need to take the next step in 2013. The reason Morgan hasn't been as bad of a pick is because he was drafted lower and the Titans didn't trade up to acquire his services.
Grade: C-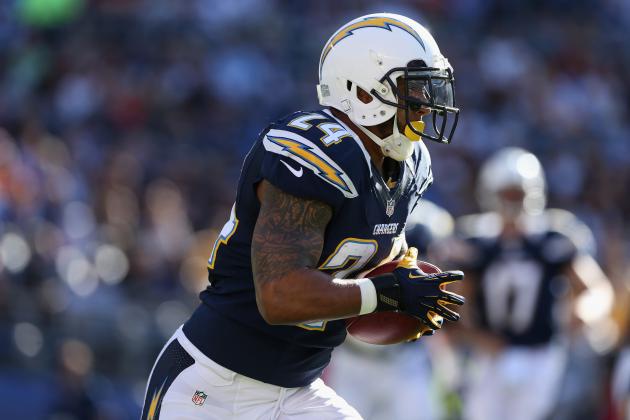 Jeff Gross/Getty Images

San Diego Chargers head coach Norv Turner was really high on Ryan Mathews when he picked him to be LaDainian Tomlinson's replacement.
It's safe to say Mathews has been underwhelming in three seasons. He missed multiple games due to injury every year. Aside from a Pro Bowl selection in 2011, he's been a disappointment as a workhorse back.
Mathews touched the ball 223 times this past season and scored just once. Only five of those touches came on third down. He's averaged 37 receptions per year, but he's never caught a touchdown pass. That's ridiculous.
Grade: C-
Jonathan Daniel/Getty Images

Kareem Jackson has been slightly below what the Houston Texans expected from him, but still a good player. He was torched pretty badly his first two seasons, allowing nine touchdowns to just three interceptions.
He briefly lost his starting job in 2011, although he did gain it back. Jackson finally took the next step in 2012, picking off four passes and holding opposing quarterbacks to a 68.3 passer rating.
Quarterbacks throwing his way completed just 47 percent of their passes. If Jackson keeps it up, he's going to be a star.
Grade: C-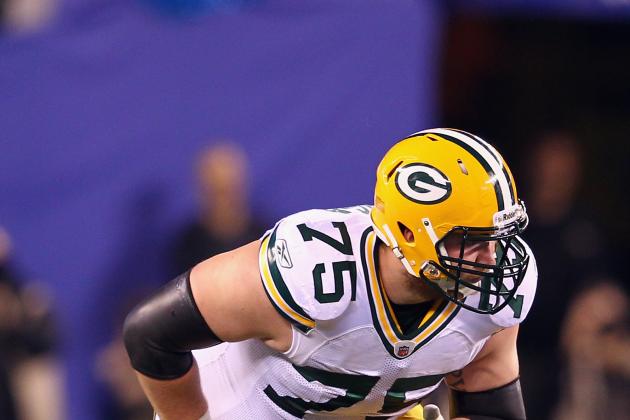 Al Bello/Getty Images

The Green Bay Packers need Bryan Bulaga to become the cornerstone left tackle they thought he could be when they drafted him.
During his rookie year, Bulaga was as bad of an offensive tackle as there was (13 sacks allowed, 10 penalties). Offensive tackles typically take a year or two to adjust to the next level. Bulaga followed it up with a Pro Bowl-caliber 2011, giving up only one sack in 12 games.
He didn't continue his success through last year, though, and that's a concern. Bulaga gave up four sacks in nine games and saw his season end early with a hip injury. He's forced the ineffective Marshall Newhouse into action at left tackle.
Next year will be a make-or-break year for Bulaga.
Grade: C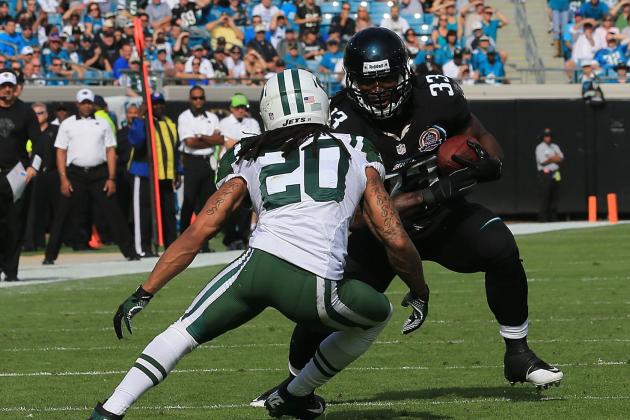 Sam Greenwood/Getty Images

Kyle Wilson played sparingly in his first two NFL seasons, serving as the nickel cornerback behind Darrelle Revis and Antonio Cromartie.
This year, he was pressed into action when Revis went down with a season-ending injury. He played very well, holding opposing quarterbacks to a 78.4 passer rating. Wilson gave up just two touchdown passes in 84 passes his way.
If the New York Jets do decide to trade Revis, Wilson has proven he's good enough to step up.
Grade: C+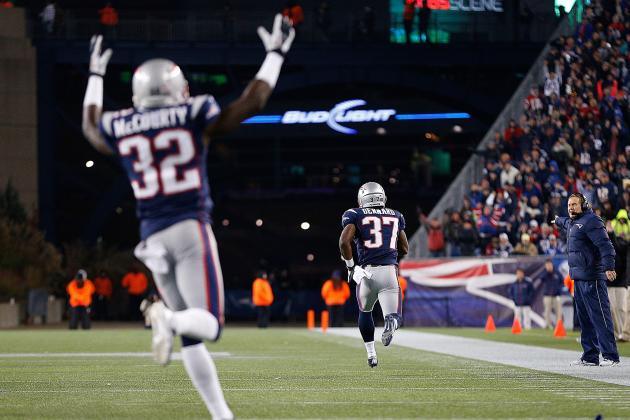 Jim Rogash/Getty Images

Devin McCourty has had an interesting career. He peaked as a rookie in 2010, intercepting seven passes and holding opposing quarterbacks to a 57.7 passer rating. That earned him a well-deserved Pro Bowl selection.
McCourty followed that up with a dismal 2011, getting torched for a passer rating nearly 50 points higher. That led to the switch to safety, where McCourty excelled in '12.
He was a terrific safety last year in pass coverage and should have a bright future at the position.
Grade: C+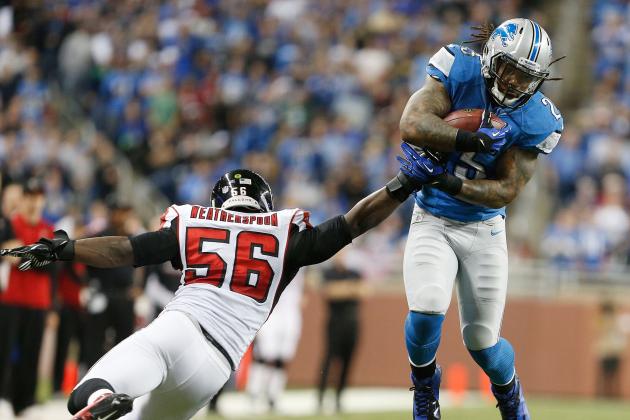 Gregory Shamus/Getty Images

Like so many players from the 2010 NFL draft, Sean Weatherspoon has been extremely up and down.
He had a rough start as a rookie before playing at a very high level in '11. Weatherspoon was named to the Pro Football Focus Second-Team All-Pro team, playing well in all facets of the game.
He regressed in 2012 though, missing too many tackles and three games due to an ankle injury.
Grade: C+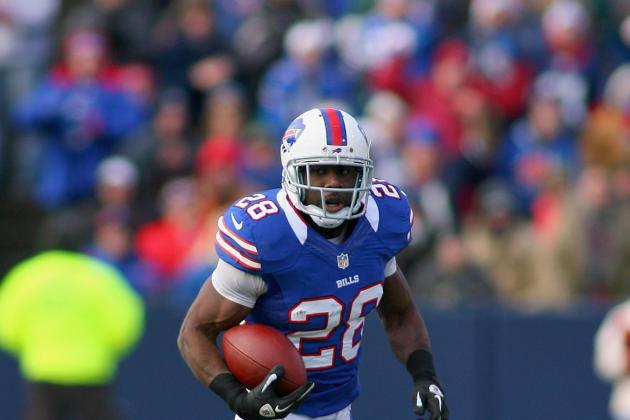 Rick Stewart/Getty Images

The Buffalo Bills didn't play C.J. Spiller a whole lot until his breakout year in 2012.
Spiller was sensational this past season. He rushed for 1,244 yards and six touchdowns, averaging a ridiculous 6.0 yards per carry. That's the sixth-best single-season total in NFL history for a running back with at least 200 carries.
Spiller is also a viable threat out of the backfield as a receiver. His grade is lower than expected because he didn't make a huge impact in Year 1 and was used sparingly in Year 2.
Grade: B-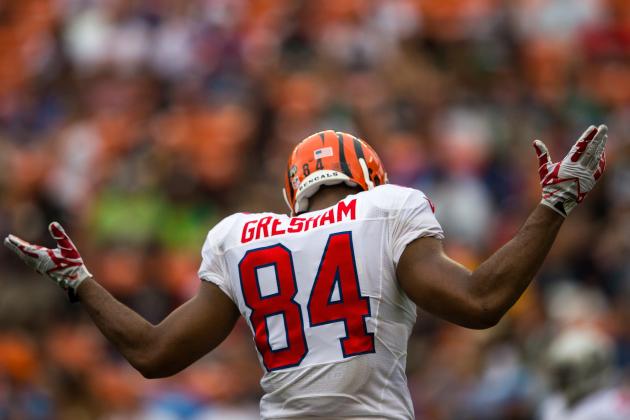 Kent Nishimura/Getty Images

It's surprising that Jermaine Gresham has made two Pro Bowls in three years, because he's not THAT good. Since 2010, Gresham ranks 13th among tight ends in receiving yards (1,804). He's seventh in receptions and tied for eighth in touchdown receptions. That's good, but not elite.
Gresham rated as the single worst tight end in the NFL in 2012, per Pro Football Focus. He dropped eight passes and led all tight ends with nine penalties. He also rated as a horrific run-blocker.
Grade: B-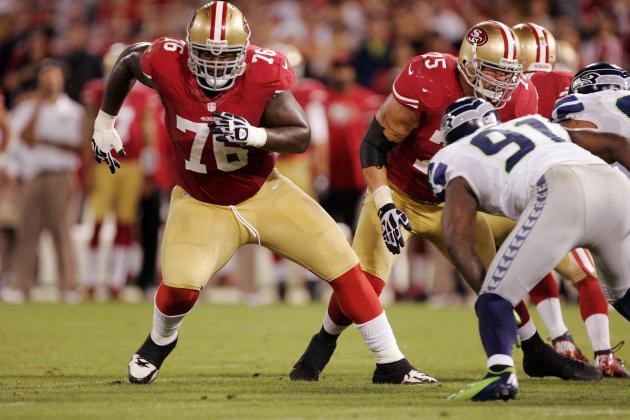 Brian Bahr/Getty Images

Anthony Davis began his career as a huge liability on the right side of the offensive line. He gave up 11 sacks and committed 11 penalties, rating as the fifth-worst offensive tackle among 78 qualifiers.
David didn't play much better in 2011, surrendering 10 sacks and eight penalties. He finally became a Pro Bowl player in '12. Bleacher Report's Matt Miller rated Davis as the single best right tackle in the NFL based on his play this past season.
He's a huge part of the success Colin Kaepernick had as a runner and a passer. The San Francisco 49ers have an extremely bright future with Joe Staley on the left and Davis on the right.
Grade: B-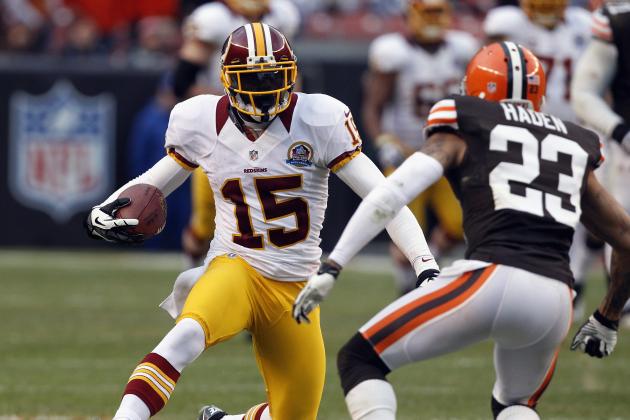 Matt Sullivan/Getty Images

After a really promising rookie season, it's safe to say Joe Haden hasn't quite been the player the Cleveland Browns thought he would be.
Haden picked off six passes as a rookie, holding opposing quarterbacks to a 53.2 completion percentage and 50.1 passer rating. He looked like he was well on track to being the next Darrelle Revis.
Haden has given up nine touchdowns and recorded three interceptions in the two years since. That's definitely disappointing.
Grade: B-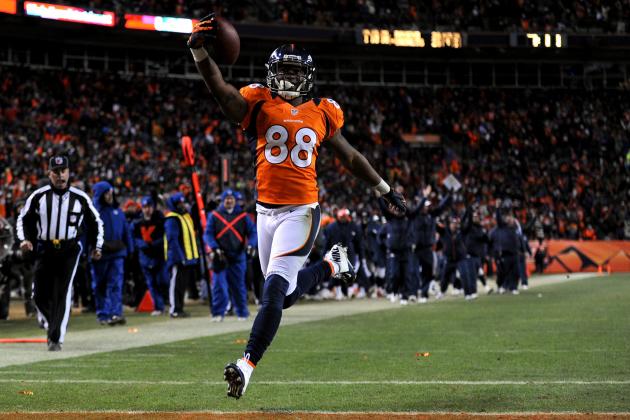 Dustin Bradford/Getty Images

It took Demaryius Thomas awhile to get going at the NFL level, as he totaled just 54 catches for 834 yards and six touchdowns in his first two seasons. Then again, he was catching passes from Tim Tebow.
Thomas broke out in the AFC Wild-Card game against the Pittsburgh Steelers, catching four balls for 204 yards and a game-winning 80-yard touchdown. Thomas followed that up with a Pro Bowl campaign, making 94 catches for 1,434 yards and 10 touchdowns with Peyton Manning as his quarterback.
That's the ninth-most receiving yards in a single season by a player in his first three NFL seasons. The future is bright for Thomas.
Grade: B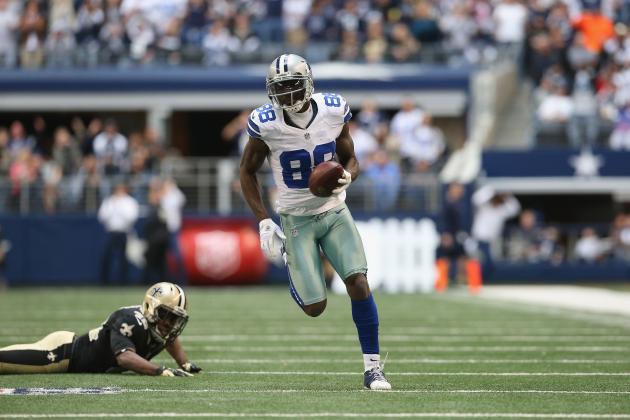 Ronald Martinez/Getty Images

Dez Bryant has had his fair share of character issues since the Dallas Cowboys drafted him, and those have been well-documented. He's been criticized for poor route running, fumbling and dropping passes.
Bryant really showed his potential late in 2012, though. In his final seven games, he averaged seven catches, 113 yards and just more than a touchdown pass per game. He's averaged 67 receptions, nearly 1,000 yards and nine touchdowns per season since he was drafted. That's excellent production, regardless of his character issues.
Bryant has the physical tools that make him comparable to Michael Irvin. He has the potential to be one of the greatest who ever played the game.
Grade: B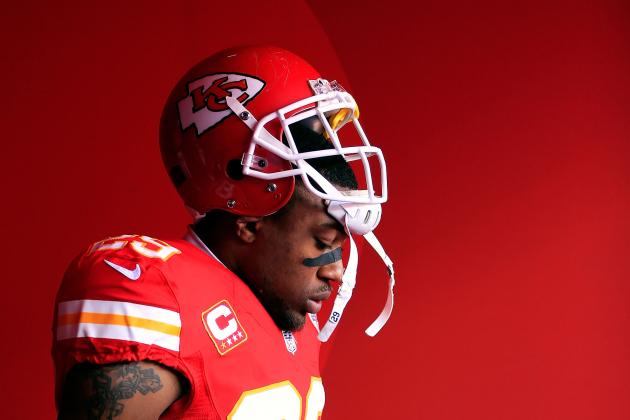 Jamie Squire/Getty Images

Eric Berry tore his ACL in 2011, missing nearly the entire season. That means he's given his team two productive campaigns in three years, which does drop his ranking.
Berry has made two Pro Bowls in two seasons of actually playing, which is pretty impressive. The quality of safeties right now is at an all-time low, and Berry's numbers aren't overwhelming. He allowed more touchdown passes (seven) than any other safety in 2010 and followed that up by surrendering five more in 2012.
Berry is fair as a run defender. He's definitely a good player, although maybe not as good as his two Pro Bowl selections would suggest.
Grade: B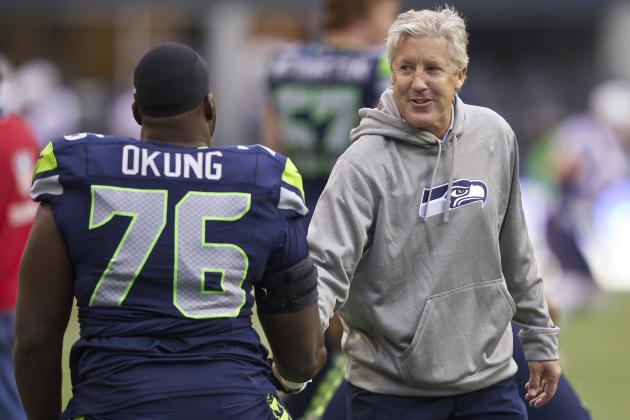 Stephen Brashear/Getty Images

For his first two seasons, Russell Okung was merely average. He broke out in 2012, playing at an extremely high level. Okung earned his first Pro Bowl selection and gave up just two sacks as Russell Wilson's blindside protector.
The one knock on Okung has been his inability to stay healthy. He has yet to play in all 16 games in a season, missing six in 2010 to a pectoral injury and four in 2011 due to an ankle injury.
But it does look like the Seattle Seahawks have found their left tackle of the future in Okung.
Grade: B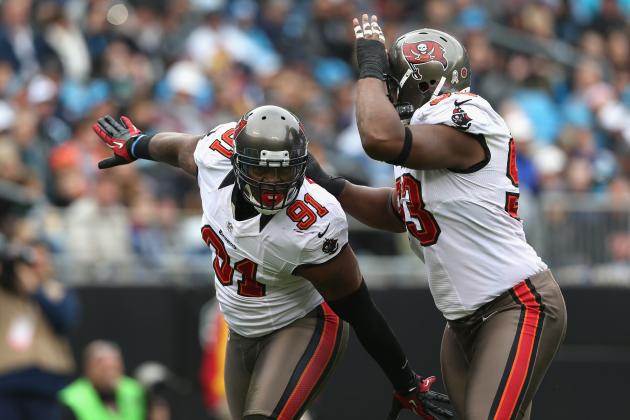 Streeter Lecka/Getty Images

The third overall pick puts pretty high expectations on a player. Gerald McCoy has played extremely well since being drafted, but he's struggled with injuries, which does knock his grade.
McCoy missed the final three games of 2010 with a biceps injury and 10 in 2011 due to another biceps injury. He finally played and started all 16 games in 2012, putting up a monster season.
McCoy picked up five sacks, 12 quarterback hurries and a ridiculous 36 pressures from his interior line position. He finally earned his first Pro Bowl selection.
He's going to be earning a whole lot more.
Grade: B+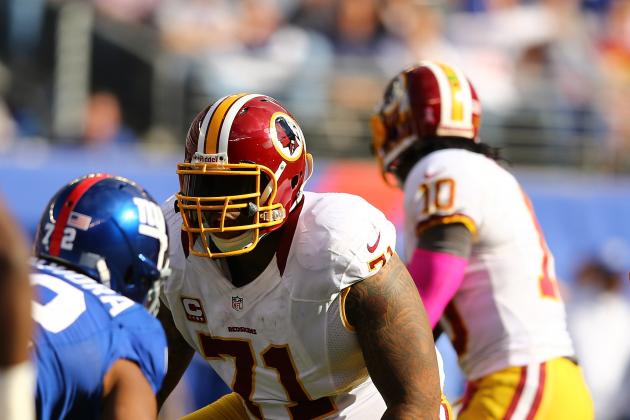 Al Bello/Getty Images

Trent Williams has had a fairly similar career to Russell Okung, starting slowly before hitting his stride. Williams gave up 11 sacks and committed six penalties as a rookie.
Since then, he's only given up six sacks in 26 games. He was rewarded with his first Pro Bowl after 2012.
The concern with Williams is his off-the-field issues. He was suspended for four games in '11 for a banned substance and got in an altercation at a night club this past year.
Grade: B+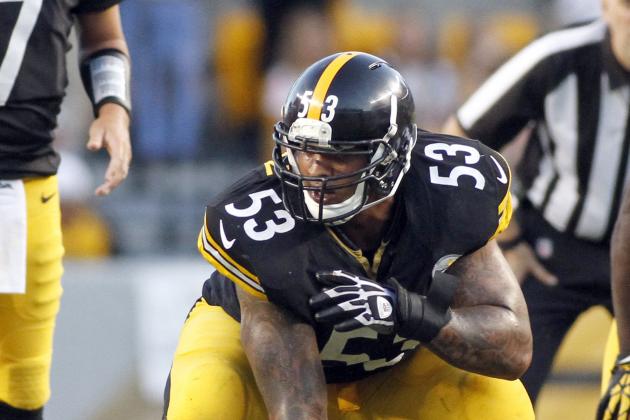 Justin K. Aller/Getty Images

The Pittsburgh Steelers got themselves a terrific offensive lineman in Maurkice Pouncey. He started immediately as a rookie, even getting votes for the NFL Offensive Rookie of the Year award.
Pouncey has started 45 of 48 games in three seasons, leading the Steelers to a Super Bowl appearance after 2010 (although Pouncey did miss that game due to an ankle injury). Pouncey has also been voted to three Pro Bowls in three years, once being voted first-team All-Pro and twice being voted second-team All-Pro.
The only knock against Pouncey has been that he doesn't rate particularly well, according to Pro Football Focus, a website that grades every player on every play. Pouncey has rated as the 21st best, 19th best and 12th best in his three years at center.
Pass-blocking was Pouncey's biggest flaw as a rookie, but he's made great strides in that area, and he's an extremely efficient blocker in the running game and on screen passes.
Grade: A-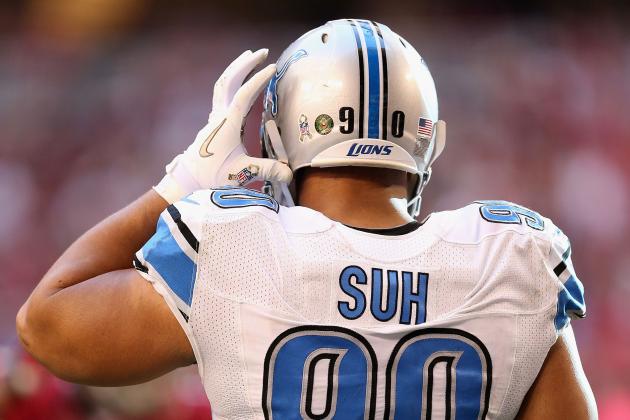 Christian Petersen/Getty Images

Ndamukong Suh broke into the NFL as a one-man wrecking crew. He registered 10 sacks, first among all interior defensive linemen, and that was in Suh's rookie season. Suh earned a slew of awards, including a Pro Bowl selection, AP first-team All-Pro, and Sporting News first-team All-Pro.
Suh's play dropped off in his second season, although it's difficult to maintain the level of excellence he showed as a rookie. He followed up in 2012 with another dominating season, picking up eight sacks and a ridiculous 20 quarterback hits.
That's two Pro Bowl selections in three years for Suh. Other than Geno Atkins, Suh is probably the finest pass-rushing defensive tackle in the league. The problem with Suh, though, is that he can't stay out of trouble. He had the infamous stomping incident in 2011 and the groin kick in 2012.
If Suh can keep his head on straight, he's going to be one of the greatest defensive tackles to have ever played the game.
Grade: A-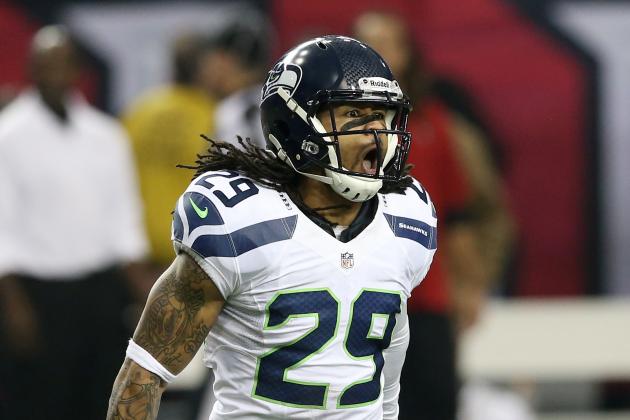 Streeter Lecka/Getty Images

It's rare for a team to select twice in the top half of the first round. That was the case with the 2010 Seattle Seahawks, though, and that's why they're so good now.
They hit with Russell Okung and Earl Thomas. Thomas is one of the top safeties in the game, and he's a two-time Pro Bowler in three seasons. Thomas has averaged four interceptions per campaign. He's also pretty good against the run.
Grade: A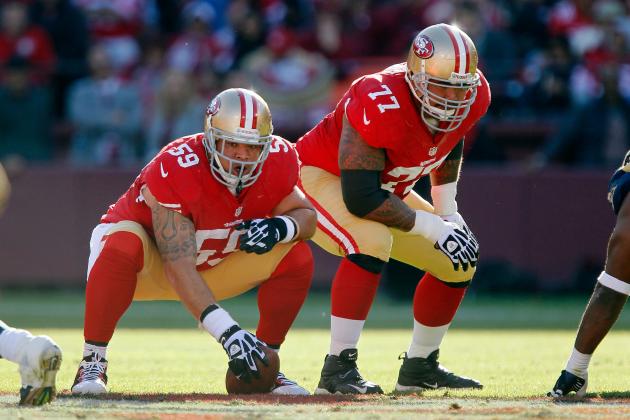 Brian Bahr/Getty Images

The 17th overall selection is pretty high to pick a guard, but it's no coincidence the San Francisco 49ers are now one of the NFL's best teams.
Mike Iupati has been an absolute stud since the team drafted him. He's started 48 of a possible 48 games. As a rookie, he was named to Pro Football Focus's All-Rookie Team. He followed that up with an even better season. In 2012, he was officially rewarded with his first Pro Bowl and All-Pro selection.
Iupati will be a feature on NFC Pro Bowl teams for the next decade or more, along with teammates Joe Staley and Anthony Davis.
Grade: A
Drew Hallowell/Getty Images

Jason Pierre-Paul has been an absolute monster the past two seasons, thus earning him the top slot on this list. JPP has averaged 11.5 sacks the past two seasons, helping deliver a Super Bowl championship to New York in 2011.
Pierre-Paul saw his sack total dip from 16.5 in '11 to just 6.5 in '12, but he was still a force to be reckoned with. He actually upped his number of pressures from 39 to 44.
And he's arguably the best in the NFL against the run, which makes him as complete of a defensive end as there is in this league.
Grade: A