NFL Power Rankings: Highlighting the Major Shakeups After Week 8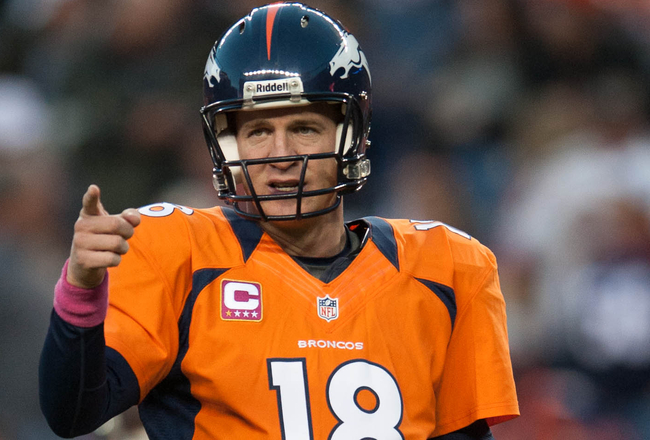 Dustin Bradford/Getty Images
Week 8, if anything, reminded us of how difficult consistently winning in the NFL can be.
Teams like the Green Bay Packers and Chicago Bears were facing significantly inferior opponents at home, but managed to just win as opposed to complete domination.
Just win: Thinking about the positive ramifications of what results from victory and it's the core meaning of what's arguably keeping the Atlanta Falcons perfect. On the other hand, Peyton Manning and the Denver Broncos basically suplexed Drew Brees and the New Orleans Saints.
The Big Easy entered on a two-game streak and this was a key game for the Broncos, because they had survived the NFL's roughest six-game stretch to open the 2012 season. Ahead, here is an entire slate of power rankings as we look at how Week 8 impacted pro football.
32. Kansas City Chiefs (1-6)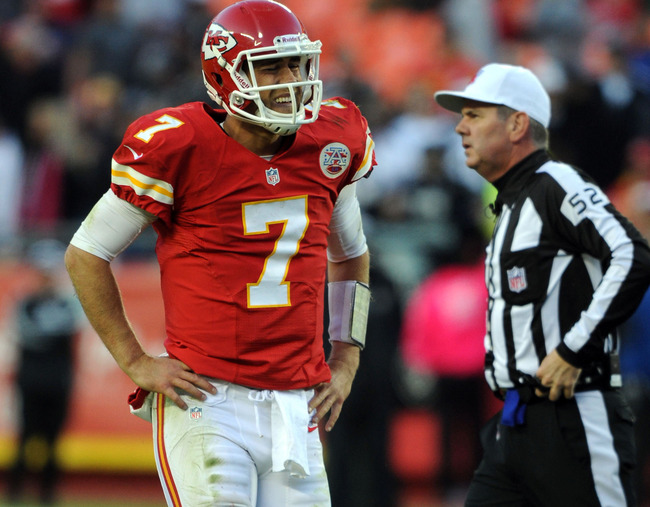 John Rieger-US PRESSWIRE
The Kansas City Chiefs have scored 32 points in their previous three games and turned the ball over four times against the Raiders at home.
On Sunday, Oakland held Jamaal Charles to just four yards on five carries, and it wasn't surprising to see KC drop to 1-6. Then again, the defense has yet to do its part with only 13 sacks and five interceptions this season.
Even worse, Kansas City goes on the road to San Diego, who is hungry for a win, and it's on a shortened week.
31. Jacksonville Jaguars (1-6)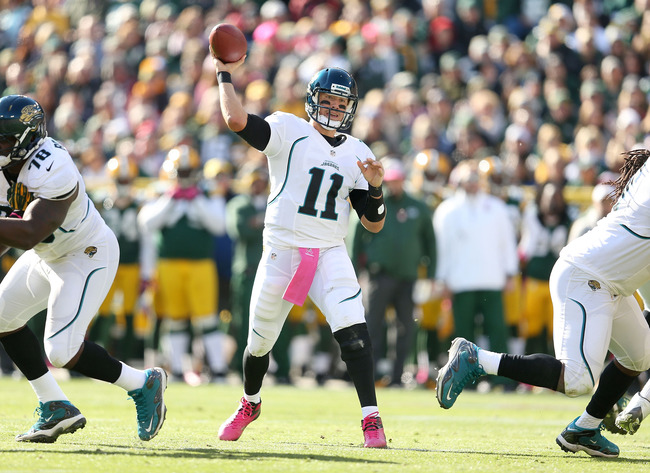 Andy Lyons/Getty Images
At least the Jacksonville Jaguars didn't get totally wiped off Lambeau Field.
Not to mention this valiant effort came after a demoralizing road loss to the Raiders in overtime. So if we learned anything about the Jags, it's that the effort put forth winning is present.
Blaine Gabbert had a solid performance of 303 yards and a touchdown to no turnovers against the Packers, and Mel Tucker's defense kept Jacksonville alive versus a potent offense. Looking back, the Jags haven't faced a cakewalk schedule thus far either.
With a few winnable games remaining, the Jags can stay competitive, get a high draft pick and build small momentum for 2013.
30. Carolina Panthers (1-6)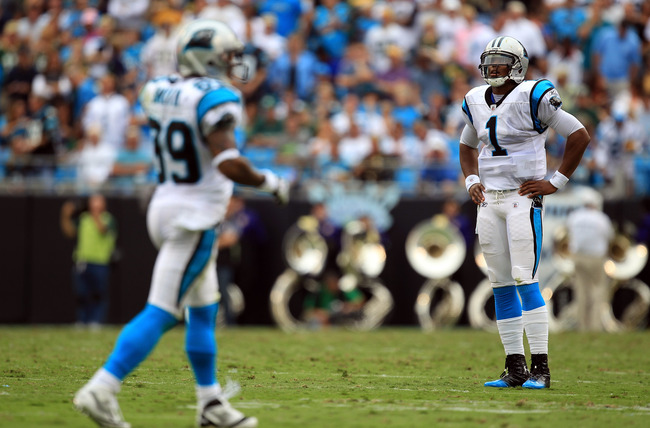 Streeter Lecka/Getty Images
Aside from getting bulldozed by the Giants in Week 3, the Carolina Panthers lost all their other games by less than seven points.
Now, by no means is that an excuse to Cam Newton's horrendous play or the defense failing to step up and get a stop when needed. Then again, Carolina's schedule has been rough with teams like the Falcons and Seahawks in addition to Chicago and New York.
Unfortunately, things don't get any easier until the Chiefs in Week 13. Because from now through Week 12, the Cats play Washington, Denver, Tampa Bay and Philadelphia, all of which are not lock wins by comparison to KC.
29. Cleveland Browns (2-6)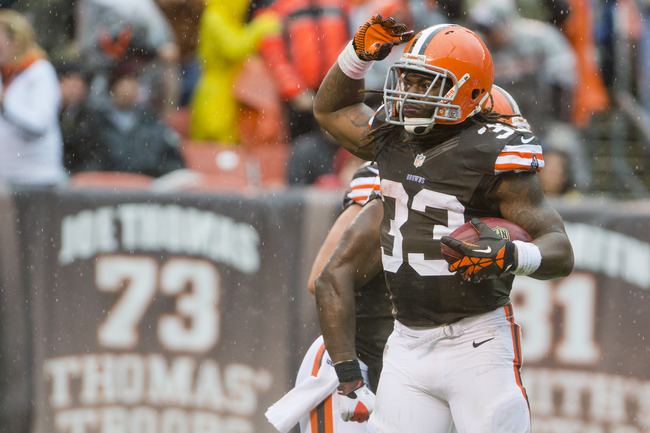 Jason Miller/Getty Images
The Cleveland Browns are a better team than given credit. Yes, they are 2-6 and virtually out of the postseason hunt.
That said, Cleveland is 2-1 in the past three games and are capable of pulling the upset over Baltimore this week. When the Ravens were healthier, the Browns only lost by a touchdown on the road. Week 9's matchup is obviously different, and Cleveland's worst loss came by 14 points to the New York Giants.
With a well-balanced offense in Brandon Weeden and Trent Richardson, the defense is coming around. And the upcoming schedule after Baltimore does offer some winnable games as well: Redskins, Raiders, Chiefs.
28. New Orleans Saints (2-5)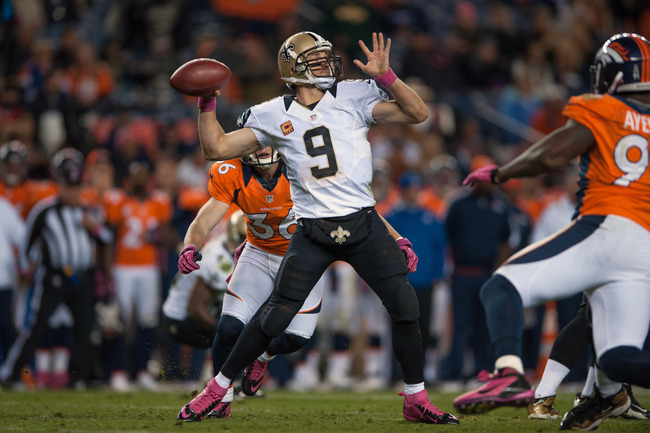 Dustin Bradford/Getty Images
Despite getting steamrolled by the Broncos on Sunday night, not all hope is lost for the New Orleans Saints.
Drew Brees and the offense can still dial up yards and points, and there are around five to six winnable games remaining. The obvious and most vital concern is the Saints defense. This is a unit that gives up 475 total yards and 31 points per game.
At some point, Brees and Co. need to get some help from Steve Spagnuolo. No matter how explosive an offense may be, no team will ever make a strong postseason run when the defense performs this atrocious at such a consistent rate.
27. Buffalo Bills (3-4)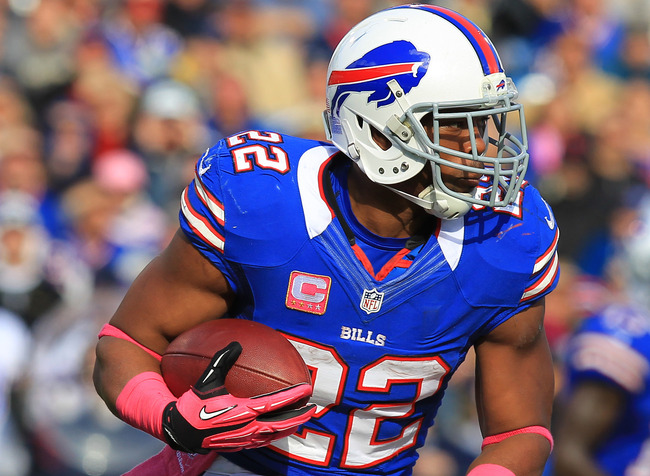 Kevin Hoffman-US PRESSWIRE
Coming off a bye week, the Buffalo Bills face a gauntlet schedule in November.
Facing the Texans in Houston this week, Buffalo then plays at New England, home versus Miami and then at the Colts. In short, the Bills could definitely be 3-8 when December kicks off.
We know Fred Jackson and C.J. Spiller will continue to roll on the ground, though. Mario Williams and the defense must simply find a way to force more punts and play better when backed up inside the red zone.
Ryan Fitzpatrick may be turnover-prone, although he can be effective when the ground game gets working. Still, he'll remain unreliable if the defense cannot slow anyone down.
26. Oakland Raiders (3-4)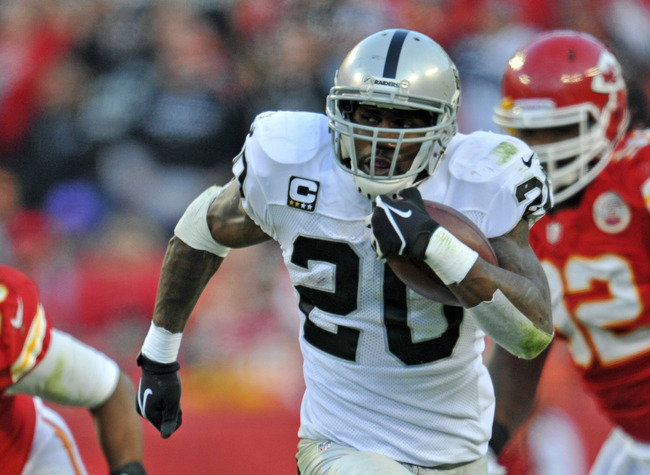 Peter Aiken/Getty Images
Since beginning a dismal 1-4, the Oakland Raiders have hit a two-game winning streak and are sleeping giants in the AFC.
Winning at Kansas City was crucial because it was a divisional road game that Oakland was expected to win. And with the offensive balance and improving defense, the Raiders are gradually on the rise as we hit November.
Carson Palmer's veteran leadership has been impressive because he spreads the field without making many mistakes—only five picks this season. Hosting the Buccaneers this week and then playing at Baltimore, Oakland then travels to Cincinnati and gets Cleveland at home before Denver comes to town in Week 14.
Believe it or not, but the Raiders can definitely be sitting at 8-4 when the big division game in early December kicks off.
25. Tennessee Titans (3-5)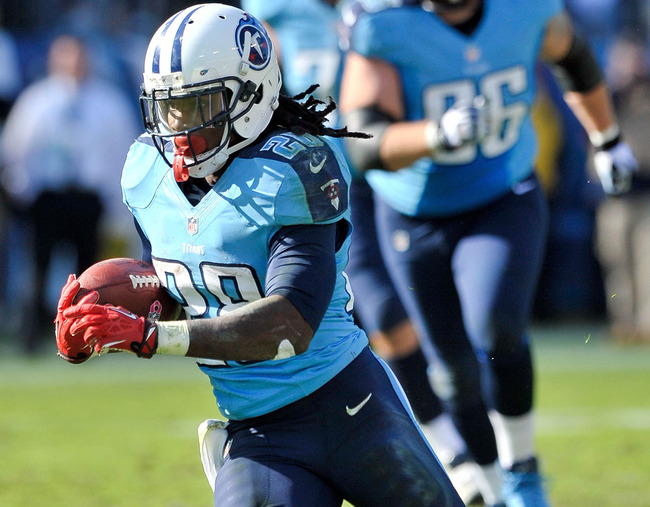 Jim Brown-US PRESSWIRE
After winning two straight over the Steelers and Bills, the Tennessee Titans lost a tough one to Indianapolis at home on Sunday.
Matt Hasselbeck, Chris Johnson and the offense played well, but having to settle for two field goals when near/inside Indy's red zone cost Tennessee later on. That allowed the Colts to remain in the game, and Andrew Luck just displayed why he went No. 1 overall.
Still, the Titans did improve on both side of the ball, which provides optimism for the immediate future.
As for the 2012 season, the schedule isn't too nice with the Bears and Dolphins the next two weeks as well as Houston and Indy once more each: Not to mention the Packers at Lambeau in late December.
24. San Diego Chargers (3-4)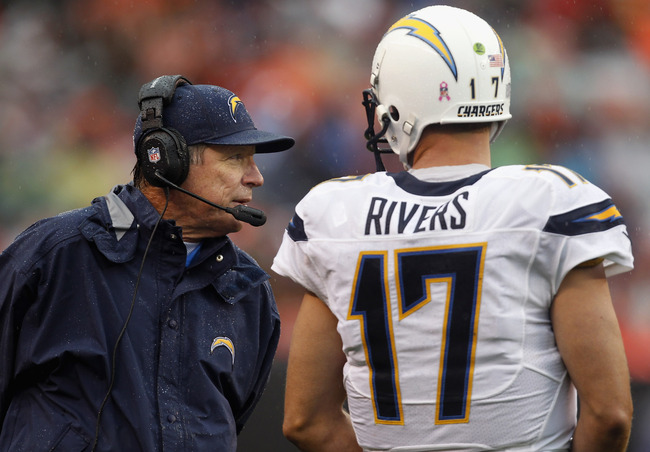 Matt Sullivan/Getty Images
Beginning the 2012 season at 2-0, the San Diego Chargers are 1-4 since.
What we've seen during this slump is a gradual catastrophic breakdown that has included two home losses, one of which came to the Broncos after a 24-0 halftime lead.
Coming off a bye and playing at Cleveland in Week 8, the Bolts scored just six measly points despite gaining more yards, recording more first downs, winning the time of possession battle and having less penalties.
Hosting the Chiefs on a short week, a win there only delays the inevitable, with games at Tampa Bay and Denver directly following.
23. New York Jets (3-5)
Elsa/Getty Images
The bye week could not have occurred at a better time for the New York Jets.
This team gave the Patriots everything in the overtime road loss, but the Dolphins totally slammed Gang Green in Week 8. Mark Sanchez was sacked four times, and he turned the rock over twice in the 30-9 loss.
New York needs to find a stronger passing attack, and if that means Tim Tebow, then so be it. Sitting at 3-5 with the Seahawks, Rams, Patriots and Cardinals as the next four games, the Jets can't enter the final stretch worse than 6-6.
With three of its final four games on the road, New York's AFC team is under much pressure with the Giants being in the win column.
22. Tampa Bay Buccaneers (3-4)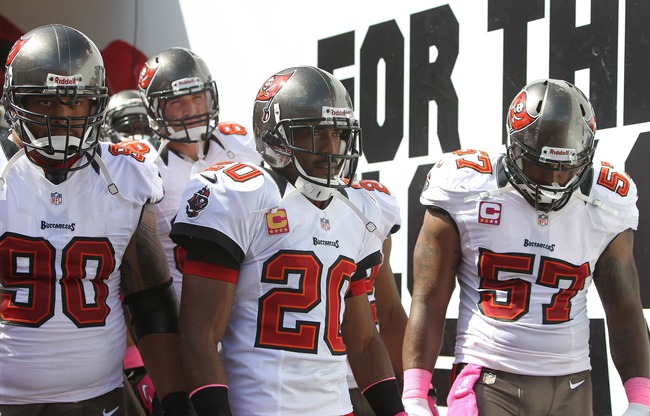 Kim Klement-US PRESSWIRE
The Tampa Bay Buccaneers put on one of the best and most complete performances of the 2012 season in Week 8.
Losing at home to the Saints in Week 7, the Bucs traveled to 5-2 Minnesota on a short week no less. Needless to say, the odds were immensely stacked against Tampa Bay. Well, the Buccaneers just thwomped the Vikings 36-17 by controlling the game throughout.
Tampa won the time of possession battle by almost a full quarter, didn't turn the ball over and was almost 50 percent on third down. Being only the second road team to win on Thursday (Giants), Tampa Bay proved its going to be in the NFC playoff mix down the stretch.
Fortunately, the schedule also plays into the Bucs hands with the Raiders (still winnable), Chargers, Panthers, Eagles and Saints remaining. Fielding a balanced attack and an opportunistic defense, Tampa is quietly building confidence.
21. Washington Redskins (3-5)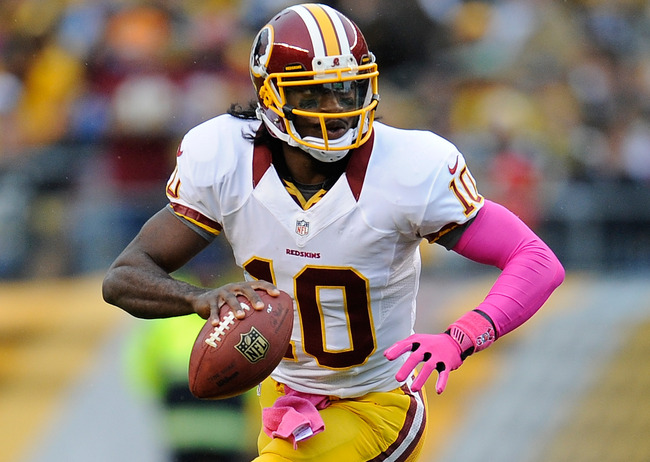 Joe Sargent/Getty Images
The road win over Tampa Bay and the home victory against the Minnesota Vikings displayed 2012's potential for the Washington Redskins.
Factor in the rest of Washington's games, and this team is still trying to find a rhythm. The Giants and Steelers were able to keep Robert Griffin III in check, just like the undefeated Falcons. The biggest problem, though, is Jim Haslett's pass defense, which ranks dead last in pro football.
On the bright side, Washington gets Carolina at home this week and the Eagles (home) and Cowboys (away) after the Week 10 bye. So, provided the Redskins can blanket better in coverage and the offense gets back on track, there is an outside postseason shot when December rolls around.
20. Cincinnati Bengals (3-4)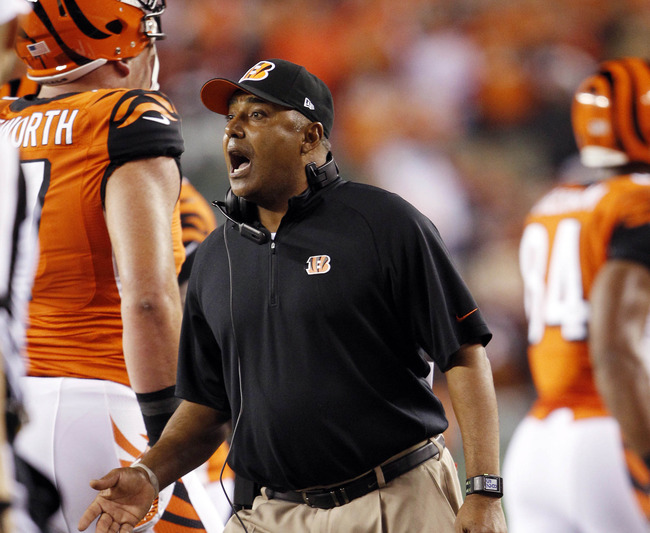 Frank Victores-US PRESSWIRE
The Cincinnati Bengals currently ride a three-game losing streak. So it was ideal that their bye came last week as Marvin Lewis and Co. host the Broncos this Sunday.
Lacking a rushing attack and defense in both facets, Cincinnati does present a sound pass rush and potential explosiveness via the offensive passing attack. It's a big part as to why the Bengals were able to outlast the Redskins in Washington, but Peyton Manning and Denver are a different monster.
Then, Cincy hosts the Giants in Week 10 before a road game in Kansas City. Considering how the Bengals looked in Weeks 5-7, the Chiefs at Arrowhead is not a guaranteed victory.
19. St. Louis Rams (3-5)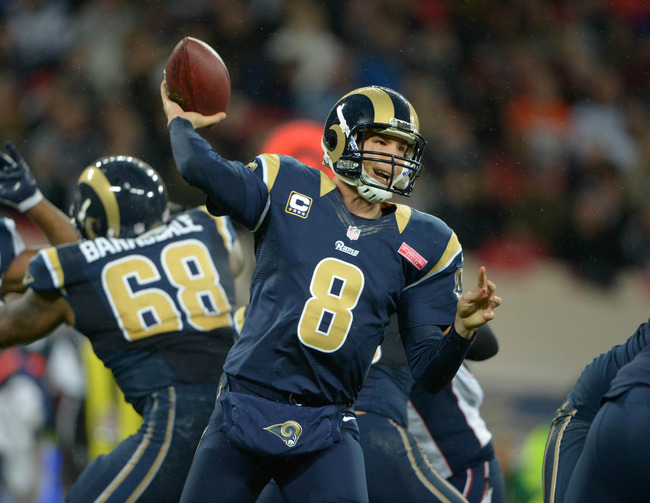 Kirby Lee-US PRESSWIRE
It's been a disappointing last three weeks for the St. Louis Rams. Jeff Fisher got his new team to a 3-2 record, but have since dropped three straight.
From a positive perspective, however, the three losses came courtesy of the Dolphins, Packers and Patriots. We can't forget about St. Louis' wins over Seattle and Arizona, so with those as winnable games remaining on top of the Jets and Bills, the Rams are capable of finishing with at least six or seven victories.
Chris Long, Cortland Finnegan and the defense simply had a bad game versus New England, and St. Louis isn't going to see another offense quite like that for the rest of 2012. If the offense can remain balanced and not turn it over, Fisher's defense will come through in some close games.
18. Detroit Lions (3-4)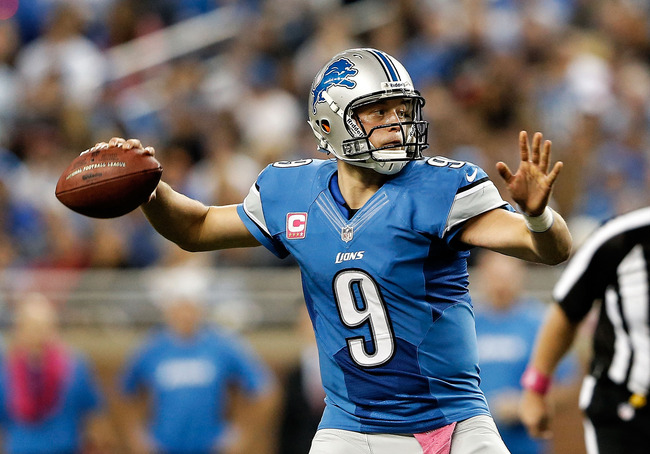 Leon Halip/Getty Images
The Detroit Lions, for the time being, saved their season with a victory over the Seahawks at home in Week 8.
Improving to 3-4, Detroit avoided a 2-5 start, which is a major difference with a rigorous schedule ahead. The Jaguars in Jacksonville are the easiest game left because the Lions face the Packers twice, host Chicago, play at Minnesota and then get Arizona, Indianapolis, Houston and Atlanta outside the division.
That is quite a gauntlet of teams during the season's second half. What provides the confidence, though, is gaining 415 total yards against a tough Seattle defense. If Detroit manages to get sound impact from the running game, the passing game will take over when needed.
17. Indianapolis Colts (4-3)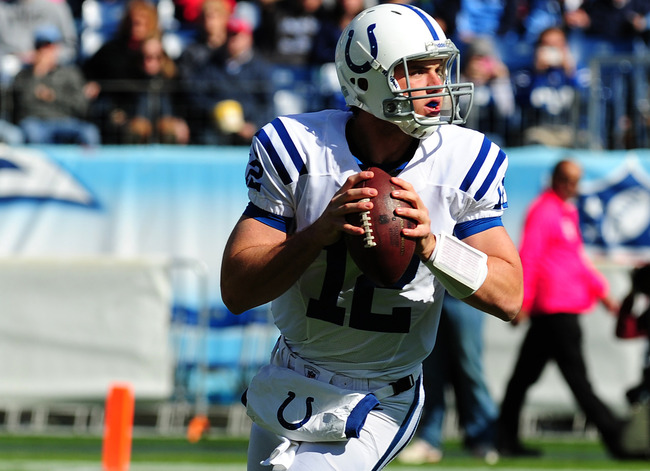 Scott Cunningham/Getty Images
In getting above .500, the Indianapolis Colts have made their postseason contenders potential a reality.
Gathering wins over the Vikings, Packers, Browns and Titans, this team is on pace for at least eight victories in 2012. Looking back at 2011, that would be one helluva turnaround.
Andrew Luck is the expected real deal, and Vick Ballard's quick development has given Indy a reliable two-back tandem alongside Donald Brown. Backed by a technically sound pass defense and capable pass rush, the Colts aren't going away any time soon.
Playing host to the Dolphins in Week 9, this is one colossal AFC matchup for increased playoff odds.
16. Dallas Cowboys (3-4)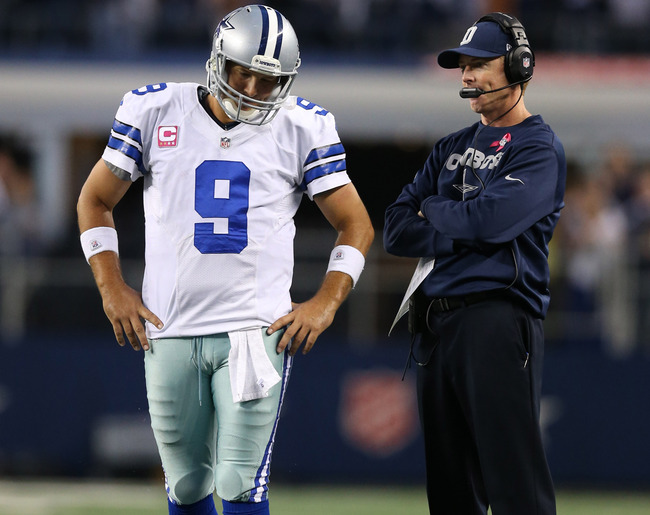 Matthew Emmons-US PRESSWIRE
So the Dallas Cowboys field the NFL's third-best passing offense and pass defense.
And for as much talent as the Cowboys possess, this team continues to disappoint and frustrate year in and year out. The Week 1 road win over the Giants is long forgotten, because Dallas has gone just 2-4 since then.
Tony Romo is a turnover machine, and the ground game remains in a funk. The lack of ball control is what cost Big D against New York, and rightfully so, because the Giants are much more disciplined. Fortunately, both the Eagles and Redskins fell last week, so Dallas isn't done just yet.
Going on the road to Atlanta and Philadelphia these next two weeks will determine the Cowboys' fate this year, however.
15. Philadelphia Eagles (3-4)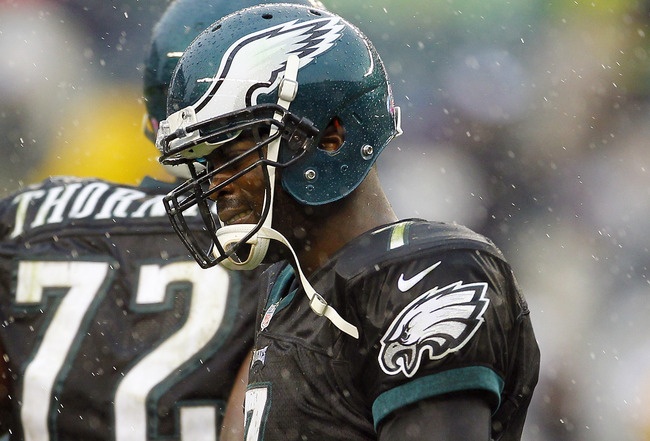 Rich Schultz/Getty Images
The Philadelphia Eagles are going to significantly disappoint in 2012 unless LeSean McCoy gets fed more carries.
When the guy is given 20-plus attempts, the Eagles have not lost this year. But when he is not fed the rock enough, the Eagles reduce their odds of winning. It's a simple formula because Philly still presents a strong defense capable of making plays and forcing punts.
Going on the road against the Saints this week, Philly faces a must-win situation. With five divisional games remaining, dropping to 3-5 entering Week 10 all but ends Philly's postseason hopes.
14. Arizona Cardinals (4-4)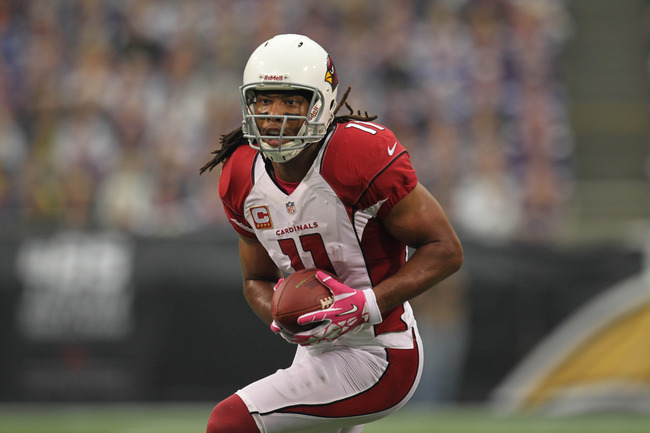 Brace Hemmelgarn-US PRESSWIRE
The Arizona Cardinals faced a must-win game at home against the 49ers on Monday night.
Entering the contest on a three-game losing streak, Arizona could not change the complexion of its season with a Week 8 victory. John Skelton was under pressure all night long and San Francisco blanketed Larry Fitzgerald quite well.
In addition, the Card's managed an atrocious seven rushing yards on nine attempts. It doesn't matter how elite of a receiving corps or quarterback an offense may possess, no NFL team will ever move the football without a line capable of blocking, period.
Arizona learned this on Monday and it's no surprise Ken Whisenhunt's offense was 2-of-14 on third down. Now losers of four straight, don't expect anything from the Cardinals regardless of who they play unless the rushing attack shows up.
13. Miami Dolphins (4-3)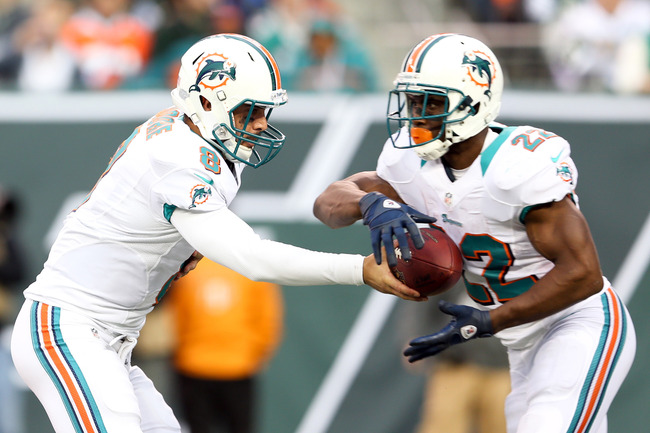 Debby Wong-US PRESSWIRE
Reggie Bush and the Miami Dolphins are one of the NFL's most dangerous teams right now.
This is because the 'Fins are well-versed at running the ball, stopping the run and provide an array of receiving targets for the passing attack. Miami played a complete game against the Jets on Sunday, and with both games left against the Bills and Patriots, this team can win the AFC East.
Include a defense that loves to apply constant quarterback pressure, which ultimately forces turnovers, and it's no surprise Miami is above .500. Flip the two overtime losses and this team is 6-1.
12. Pittsburgh Steelers (4-3)
Joe Sargent/Getty Images
It was reasonable to expect the Pittsburgh Steelers have a down year when they began 1-2. With an early bye in Week 4, however, Pittsburgh figured itself out and has gone 3-1 since the beginning of October.
The Steelers' recent surge is simple proof of having no reason to panic so early in a season. The passing game is as effective as anyone in the game because Ben Roethlisberger knows how to read well pre-snap and buy time as needed.
Dick LeBeau's defense has really stepped up since allowing 34 points to the Raiders and Pittsburgh is just fighting for a postseason spot. The AFC North isn't looking as strong as year's past, so don't be surprised to see Pittsburgh competing in January.
11. Seattle Seahawks (4-4)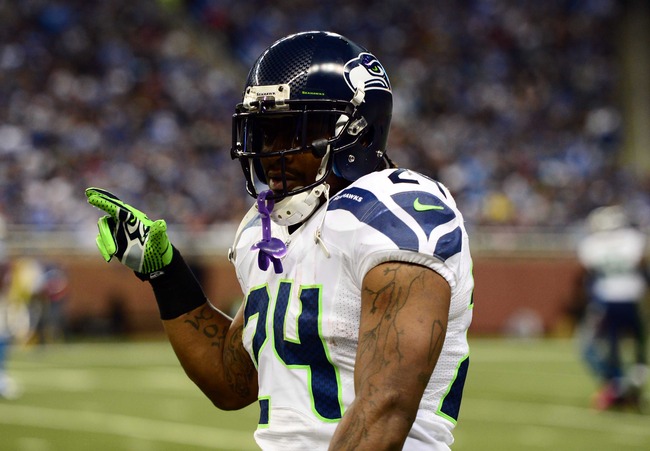 Andrew Weber-US PRESSWIRE
The enigma of the 2012 season resides in the Great Northwest and the Seattle Seahawks.
A 4-4 team that possesses wins over strong opponents such as New England and Green Bay, Seattle is an abysmal 1-4 on the road. And that lone road victory came over the Panthers, while three of the four losses are within the NFC West.
The good news is that Seattle remains strong defensively. The bad news is the offensive aerial assault has yet to really impact a game. Make no mistake about it, Russell Wilson is playing well for a rookie and he gives Seattle's offense the best chance to win.
But for as stout as Marshawn Lynch and the ground game are, a more efficient passing attack is required to survive some of the tough remaining games: other division matchups, Vikings, Dolphins and Bears.
10. Minnesota Vikings (5-3)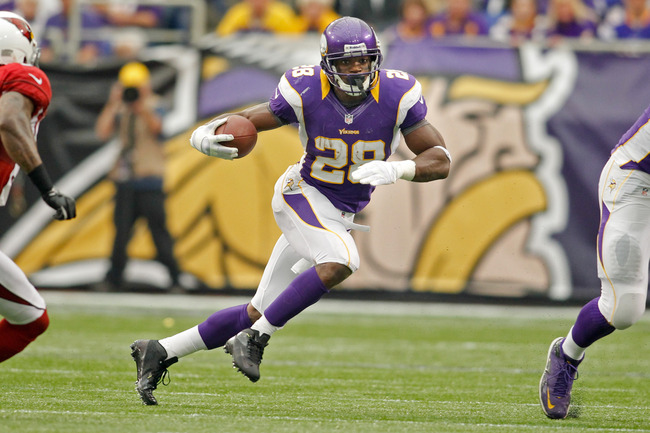 Bruce Kluckhohn-US PRESSWIRE
We may have seen the real 2012 version of the Minnesota Vikings at home against the Buccaneers in Week 8.
Meaning, an offense that rightfully revolves around Adrian Peterson, but a quarterback in Christian Ponder who is becoming turnover-prone (seven picks in last four games). The defense was overachieving to an extent early on because the youth and overall inexperience was exposed by Josh Freeman and Tampa Bay.
What we will find out is Minnesota's true identity in Week 9. There, the Vikings play at Seattle, and how Ponder and Co. respond will be telling. With the Lions finding more confidence and Minnesota still having to face Green Bay twice, November is the Vikings' dealbreaker.
9. Baltimore Ravens (5-2)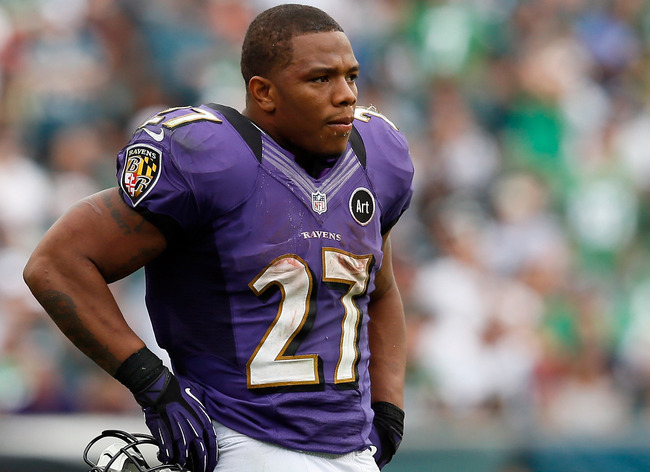 Rob Carr/Getty Images
What good thing about the Baltimore Ravens having a bye in Week 8 was it provided extra time to taste how the Week 7 blowout felt.
Because losing on the road to the Texans 44-13 is one way to rejuvenate the motivational factor. Include an additional week to think, and it's possible Baltimore takes all that out on Cleveland this week.
Nonetheless, the Ravens may be 5-2, but this defense is uncharacteristically weak.
Allowing an average of 400 total yards per game thus far, that will cost Baltimore a shot at making a deep playoff run. Facing the Browns and their surprisingly balanced attack will reveal more about how the Ravens can finish this regular season.
8. Denver Broncos (4-3)
Ron Chenoy-US PRESSWIRE
Sure, it was the Saints and their tremendously weak defense on Sunday night, but Peyton Manning and the Denver Broncos have really found a rhythm.
Winners of three of their last four games, the Broncos finally sit atop the AFC West and see a much more favorable schedule ahead. The offense is becoming more balanced each week, and considering the defense held Drew Brees to 213 yards passing, Champ Bailey and Von Miller and Co. are beginning to take over games.
Now, fumbles still remain a minor issue, as two occurred on Sunday. Nevertheless, with Manning continuing to make everyone around him better, the Broncos will keep racking up wins.
7. New England Patriots (5-3)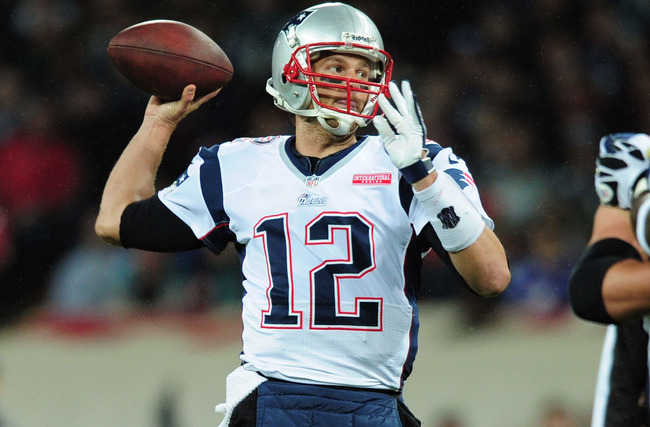 Jamie McDonald/Getty Images
Although the New England Patriots began 1-2, there was no panic in the locker room.
Courtesy of winning four of their last five games, the Pats once again see themselves in first place in the AFC East. The response win at home over the Jets in overtime displayed New England's 2012 character, and the bulldozing of St. Louis had only added confidence.
On a bye this week, New England gets Buffalo and Indianapolis at home for the next two games. Still needing to improve the pass defense with consistency, the Pats can find another postseason bye as long as Bill Belichick fixes the coverage.
6. Green Bay Packers (5-3)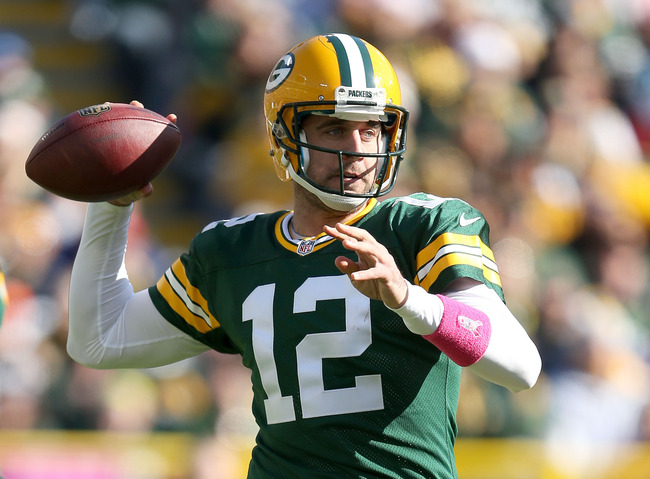 Andy Lyons/Getty Images
A win is a win is a win. That's how the Green Bay Packers must view the Week 8 victory over the Jaguars, because on paper, that game should have been a blowout.
What this game continues to teach, though, is how tough pro football can be regardless of the opponent. Aaron Rodgers only managed 186 passing yards and the Packers were actually outgained by the Jags.
Once again, the lackluster running game remains a concern in Titletown because only 66 rushing yards versus a weak Jacksonville defense doesn't offer much promise. Fortunately, Green Bay hosts again in Week 9 (Arizona) and then hits the bye.
When Week 11 kicks off, we'll see whether the Pack was able to buff out the ground game rough spots.
5. San Francisco 49ers (6-2)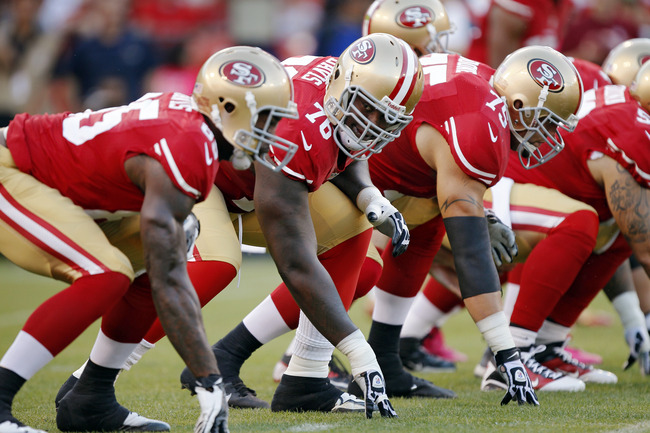 Brian Bahr/Getty Images
Words do not justify how well the San Franciscco 49ers performed on Monday night.
Alex Smith was the definition of flawless and a Randy Moss sighting enhanced the team's overall play. The offense remains a punishing attack with a great two-back tandem and San Francisco displays no signs of slowing down.
On the flip side Jim Harbaugh's defense was relentless. Arizona accumulated fewer than 300 total yards and got just three points.
Entering a bye for Week 9, two colossal matchups against the Bears and Patriots will truly bring out the best in San Francisco. For the Bay Area's sake, let's hope it's better than what happened versus the Giants. And provided the 'Niners maintain this pinnacle effort in November and December, San Francisco will find itself as the NFC's path to Super Bowl XLVII.
4. Houston Texans (6-1)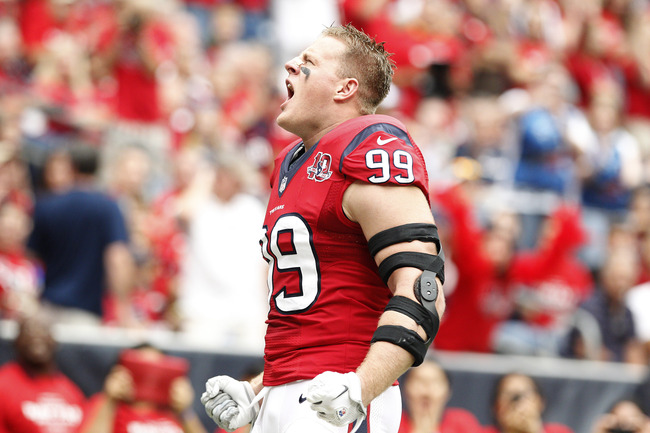 Thomas B. Shea/Getty Images
Upon losing to the Packers at home, the Houston Texans vented their frustration to the Ravens in Week 7.
That was important because Houston had a bye in Week 8 and return to host Buffalo this week. Still residing atop the AFC South, the 6-1 Texans are not expected to miss a beat with their elite defense and well-balanced offense.
Two road games left on the schedule stand out: Chicago and New England. Those games will reveal the most about Houston in 2012 because the Texans flopped on their first spotlight opportunity versus Green Bay.
3. Chicago Bears (6-1)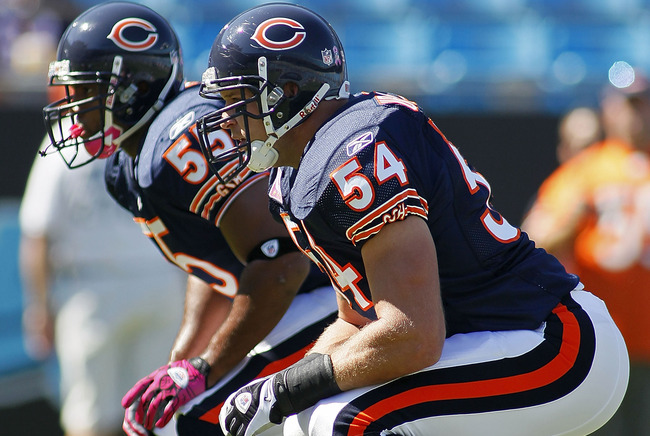 Geoff Burke/Getty Images
Much similar to Green Bay's win over Jacksonville, the Chicago Bears got what mattered most at home against the Panthers: the victory.
Improving to 6-1, Chicago has won every time it was supposed to win. That kind of consistency is what separates the good from the mediocre and the great from the good. Brian Urlacher and the defense continue to assist the offense at scoring, and Jay Cutler stepped up big time in a clutch situation on Sunday.
Traveling to the Titans in Week 9, the Bears get two enormous challenges from Houston and San Francisco in the two weeks following Tennessee. There is when the ultimate potential of the Windy City is proven for 2012.
2. New York Giants (6-2)
Tom Pennington/Getty Images
Jumping out to a 23-0 lead on the road against Dallas, the New York Giants looked like they were en route to a smashing performance of their bitter-rival.
And despite the Cowboys coming back and taking the lead, it's once again how a team responds to adversity. Eli Manning epitomizes this demeanor, as he got the Giants in field-goal position twice during the final quarter.
Luckily, the defense didn't fully break and New York improved to 6-2. As front-runners in the NFC East, it's going to be difficult for anyone to catch the Giants. This team knows how to force turnovers, and the offense is only more dangerous when provided additional possessions.
With just two divisional games left, it's not wrong to pencil Big Blue in for a January bye.
1. Atlanta Falcons (7-0)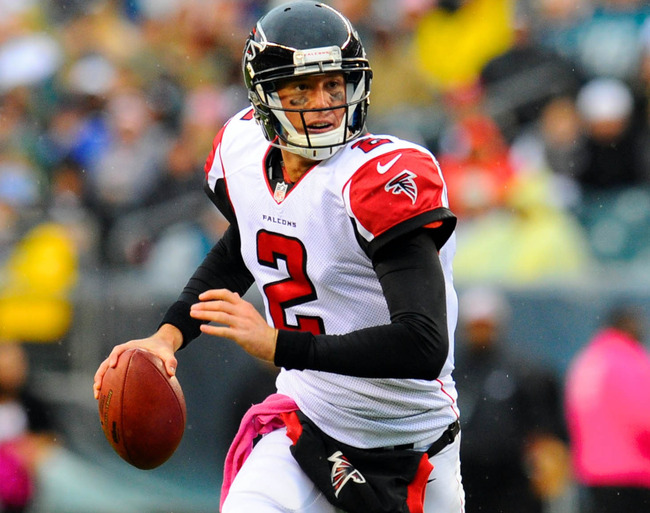 Dale Zanine-US PRESSWIRE
The most impressive figure coming from the Atlanta Falcons' road win over Philadelphia was limiting the Eagles to an average of just 3.8 yards per carry.
Exclude Michael Vick, and the Falcons significantly minimize the damage from LeSean McCoy with only 2.8 yards per attempt. All season long the Dirty Birds had struggled immensely against the run, so stepping up in a big game really put Philly on edge.
In turn, Matt Ryan and Co. simply worked the Eagles defense, and it led to a seventh win. Regardless of how Atlanta finishes out, this team is on pace for at least 12 wins. Also, competing in arguably the NFL's weakest division and the NFC's road to Super Bowl XLVII will go through Atlanta.
Follow John Rozum on Twitter.
Keep Reading