NFL Power Rankings: Spotlighting the Teams Worse Than Their Record
Norm Hall/Getty Images

Week 6 was one of the more wild weeks in the NFL that I can remember. Shootouts, broken records and horrible play calling; we saw it all.
This week's games didn't provide much clarity as to which teams are contenders and which are pretenders. Seven games were decided by three points or less, many of which were games not expected to be close. If anything, Week 6 provided proof of the parity that exists early in this 2012 NFL season.
So which teams deserve to be ranked well in the power rankings and which teams are worse than the record they hold in the standings?
Too often we base our rankings on wins and losses, rather than looking at the big picture of how a team is playing. Consistency from week to week plays a big part in how teams should and are ranked in this edition of the NFL power rankings.
Begin Slideshow

»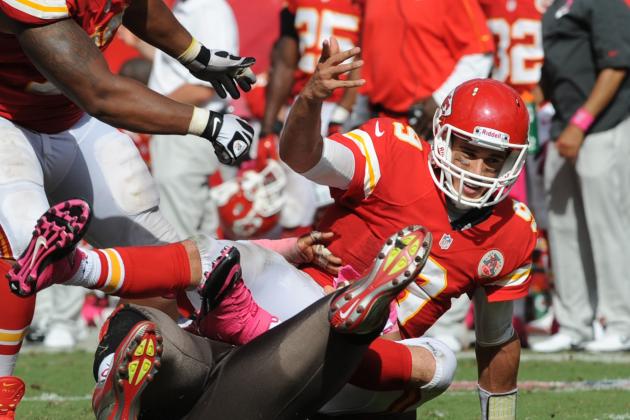 Al Messerschmidt/Getty Images

The Brady Quinn "era" in Kansas City started as well as one would think. The Chiefs were embarrassed on the road against a Buccaneers team that really isn't much better in the talent department.
A win on the road in New Orleans should have jump-started a team with the talent Kansas City possesses, but the Chiefs haven't been able to put the pieces together. A mixture of youth and unsteady quarterback play will do that to a team.
Kansas City has the second worst point differential in the league and unless the offense figures out any kind of consistency, that is a statistic that won't improve anytime soon.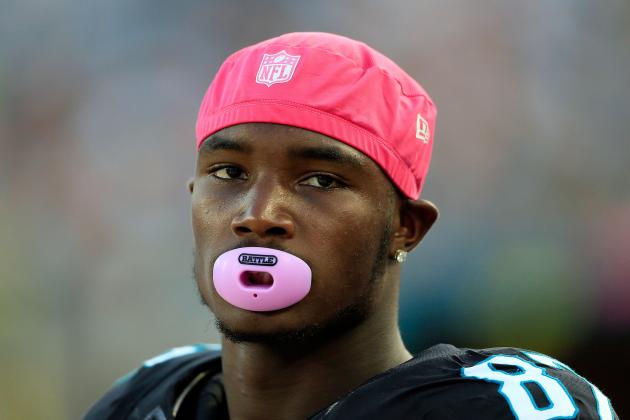 Sam Greenwood/Getty Images

To say that the Jaguars offense isn't very good would be an understatement. The "progress" that Blaine Gabbert reportedly showed in preseason hasn't materialized and has left a tired defense on the field for far too long.
Week 6 was kind to Jacksonville fans, only because the Jaguars had their bye week. Comically, due to the play of the team in recent years, most home crowds look about the same as they would during a bye week.
If the team can come out of the bye showing corrections in their early-season mistakes, then their personnel decisions might be different at the end of the season. Otherwise, the front office could be looking a little different come January.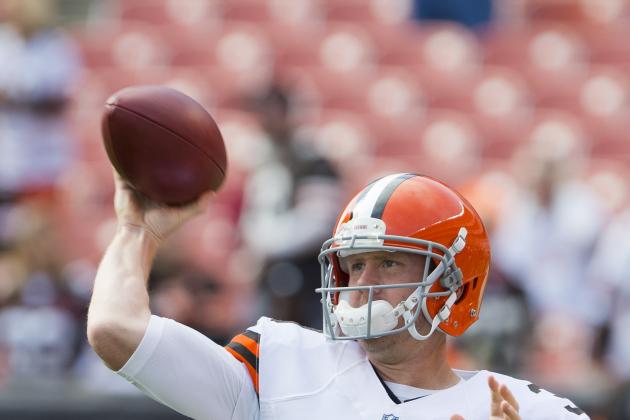 Jason Miller/Getty Images

The Browns became the last team to notch a win in 2012, but don't be fooled by their abysmal 1-5 record. Cleveland has played well in their losses, but because of their 0-5 start, they were plugged into the bottom spot in most power rankings.
Cleveland missed their star cornerback Joe Haden, who grabbed an interception in his return from a Adderall-induced four-game suspension. In his absence, the Browns defense fared well, as the only team they were over-matched by was the New York Giants last weekend.
On offense, the team is getting better with time. Brandon Weeden still hasn't answered any questions if he is the future starter in Cleveland, but he's put together some solid games.
What really hurts this team is a lack of a play-maker at the wide receiver position. Greg Little remains in the doghouse, and rookie Josh Gordon is too hot-cold to be the go-to guy on offense. Barring serious injury, the Browns will have to ride Trent Richardson to a few wins.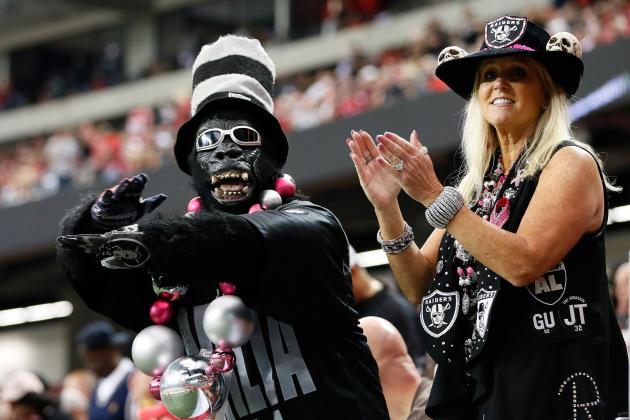 Kevin C. Cox/Getty Images

The Raiders are a team that is hard to put a finger on. One week they are competing at a good level and the next, they look like one of the NFL's worst.
Oakland decided to show up in Week 6 to attempt to spoil the Falcons' first 6-0 start in franchise history. In the end, Carson Palmer handed the game to Atlanta by throwing a pick-six to the aging Asante Samuel.
Palmer is the epitome of this Oakland team with his inconsistent play, and a poorly executed run game has the Raiders looking for answers on offense.
The defense has talent on the line, but not enough behind them to keep teams at bay.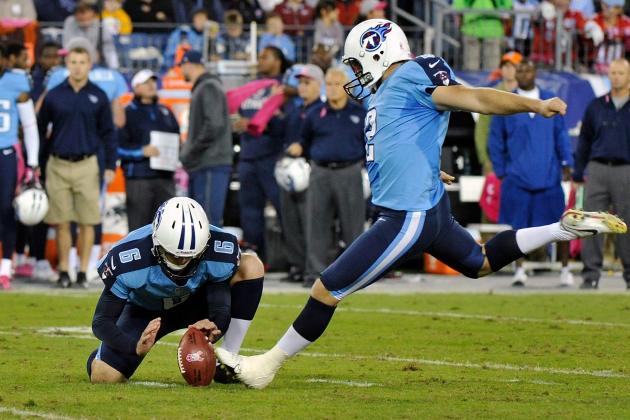 Frederick Breedon/Getty Images

Tennessee shares the bond of beating the Steelers with the team they are ahead of, the Oakland Raiders. The Titans continued Pittsburgh's forgettable start with a Rob Bironas field goal in the waning seconds of the Thursday night game.
But how good is this Titans team really?
They have two emotional victories over the Steelers and Lions, both with Matt Hasselbeck at the helm. I still can't believe the furious comeback Tennessee had to force overtime and eventually beat Detroit.
However, those two wins can't mask the fact that they are giving up points at an alarming rate. They've given up 204 points over six games, four of which were blowout losses, which averages out to be 34 points given up a game. Very few teams can overcome that kind of deficiency.
Tennessee will win a handful of games because they play in the NFL's weakest division, but this team is still far from being good.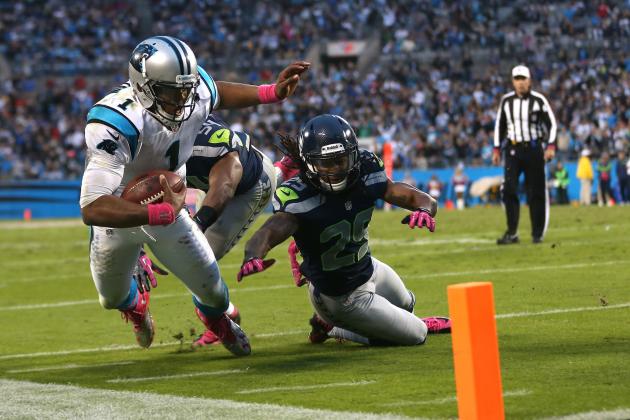 Streeter Lecka/Getty Images

Carolina fans were expecting a return to the playoffs in Cam Newton's second year at the helm of the team. Unfortunately, there have been more growing pains than some anticipated, which has directly led to a 1-4 start for the Panthers.
Newton has looked frustrated that he hasn't repeated the success he had last year as a big-shot rookie. Instead of the long, lost looks of disappointment permanently pasted on his face, he needs to light a fire under the butts of his underachieving team.
The Panthers will have the opportunity to turn their season around coming out of their Week 6 bye, but they'll need a few "upset" victories to avoid losing the season completely.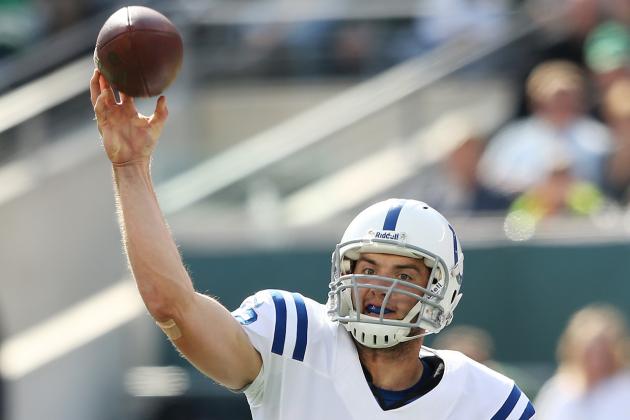 Nick Laham/Getty Images

Indianapolis has played like the young team they are. The Colts have two good wins against NFC North opponents, Green Bay and Minnesota, but their losses haven't been pretty.
Andrew Luck will have plenty of opportunities to outshine Peyton Manning's rookie season in Indy, but he'll be taking a lot of lumps along the way. There is the opportunity to steal a couple of games, as evidenced by the surprising victory over the Packers, but this isn't a team that will more than six games.
The future is bright for Indianapolis, but don't confuse the flashes for current reality.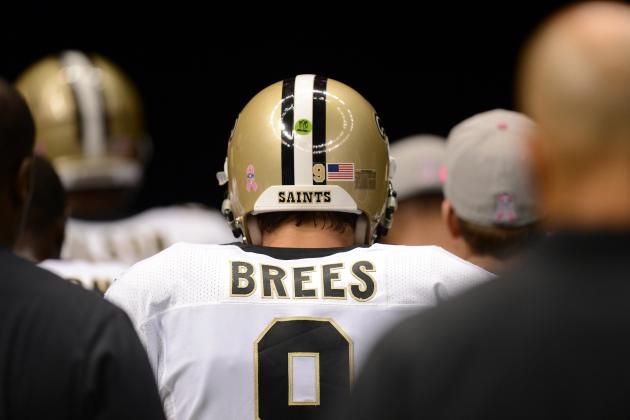 Harry How/Getty Images

The offseason bounty scandal has had a bigger impact than anyone could have anticipated. For the most part the talent and personnel isn't any different from a year ago, but losing Head Coach Sean Payton has been insurmountable for this Saints team thus far.
Losing to Kansas City and Carolina early in the season have put this team in a tough hole; one that will be hard to climb out of with a brutal schedule ahead.
It is easy to look at the Saints as a team that is better then their record, but in 2012, this product is going to be damaged goods.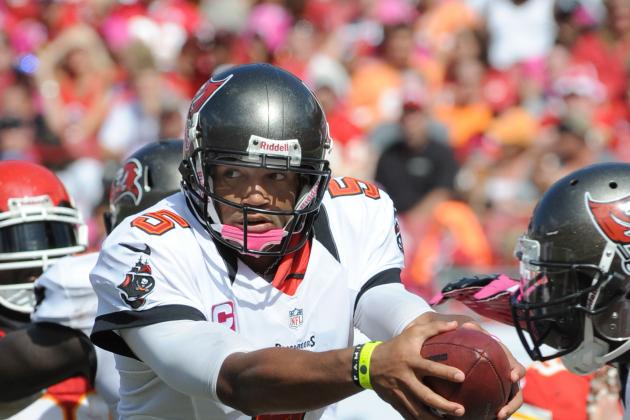 Al Messerschmidt/Getty Images

I know. I know. I can hear Tampa Bay fans screaming obscenities at their computer screens for ranking them too low.
The Bucs have been in every game they've played and could easily be 4-1 if not for collapses against the Giants and Redskins. However, they've been carried almost exclusively by their young defense.
Josh Freeman turned in his first great performance of the year against the Chiefs, but take that with a grain of salt. Freeman needs to show the franchise that he can be the guy moving forward, rather than the quarterback that we've seen for the last two years.
If Tampa can get the offense on the same page with the defense, this could be a team to watch in the wild-card race. All of that hinges on the play of Freeman, and the jury is still out there.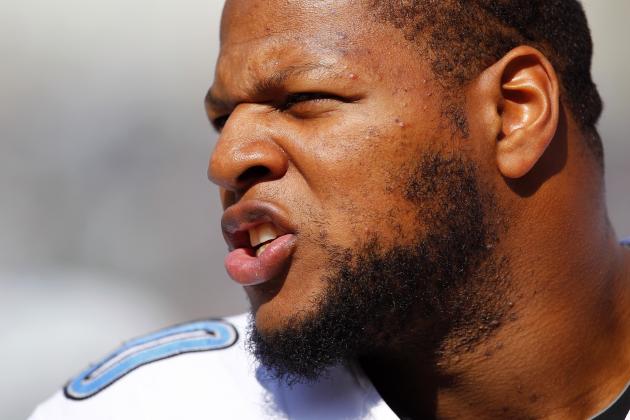 Rich Schultz/Getty Images

Detroit has fallen from their playoff performance a year ago. The offense hasn't exactly been as advertised and the defense has under-performed because of a lackluster effort from their banged up secondary.
Matthew Stafford hasn't looked like that guy that threw for more than 4,000 yards last year, and that is partly because he has been zeroed in on Calvin Johnson.
Stafford knows that he can get away with some bad throws because of Johnson's skill set, but defenses are starting to jump routes on Johnson more frequently. Stafford needs to trust his other receivers.
The return of Louis Delmas in the back end of the defense should help, but they'll need to get more out of their touted defensive line to improve in the standings. Cliff Avril has had a solid season, but they need more from their other pass rushers.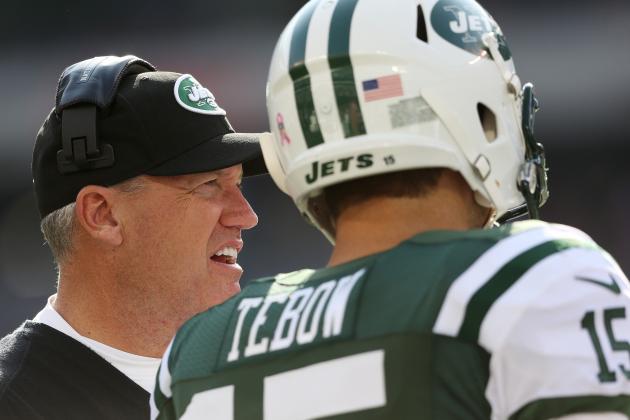 Nick Laham/Getty Images

Two of the Jets' three victories have been blowouts, but those are the exception to the rule in New York. The Jets played a complete game for the third time this season and have looked much better the last two weeks after getting their butts whooped against San Francisco.
New York is in a four-way tie for first place in the AFC East, but they hold the tiebreakers over both Buffalo and Miami because of head-to-head victories over those two teams.
So why are the Jets lower than those two?
They haven't shown the consistency on offense to really show any trust in them. Rex Ryan is starting to waver in his confidence in starting quarterback Mark Sanchez and if Ryan gives in to Woody Johnson's wishes of more Tim Tebow, this season could snowball quickly in the wrong direction.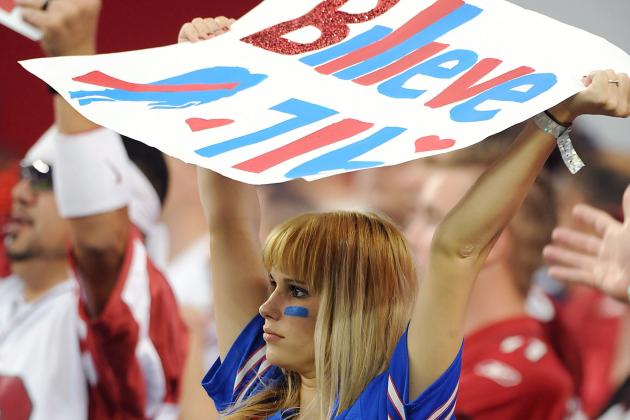 Norm Hall/Getty Images

Buffalo has three wins sure, but they've done about everything possible to win none. The talent on this squad is undeniable, but they are lacking at three key aspects of football: quarterback play, play calling and third-down stops on defense.
Ryan Fitzpatrick retooled his delivery in the offseason, but quarterback guru David Lee hasn't been able to fix Fitz. The quarterback consistently misses open targets and hasn't shown that the can lead the team to victory in tight games.
Head Coach Chan Gailey did everything he could to lose the game against the Arizona Cardinals, with bad decisions piled upon bad decisions. His defensive coordinator, Dave Wannstedt, hasn't been any better.
The defense has been predictable and opposing offenses have taken advantage. Buffalo has given up the second most points in the league, partly because of the offense, but mostly because they aren't getting put in a position to succeed.
Buffalo isn't the team many expect coming into the year and aren't playing as well as their 3-3 record indicates.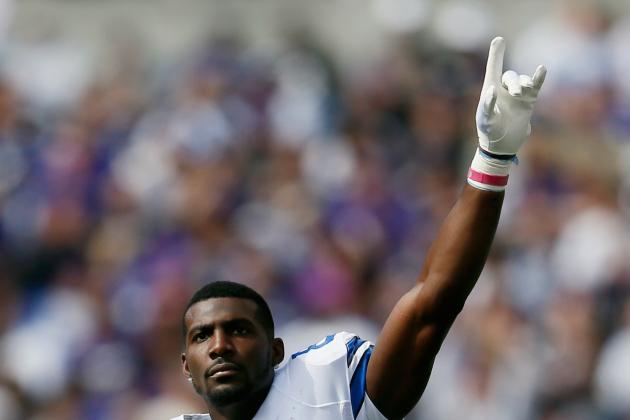 Rob Carr/Getty Images

The Dallas Cowboys made a statement on opening night by defeating the defending champion New York Giants, but there has been nothing but disappointing performances since then.
Dallas had the opportunity to win the game against Baltimore on Sunday, but Dez Bryant couldn't hold on to a two-point conversion. It could have been a prime opportunity to gain another big win under their belts.
The troubling part for the Cowboys is that the offense isn't competing at the level associated with the talent on that side of the ball.
The offensive line hasn't been very good, but neither has Tony Romo. There is an obvious correlation there, but Romo has played well behind leaky blocking before.
Sunday's losing effort is a start, but we are going to learn a lot about the Cowboys in the next four weeks.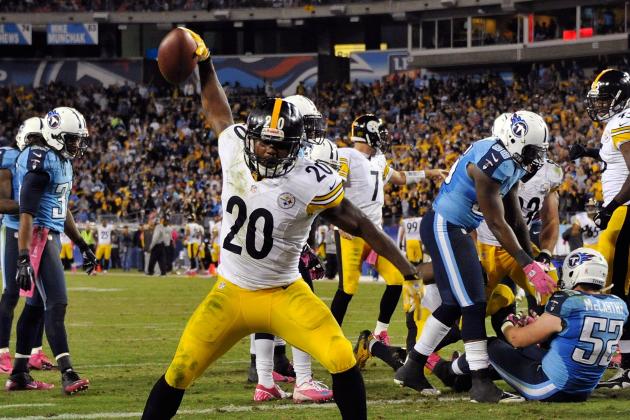 Frederick Breedon/Getty Images

What to make of the Pittsburgh Steelers?
Three losses to Denver, Tennessee and Oakland are tough ones to swallow if you reside in Pittsburgh. Are they a sign of things to come for a team that is getting a little long in the tooth or are those three games merely bad games?
The correct answer is a mixture of both.
Pittsburgh isn't going to play this poorly all season, because injuries have been a main cause to their ugly start. Once their defensive stalwarts begin to get healthy, the team will start to perform at the level we have come to expect from a Steelers team.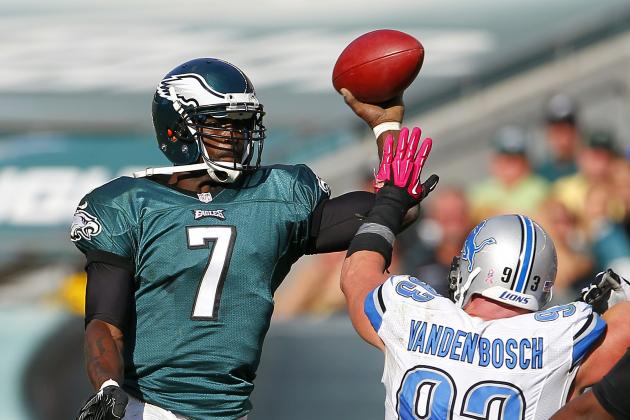 Rich Schultz/Getty Images

Turnovers have been the name of the game for the Eagles. Somehow they managed to start the season 3-1 despite Michael Vick leading the league in turnovers, but they were playing with fire.
Teams that commit that many errors eventually run out of luck, and Philadelphia is learning that the hard way in the last two weeks.
You can't change the way that Michael Vick plays the game, because his daring style of play is how he makes plays. However, the Eagles can't continue to turn the ball over at this rate if they want to have any shot at making the playoffs this year.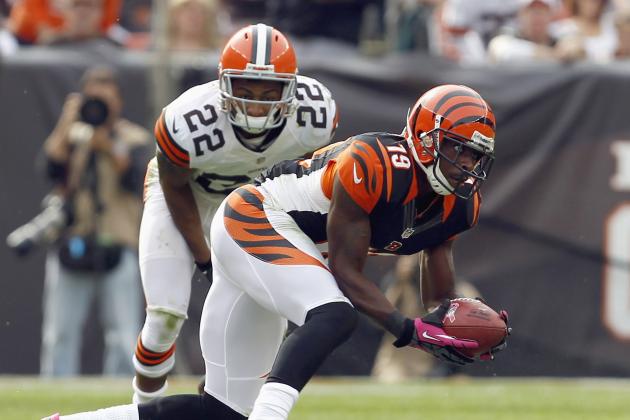 Matt Sullivan/Getty Images

The last two weeks haven't been kind to the Bengals with losses to the Dolphins and Browns.
Cincinnati falls into the similar category as Detroit, as a team that hasn't played up to expectations following a 2011 playoff appearance.
More than a few analysts picked the Bengals to win the AFC North outright this season, but they aren't getting consistent play out of Andy Dalton to accomplish such a feat.
The Bengals' next three games are against Pittsburgh, Denver and the New York Giants, so they could be staring 3-6 in the face after a 3-1 start.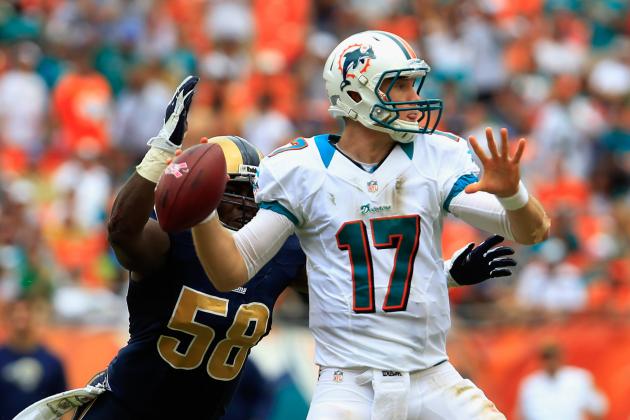 Chris Trotman/Getty Images

Ryan Tannehill has been a bit of a revelation for the Dolphins. No one expected this team to play well, especially after seeing the lack of talent displayed on HBO's Hard Knocks series.
However, the Dolphins are defying all odds by being competitive in every game they've played aside from the opener vs. Houston.
Miami gets the opportunity to avenge a tough overtime loss to the Jets following their bye, which is this coming week. Following that, they'll have winnable games with the Colts, Titans and Bills in the three weeks after the Jets game.
It's not inconceivable that they could be 7-3, entering in a game with the Seahawks.
But is this team really 7-3 good or even 3-3 good?
They lack a lot of depth on both sides of the ball, and Tannehill will hit that rookie wall eventually. There aren't many options on offense after Reggie Bush, and while the defense will keep them in games, they won't be a playoff contender come season's end.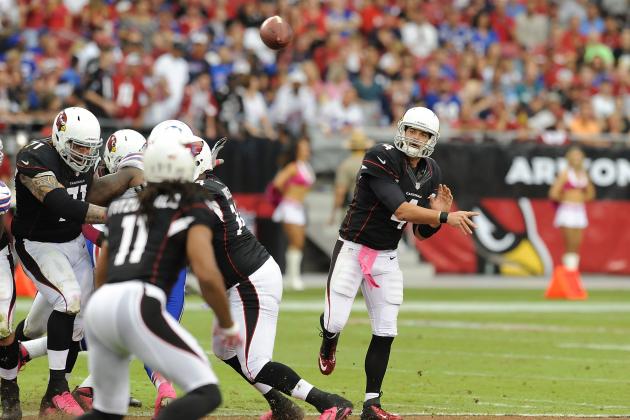 Norm Hall/Getty Images

The 4-0 start seems like a bit of a mirage now, after losses to the Rams and Bills.
Arizona let the game get away from them on Sunday. Jay Feely made a 61-yard field goal to tie the game, only to miss a 38-yard field goal to win it only seconds later.
The Cardinals still own impressive wins over New England, Philadelphia and Seattle, but Arizona is about to become one of those hot-starting teams that experiences a meltdown as the season goes on.
Offensively, the Cardinals were good enough with Kevin Kolb taking snaps under center, but how long can that possibly last? Kolb could be out a few games with a rib injury, but it doesn't really matter if its him or John Skelton that plays quarterback. Neither is good enough to win games consistently.
The defense has been good, but they aren't on the same level as division rivals Seattle or San Francisco just yet. It isn't a unit that can make up for the lack of offensive firepower.
Eventually, uneven quarterback play and no semblance of a run game will catch up with the Cardinals.
Jeff Gross/Getty Images

The Chargers, had they held onto their first-half lead vs. Denver, could have made a run at a top 10 spot. Instead, we are left wondering where San Diego stands following a second-half collapse of epic proportions.
With 30 minutes to play, it looked like San Diego was going to run Denver out of the building on their way to a 4-2 record. However, the collapse is making the Chargers' early-season schedule look even weaker than it did before.
San Diego has wins over Oakland, Tennessee and Kansas City. Not exactly awe-inspiring.
Now the Chargers will have to deal with the questions revolving around the future of their head coach for the rest of the season. Again.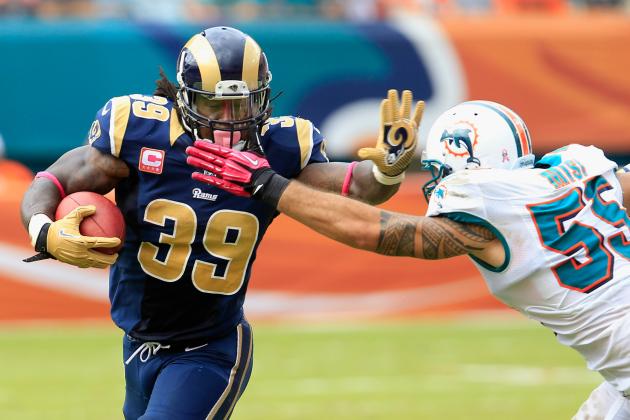 Chris Trotman/Getty Images

First-year head coach Jeff Fisher has the Rams playing at a level not seen in St. Louis for quite some time. The Rams have been one of the worst teams in the NFL for the better part of five seasons, but they are showing signs of turning the corner.
They are playing a smash-mouth style of defense that a good team needs. Chris Long and Robert Quinn are wreaking havoc on their opponents on a weekly basis, and their cornerback duo of Cortland Finnegan and rookie Janoris Jenkins is playing at a high level.
The jury is still out on Sam Bradford as a high-quality starter in the NFL, but he's playing well enough for them to win games.
Sunday's loss against Miami doesn't take away from three very good wins against Arizona, Seattle and Washington.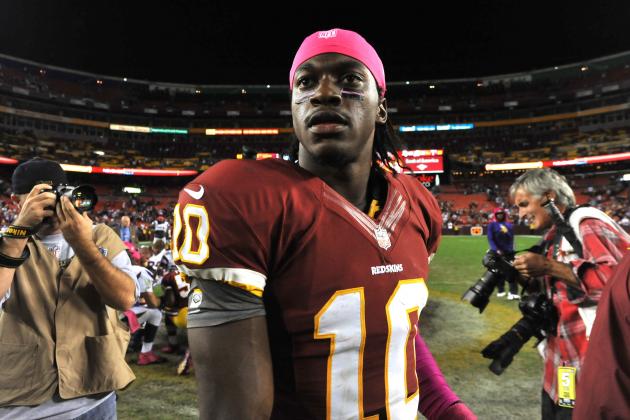 Larry French/Getty Images

RGIII Fever is in full force in the Washington, D.C., area and why wouldn't it be?
Robert Griffin III has been nothing short of spectacular, and the 76-yard touchdown run to cap the victory against the Minnesota Vikings was fun to watch. If Griffin doesn't get hurt against the Falcons, who knows what happens in that game?
However, the Redskins are more than just their new star quarterback. Alfred Morris is the latest rags-to-riches running back for Mike Shanahan, and Jim Haslett has the defense playing well.
Jeff Gross/Getty Images

What a comeback.
It's no surprise to see a comeback led by a Peyton Manning-directed team, but this wasn't just a good effort by Manning.
When the defense is on, this is a very good team. The Broncos took two interceptions in for scores and pass rush made Phillip Rivers uncomfortable in the pocket for much of the night.
Denver does have three losses, but they are against teams that are better than them. Having Manning in the pocket masks a few of the Broncos' issues like it did in Indianapolis, but this isn't the Manning of old.
The Broncos will need to have similar defensive performances like they did on Monday night to win the division and make some noise in the playoffs.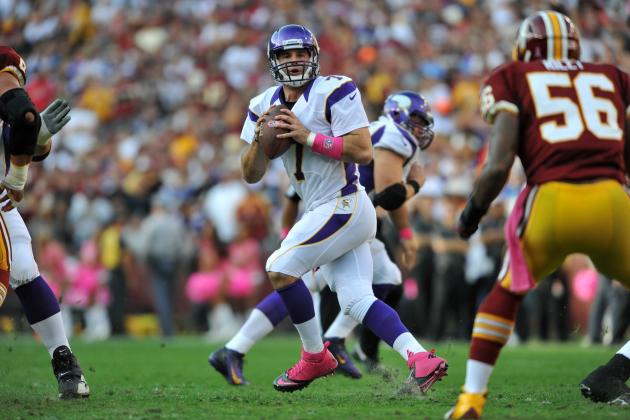 Larry French/Getty Images

Christian Ponder is the center of the equation for the Vikings. The second-year quarterback has stepped up his game considerably after an up-and-down rookie season, leading Minnesota to four victories in six games.
The biggest difference for the Vikings in 2012 is the defense. Sunday was the first time they've given up more than 30 points in a game and they own a plus-29 point differential. Those are recipes for success in the NFL.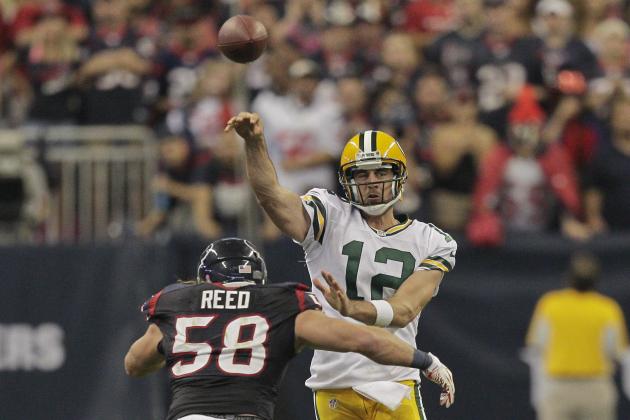 Bob Levey/Getty Images

The Packers silenced their critics on Sunday night with an old-fashioned beating of the Houston Texans at Reliant Stadium.
Green Bay has gone through a lot of adversity with injuries and frustrating losses. See: Seattle, Indianapolis.
But let's not forget that this is a team that won a Super Bowl two years ago and has as much offensive firepower as any other team in the league.
Dom Capers hasn't been able to fix the defense, but injuries to middle linebacker and corner have had a lot to do with that.
Don't get caught up in the losses with this Packers squad; they are the cream of the crop in the NFC.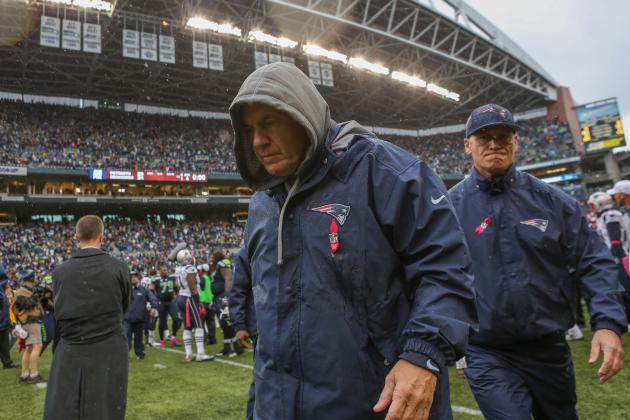 Otto Greule Jr/Getty Images

The Patriots are the latest team to go into Qwest Field and come out a loser. Although, there wasn't much of a controversy to mar the result of this game.
Aside from the Buffalo game, New England hasn't played well in the second halves of games. That isn't something that is typically seen with Tom Brady and Bill Belichick calling the shots.
The Patriots needs to tighten up some things on defense, especially in the secondary if they want to make their way back to the Super Bowl. Although, these were things that people thought would hold them back from being successful last season.
The schedule lightens up considerably until the end of the season, so there isn't any reason to believe that New England won't win the AFC East in the long run.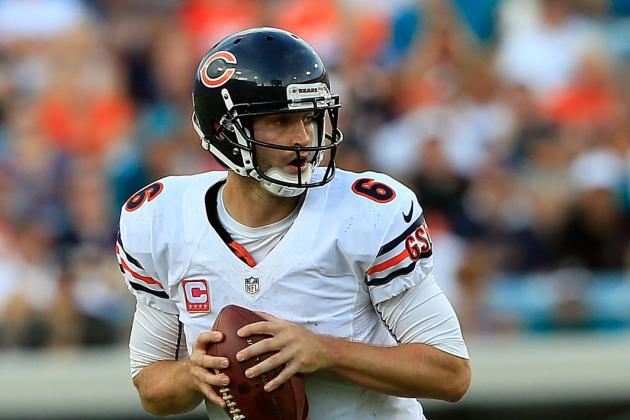 Sam Greenwood/Getty Images

The Bears should probably be ranked higher than this because of how well they've played early in the season, but they are a victim of not playing Week 6.
Chicago is in the catbird seat for the NFC North with Green Bay struggling early on, but they'll need the good Jay Cutler to show up for the remainder of the season to continue that trend.
This is a team that is a Super Bowl contender in the NFC, but they'll only go as far as Cutler can take them.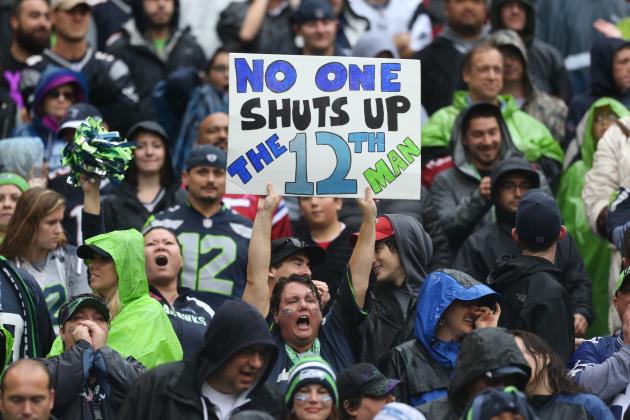 Otto Greule Jr/Getty Images

3-0. 1-2.
The first record is Seattle's home record and the second is their away record. Both of their losses have come to divisional opponents, which could hurt them in the long run if they don't take care of business outside of the NFC West.
Seattle's defense is the real deal. They hit hard. They cover well. They can get to the quarterback with ease.
However, they are limited on offense by being tied to Russell Wilson. There's no telling how far Wilson can take them and he may be currently performing better than the way he will finish up.
The Seahawks are one of the few teams around the league that need to be wary of a disappointing second half.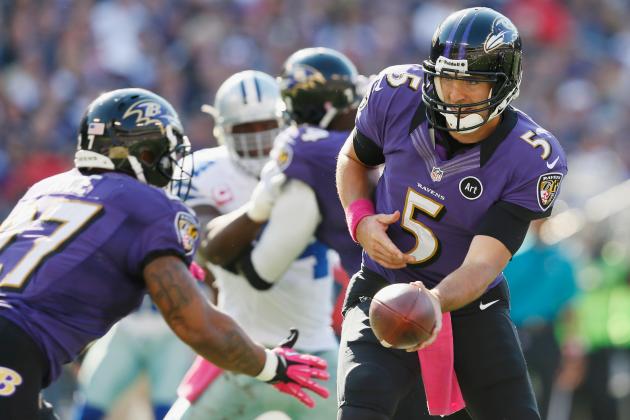 Rob Carr/Getty Images

The Ravens are sitting atop the AFC North with a 5-1 record, but they are extremely lucky to be in possession of that record.
Baltimore has played down to their competition all season long. Other then a commanding win over the Bengals on opening weekend, this hasn't looked like a five-win team.
Joe Flacco has been efficient, but his coming-out party against Bengals was short-lived. He hasn't performed at nearly as high a level since that game.
Now the defense is banged up with Lardarius Webb and Ray Lewis lost for the season. Webb and Lewis are probably the two most important pieces on that Ravens defense, especially with Terrell Suggs already out with injury.
It will be interesting to see how the Ravens respond to those injuries. My guess is not well.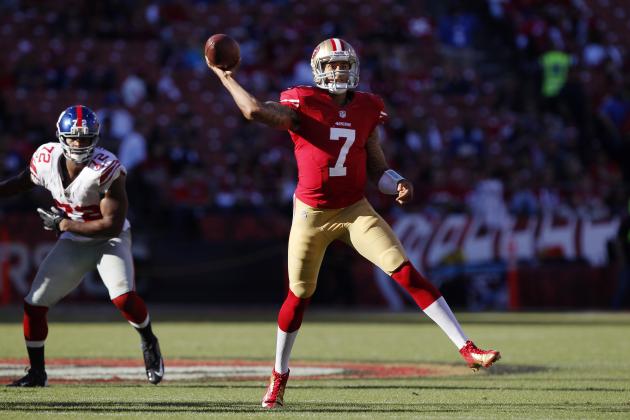 Brian Bahr/Getty Images

It has been a tale of two weeks for San Francisco. Two weeks ago, they laughed the Bills out of Candlestick Park, but this week's rematch of last year's NFC Championship game was the complete opposite.
The loss had some fans foolishly asking for less Alex Smith and more Colin Kaepernick, which is pretty silly. Smith has been good to very good since Jim Harbaugh became the coach of the Niners and proved the point of those who thought he needed stability.
San Francisco has been the definition of steady since the start of last year. There isn't much to learn from their loss to the Giants other than they had a bad game.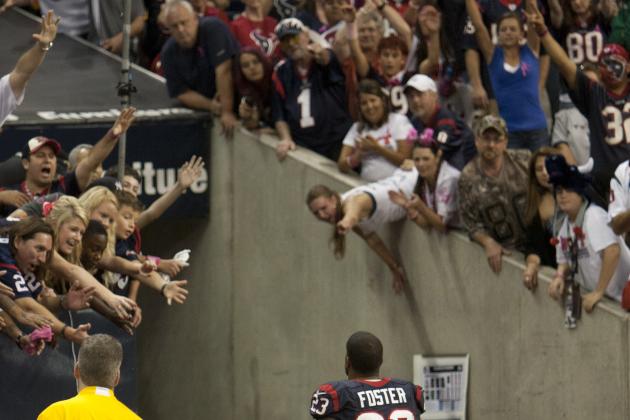 Bob Levey/Getty Images

Houston looked silly in their first time hosting a Sunday Night game since the city's team rebooted as the Texans.
There is no denying the talent on this team and they have justified their preseason AFC favorite status for the most part.
The only thing to be concerned about is that the Texans defense didn't look nearly as good without Brian Cushing in the lineup. Maybe trading DeMeco Ryans wasn't such a good idea after all.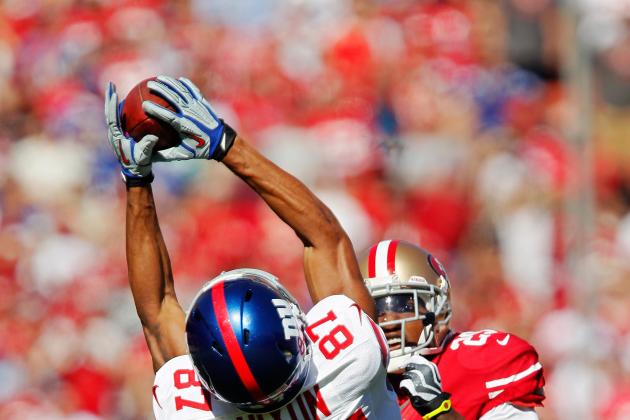 Brian Bahr/Getty Images

Sunday's performance looked like that of a defending champion team.
The Giants need better effort from their secondary, which has been banged up. Getting Prince Amukamara back up to speed should help with those problems.
Perry Fewell has the rest of the defense playing very well and might have been the MVP of the game on Sunday. He drew up a very good game plan on defense and forced Alex Smith to use Randy Moss and Mario Manningham instead of his favorite targets.
New York has eased any concerns that they wouldn't replicate their 2011 success.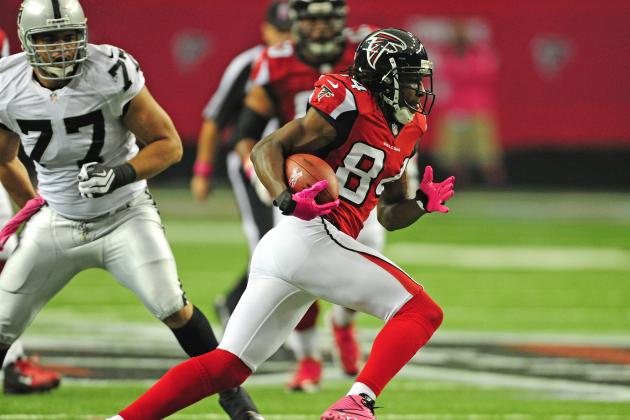 Scott Cunningham/Getty Images

There have been a few scares the last few weeks for the Falcons, including an unexpected one from the Raiders on Sunday. They found a way to recover from three Matt Ryan interceptions to stay unbeaten.
It's really hard to knock the only undefeated team in the NFL, but they won't be staying that way for long if they can't iron out some of the mental mistakes.
The schedule gets tougher from here on out and the Falcons will have a tough time staying at the top spot in the power rankings.