A Hater's Guide to NFL Week 3: Why Your Team Is Destined to Lose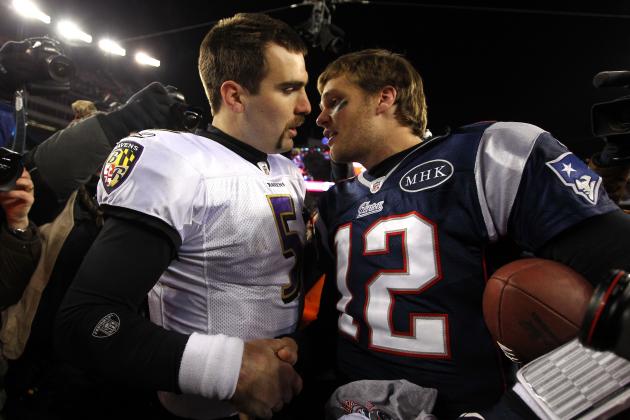 Al Bello/Getty Images
"I wish I knew how to quit you."
What is a "hater"?
In real life, a hater is someone who cannot see past their internal negative biases to say anything positive or even neutral about a topic. A hater is the cranky old man who refuses to smile at anything but others' misfortunes. A hater is the snotty kid on the playground who can't wait until someone wipes out just so he can laugh at them.
In sports, a "hater" is anyone who says anything remotely not-positive about your favorite team. It doesn't matter if the comment is true, false or even negative in the slightest. If someone writes anything longer than 20 words that doesn't start with "YOUR TEAM IS THE COOLEST!" the general fan response is "tl;dr...hater."
So, here at B/R, we're taking it to a whole new level.
All 32 teams are ready to lose this weekend. These aren't picks to win—I'm literally picking against all of your teams. Why? Because I don't very much like them, and I don't really like you either. It's nothing personal, you just look funny.
Bring on the hate!
Begin Slideshow

»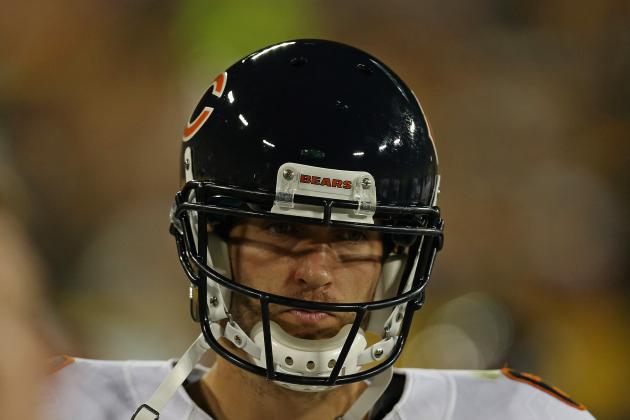 Jonathan Daniel/Getty Images

St. Louis Rams
Quickly, name all five starting offensive linemen for the St. Louis Rams. Can't do it? That's OK, Sam Bradford probably can't either. Though, in his defense, their names are printed on their backs, and it's hard to read them when Bradford is so often on his.
The Rams' only score is inadvertent when they are awarded three points after Steven Jackson's kneecap pops off and flies through the uprights.
Chicago Bears
Speaking of horrible linemen, here are your 2012 Chicago Bears! Am I right, or am I right?
Then there's Jay Cutler. At least Bradford doesn't whine when his linemen fail him. Cutler looks like Johnny just took his juice box.
Actually, wait, Johnny: Cutler is diabetic, he needs that juice, give it back to him right now. What? No, you don't have to apologize, we're all assuming he deserved it.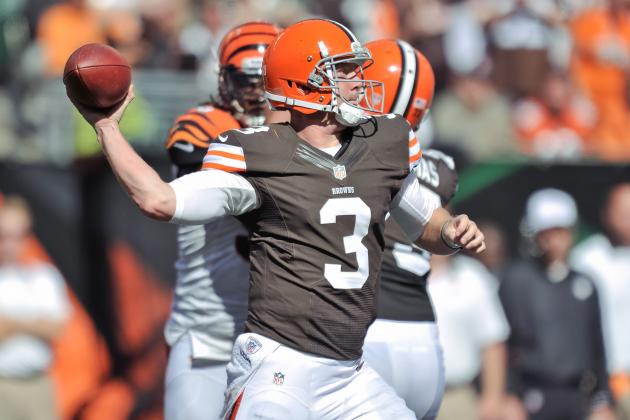 Jamie Sabau/Getty Images

Buffalo Bills
Mario Williams goes up against rookie Mitchell Schwartz this week, but more importantly, he has his own cereal out! Nothing makes young children want to eat cereal like a muscled-out dude screaming at them on the box.
Ryan Fitzpatrick was set to release his own cereal as well this week, but "Team Cheerios I've Had Stuck in my Beard Since 2006" didn't test well.
Cleveland Browns
Remember that part about a rookie going up against Mario Williams? Yeah...that's a problem.
Also, how many Browns fans were treated with whiplash this week after switching positions so violently and so quickly about Brandon Weeden in Week 1? Clearly the worst QB on the planet.
Bring on the Mayans!
Week 2? Colt McCoy who?
*sheepishly hides "We Want Colt" sign made for Sunday's game*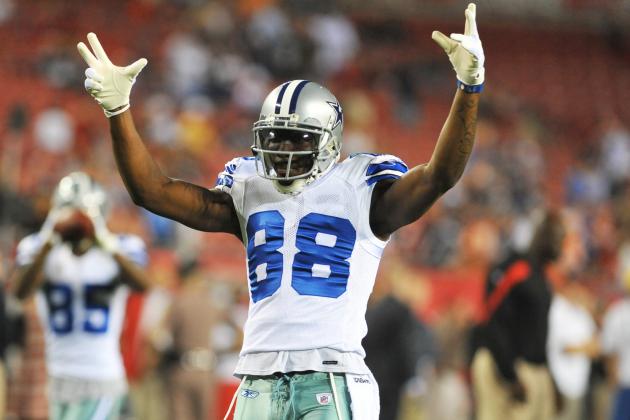 Al Messerschmidt/Getty Images

Tampa Bay Buccaneers
Thank goodness Greg Schiano has a plan for when teams line up in the "Victory Formation." Nothing instills confidence in a team leading up to a game like the head coach shouting, "OK, guys, now we're going to practice that crappy thing we do after another team has already beaten us!"
Even LeGarrette Blount thinks it's bush league.
Dallas Cowboys
The Cowboys had our goodwill for, like, 20 minutes this season. They looked fantastic in Week 1 against the Giants, but then we were immediately reminded that these are still the Dallas Cowboys, as all of us watched with glee as Russell Wilson and company embarrassed them in Week 2.
Whether or not Dallas loses this game, hopefully the nice young men from Tampa Bay will join them in the weekly "Human Chain To Find Dez Bryant Search Party." Seriously, isn't this guy supposed to have a chaperone? How does he disappear so much right when the offense is supposed to take the field?
Joe Sargent/Getty Images

New York Jets
The Tim Tebow experiment continues in New York as Rex Ryan and Tony Sparano install a new top-secret "WildGator" package. In this new, revolutionary personnel grouping, Tebow stands behind the center and takes the ball from in between his legs. Then, fooling everyone, Tebow is supposed to throw the ball—overhand, not like a girl—to a receiver more than three yards away from him.
Tebow wasn't wild about the new set at first, but a thorough overview of the Book of Leviticus revealed that, no, completing passes wasn't an abomination unto the Lord. Now if only he can convert Mark Sanchez...
Miami Dolphins
The Dolphins have already hosted HBO's Hard Knocks this season. Stephen Ross should just embrace reality TV culture and sign Snooki and J-Woww to play receiver. (*Insert tight end joke here.*)
Seriously though, at least people would know their names, and they couldn't conceivably be any worse than Legedu Naanee.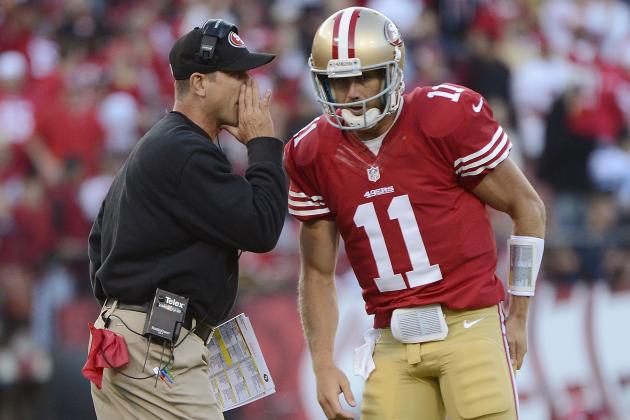 Thearon W. Henderson/Getty Images

San Francisco 49ers
It's still September, so there's little chance that a snowstorm would cause the Metrodome roof to collapse directly onto the Niners sideline. Still, there must be some conceivable way that San Francisco loses this game.
Maybe Randy Moss flips out after his 30th request for better ribs goes unheeded and suits up for the Vikings. Perhaps Kyle "Butterfingers" Williams decides to show everyone his new chemistry set right before game time. Justin Smith could cease to exist at some point this week, no?
Freak snowstorm it is...
Minnesota Vikings
When the Jacksonville Jaguars take you to overtime and the Indianapolis Colts beat you at the wire, it may be time to re-think this whole football thing. Maybe take up knitting, shuffleboard or maritime party-planning.
Also, when is Christian Ponder going to throw a pass more than three yards down the field? Is he just severely shortsighted? Does he need some coke-bottle lenses to see his receivers, or maybe a step-stool? At what point do the 49ers safeties just bring out lawn chairs, knowing they won't be needed?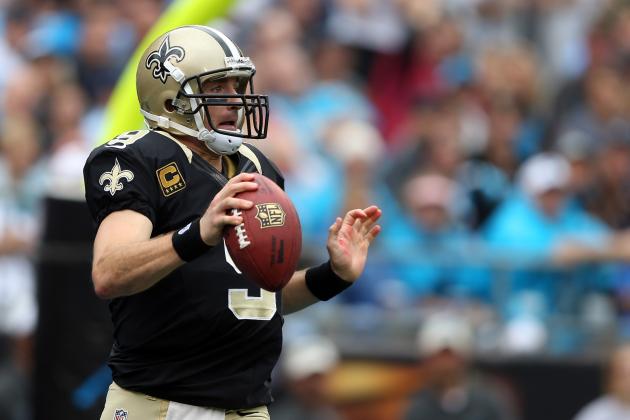 Streeter Lecka/Getty Images

Kansas City Chiefs
[This paragraph has been redacted, everything is great! Can't wait to improve to 3-0. Super Bowl here we come! -Scott Pioli]
New Orleans Saints
In an attempt to improve their offense, the Saints signed veteran receiver Broadside Of'Abarn. Sadly, Drew Brees was unable to hit the new target even after numerous attempts. In a desperation move, journeyman passer Juggs Machine will get the start against the Chiefs.
Is there any chance neither team wins this game? Is karma still a thing?
A 0-0 tie would be terrible to watch, but isn't it what everyone outside of Kansas City and New Orleans is rooting for?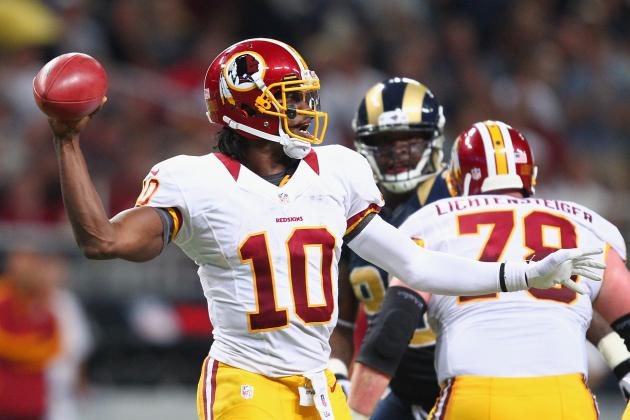 Dilip Vishwanat/Getty Images

Cincinnati Bengals
Andy Dalton goes through his normal pregame ritual of flipping a coin to see how he should perform this week.
Heads: He plays like an NFL quarterback.
Tails: He and the linemen make like LenDale White and slam shots of tequila until the National Anthem.
Tails it is—who wants the worm?
Washington Redskins
Robert Griffin III is quoted before game time as saying, "Hey guys, this is hard. No, like really hard. Did you know those guys are trying to tackle me? That didn't happen back in the Big 12! Do they really get to, just, hit me like that? Why? What did I do to them? Can't I just give them some money or something?"
Overhearing the conversation, six defenders spontaneously combust.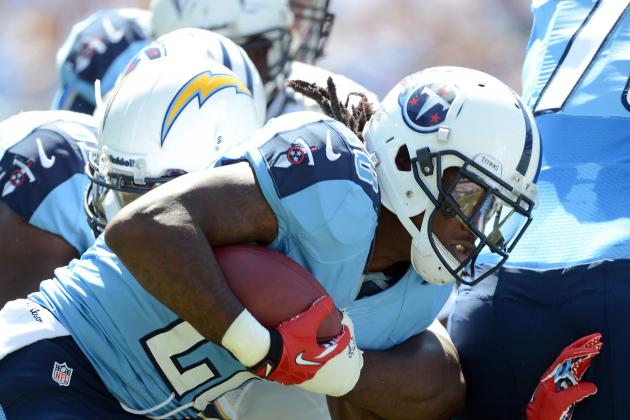 Harry How/Getty Images

Detroit Lions
Jim Schwartz misses the first half after straining his back, an injury sustained while scraping the bottom of the barrel for another horrible cornerback. Without his "guidance and leadership," the Lions manage to play 30 minutes of penalty-free football.
Tragedy strikes, however, when Ndamukong Suh begins the second half by ripping off Jake Locker's arms and beating him with them. It was the weirdest kickoff anyone has ever seen.
Armless Jake Locker proceeds to pass for 400 yards in the second half, leading the Titans to a comeback victory.
Tennessee Titans
Chris Johnson doubles down on his "faster than Usain Bolt" comments before the game and then rushes a career-high 97 times for 12 yards. After the game, Johnson claims he's "bigger than the Beatles" and then retires because he's bored with how awesome he is.
In retirement, Johnson declares he is "a better chef than Emeril" and opens a restaurant selling mostly half-thawed meat covered in ketchup.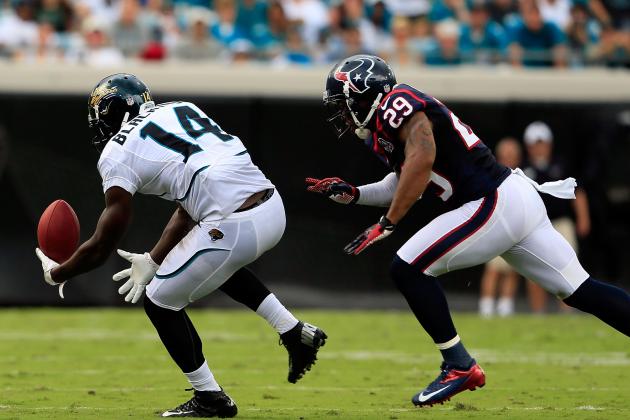 Sam Greenwood/Getty Images

Jacksonville Jaguars
Last week, the Jaguars signed an offensive tackle off of the street and inserted him into the starting lineup. This is not a joke...that happened. It would be funny, but then you have to remember that there are people paid to run a football team who made that decision. In a country where so many people are looking for work, how does Gene Smith still have a job?
Also, Shad Khan Gangnam Style!
Indianapolis Colts
Early Sunday morning, Andrew Luck wakes up and has, miraculously, finally lost his baby fat after 23 long years. Sadly, Luck weighs in at only 90 lbs after the game, and officials refuse to let him play, claiming, "Sorry dude, no way you're going to cover the spread for me like that."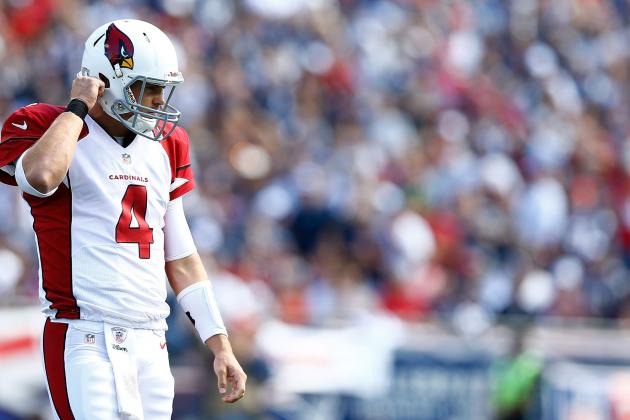 Jared Wickerham/Getty Images

Philadelphia Eagles
Two 0-0 ties in a week—could it be possible?
Let's cut out the middle men and just have Kevin Kolb and Michael Vick stand in the middle of the field and hand the ball to one another for 60 minutes. Maybe play some upbeat music or something—something the kids can dance to. What's that? The game's in Arizona? Never mind then, where's my Neil Young album?
The Eagles still find a way to lose when one of Kolb's errant handoffs rolls right past Nnamdi Asomugha and into the end zone.
Arizona Cardinals
High off of their defeat of the New England Patriots, the Cardinals spend all of their Week 3 preparation telling people how they were "this good all along" and patting themselves on the back. Sunday morning, Ken Whisenhunt calls a special press conference to remind everyone the Cardinals are 2-0 and let everyone know that he's "totally an awesome coach."
Shockingly, in the hubbub of planning a Super Bowl parade, the Cardinals actually forget to suit up for kickoff and are forced to forfeit.
Order is restored to the universe.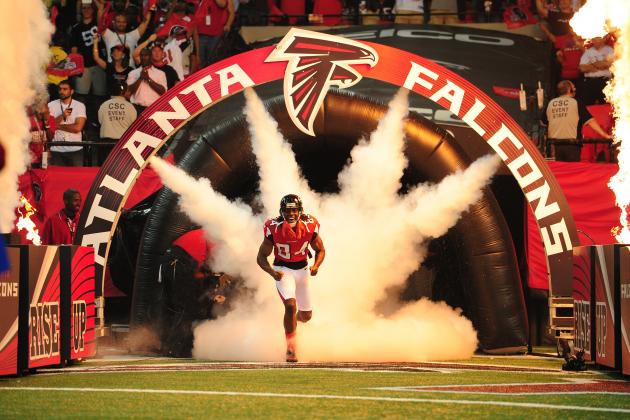 Scott Cunningham/Getty Images

Atlanta Falcons
The Falcons safeties are flabbergasted when Philip Rivers doesn't just throw the ball to them in the middle of the field and end up pouting on the sidelines for most of the game.
Offensively, the Falcons are stymied when Julio Jones starts knocking passes out of Roddy White's hand. Sam Baker tries to get in between them but remembers that he is physically unable to stop anyone from walking right past him to their intended target.
San Diego Chargers
Philip Rivers, after watching highlights of Jay Cutler and Aaron Rodgers calling out their teammates, worries that he is no longer the prettiest girl at the ball. He is seen handing money to Jonathan Vilma behind the stadium. Later, Antonio Gates is run over by a bus.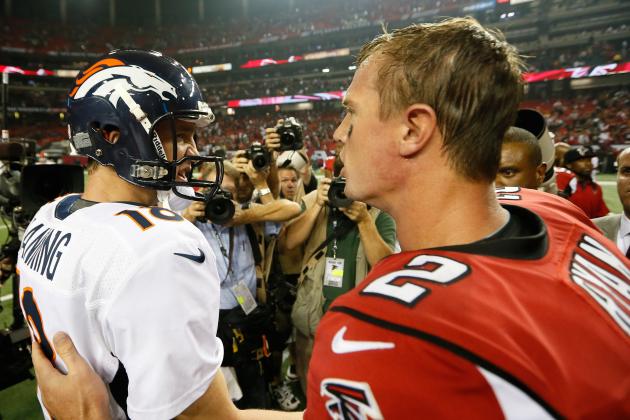 Kevin C. Cox/Getty Images

Houston Texans
Arian Foster wakes up Sunday morning and is shocked to find out that his fantasy opponent has traded for him in a late-night, blockbuster deal. Foster responds to this unchecked aggression with an NFL-record 22 fumbles.
Asked for comment after the game, Foster just mumbles, "Stupid Zerkle."
Denver Broncos
Peyton Manning is more than happy to sign autographs before the game, but he inexplicably can't stop handing the autographs to Falcons defensive backs. Frustrated, Manning climbs into his Buick and sadly sighs, "blue-42, hut hut, sad Charlie Brown music!"
He spends the game sobbing uncontrollably, eating tapenade straight from the jar.
Mike Ehrmann/Getty Images

Pittsburgh Steelers
In an effort to avoid the constant pressure that gets through the Steelers' line, Ben Roethlisberger inadvertently runs himself into an endless mobius pattern. Researchers are brought in, but no one can figure out how Big Ben has managed to transcend time and space, or how to get him to stop. The Steelers are forced to forfeit.
Roger Goodell blames all of this on James Harrison and asks him to come in for a meeting. But that cranky old Harrison ties a million balloons to his house and flies it down to Paradise Falls.
Oakland Raiders
Carson Palmer still the quarterback? Moving on...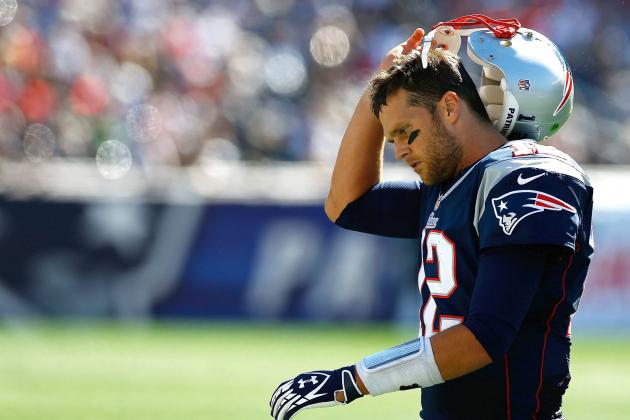 Jared Wickerham/Getty Images

New England Patriots
Just before game time, Wes Welker is spotted refusing to kiss Bill Belichick's ring. Belichick nods at Tom Brady, who dutifully continues his utter refusal to pass to his best receiver. The stalemate continues, as the Patriots decide winning games is less important than teaching lessons to their players or playing "Who Can Use the Most Tight Ends." (Insert Snooki joke here.)
Baltimore Ravens
Ray Rice stops Cam Cameron in the hallway and introduces himself. Cameron swears they've never met before and is surprised to learn that Rice is a running back, exclaiming, "They still have those?"
Rice fails to convince him to try a few handoffs this week, and the Patriots cruise to victory.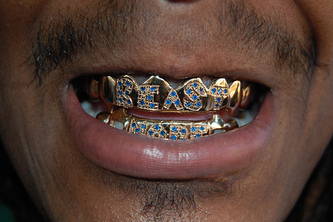 Green Bay Packers
Coming off of a great victory against the Chicago Bears, the Packers are shocked to learn that the Seahawks actually like their quarterback and he is, you know, a decent human being.
The Packers defenders want to know more about this phenomenon and stand around just watching as Russell Wilson leads his team to victory. Charles Woodson and Clay Matthews carry Wilson out on their shoulders.
Seattle Seahawks
Seattle gets duped before game time when a late "waiver wire" is found slipped under John Schneider's door. Seeing that the Packers have released 40 players, Schneider releases his entire team and puts in a claim for everyone on the list. Ted Thompson is seen chuckling.
Michael Schottey is the NFL national lead writer for Bleacher Report and an award-winning member of the Pro Football Writers of America. Find more of his stuff alongside other great writers at "The Go Route."