Ranking the Most Important Week 2 NFL Games for Fantasy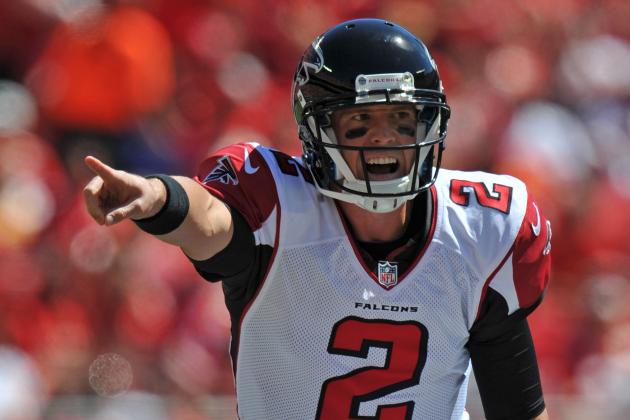 Peter Aiken/Getty Images

It's Week 2 of the fantasy football season, folks, and you know what that means.
This is the week we'll overrate previously unknown players who had one big game, we'll bury usual fantasy mainstays on our bench because they were quiet in Week 1 and at least one guy in your league is already bragging about how he's got the championship sewn up.
Talk to me when the bye weeks hit, buddy.
With that in mind, let's take a look at the most intriguing fantasy matchups this week and predict who you should start and who you should sit along the way.
From the Minnesota Vikings playing the Indianapolis Colts to a classic NFC North rivalry, this week offers everything from the painfully irrelevant to Sunday and Monday night games that will decide the fates of many an owner.
Begin Slideshow

»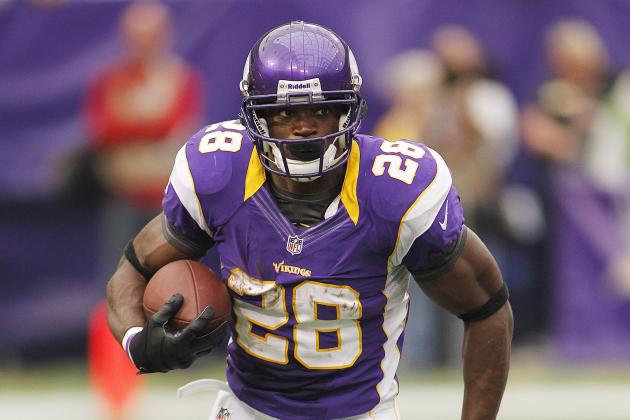 Andy King/Getty Images

When: Sunday, September 16 at 1 p.m. ET
Watch: FOX
Fantasy Impact for Vikings: Well, I guess we can put all of that "Adrian Peterson will probably get off to a slow start" talk to bed. Unless something comes up with his knee during the week, start him and don't look back. Other than that, Percy Harvin is the only other play here.
Fantasy Impact for Colts: If you had a desire to start Andrew Luck, this would probably be the week to do it, but given that we haven't hit the byes yet, you probably have a safer option. Donald Brown and Reggie Wayne are fine flex options. Coby Fleener had 8.2 fantasy points and 10 targets last week, so he's worth a look this week as well.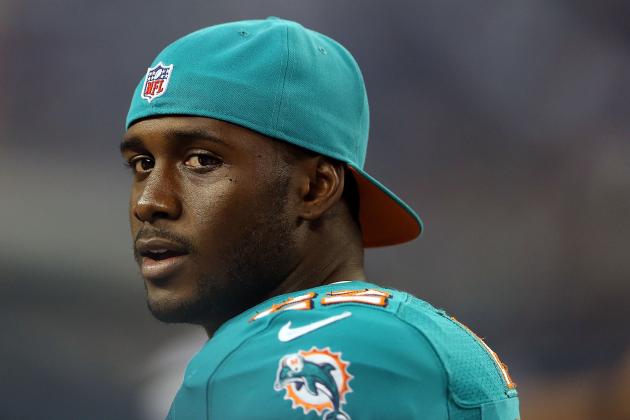 Ronald Martinez/Getty Images

When: Sunday, September 16 at 1 p.m. ET
Watch: CBS
Fantasy Impact for Raiders: Darren McFadden. He's literally the Raiders offense this year.
Fantasy Impact for Dolphins: Go ahead and start Reggie Bush. Also, there's...um, one moment. I'm pretty sure there's at least one other player you should consider for the Dolphins. Oh, here it is, go with...no, never mind.
Huh. Looks like Bush is the only player from this Dolphins team you should bother with.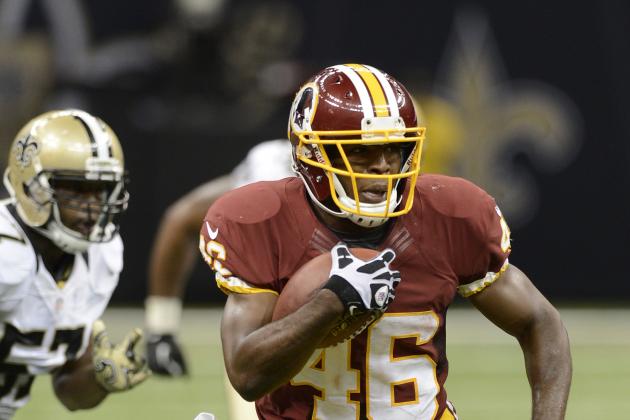 John David Mercer-US PRESSWIRE

When: Sunday, September 16 at 4:05 p.m. ET
Watch: FOX
Fantasy Impact for Redskins: I'm so terrified to make any predictions about this Redskins team. I know Robert Griffin III looked amazing, and I think you have to start him unless you have a truly elite option at quarterback. Pierre Garcon should at least be a flex. And—gulp— I even think you should give Alfred Morris a shot if you have a need at the flex.
Yes, I just recommended you roll with a Mike Shanahan running back. I'm scared too.
Fantasy Impact for Rams: It's all about Steven Jackson. And that's all it's about.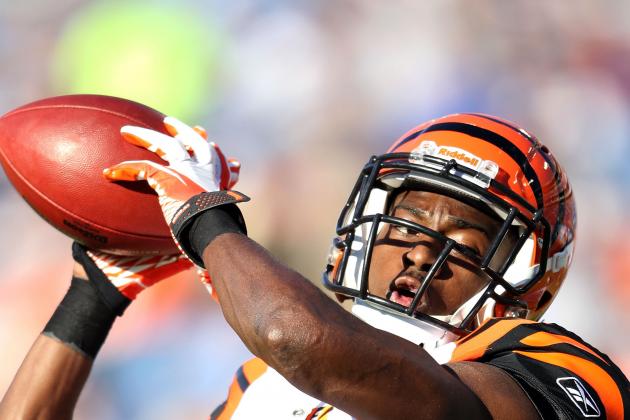 Andy Lyons/Getty Images

When: Sunday, September 16 at 1 p.m. ET
Watch: CBS
Fantasy Impact for Browns: If you drafted Trent Richardson, you have to give him a shot on Sunday. You don't have to give the rest of the Browns the time of day, however.
Fantasy Impact for Bengals: Joe Haden's suspension is great news for A.J. Green owners. BenJarvus Green-Ellis made me a believer in Week 1. Andrew Hawkins is an interesting PPR addition this week. I would stay away from Andy Dalton. Expect more than the three-catch, 30-yard performance Jermaine Gresham offered in Week 1. Definitely start the Bengals defense if you have them.
Don McPeak-US PRESSWIRE

When: Sunday, September 16 at 4:25 p.m. ET
Watch: CBS
Fantasy Impact for Titans: If you drafted Chris Johnson, you have to stick with him. He should be better. I like either Kenny Britt or Nate Washington as possible flex plays. Jared Cook is a decent play at tight end. I still want Jake Locker to prove he's worth a spot start before I even consider him for one.
Fantasy Impact for Chargers: For now, Antonio Gates is the only absolute starter. Philip Rivers offers no guarantees. Malcolm Floyd and Robert Meachem are still nothing but flex plays. Running back remains a question mark. The talent drain in San Diego looks like it might rear its head in 2012.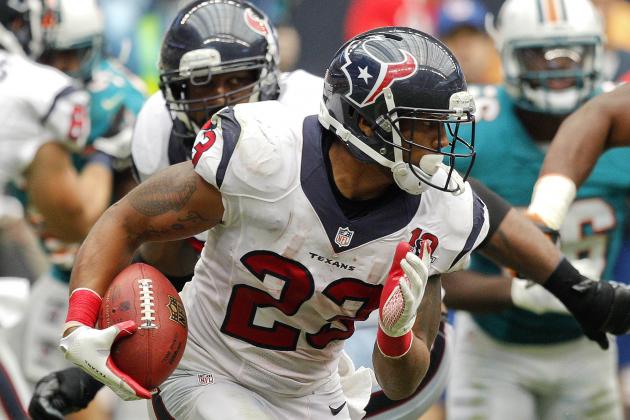 Bob Levey/Getty Images

When: Sunday, September 16 at 1 p.m. ET
Watch: CBS
Fantasy Impact for Texans: Start everyone. Start the offensive linemen. Start Gary Kubiak. Start the water boy. Go to Houston and start the first person you see wearing some Texans gear. (In all seriousness, roll with Arian Foster, Matt Schaub, Andre Johnson, Owen Daniels and the Texans defense.)
Fantasy Impact for Jaguars: Start Maurice Jones-Drew. Against a tough Texans defense, he's the only one I would consider playing.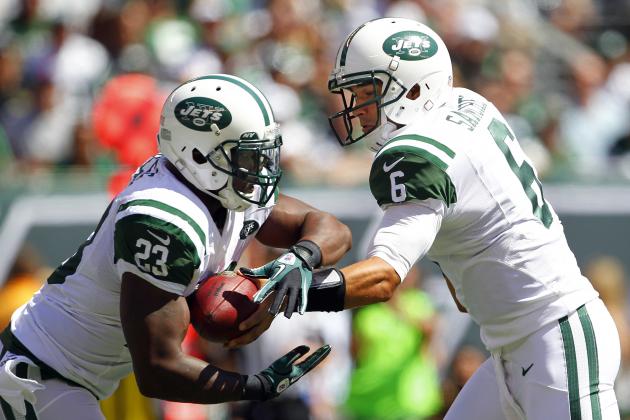 Rich Schultz/Getty Images

When: Sunday, September 16 at 4:25 p.m. ET
Watch: CBS
Fantasy Impact for Jets: Methinks the Jets will score slightly less than 48 points this week. In any league, Shonn Greene is a possibility at the flex. In really deep leagues, Mark Sanchez, Stephen Hill, Jeremy Kerley and Santonio Holmes are all worth consideration. Dustin Keller's one target in Week 1 was surprising, so I might hold off on starting him for now.
Fantasy Impact for Steelers: Mike Wallace and Antonio Brown should be started. I would probably roll with the Steelers defense as well. In deeper leagues, Ben Roethlisberger and Heath Miller are worth a look. And until this running back situation works itself out, I'd avoid Steelers' running backs.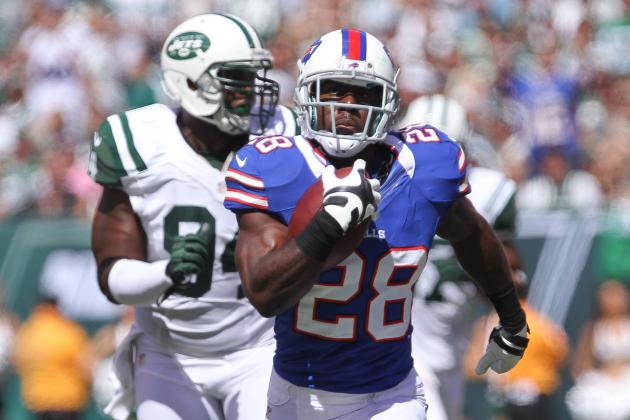 Ed Mulholland-US PRESSWIRE

When: Sunday, September 16 at 1 p.m. ET
Watch: CBS
Fantasy Impact for Chiefs: Jamaal Charles is a must-start pretty much every week. Dwayne Bowe should do better than his Week 1 output of three catches and 53 yards. Dexter McCluster is a very intriguing waiver option for your team. You can do worse than Matt Cassel as your QB2, but I wouldn't start him. I would take a flier on the rest of the Chiefs for now.
Fantasy Impact for Bills: C.J. Spiller, C.J. Spiller, C.J. Spiller! It's all about Spiller for the foreseeable future. Stevie Johnson and Donald Jones are good flex options, and each should see their fantasy value increase after the unfortunate news that slot man David Nelson is out for the season with a torn ACL.
Oh, and I don't trust Ryan Fitzpatrick further than he can throw it. In other words, I wouldn't start him.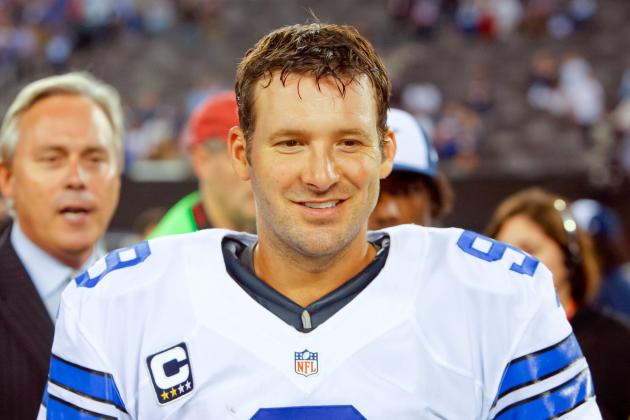 Jim O'Connor-US PRESSWIRE

When: Sunday, September 16 at 4:05 p.m. ET
Watch: FOX
Fantasy Impact for Cowboys: Gotta give credit where credit is due—the 'Boys looked really good last week against the New York Giants. Feel free to roll with Tony Romo, DeMarco Murray (if he can stay healthy, look out), Miles Austin, Dez Bryant, Jason Witten and the Cowboys offense.
Oh, and you should be targeting Kevin Ogletree on the waiver wire as well. He may not replicate his epic Week 1 very often, but I have a feeling he'll be a nice addition for your team once the bye weeks hit.
Fantasy Impact for Seahawks: Marshawn Lynch is really the only play here. I wouldn't trust the rest of the Seahawks this week.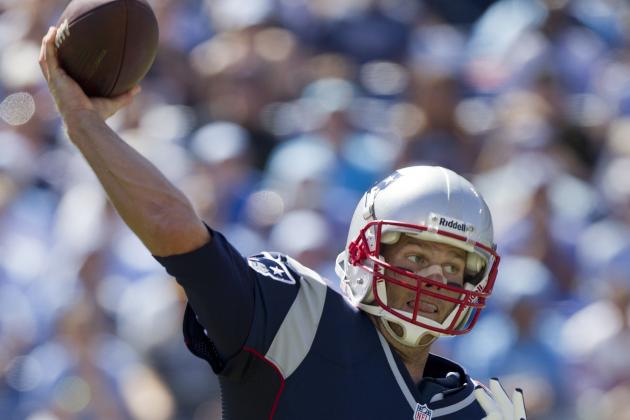 Wesley Hitt/Getty Images

When: Sunday, September 16 at 1 p.m. ET
Watch: FOX
Fantasy Impact for Cardinals: Larry Fitzgerald. That's it. I don't trust either Beanie Wells or Ryan Williams at this point. If you start Kevin Kolb, the Ghost of Seasons Past will whisk you back into time to show you all of your worst memories. And most of them will involve Kolb.
Fantasy Impact for Patriots: Don't start any of them. Terrible matchup for the Patriots.
(Pauses like that guy in your office who can't keep a straight face right before he makes an unfunny joke.)
Ahhhhh you guys, I'm just kidding. You have to roll with Tom Brady, Rob Gronkowski, Aaron Hernandez, Wes Welker, Brandon Lloyd and Stevan Ridley if you have them. Patriots should put up a lot of points in this one.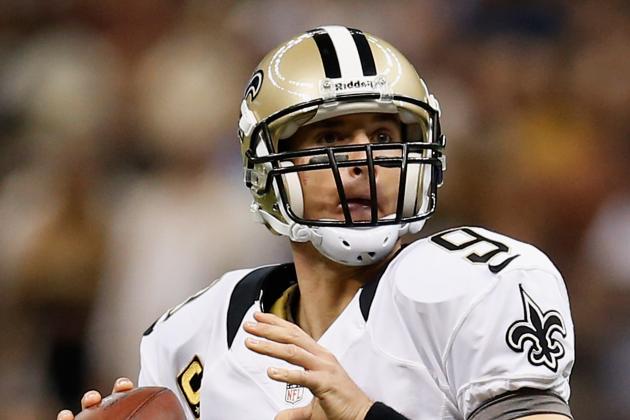 Chris Graythen/Getty Images

When: Sunday, September 16 at 1 p.m. ET
Watch: FOX
Fantasy Impact for Saints: You still have to start Drew Brees, Jimmy Graham and Marques Colston (71 receiving yards and 11 targets are what you should be focusing on, not 5.1 fantasy points in Week 1) without reservations. I like Darren Sproles and Lance Moore as well.
Fantasy Impact for Panthers: After watching Robert Griffin III and Alfred Morris have success against the New Orleans defense in Week 1, Cam Newton must be licking his lips. Look for Newton and the Panthers to reestablish the running game this week.
Still, I don't really trust any of the Panthers running backs at this point. Steve Smith I do trust, however, while Brandon LaFell looks like a nice flex play.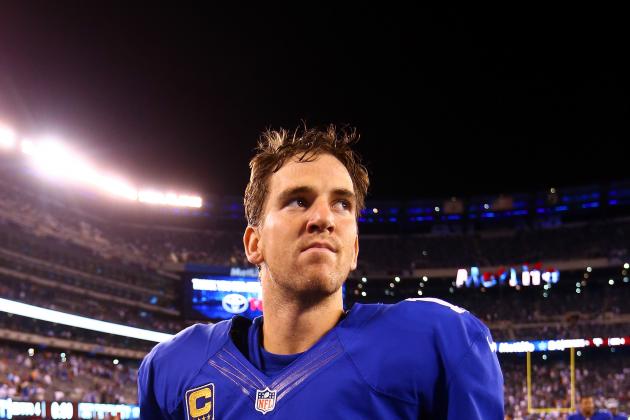 Al Bello/Getty Images

When: Sunday, September 16 at 1 p.m. ET
Watch: FOX
Fantasy Impact for Bucs: Doug Martin and Vincent Jackson are the obvious plays here, though both are better suited as flex options in my opinion. I wouldn't trust Josh Freeman with the fierce Giants pass-rush coming at him. Mike Williams is a flex option only in the deepest of leagues.
Fantasy Impact for Giants: The Bucs secondary looked good against the Panthers, but then again, that was the Panthers. Roll out Eli Manning, Victor Cruz (who was three dropped passes away from having a big start to the season), Hakeem Nicks, Ahmad Bradshaw and, yes, even Martellus Bennett with confidence.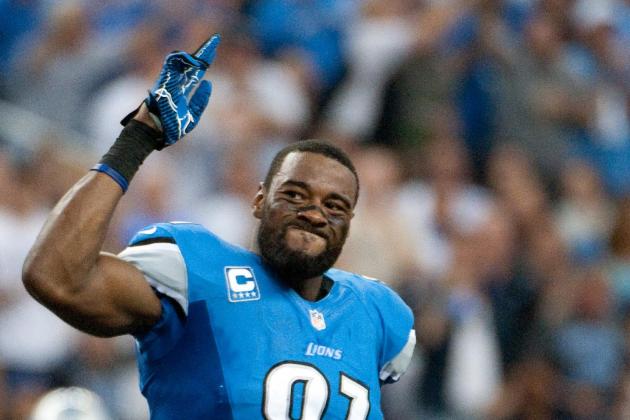 Tim Fuller-US PRESSWIRE

When: Sunday, September 16 at 8:20 p.m. ET
Watch: NBC
Fantasy Impact for Lions: You have to start Calvin Johnson regardless of the matchup. That's a rule. But after struggling for most of the game against the Rams, I'm nervous about Matthew Stafford facing the 49ers. Kevin Smith is a solid flex option. Brandon Pettigrew is a possibility in deeper leagues. And I would avoid Nate Burleson and Titus Young until one emerges.
Fantasy Impact for 49ers: I still think Alex Smith is a game manager and nothing more, 17 fantasy points in Week 1 or not. Frank Gore and Vernon Davis are obviously must-starts. Randy Moss and Michael Crabtree are worth consideration at the flex.
Patrick Smith/Getty Images

When: Sunday, September 16 at 1 p.m. ET
Watch: CBS
Fantasy Impact for Ravens: After watching Mike Vick throw four interceptions a week ago, you know the Baltimore defenders will be licking their lips. Start the defense. Ray Rice is an obvious start as well. Those are the easy calls.
The Eagles have a good pass rush and looked solid in the secondary on Sunday, so I don't love Joe Flacco in this one. Anquan Boldin and Torrey Smith are good flex bets. Dennis Pitta could be a promising tight end play. Well, unless Flacco decides he loves Ed Dickson more this week. You never know.
Fantasy Impact for Eagles: Vick finished with four interceptions yet still managed 15 fantasy points. Still, he's too risky for my tastes in this one. LeSean McCoy isn't, however, and should obviously be started. I like Jeremy Maclin and DeSean Jackson as well.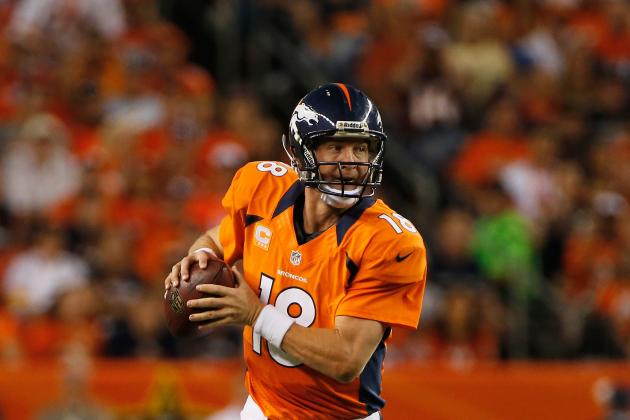 Doug Pensinger/Getty Images

When: Monday, September 17 at 8:30 p.m. ET
Watch: ESPN
Fantasy Impact for Broncos: So it turns out that Peyton Manning is still Peyton Manning. Which means you should be starting him. Demaryius Thomas and Jacob Tamme are still themselves as well, and both look like solid options for Manning moving forward. Eric Decker wasn't as solid in Week 1 as the two guys above, but I still think he becomes Manning's favorite targets this season.
And as for the running backs, well, good luck figuring that out.
Fantasy Impact for Falcons: Matt Ryan probably won't be fantasy's Week 2 MVP with the aggressive Denver pass rush to deal with. Still, I think he has to be started if you have him, as do Roddy White, Julio Jones and Tony Gonzalez. And yes, I think Michael Turner will bounce back from his three-point fantasy performance in Week 1 and have a solid game.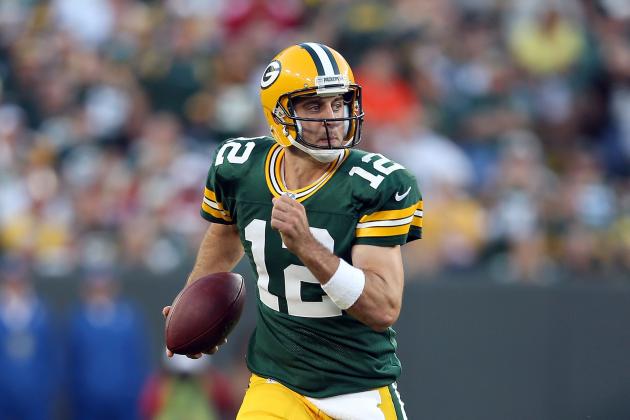 Andy Lyons/Getty Images

When: Thursday, September 13 at 8:20 p.m. ET
Watch: NFL Network
Fantasy Impact for Bears: Start Jay Cutler if you're using him to play matchups each week. Play Matt Forte every week. Give Michael Bush a shot in this one. Obviously start Brandon Marshall. Flex Alshon Jeffery if you're feeling froggy.
The point is, this Packers defense isn't very good, especially against the pass. Expect a lot of scoring.
Fantasy Impact for Packers: Hey, even against one of the league's best defenses the Packers still scored 22 points. So go ahead and start Aaron Rodgers, Jordy Nelson, Greg Jennings and Jermichael Finley.
James Jones and Randall Cobb are riskier, but could be decent flex plays in deep leagues. I still don't know what to think of Cedric Benson in this pass-happy attack.
And whatever you do, expect a fun football game.
Hit me up on Twitter—my tweets always have a backup long snapper.