Predicting the 15 Best Games of the 2012 NFL Season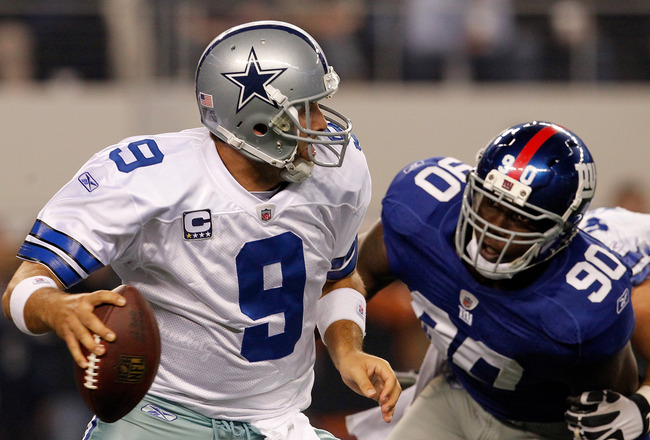 Tom Pennington/Getty Images
What makes an NFL game great?
Once upon a time, fans loved to see knockdown, drag out defensive battles—two teams with popping pads and fists flying, earning hard-fought yards and all-too-few points. Now, it's almost the exact opposite as teams put up 30, 40 or more points as fans jump off their couches for each score.
Some things never change, though, and any game between two divisional rivals that hate each other will always be fun to watch.
Which games should fans be circling on their calendars in 2012?
Week 1: Dallas Cowboys vs. New York Giants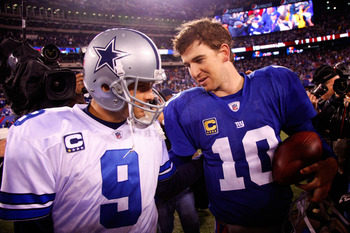 Jeff Zelevansky/Getty Images
Headline: "It's the Most Wonderful Time of the Year"
Look, this could be Jacksonville and Cleveland playing with their third-string quarterbacks, and 99 percent of us would still be watching. Why? Wednesday night, NBC, prime time—it's the first game of the year.
Thankfully, not only is it the first game, but this pairing is a doozy. Tony Romo back in action with a potent offense, new-look defense and aspirations to get his team back to their winning ways. He'll be looking to silence a lot of doubters this season and the campaign starts right here in Week 1.
It isn't going to be easy.
Eli Manning is coming off of his second Super Bowl victory and the New York Giants are even better than last year—returning numerous defenders from injured reserve and adding David Wilson to energize last year's lackluster running game.
This game will shout "football is back!" to the entire world and afterwards, we will have a better idea if the Cowboys are back, or if it's the New York Giants who don't plan on going anywhere.
Week 1: San Francisco 49ers vs. Green Bay Packers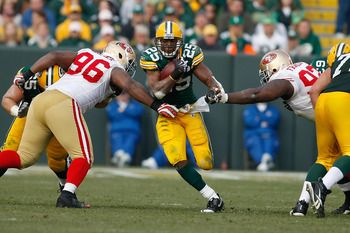 Scott Boehm/Getty Images
Headline: "Something Has Got to Give"
Aaron Rodgers and the high-powered Green Bay Packers offense meets Patrick Willis and the brick wall-inspired San Francisco 49ers defense. An aerial assault is nice, but it's hard to throw when Justin Smith has taken up permanent residence in yo' grill and Carlos Rogers has locked down half the field.
Meanwhile, this game isn't just about strength versus strength.
San Francisco has poured countless resources into an offense that actually wasn't so bad in 2011. Randy Moss, Mario Manningham, Brandon Jacobs and LaMichael James all look to contribute to a team that was, quite frankly, a playoff favorite without them.
Green Bay, too, didn't need an impact defense last year but spent much of their draft capital in hopes of putting one on the field in 2012. Will Nick Perry, Jerel Worthy and others step in right away? Can they keep Alex Smith and Frank Gore from moving up and down the field at will?
This matchup will tell us a lot about both teams and could be a Week 1 preview of the NFC Championship game.
Week 3: New England Patriots vs. Baltimore Ravens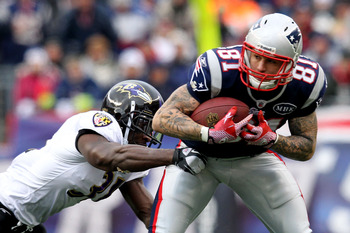 Jim Rogash/Getty Images
Headline: "Offense Wins Championships"
This year's New England Patriots are expected to unleash a scoring onslaught not seen since, well, the Patriots almost every other year. Adding Brandon Lloyd to stretch the field should only make Wes Welker and Rob Gronkowski better.
The Baltimore Ravens have had an elite defense as long as many of us can remember. This defense was able to bring Trent Dilfer to the mountaintop and has kept the Ravens relevant through a lot of mediocre quarterback play.
Eventually, the rubber needs to meet the road for Joe Flacco and the Ravens. The defense might be able to slow down Brady for a few possessions, but Flacco and Ray Rice will need to put up some serious numbers if they want to win this game.
If the Patriots win this one by any serious margin, it could mean a long season for the Ravens, filled with calls for Flacco's head on a platter.
Week 4: Kansas City Chiefs vs. San Diego Chargers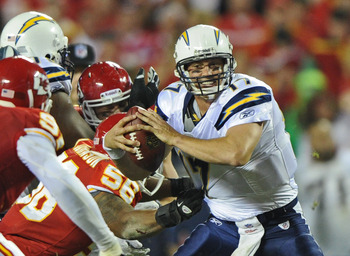 Peter Aiken/Getty Images
Headline: "The More Things Change, The More They Stay The Same"
A high-octane San Diego Chargers team matched up with a Kansas City Chiefs team that is built around running the ball and a stout defense.
We've seen this before—about a thousand times—and every time, it is awesome.
Kansas City is a legitimate playoff contender this year and not just because they're in the typically weak AFC West. Seven wins isn't much of an accomplishment, but the Chiefs did it in 2011 without their quarterback, running back, head coach or free safety. With Matt Cassel and Jamaal Charles returning, and Romeo Crennel hired to finish what he started, this is a legitimate contender.
San Diego was a huge underachiever last year and have attempted to atone for their sins by going after the 2012 free agency trophy—bringing in guys like Robert Meachem, Eddie Royal, Jackie Battle, Jarrett Johnson and others. Not a lot of names that scare opposing coordinators, but adding a surprising amount of depth to a team that has rarely had any.
Both of these teams have postseason aspirations (as do the Denver Broncos and, inexplicably, the Oakland Raiders), but this Week 4 matchup will let us know which team legitimately has a shot.
Week 5: Denver Broncos vs. New England Patriots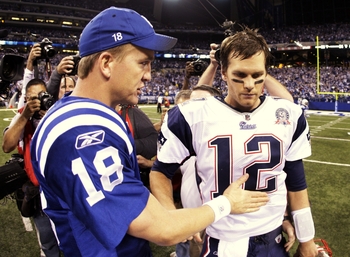 Jamie Squire/Getty Images
Headline: "Clash of the Titans"
It doesn't matter what jersey Peyton Manning is wearing, when the NFL's two best quarterbacks face off, it's must-see TV.
Both Manning and Tom Brady should be able to pick apart the opposing defense with surgical accuracy, so much will fall on their surrounding cast. Will the Patriots running game be able to keep the Broncos honest against the blitz? Will Manning's receivers be able to make the catches that matter in crunch time?
The Broncos, as mentioned in the last slide, have high hopes with Manning in town, but they need to get through teams like the Patriots before those hopes have any chance of being fulfilled.
Week 6: New York Giants vs. San Francisco 49ers
Thearon W. Henderson/Getty Images
Headline: "Hide Yo Kids, Hide Yo Wife...They Be Sackin' Errbody Out Here"
Eli Manning was better in 2011 than most people outside of New York expected him to be. Alex Smith was better in 2011 than most people outside of San Francisco even remember. Against each other's defenses, however, things didn't come so easy.
In last year's NFC Championship game, neither quarterback threw an interception, but both were harassed by the other's pass rush. A combined 18 quarterback hits and nine sacks kept Smith and Manning on their toes and on their backs.
Both the Giants and the Niners hope to get back to the championship game this season and both teams come into 2012 loaded to play—even more so than last year. In Week 6, they're going to have to get through each other to prove how good they really are.
Week 7: Detroit Lions vs. Chicago Bears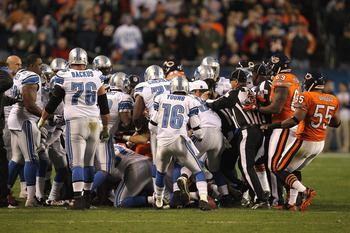 Jonathan Daniel/Getty Images
Headline: "Completing the Process"
In 2010, this matchup gave America the infamous phrase: "completing the process of the catch," when Calvin Johnson didn't score a touchdown and all of us realized that none of us knew what an actual NFL catch looked like.
But this is more than just remembering a moment at the beginning of 2010. This game is about two teams that have started the process of building a legitimate playoff contender but have yet to complete that process.
Last year, Chicago certainly looked like a playoff team, but Jay Cutler was injured and he didn't have the weapons to truly compete with the NFL's big boys. This year, the Bears are back nearly intact and they've added Brandon Marshall. If Cutler and Marshall can recreate their former magic, the Bears should be playing late into January.
Detroit actually did go to the playoffs in 2011, something that is hard to remember through a haze of off-the-field problems, arrests, in-fighting and squabbling with other teams through the media. The young Lions are talented—as talented offensively as any team in the league—but this team has to keep its composure (on and off the field) before any lasting success can be expected.
Week 9: Philadelphia Eagles vs. New Orleans Saints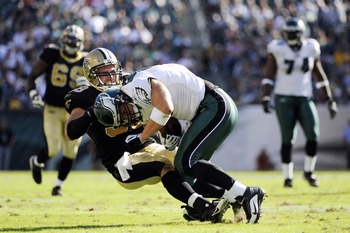 Howard Smith-US PRESSWIRE
Headline: "Finding Redemption"
Both the Philadelphia Eagles and the New Orleans Saints are looking for a dose of redemption in the 2012 season. Week 9 will be as good of a time as any other to find part of that redemption against one another.
The Eagles need to atone for their horrific play last year after (supposedly) doing the most to improve themselves in the previous offseason. Andy Reid needs redemption from his piss-poor coaching over the past decade and Juan Castillo needs forgiveness after putting something on the field in 2011 that didn't look like a legitimate NFL defense.
The New Orleans Saints may have fallen into a sin that lots of NFL teams are guilty of, but not all teams have their indiscretions laid bare before the entire nation and have their noses swatted by the league offices. But to their credit, the Saints look like a playoff contender again in 2012 and will look to get back to the playoffs to put Bountygate behind them.
Week 12: Houston Texans vs. Detroit Lions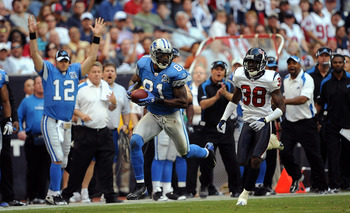 Ronald Martinez/Getty Images
Headline: "Dinner and a Show"
For years, the Detroit Lions wasted America's time as the only show in town during the early slot on Thanksgiving. Last year's "Stomp Game" proved that, even if you're talented, you can still be embarrassing. This year, the Lions hope to put that stigma behind them and can do it by beating another good team in front of a national audience.
The Houston Texans don't plan on letting Ndamukong Suh and company run all over them, however, and won't take this game lying down. With an offense that can put up a ton of yards on the ground and a plethora of points through the air, the Texans hope to cruise right past the Lions into another playoff appearance.
This is a matchup of two of the youngest, most up-and-coming teams in the NFL and America, turkey in hand, will get quite the show.
Week 12: New England Patriots vs. New York Jets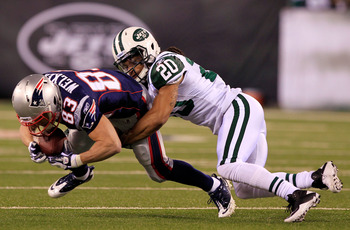 Chris Trotman/Getty Images
Headline: "Keep Your Friends Close and Your Enemies Closer"
As divisional rivals and teams that each other's fans love to hate, the Patriots and the New York Jets will always be measured against the other. Rex Ryan has built his defense to stop (or at least try to stop) the Patriots offense and Bill Belichick revels in game-planning for the team three hours to the south.
In Week 12, prime time on Thanksgiving, the league will get to see if Ryan has finally leveled the playing field or if the Jets are still the little brother in the AFC East.
Don't forget that Tim Tebow versus the Patriots was a huge draw last year as well and, if Tebow is seeing any significant playing time, the Patriots will hope to continue their success against him.
Week 13:Pittsburgh Steelers vs. Baltimore Ravens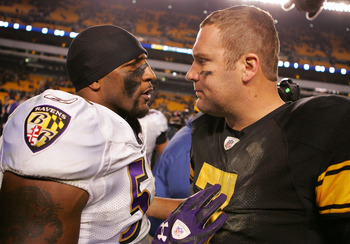 Jared Wickerham/Getty Images
Headline: "War of Attrition"
If the Baltimore Ravens and the Pittsburgh Steelers played 100 games in a row, the result would likely be 50 wins a piece and the 100th game would just be Ray Lewis and James Harrison throwing punches at the 50-yard line.
No matter how much offensive talent either team has, no matter who's banged up or out-of-commission and no matter what the wins or losses are coming into the matchup, these two teams will leave it all on the field to beat the other.
The Ravens won both matchups handily in 2011, and that means Ben Roethlisberger and company have Weeks 11 and 13 circled on their calendars.
With the season winding down, this will likely be a defining moment in the AFC North race with the winner only needing to fend off the Cincinnati Bengals.
Week 13: New Orleans Saints vs. Atlanta Falcons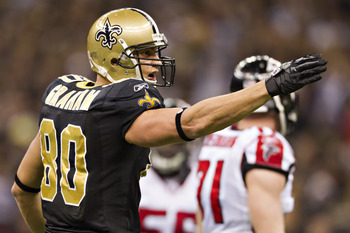 Wesley Hitt/Getty Images
Headline: "You Come at the King, You Best Not Miss"
The Atlanta Falcons have spent the last few years looking up to and trying to emulate the Saints. Yet, Matt Ryan, for all of his successes, still can't hold a candle to Drew Brees and the addition of Julio Jones has yet to bring the Falcons any closer to the Saints offensive prowess.
The Falcons are hoping to take advantage of Bountygate and sneak past the Saints for the NFC South lead, but the Saints aren't planning on making that easy for them. The Saints, even with all of their offseason drama, have improved this offseason and the Falcons will need to be at their best.
This game in Week 13 will either be a changing of the guard in the NFC South or just a speed bump along the way toward another Saints playoff berth.
Week 15: Green Bay Packers vs. Chicago Bears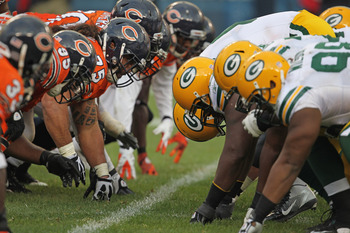 Jonathan Daniel/Getty Images
Headline: "No Survivors"
Week 15, Packers/Bears, Soldier Field—does anything more need to be said?
Week 16: Washington Redskins vs. Philadelphia Eagles
Rob Carr/Getty Images
Headline: "Off to the Races"
A lot of football will be played between now and Week 16, so this is making some assumptions. Frankly, if these teams are anything like they were in Week 16 of last year, this game will be a snooze-fest of epic proportions.
However, a healthy Vick against a healthy Robert Griffin III should be required viewing for anyone who calls themselves a football fan. Both are fantastic athletes and have the talent around them to put up big points in a hurry.
If the quarterback matchup doesn't intrigue you (it should), maybe a late-season wild-card race will. Neither the Redskins or the Eagles look like locks for the playoffs just yet, but this matchup could easily be between two teams a game or two back from getting to the big dance.
It isn't a lock, but this game has all the makings of a must-watch.
Week 17: Kansas City Chiefs vs. Denver Broncos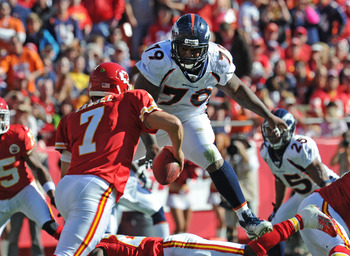 Peter Aiken/Getty Images
Headline: "Win or Go Home"
While it would be a stretch to say that the winner of this game will be heading to the playoffs, it's not far-fetched to believe that one of these teams will be playing for their playoff lives in Week 17.
In 2011, the Broncos, Oakland Raiders and Chargers were all 8-8 while the Kansas City Chiefs were 7-9. This season should see somewhat similar results with none of the teams doing anything to really break out of the pack.
Moreover, these teams seriously dislike each other and have been in the way of the other's playoffs chances before. The Chiefs cannot expect to walk into Mile High and get anything less than the Broncos' best in the last week of the season and the Broncos won't be able to look past this game into the postseason.
This game, like the others on this list, will be one of the best games in 2012.
Michael Schottey is an NFL Associate Editor for Bleacher Report and an award-winning member of the Pro Football Writers of America. He has professionally covered both the Minnesota Vikings and the Detroit Lions, as well as NFL events like the scouting combine and the Senior Bowl.
Keep Reading