Buying or Selling Each NFL Team's 2012 NFL Free-Agency Strategy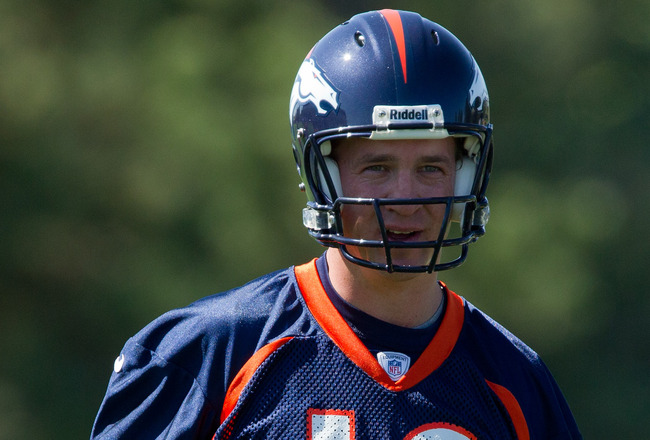 Justin Edmonds/Getty Images
In some ways, the NFL offseason is actually more compelling, complicated and controversial than the regular season.
Between the draft, trades, the salary-cap casualties and all that goes on as teams tweak, improve or solidify their rosters, it's hard to know what a front office is thinking.
Now each of those offseason facets shouldn't be looked at in a vacuum—draft strategies always have an impact on free agency and vice versa—but since free agency is usually the quickest way teams improve (or regress), that area often gets the most attention.
So which clubs' strategies are the best? The worst? Check out this slideshow to find out.
Note: The term "free agency" includes all three of its forms: unrestricted, restricted and players cut this offseason.
New York Giants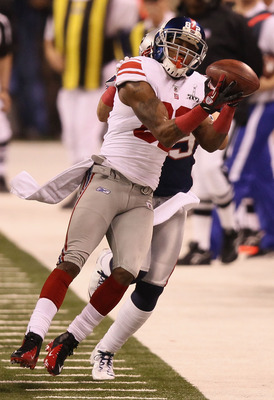 Win McNamee/Getty Images
In conjunction with the injury to Hakeem Nicks, it's purely hindsight to blast the Giants for not re-signing Super Bowl hero Mario Manningham. (Although, considering the fact that he didn't get a ton of money from San Francisco, you have to wonder how hard they tried.)
Along those same lines, letting Brandon Jacobs go was probably the right call as well. He wanted a raise and had been a distraction at times.
More to the point, since the Giants did make a few nice additions—most notably Sean Locklear—and re-signed Terrell Thomas, they haven't rested on their Lombardi Trophy laurels.
But signing Martellus Bennett to cure their tight-end issues (i.e. major injuries to Travis Beckum and Jake Ballard) was not very impressive (there were a few other options out there), and the loss of Aaron Ross could turn out to be a major error.
Verdict: Selling
Philadelphia Eagles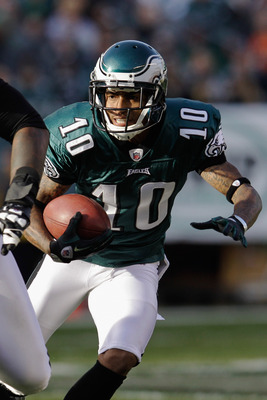 Rob Carr/Getty Images
Compared to last year, the Eagles have been practically silent this offseason in terms of adding big names.
But the moves they've made in free agency this year have been savvy and specific.
By trading for DeMeco Ryans, they could turn their free-agency attention (and money) to making one of the most underrated moves of the entire offseason: re-signing DeSean Jackson.
Since that was their top priority, at least on offense, they didn't have that much room left to bring in help for the defense, and since they lost Juqua Parker and Trevor Laws, they actually lost some depth. The same was true for wide receiver Steve Smith, who left for St. Louis.
Nevertheless, their quasi-minimalist approach didn't entirely keep them from making key moves. Signing Demetress Bell from Buffalo helps take the sting out of Jason Peters' season-ending injury, as will re-signing King Dunlap.
Verdict: Buying
Dallas Cowboys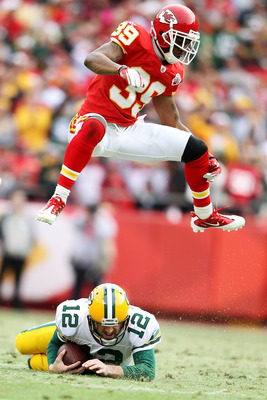 Jamie Squire/Getty Images
Although I think they paid too much for each player, the Cowboys made some very smart moves this offseason.
For whatever reason, they wanted to let Terence Newman go, and signing Brandon Carr helps to offset that—he's nearly eight years younger and physically bigger.
But given the addition of Morris Claiborne, that might not even be the Cowboys biggest move. Former Bengals guard Nate Livings will be a big help to Tony Romo (and that spotty running game), Kyle Orton gives them a quality backup quarterback, and at least they were able to bring Anthony Spencer back for one more season.
Finally, by signing Brodney Pool, the Cowboys seem to have upgraded at strong safety, a critical spot in a division with Eli Manning, Michael Vick and now Robert Griffin III.
Verdict: Buying
Washington Redskins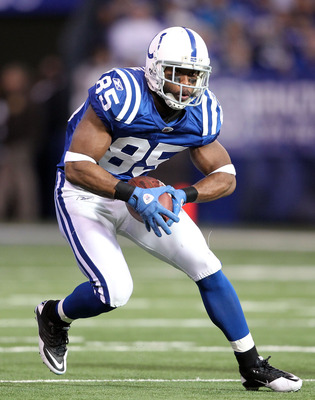 Andy Lyons/Getty Images
RG3 may have been the biggest addition the Redskins made this year and maybe one of the biggest in franchise history, but Mike Shanahan and his staff were wise enough to know that this club needed several pieces.
And they grabbed a few here and there this spring.
Pierre Garçon and Josh Morgan will give Griffin two experienced vets to throw to, Brandon Meriweather (assuming he's still on the roster after his recent arrest) gives them secondary help, and they also re-signed several key pending free agents, the most noteworthy of course being London Fletcher—the heart and soul of that defense.
Verdict: Buying
Green Bay Packers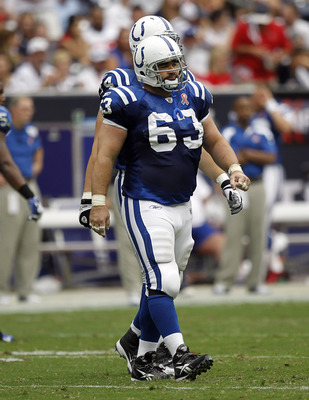 Bob Levey/Getty Images
When you lose just one game in the regular season and are less than two years removed from a Super Bowl win, maybe you don't have to go crazy with free agency.
Nevertheless, the Packers were one of the least active teams this offseason.
Other than swapping Jeff Saturday for the departed Scott Wells and signing (soon-to-be suspended) defensive tackle Anthony Hargrove, they didn't choose to tweak their roster much with veteran talent.
Now, letting Matt Flynn walk was destined to happen. They weren't going to pay a backup that kind of money, but considering how bad that pass defense was in 2011, it might have been wise to add a bit more depth, especially in the front seven.
Verdict: Selling
Detroit Lions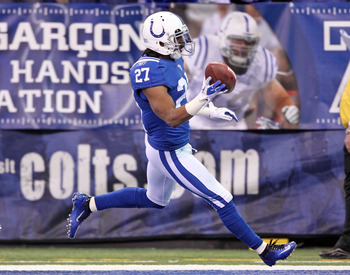 Andy Lyons/Getty Images
The only real addition the Lions made this year via free agency was Jacob Lacey, the former Colt who was released by Indianapolis.
That's enough of a strike to earn a team with plenty of holes—despite their first playoff season in over a decade—a "selling" label here.
But the fact that they saw Eric Wright leave for Tampa Bay, lost Drew Stanton to the Jets and are nowhere near reconciling their differences with Cliff Avril (who hasn't even signed his tender) makes this an easy verdict.
Verdict: Selling
Chicago Bears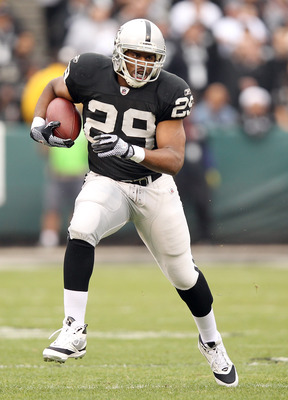 Ezra Shaw/Getty Images
Depth is probably the key word when it comes to the Bears' free-agency strategy.
They picked up Jason Campbell as insurance for Jay Cutler, who has had his share of injuries the past few years, picked up Michael Bush as insurance for Matt Forte and added Geno Hayes as insurance for Nick Roach. They even added Eric Weems to bolster a return game that features the great Devin Hester.
And don't overlook the signing of Kelvin Hayden. In a division with explosive passing games in Detroit and Green Bay, the Bears' secondary will need all the help it can get.
Verdict: Buying
Minnesota Vikings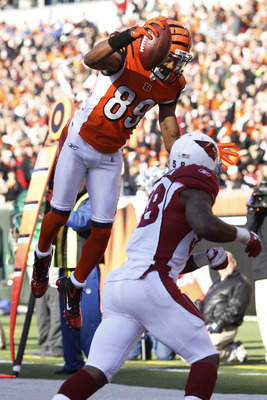 Joe Robbins/Getty Images
Maybe the franchise's problems with securing a new stadium deal are the cause, but for a team that was pretty bad in 2011, the Vikings didn't do very much to improve this spring. At least not in the free-agent market.
I do like the signing of Jerome Simpson. He's clearly loaded with athleticism and came cheap, given his off-the-field problems. And John Carlson is a nice replacement if Visanthe Shiancoe does indeed go elsewhere.
But Minnesota's defense was abysmal at times in 2011. And while they did add two very promising names in the draft (Harrison Smith and Josh Robinson) it should take both a while to be ready to excel. Adding a veteran back there would have helped.
Well, at least they didn't sign Donovan McNabb again.
Verdict: Selling
New Orleans Saints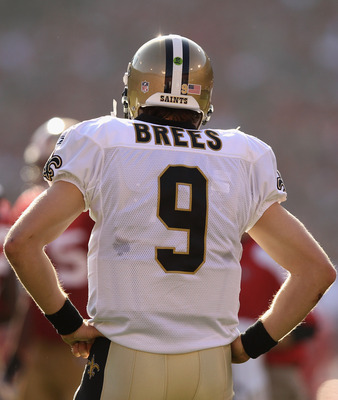 Ezra Shaw/Getty Images
Take away Bountygate, which has cost them their head coach, defensive coordinator, general manager, best defender and best pass-rusher for varying lengths of time, and the Saints' offseason has still been a mess.
Why?
Because they are unable to get anywhere near close to making Drew Brees happy.
For about 100 reasons, the Saints need to give him the contract he wants so he can return (and soon) to start fixing the mess Gregg Williams left behind.
And even though they have signed a few players (Curtis Lofton, David Hawthorne and defensive tackle Brodrick Bunkley) to help offset Jonathan Vilma's loss, and they replaced Carl Nicks with Ben Grubbs, seeing Robert Meachem leave for San Diego does seem to have left a decent-sized hole in that offense.
Verdict: Selling...bigtime selling
Atlanta Falcons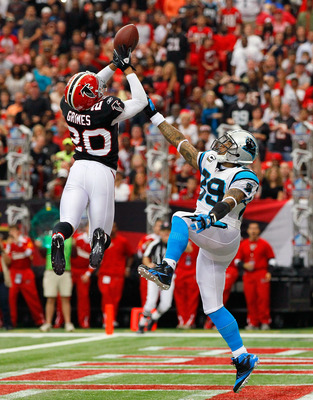 Kevin C. Cox/Getty Images
It's always important to re-sign strong veterans who have had a major impact, but when you're still searching for that first playoff win in over seven years, maybe adding more to the puzzle is needed.
Bringing back John Abraham, Brent Grimes and even Todd McClure was commendable for Thomas Dimitroff and Mike Smith, but other than trading for Asante Samuel, they did very little to improve their overall roster.
Worse yet, they lost Curtis Lofton, who hadn't missed a game in his four years and was a reliable tackler.
And on the other side of the ball, given their shaky pass protection and the fact that rookie Peter Konz might not be ready to play right away, alongside the fact that this is a veteran team (e.g., Tony Gonzalez) with a window that could be closing, they needed to add to—not simply maintain—the offensive line.
Verdict: Selling
Carolina Panthers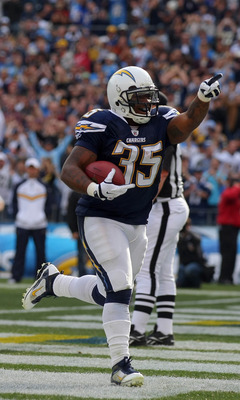 Donald Miralle/Getty Images
I know that the Panthers are enamored with Cam Newton and the way he played as a rookie, but there are still countless holes to fill on this Carolina team.
So considering their biggest free-agent acquisition was a running back, it's hard to know what the Panthers are doing.
Mike Tolbert was a solid pickup, but they already have two very good ball-carriers in Jonathan Stewart and DeAngelo Williams, as well as a de facto star runner in Newton. (On a side note, it's hard to believe they gave Tolbert $8.4 million to be a fullback.)
And even though he wasn't a superstar (or even a 1,000-yard receiver), I was surprised to see the Panthers let Legedu Naanee walk. His asking price couldn't have been that high, and after Steve Smith, he caught more passes than any other wide receiver on the roster.
Verdict: Selling
Tampa Bay Buccaneers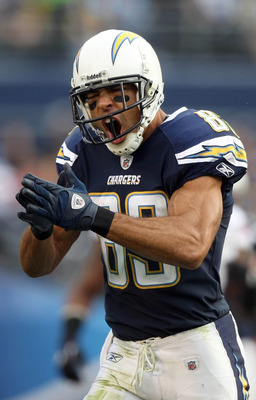 Donald Miralle/Getty Images
If this list were a power ranking based purely on free agency, it would be hard not to put the Bucs at the very top.
Signing Vincent Jackson was absolutely critical; Josh Freeman needs a veteran pass-catcher, and Jackson is so big and strong that it makes it a perfect signing. He should also provide some mentoring for that young collection of receivers.
As if that weren't enough, the Bucs also signed perhaps the top offensive lineman, Carl Nicks, in this year's crop of free agents.
Those two will make a previously putrid offense much, much better.
And just for good measure, by signing Eric Wright away from Detroit, they have either a ready-made replacement for Aqib Talib (should he be dealt) or a perfect bookend corner, something they'll need in a pass-happy NFC South.
Verdict: Buying
San Francisco 49ers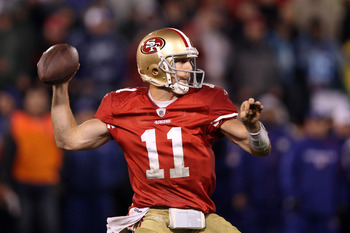 Ezra Shaw/Getty Images
I'll say this about Jim Harbaugh: He's unpredictable.
Just when everyone was starting to get on the Alex Smith bandwagon following his great 2011 regular season and sensational performance in the playoffs, Harbaugh jumped off, reportedly going hard after Peyton Manning.
Ultimately, they lost out on Manning and were basically forced to re-sign Smith, which was the right move.
But it's not even the Smith saga that has many scratching their heads.
Forget about the signing of Randy Moss; he was worth taking a flier on.
And forget about Mario Manningham; they really didn't pay much to grab him.
But given how deep that backfield is (Frank Gore, Kendall Hunter and even Anthony Dixon), why did they sign not one, but two free-agent running backs in Brandon Jacobs and Rock Cartwright?
More to the point, given the already delicate situation regarding Smith and the presence of Colin Kaepernick, why did they sign Josh Johnson to be the third-string quarterback?
It's just a surprising strategy by the resurgent 49ers. Although, they do deserve credit for paying Carlos Rogers what he deserved after an excellent 2011.
Verdict: Selling
Arizona Cardinals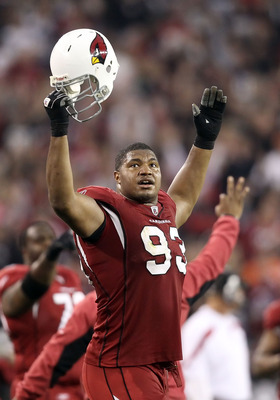 Christian Petersen/Getty Images
Not one of the Cardinals' free-agency moves this year was very sexy or momentous. They didn't grab headlines.
But, they did collectively improve a team that is quietly poised for a big season in 2012.
Re-signing Calais Campbell was vital, and bringing back Levi Brown and Early Doucet was also necessary.
And by signing William Gay from Pittsburgh and Adam Snyder from the 49ers, they added two veterans who come from winning systems and can presumably help instill a winning attitude inside a fairly young Cardinals locker room.
Verdict: Buying
Seattle Seahawks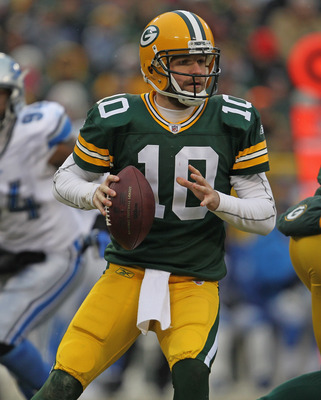 Jonathan Daniel/Getty Images
It's unfair to ridicule the Seahawks' free-agency strategy just by looking at the quarterback position. Tarvaris Jackson will never be considered a franchise quarterback, and even though he had 3,000 yards passing last year, that figure means much less these days than it used to. More to the point, Jackson's contract is up after 2012.
So signing Matt Flynn was justified and even smart. Furthermore, you can't really blame them for following up that signing with the selection of Russell Wilson. It was a third-round pick, and if they thought it was a steal, there's nothing wrong with it.
Moreover, even though they let several contributing veterans (Robert Gallery, Anthony Hargrove, David Hawthorne, John Carlson) go, they adequately filled some of those holes with Barrett Ruud, Jason Jones and a few other role players.
But the front office deserves the most credit for re-signing Marshawn Lynch, who very well could be the team's best offensive player.
Verdict: Buying
St. Louis Rams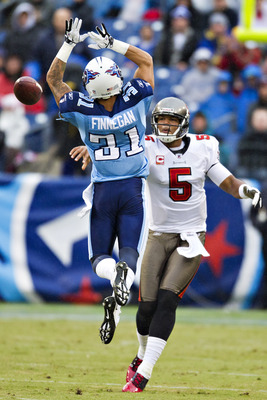 Wesley Hitt/Getty Images
It may not seem like it now, but the loss of Brandon Lloyd shouldn't hurt the Rams and Sam Bradford very much.
Not only are they loaded with young wide receivers, but they added Steve Smith and re-signed Danny Amendola for one more season.
Over on the other side of the ball, they managed to upgrade at both cornerback (Cortland Finnegan replacing Ron Bartell) and defensive tackle (Kendall Langford replacing Justin Bannan).
Still, the biggest deal that the new Rams regime struck this offseason? Well, other than inking Jeff Fisher to a contract, it was prying center Scott Wells from Green Bay.
The former Pro Bowler and Super Bowl champion will bring experience, skill and a winning attitude to an offensive line that desperately needs all three.
Verdict: Buying
New England Patriots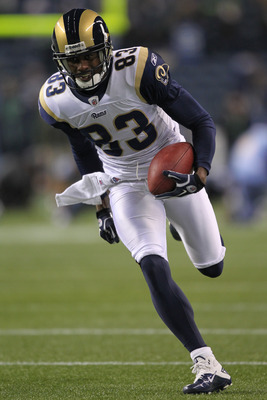 Otto Greule Jr/Getty Images
I may have just finished a slide that essentially says the Rams won't miss Brandon Lloyd, but that doesn't mean the Pats will be sorry they gave him a $12 million contract.
He should ultimately emerge as the team's second-best receiver (behind Wes Welker), and although Tom Brady is coming off another amazing season, that was a position they needed to improve, given the diminishing skills of Chad Ochocinco.
But obviously, the Pats didn't stop with the signing of Lloyd. Along the way, they added nearly a dozen free agents, some of whom will have major roles.
Joseph Addai (in conjunction with an already deep backfield) should take some of the sting out of the loss of BenJarvus Green-Ellis.
Will Allen gives them another situational defensive back, and Robert Gallery could be great insurance if Brian Waters retires or Logan Mankins' knee is an issue. And Steve Gregory is a huge addition to a secondary that has been riddled with inconsistency.
Couple all those upgrades/additions with the re-signing of Welker, Deion Branch, Dan Connolly and even talented backup quarterback Brian Hoyer, and the Pats are poised for another Super Bowl run, largely because of what they did this spring.
Verdict: Buying
New York Jets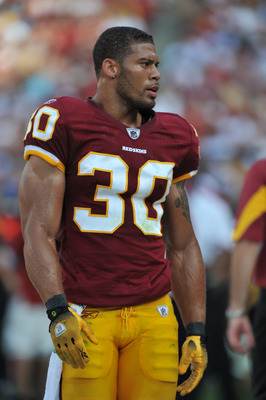 Larry French/Getty Images
Maybe the trade for Tim Tebow wore the Jets' front office out, but this spring, they weren't very active.
Signing LaRon Landry adds depth to a secondary that has struggled with injury, and the decisions to bring back Aaron Maybin and Bryan Thomas keep some level of consistency in Rex Ryan's unit.
But that's really about it in terms of handing out contracts.
It is worth pointing out, however, that two contracts that they have not handed out do earn the Jets' front office slightly higher marks.
Not only have they wisely (seemingly) passed on re-signing Plaxico Burress, but they do not appear to be caving under the pressure of Darrelle Revis' demands for yet another new deal. Maybe he is the best corner in the game, but that doesn't mean he can ask for a new contract every offseason.
Verdict: Selling
Buffalo Bills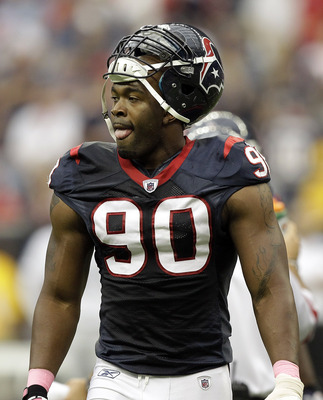 Bob Levey/Getty Images
To be perfectly honest, given their desperation for a) star power and b) improvement on defense, the Bills' ability to sign Mario Williams—maybe the top unrestricted free agent on the market—is enough to earn them a "buying" label outright. They could have done nothing else and lost a handful of starters to other teams, and they probably still would get that tag.
That's how momentous signing Williams was.
They targeted him and got him; it's that simple.
Still, GM Buddy Nix was wise enough to add a few more pieces, including Mark Anderson and Vince Young, the latter being a move that could turn out to be very beneficial down the road because every team needs a backup quarterback with starting experience.
Even if Demetress Bell and Roscoe Parrish left town for new deals, the Bills were serious winners in this year's free-agency derby.
Verdict: Buying
Miami Dolphins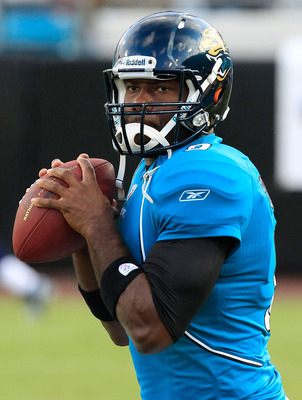 Sam Greenwood/Getty Images
Just based on how they failed to sign Peyton Manning, Matt Flynn and even Alex Smith, you'd have to say the Dolphins' free-agency strategy was flawed, if not outright terrible this spring.
Yes, they signed David Garrard as a Plan "G" or Plan "H," but Matt Moore was already a decent incumbent, and now that Ryan Tannehill is in place, the addition of Garrard seems to be a bit ill-conceived.
And since they also lost Kendall Langford and Will Allen, the new regime in Miami is off to a rocky start.
If there was one free-agent bright spot this spring in Miami, other than luring quality receiver Legedu Naanee away from Carolina, it was probably signing Gary Guyton away from the rival Patriots. Not only does that move upgrade their defense, but it should give them insight into Bill Belichick's schemes.
Verdict: Selling
Baltimore Ravens
Larry French/Getty Images
Jarret Johnson's defection to the West Coast is a tough pill to swallow for the Ravens—he really is one of the more underrated players in the NFL—but it shouldn't be a terribly crippling loss for Baltimore. They have Sergio Kindle, and even with the injury to Terrell Suggs, the presence of Courtney Upshaw should keep them on pace.
And they avoided having to scramble to fill another gaping hole by bringing back Matt Birk for at least another year.
But, they also lost Ben Grubbs, who was a key figure in that fine running game, and Tom Zbikowski, who was a nice role player.
Still, the fact that Ray Rice has yet to sign his franchise deal is a much greater concern. That will probably work out in the long run, but if it doesn't, the Ravens' offense will be crippled.
Verdict: Selling
Pittsburgh Steelers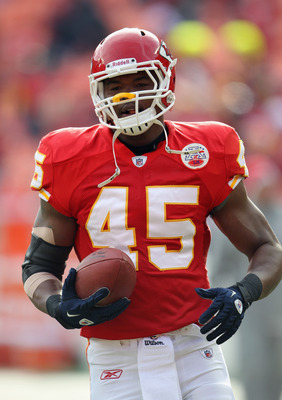 Jamie Squire/Getty Images
Traditionally, the Steelers are one of the least active (or maybe "most frugal" is a better description) teams during the NFL's offseason, so it shouldn't be much of a surprise that the only "new" free agent they signed this offseason is Leonard Pope.
But the decisions to re-sign Jerricho Cotchery, Ramon Foster and Trai Essex should not be perceived as insignificant.
Foster and Essex add depth to that offensive line, which seems to be depleted and injury-riddled every year, while Cotchery made a few big catches last season and could be critical if Mike Wallace leaves.
And speaking of Wallace, while I've punished several other teams for their inability to sign their franchise players (the Saints, Ravens and Lions) on this list, the Steelers are doing the right thing by not meeting Wallace's demands.
The Steelers already have Antonio Brown and Emmanuel Sanders, so their receiving corps isn't bare without Wallace, who is reportedly asking for over $10 million per season. Therefore, the Steelers will be wise not to overpay for him.
Verdict: Buying
Cincinnati Bengals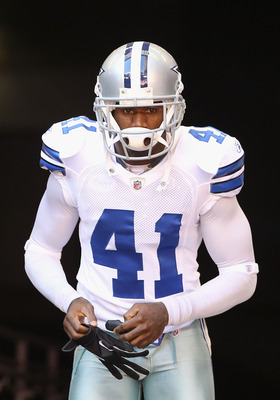 Christian Petersen/Getty Images
Although the plethora of cornerbacks (Leon Hall, Dre Kirkpatrick, Terence Newman, Nate Clements, Jason Allen, Pacman Jones) is a bit strange, the Bengals have made some sound acquisitions this spring.
They didn't break the bank to keep Nate Livings, who went to Dallas for a ton of money, they showed the same restraint when it came to Frostee Rucker, and they passed on Cedric Benson and Jerome Simpson.
But it was the signing of BenJarvus Green-Ellis that really showed these "aren't your granddad's Bengals" (or maybe "your slightly older brother's Bengals") when it comes to free agency.
The Law Firm will provide much-needed reliability (zero career fumbles) to an offense that already has tremendous firepower with Andy Dalton throwing to A.J. Green.
Verdict: Buying
Cleveland Browns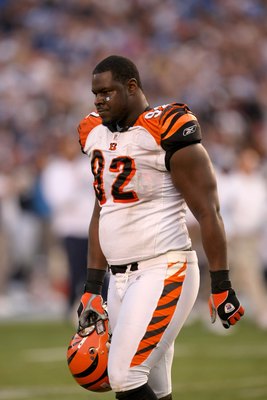 Stephen Dunn/Getty Images
Like probably many fans in Cleveland, I really don't understand what the Browns are doing.
Letting Peyton Hillis walk was fine, but only because they were able to nab Trent Richardson with the third pick in the draft. (But wouldn't Hillis and Richardson have made for a tremendous duo?)
Then there was the decision to bring in two free-agent defensive ends, Frostee Rucker and Juqua Parker, when they already had Jabaal Sheard. Adding depth is one thing, but when you have such a glaring need at other spots, like wide receiver, those dollars probably could have been channeled elsewhere.
Now, they were smart and fortunate to re-sign D'Qwell Jackson, but as far as improving upon last year's club via free agency? Not so much.
Verdict: Selling
Houston Texans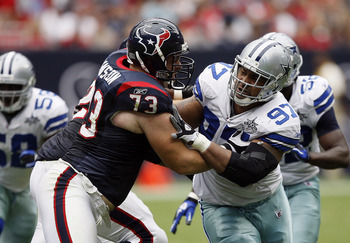 Bob Levey/Getty Images
About the only negative thing you can say these days about the Texans is that they didn't have a great free-agency period this offseason.
Despite the best season in franchise history, a stellar draft and legitimate status as a Super Bowl contender, the Texans were poached by a few teams this spring.
Not only did they lose their former centerpiece, Mario Williams, but offensive tackle Eric Winston left for Kansas City, and Arian Foster's lead blocker (Lawrence Vickers) also left town. Even their very reliable kicker, Neil Rackers, signed elsewhere. And adding Bradie James from the in-state rival Cowboys doesn't make up for those departures.
Verdict: Selling
Tennessee Titans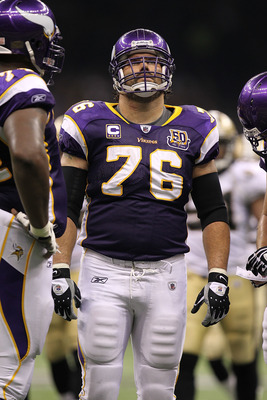 Ronald Martinez/Getty Images
I've talked several times about teams "not being very active" in this year's free-agency chase.
And for the most part, that has me "selling" rather than "buying" proverbial stock in their strategy.
But, the Titans sort of buck that trend.
They only added two players of any significance, but since they are potentially major pieces, it's a major boost to the franchise.
Assuming he's healthy, Steve Hutchinson will instantly bolster that Titans offensive line that really needs to improve to get Chris Johnson back on track. Similarly, Kamerion Wimbley adds an outside pass-rushing presence and durability (he's only missed one start in his career) to the developing Titans defense.
They did lose Cortland Finnegan, which hurts, but because they have two solid defensive tackles (Jurrell Casey, Karl Klug), the departure of Jason Jones isn't a major problem. And neither is the loss of Barrett Ruud, who lost his job to rookie Colin McCarthy last year.
Verdict: Buying
Jacksonville Jaguars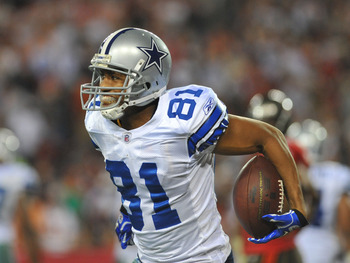 Al Messerschmidt/Getty Images
Jacksonville didn't really "lose" any free agents this offseason, but they did gain a few.
Laurent Robinson is a big pickup for what was the NFL's worst collection of wide receivers.
The signing of Aaron Ross away from the world champion Giants will make a pretty solid defense even better.
And while he has been one of the more maligned passers around the league the last few years, Chad Henne still has the skills and size to be an effective quarterback and—if nothing else—a solid backup to Blaine Gabbert.
So while it's not exactly a full-throated, passionate endorsement, the Jags' free-agency strategy has been above average.
Verdict: Buying
Indianapolis Colts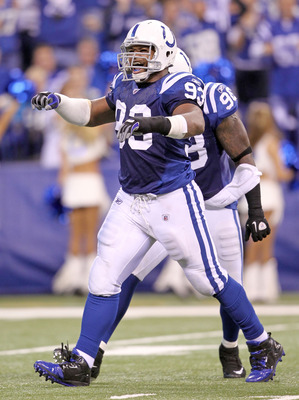 Andy Lyons/Getty Images
Rome wasn't built (or in the case of this analogy, "rebuilt") in a day, so we should all probably give the Colts a pass for a lackluster free-agency period. They were too busy dealing with the fallout of cutting Peyton Manning, and then making the right picks on draft day.
Still, it's a cruel world in the NFL, so the objective view says that Indy had a very, very poor strategy this spring.
Yes, they did manage to re-sign one of their top defenders, Robert Mathis, and they signed a few solid players on the open market such as Tom Zbikowski, Cory Redding and Samson Satele.
And, of course, they convinced Reggie Wayne to come back in a move that was very surprising. Was it really wise to give a 33-year-old over $4 million a season for the next three years? That's a lot of money for a team that is redefining "rebuilding."
Couple that with the losses of Pierre Garcon, Jacob Tamme and Jeff Saturday, and the Colts' free-agency period was a tough stretch.
Verdict: Selling
Denver Broncos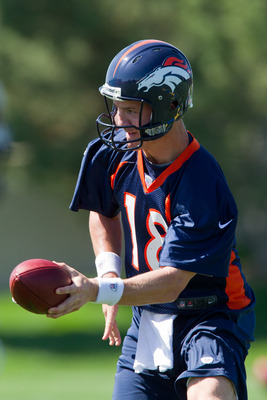 Justin Edmonds/Getty Images
Again, by the most basic definition of a "free agent," Peyton Manning was a free agent this offseason even if the Colts released him.
So the Broncos' decision to sign him qualifies for this list.
But (and I'm sure I'm in the minority here), I never thought it was a "no-brainer" decision—Tim Tebow or no Tim Tebow—especially in the long term.
They've completely halted the chemistry of last year's miraculous run, and while that could prove to be for the better, there are going to be growing pains. More to the point, just because Manning is healthy now and wowing people in no-contact drills doesn't guarantee things will be so perfect come Week 1. He will take hits throughout the 2012 season.
And even if you disagree and think Denver's decision to sign Manning was right up there with Reggie White in 1993 or Drew Brees in 2006, the Broncos did lose several important pieces, including Brodrick Bunkley, Eddie Royal and Ryan McBean.
Verdict: Selling
San Diego Chargers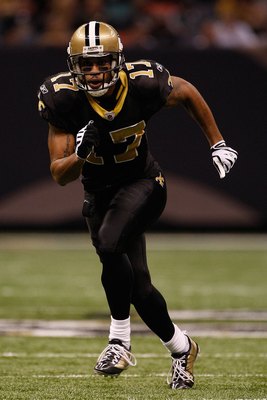 Chris Graythen/Getty Images
Granted, he's a slight step down, but Robert Meachem will do a credible job replacing Vincent Jackson in San Diego. If nothing else, he should be far less disgruntled and outspoken about his contract.
And since they also signed Eddie Royal, the receiving corps shouldn't be in dire straits in 2012.
Along the same lines of offensive additions, A.J. Smith was wise to sign/re-sign two tight ends (Dante Rosario and Randy McMichael) as insurance for the ailing Antonio Gates and Le'Ron McClain as a replacement for Mike Tolbert.
Still, by far the biggest signing was Jarret Johnson, who will solidify that strong-side linebacker spot and potentially bring some of that Ravens nastiness to the Chargers' 3-4. His signing definitely will mask the hole that Steve Gregory left behind on his way to New England.
Verdict: Buying
Oakland Raiders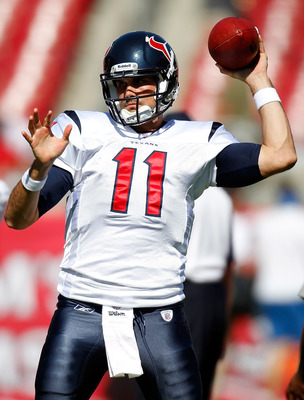 J. Meric/Getty Images
Especially given the injury-prone nature of Darren McFadden, the Raiders seeing Michael Bush head to Chicago was troubling.
Slightly less troubling was Jason Campbell joining him with the Bears, but since they brought in Matt Leinart (who will look to refind stardom behind Carson Palmer), maybe that will prove to be a wash.
Now, they did well to replace Samson Satele with Mike Brisiel, who flew largely under the radar this offseason after starting 13 games last year for that powerhouse running game in Houston. And the addition of Shawntae Spencer will prove to be a benefit at least twice a year when they play Peyton Manning's Broncos.
But given all the moves that the rest of the division made, the Raiders probably have fallen behind.
Verdict: Selling
Kansas City Chiefs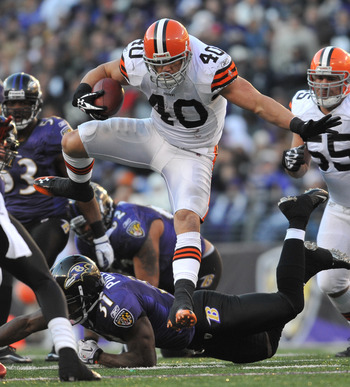 Larry French/Getty Images
I really liked what the Chiefs did this offseason via free agency.
First, they elected not to break the bank and overpay for Brandon Carr; they got Stanford Routt at a much cheaper price.
Second, they supplemented their running game—which should return to form if Jamaal Charles is close to 100 percent—with Peyton Hillis, as well as Eric Winston, who helped Arian Foster become a superstar in Houston.
And finally, they signed Kevin Boss as a complement to or replacement for Tony Moeaki, if he suffers any setbacks from ACL surgery.
Kansas City wasn't without a few noticeable losses, though. In addition to Carr's departure for Dallas, Le'Ron McClain heading west to San Diego saps something from their running game. And without Kyle Orton, their quarterback cupboard is pretty bare after Matt Cassel.
But overall, the Chiefs' strategy was well-thought out.
Verdict: Buying
Keep Reading