NFL Power Rankings: Breaking Down Teams Sure to Surprise in 2012
May 19, 2012

Kyle Rivas/Getty Images
With the majority of the offseason moves in the books, the time has come to start looking ahead to the 2012 season. While an upcoming NFL season is almost impossible to predict in the middle of May, there does appear to be a number of teams that have made big improvements this offseason and could surprise next year.
In this offseason edition of NFL power rankings, we break down a handful of teams that fit that profile:
Tampa Bay Buccaneers
Al Messerschmidt/Getty Images
Championships are rarely won in March, but the Buccaneers had the money to spend this offseason. The front office then used the open cap room on quality football players in free agency. 
Teaming All-Pro Carl Nicks with Davin Joseph gives Tampa Bay a dominant pair of guards to maul holes for first-round pick Doug Martin, who figures to be Greg Schiano's new lead back next season. If given the right opportunities, Martin could push 1,500 total yards as a rookie in 2012. 
The secondary got a significant facelift with free-agent signing Eric Wright and No. 7 overall pick Mark Barron. Wright has shown flashes of being a No. 1 cornerback in the past, and Barron might end up being one of the draft's most impactful defenders, especially early on. 
Throw in receiver Vincent Jackson, arguably the Bucs' biggest addition this offseason, and you get a club that should vastly improve on a 4-12 2011 campaign.
If things fall right, Tampa Bay could push double-digit wins. 
Buffalo Bills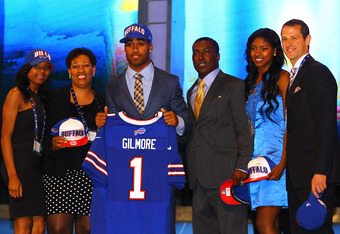 Al Bello/Getty Images
So often in free agency teams overspend on players who don't fit their scheme or needs. In the case of Mario Williams and the Bills, that dreary fate appears to have been avoided. While Buffalo spent $100 million on securing one of the game's best pass-rushers, Williams should immediately improve one of the Bills' biggest weaknesses from last season. 
The Buffalo defense registered just 29 sacks last year, with 10 coming in one game against the Washington Redskins. Despite a fast start to the season, including a win over the New England Patriots, the Bills were unable to make a playoff push, in part due to their lack of a pressure package defensively.
The draft was also kind to the Bills, who got versatile cornerback Stephon Gilmore and tackle Cordy Glenn in the draft's first two rounds. Both players could help push the Bills from an upstart team in 2011 to a bona-fide contender in 2012. 
Kansas City Chiefs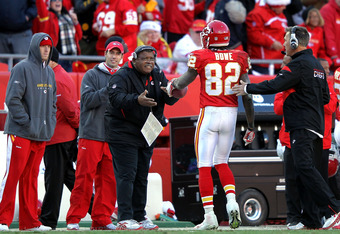 Jamie Squire/Getty Images
The Denver Broncos adding Peyton Manning has been all the talk in the AFC West this spring and summer, but the Chiefs have quietly put together one of the NFL's better offseasons
Adding right tackle Eric Winston may turn out to be one of the steals of free agency, and plugging in Peyton Hillis as a complement to a recovering Jamaal Charles at running back was a smart and low-risk move.
If the offense can take a step forward—especially after retaining Dwayne Bowe and with Charles returning—and the defense is as solid with a healthy Eric Berry as it has been in the past, the Chiefs could be looking at a return trip to the playoffs in 2012 as the AFC West champions. 
NFL Offseason Power Rankings
1. New York Giants (2011: 9-7)
2. New England Patriots (13-3)
3. Green Bay Packers (15-1)
4. Houston Texans (10-6)
5. Baltimore Ravens (12-4)
6. San Francisco 49ers (13-3)
7. Pittsburgh Steelers (12-4)
8. Detroit Lions (10-6)
9. Chicago Bears (8-8)
10. Buffalo Bills (6-10)
11. Cincinnati Bengals (9-7)
12. Denver Broncos (8-8)
13. Philadelphia Eagles (8-8)
14. Atlanta Falcons (10-6)
15. Dallas Cowboys (8-8)
16. New Orleans Saints (13-3)
17. Seattle Seahawks (7-9)
18. San Diego Chargers (8-8)
19. Carolina Panthers (6-10)
20. Tennessee Titans (9-7)
21. Kansas City Chiefs (7-9)
22. New York Jets (8-8)
23. Arizona Cardinals (8-8)
24. Washington Redskins (5-11)
25. Tampa Bay Buccaneers (4-12)
26. Miami Dolphins (6-10)
27. Oakland Raiders (8-8)
28. St. Louis Rams (2-14)
29. Jacksonville Jaguars (5-11)
30. Indianapolis Colts (2-14)
31. Cleveland Browns (4-12)
32. Minnesota Vikings (3-13)