NFL Power Rankings: Newcomers to the Super Bowl Contender Table
May 8, 2012

Kevin C. Cox/Getty Images
Last season it was the San Francisco 49ers who took the leap of faith toward emerging as legit Super Bowl contenders, so we have to expect some new faces for 2012.
With kickoff not coming soon enough, let's get right into it and see which franchises hit the next level this season.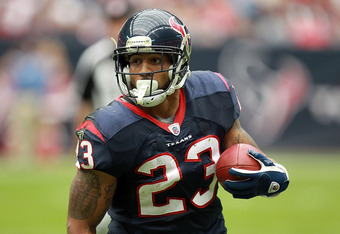 Ronald Martinez/Getty Images
The Houston Texans took a big step in 2011 after finishing 10-6 and winning the AFC South. Also, the Texans won a playoff game and almost upset the Baltimore Ravens to go on to the AFC title game.
Fielding a top five defense against the run and pass, Houston dominated without Mario Williams for a large part of the season. The offense was struck by multiple injuries and receiver Andre Johnson never hit a rhythm to perform consistently.
Nevertheless, Houston's ground game dominated and after a strong offseason, the Texans will take the next step in 2012. The defense won't miss Williams as rookie Whitney Mercilus will help in the pass rush rotation.
Also, rookie center Ben Jones will help the interior offensive line with controlling the trenches, thus allowing for a more dangerous play-action pass. Provided that Johnson and quarterback Matt Schaub remain healthy all year, the AFC's road to Super Bowl XLVII could go through Houston.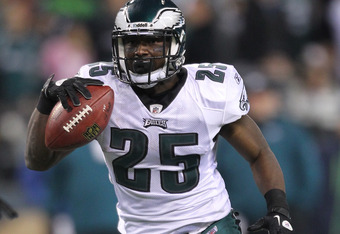 Otto Greule Jr/Getty Images
The Philadelphia Eagles were one year away from being NFC title contenders. With so much talent in 2011, Philly was hurt by a lack of chemistry and feeling the pressure to succeed early on.
Fortunately, the Eagles closed out on a four-game wins streak and went an NFC East best 5-1 in the division. This offseason, Philly got a big boost to the defense with linebacker DeMeco Ryans and Fletcher Cox.
We must not discount Marshall's Vinny Curry who will help with a pass rush rotation along with Trent Cole and Jason Babin. Rookie corner Brandon Boykin will contribute as a nickel/dime back in passing situations and also on special teams.
The offense fields a balanced attack led by LeSean McCoy, but they won't be overly explosive. The defense will be aggressive with blitzes and press coverage in trying to force turnovers. If anything, expect the Eagles to control the game tempo more as they keep opponents off balance throughout.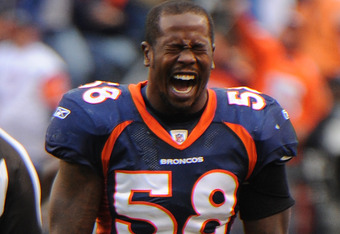 Bart Young/Getty Images
The only main concern in Denver will be Peyton Manning's production once the season begins. Yes, the man is a four-time NFL MVP, but after missing all of 2011 it will be difficult in getting back into the mix.
Therefore, expect the Broncos to rely heavily on the ground game early in the year. Rookie Ronnie Hillman will be the sidekick to Willis McGahee at first, but Hillman is capable of taking over by midseason.
Defensively there's nothing to worry about. Von Miller and Elvis Dumervil will provide a dominant pass rush while the enhanced secondary of Tracy Porter and rookie Omar Bolden reap benefits off constant pressure.
Another rookie that will be called on is defensive tackle Derek Wolfe. Denver needed a dynamic interior lineman to help Wesley Woodyard and D.J. Williams control the front seven and he'll draw enough double-teams to free up the 'backers.
The biggest knock against Denver is its insanely difficult schedule. Still, as long as the Broncos make the postseason, they have a great shot (just like the Giants and Packers from the past two seasons).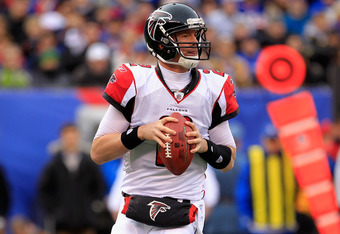 Chris Trotman/Getty Images
Yes, the Atlanta Falcons because they improved defensively and still field an offense that can keep pace with anyone in the league.
Last season Atlanta's lack of a pass rush and pass defense cost them close games and ultimately in the playoffs. Well, with a secondary that has play-makers in Asante Samuel, Dunta Robinson, Thomas DeCoud and Brent Grimes, Atlanta is equipped to face the pass-heavy NFC South.
As for their front seven, the Falcons get a boost from rookie Jonathan Massaquoi to help the pass rush with John Abraham, Ray Edwards and Jonathan Babineaux. This is a solid rotation to rely on because more sack opportunities will occur against pass-happy opponents.
The only real question mark comes in the postseason. The Falcons are 0-3 under coach Mike Smith and choked away their best opportunity in 2010 when they were the No. 1 seed. In the NFC South, Carolina and Tampa Bay remain a year or two away from taking that next step and the Saints are on the fritz.
2012 is a great opportunity for the Dirty Birds to capitalize on a weakened division, as the NFC title race remains more wide open than at first glance.
2012 NFL Power Rankings
1. San Francisco 49ers
4. Houston Texans
6. Philadelphia Eagles
7. Baltimore Ravens
8. Denver Broncos
10. Atlanta Falcons
11. Detroit Lions
12. Chicago Bears
13. Dallas Cowboys
15. Buffalo Bills
20. Seattle Seahawks
24. New York Jets
25. Tennessee Titans
27. Cleveland Browns
28. St. Louis Rams
29. Oakland Raiders
31. Miami Dolphins