2012 NFL Draft: Is Kirk Cousins the Next Matt Schaub?
May 1, 2012

Al Messerschmidt/Getty Images
As we all know, the Redskins traded up to the Rams' valuable No. 2 slot and selected quarterback Robert Griffin III with the pick. Griffin, also affectionately known as "RGIII" rose up the draft boards very quickly after a stellar campaign that landed him the prized Heisman Trophy.
Griffin will undoubtedly be the team's starter heading into Week 1 of the upcoming NFL season and rightfully so. Griffin has been considered to be a "can't-miss prospect," as he has a strong arm and fast legs. He's also a remarkable passer, as he is very accurate.
Griffin was once talked about being the No. 1 pick in the draft, but I believe that was just hearsay. The Colts knew all along that they were going to take Stanford's Andrew Luck, but I guess they just wanted to make some noise on "SportsCenter."
Anyway, after the Baylor quarterback, the Redskins didn't have a second-round selection, so they had to wait until the 71st pick to select Southern Methodist guard Josh LeRibeus. They'd pick again 31 selections later, as they made a questionable decision to take Michigan State quarterback Kirk Cousins.
Cousins' selection puzzled many people, ranging from NFL analysts to casual sports fans. It was especially befuddling that the Redskins already had veterans John Beck, Rex Grossman and the young Jonathan Crompton on the roster, along with the recently-selected Griffin.
That would give the 'Skins four decent quarterbacks on the roster (excluding Crompton), making one of them expendable. That unlucky player would wind up to be Beck, as he was released shortly after the team's selection of Cousins.
With Beck gone, Mike Shanahan's Redskins now have Griffin, Cousins, Grossman and Crompton. Grossman would likely be Griffin's primary backup with Cousins being the third option. Crompton's future remains uncertain, as he could eventually be placed on the team's practice squad.
When the Redskins announced the selection of Cousins with the 102nd overall selection, it reminded me of a similar situation in 2004.
We all know about the 2004 draft. There were three quarterbacks that were undoubtedly going to be selected near the top of the draft, such as the eventual No. 1 pick Eli Manning, Philip Rivers and Ben Roethlisberger.
The other quarterbacks that were supposed to be chosen after them weren't thought to have stellar careers, except for maybe J.P. Losman, who was taken with the 22nd overall selection by the Buffalo Bills.
The former Tulane star was thought to be the future of the Bills, but it simply didn't happen and the fourth quarterback off of the board was out of the NFL fairly quickly.
After Losman, a quarterback wouldn't be selected until 68 picks later. That selection belonged to the Atlanta Falcons, as they tabbed a lesser-known Virginia quarterback by the name of Matt Schaub. Schaub's selection raised some eyebrows, as the Falcons already had a young Michael Vick on the roster.
Since entering the NFL in 2001, Vick had taken the league by storm with his amazing legs and his improbable victory over Brett Favre's Packers at Lambeau Field in the playoffs.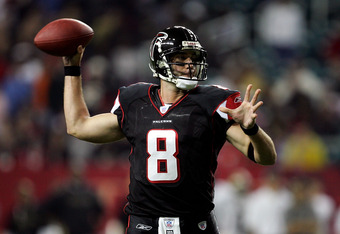 Streeter Lecka/Getty Images
There was no doubt in anyone's mind that Vick was never going to be benched in favor of Schaub. The only way that Schaub would ever see a significant amount of time on the field was unless Vick went down with an injury.
During his rookie season, Schaub actually participated in six games, starting one of them. His career got off to a shaky start, as he managed to complete just 33-of-70 pass attempts (47.1 percent) while throwing for 330 yards.
He also threw just one touchdown with four interceptions. The following season, Schaub completed 33-of-64 passes for 495 yards with four touchdowns and zero picks.
In 2006, Schaub played in all 16 games, but attempted just 27 passes, completing 18 of them. He also accumulated just 208 yards with one touchdown and two interceptions.
Despite mediocre play, teams were clamoring over his services, as many teams saw copious amounts of potential in the young quarterback. The Falcons decided to part ways with Schaub, as they shipped him off to Houston in exchange for second-round picks in 2007 and 2008.
As part of the trade, both teams would swap first-round picks in 2007, with Atlanta getting the No. 8 pick (Jamaal Anderson) and Houston getting the No. 10 pick (Amobi Okoye).
Fresh off the end of the David Carr era, Schaub was immediately pegged as the starter for the upcoming season. Plagued with injuries during his first season in Houston, Schaub threw for 2,241 yards with nine touchdowns and nine interceptions.
In 2009, Schaub had the finest season of his pro career, as he threw for a career-high 4,770 yards with 29 touchdowns and 15 interceptions. He also made his first Pro Bowl appearance that season, as well.
He reached the 4,000-yard plateau again the following season. Last season, Schaub was having a great season before suffering an injury 10 games into the season.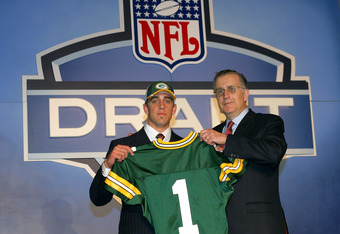 Chris Trotman/Getty Images
I believe Cousins could have a similar career. As we all know, there's no way Cousins beats out Griffin for the starting spot during training camp and the preseason. Griffin will be the starter going into the 2012 season, unless he goes down with an injury or something similar.
As long as Griffin is 100 percent and plays fairly well, he will be the starter. Grossman won't beat him out and neither will Cousins. It seems as though Cousins was brought in to become one of those quarterbacks to learn the system for a few seasons and see if any team would give up a high-draft pick for him somewhere down the road.
Over the last few seasons, teams have done something similar as to what the Falcons did in 2004. During that same draft, the Chargers acquired Philip Rivers even though Drew Brees was already on the roster. In 2005, the Packers used a first-round pick on Aaron Rodgers, even though there was an aging Brett Favre on the roster.
The following draft, the Jets selected Kellen Clemens with their second-round pick with Chad Pennington already on the team—and we all know that Clemens faltered at the professional level. In 2009, the Cowboys used a fourth-round pick on Stephen McGee, a developmental project that hasn't ruled in their favor yet. Of course, Tony Romo was already the team's No. 1 quarterback.
In 2010, Josh McDaniels decided to use one of the team's first-round selections on Tim Tebow, despite already having Kyle Orton, who was a very productive player in 2009. The most recent instance is perhaps the Patriots' decision to draft Arkansas' Ryan Mallett with the 74th overall selection, even though Tom Brady is undoubtedly the team's starting quarterback.
Coach Bill Belichick is probably hoping that Mallett can show promise when given the opportunity so he can try to trade him a quarterback-needy team in the near future for a second- or third-round draft pick. The Redskins seem to be doing the same thing.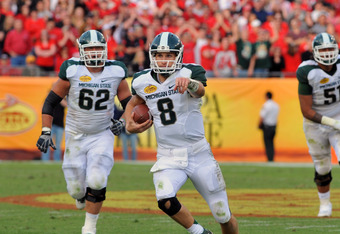 Al Messerschmidt/Getty Images
Kirk Cousins was once considered to be the best quarterback not named Andrew Luck, Robert Griffin III or Ryan Tannehill, who I think will be a bust in the NFL, but that's a story for a different day.
Somehow, Cousins fell all the way down to the fourth round with the three aforementioned players, Oklahoma State's Brandon Weeden, Arizona State's Brock Osweiler and Arizona's Nick Foles all going ahead of him.
I don't know how Cousins fell all the way down to the fourth round, as he is a very intriguing prospect. There's a lot to like about the former Spartan, who is the college's all-time leader in wins.
Cousins has superb arm strength and he gets rid of the ball very quickly. He also has tremendous accuracy when it comes to short and intermediate routes. He sometimes struggles in deep routes, but every quarterback struggles in that category at some point in their career—no one's perfect, even though Tom Brady seems to think he is (I'll probably catch some flack for that one).
Additionally, Cousins is also great when it comes to extending a play, which is a very valuable asset in the NFL. Like every player, he struggles in some aspects of the game, but he has more positives in his game than negatives.
I really like the way Cousins has played since becoming a full-fledged starter at Michigan State. I don't think he'll ever become a quarterback like Peyton Manning, Tom Brady, Aaron Rodgers or Drew Brees, but I believe he can become a solid starter in the NFL if he reaches his full potential.
Unfortunately, I don't think he's going to do that in Washington. He'll never be able to eclipse Griffin as the team's starter, and instead, he will hold the clipboard for a few seasons while learning the ropes from veteran Rex Grossman.
Cousins' path to the NFL reminds me a lot of Matt Schaub's in 2004. Cousins was the 102nd selection, while Schaub was the 90th. Both were drafted into systems where they would never become the week-to-week starter unless an injury occurred to the starting quarterback.
Both quarterbacks had solid tangibles and great potential. Furthermore, both players are fairly accurate and have solid arm strength. Cousins and Schaub are alike in many ways that it's weird.
I firmly believe that Cousins will not be in Washington four seasons from now. I think he will show great promise in training camp and in the preseason over the next couple of years, and eventually, he will be dealt to another team that needs a starting quarterback, much like Schaub in 2007.