2012 NFL Mock Draft: Best Potential Picks for Round 4 Teams
April 28, 2012

Kevin C. Cox/Getty Images
The first three rounds of the 2012 NFL draft are in the books.
The fourth round and beyond are where general managers and team scouts earn their paychecks. The ability to go down their big boards and find a diamond in the rough is intrinsic to their franchise's long-term success. 
Let's take a look at how the fourth round is going to play out and see which general managers have really done their homework this offseason.
96. St. Louis Rams: Bobby Massie, OT, Ole Miss
The Rams have addressed other needs, but still need work on their offensive line. Massie is a project, but will develop into a solid NFL lineman. 
St. Louis' top priority needs to be keeping Sam Bradford healthy. Massie will add depth early in his career and eventually start at right tackle.
97. San Francisco 49ers: Jared Crick, DE, Nebraska
Crick is a versatile defensive lineman with very good upside. The 49ers have a great front line, but Justin Smith's age and depth could be an issue. 
Crick will learn behind Justin Smith and eventually replace a player he is very comparable to. Crick's ability to play inside or outside make him a solid fourth-round asset.
98. Baltimore Ravens: George Iloka, S, Boise State
Iloka is an underrated prospect with solid two-way ability. He will be an eventual replacement for Ed Reed because of his versatility and surprising ball skills.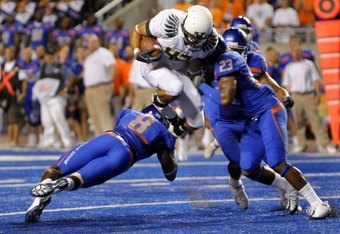 Steve Dykes/Getty Images
Iloka's size and physical presence will fit perfectly in Baltimore's physical defense. He lends a huge help in run support and is excellent at diagnosing plays. 
The Ravens missed on the top safeties in this draft, but they found themselves a good one for a great value. 
Iloka could force himself into a starting spot earlier than some may expect. He will outplay his fourth-round pedigree.
Ravens fans will love this kid's heart, physicality and leadership on the back end of their defense. 
99. Houston Texans: Trevin Wade, CB, Arizona
The Texans' talent and solid drafting this far allows them to make a depth selection here. Jason Allen left in free agency this offseason. Wade will replace him this season.
Wade has fallen a bit and is a great value here. He has solid ball skills but is a little undersized. His raw athleticism leaves room for growth.
Depth will only add to Houston's defensive prowess.
100. Cleveland Browns: Juron Criner, WR, Arizona
Criner is a steal at this point in the draft. The Browns have not taken a wide receiver in this draft, and Brandon Weeden will need as many weapons as possible. 
Criner's 6'3'' frame allows him to grab balls at a high point. He is a very physical player with solid vertical speed.
His hands are hit and miss, but Criner's NFL-ready body will pay dividends early in his Cleveland career.
The Browns need someone to work over the top. Criner will provide an immediate deep threat with considerable upside. 
He comes from a pass-happy offense, as does Weeden. They are a perfect fit for each other.
101. Denver Broncos: Chris Givens, WR, Wake Forest
The Broncos signed Peyton Manning, and now they must find him some weapons. Denver has a few, but Manning loves to spread the ball all over the place.
Givens will fit their offense perfectly. He is quick, has good hands and works very well in space. 
Givens has the makings of a solid slot receiver.
102. Washington Redskins: James-Michael Johnson, ILB, Nevada
The Redskins are set on the outside with Brian Orakpo and Adam Kerrigan, but they need help up the middle. 
Johnson needs time to develop. He will be a solid special teams player initially, but could blossom into a functional inside linebacker with time. 
Johnson's athleticism will help his development. He is extremely physical, tackles well and shows great instincts. 
103. Miami Dolphins: Nick Toon, WR, Wisconsin
Ryan Tannehill will struggle with weapons, let alone without. The Dolphins would be smart to snag Toon and watch him become a solid NFL receiver.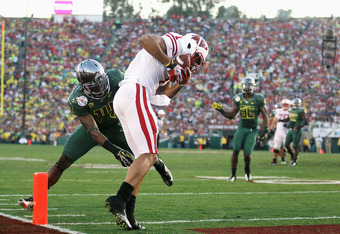 Jeff Gross/Getty Images
Toon has adequate size, good hands and runs great routes. He lacks breakaway speed, but can make a career for himself despite that.
The Dolphins can use Toon in the slot or on the outside. He won't be a No. 1 option, but he can be a solid No. 2 receiver when he reaches his full potential.
Toon broke out in his final college season. He will be better than his fourth-round selection. Both Tannehill and the Dolphins will be very happy with this pick.
104. Carolina Panthers: Alameda Ta'amu, DT, Washington
The Panthers ranked 25th against the run in 2011. First-round pick Luke Kuechly will help improve that area, as will this man.
Ta'amu is a huge space-eater in the middle. He grades out as a second-round pick but fell because of his limited durability and athleticism.
He will have one job in Carolina. Plug the middle and let the linebackers make plays.
105. Buffalo Bills: Kirk Cousins, QB, Michigan State
Cousins is incredibly intelligent with an underrated arm. He is the best quarterback left on the board and is a significant upgrade over Buffalo's current backups. 
Ryan Fitzpatrick is a competent quarterback, but he is not a great long-term option. Cousins can develop behind Fitzpatrick until he is ready to take over the starting job. 
Do not be surprised if Cousins becomes a solid starting quarterback in the NFL.
106. Seattle Seahawks: James Brown, OG, Troy
The Seahawks address a need at a good value with the selection of Brown. Brown is more talented than this pick warrants.
Seattle needs to protect Matt Flynn and clear paths for Marshawn Lynch. Brown will be an asset in both these areas in due time. 
This was arguably Seattle's biggest need coming into the draft. They finally address it with Brown.
107. Kansas City Chiefs: Alfonzo Dennard, CB, Nebraska
Dennard is a first-round talent with troubling character concerns. The Chiefs will take the risk. 
Dennard will immediately replace Brandon Carr and provide a lockdown presence on one side of the field. 
His ability to play in coverage or in the box will be a major asset. 
108. Denver Broncos: Zebrie Sanders, OT, Florida State
The Broncos grabbed Brock Osweiler earlier, and already have Peyton Manning. Both quarterbacks are going to need protection.
Sanders could have been taken higher, but has fallen down boards. The Broncos address a need with good value here. 
Sanders projects as a solid right tackle with great run-blocking ability.
109. Washington Redskins: Antonio Allen, S, South Carolina
Allen's physicality will replace Laron Landry in Washington's secondary. Allen is a converted linebacker, and he plays like one. 
The Redskins need a safety, and Allen is the best available. He is not ready to start right now, but could be a solid starter down the road. 
His ability to play in run support will be an asset.
110. San Diego Chargers: Brandon Boykin, CB, Georgia
The Chargers need young depth in their secondary. Boykin is far from a finished product, but he is an excellent athlete. 
Boykin's versatility allowed him to play all over the field as a Bulldog. Chargers fans can expect to see him on special teams and possibly returning kicks early in his career. 
It may be awhile before he is ready to take over at corner.
111. Chicago Bears: Brandon Mosley, OT, Auburn
Mosley is the best offensive tackle left on the board and fills Chicago's biggest need at this point.
The Bears lost Gabe Carimi to injury last season, and learned their lack of depth the hard way. Mosley is a project but could play in a pinch next season.
Offensive linemen are always smart to stockpile. Take Mosley and let him mature.
112. Arizona Cardinals: Ronnell Lewis, OLB, Oklahoma
Lewis is a pass-rush specialist. The Cardinals have Sam Acho and O'Brien Schofield, but depth could be an issue. 
Lewis lacks an all-around skill set but is a dangerous edge-rusher. He could see time in third-down passing situations early in his career. 
113. Dallas Cowboys: Joe Adams, WR, Arkansas
Adams is lighting in a bottle. He could be a solid option in the slot with some seasoning. 
If nothing else, Adams will be a very exciting weapon warranting a few touches here and there.
114. Seattle Seahawks: Chase Minnifield, CB, Virginia
Minnifield has exceptional size but leaves something to be desired mentally. He tends to lose focus.
He has the physical traits of a starting cornerback in the NFL. He can play man or zone and loves to step up in run support. 
115. Tennessee Titans: Josh Norman, CB, Coastal Carolina
Norman is an exceptionally raw athlete with solid upside. 
The Titans need to address cornerback with the loss of Cortland Finnegan this offseason. Norman will not replace him immediately, but he is athletic enough to grow into a starter. 
Norman's size will intrigue Titans coaches. 
116. Cincinnati Bengals: Lamar Miller, RB, Miami
Miller should not be on the board at this point. The Bengals snag themselves a steal here. 
Miller is a home-run threat in the open field. He runs hard up the middle but has the speed to break away. His speed allows him to run away from defenders. 
Miller tends to run too straight up, but that can be corrected. His durability could be an issue if he does not fix it. 
The Bengals may be getting one of the best backs to come out of this class. Miller's explosive open-field ability makes him too difficult to pass up at this point. 
117. Detroit Lions: Chris Polk, RB, Washington
Polk is a three-down back with exceptional receiving ability. He fits best in a zone-blocking scheme. 
Detroit's backfield is up in the air, and Polk will push for carries next season. 
118. Minnesota Vikings: DaJohn Harris, DT, USC
Harris cannot play nose tackle, but he is very athletic on the interior. The Vikes need help at every defensive position and get solid value here. 
Harris will provide immediate depth inside. 
119. Pittsburgh Steelers: Josh Chapman, NT, Alabama
Chapman fills an important need for Pittsburgh.
Casey Hampton is old and coming off an ACL injury, and Steve McClendon is not a quality starter.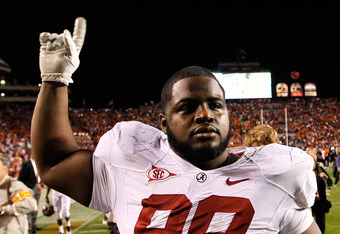 Kevin C. Cox/Getty Images
Chapman has experience in a 3-4. He has the size and athleticism needed to command double teams. As long as he can do that, Chapman will realize his full potential.
The 3-4's success depends largely on its nose tackle. Chapman will learn from one of the best and eventually become a solid player in the center of the Steelers defense. 
120. Cleveland Browns: Orson Charles, TE, Georgia
Charles is a very athletic tight end with blocking liabilities. Cleveland needs weapons, and Charles can stretch the field with his speed. 
121. Houston Texans: Josh Kaddu, LB, Oregon
The Texans need depth at linebacker after losing DeMeco Ryans to trade. Their 3-4 scheme demands several capable options.
Kaddu's speed and athleticism will make an impact on special teams and defense. 
122. New Orleans Saints: Omar Bolden, CB, Arizona State
Bolden lacks athleticism, but he is very savvy. The Saints always need reinforcements defensively, and Bolden will be a solid nickel option. 
123. Philadelphia Eagles: Cyrus Gray, RB, Texas A&M
LeSean McCoy is an excellent player, but the Eagles need a capable backup. Gray is a good option here. 
He runs well between the tackles but can break away in space.
124. Buffalo Bills: Terrell Manning, OLB, N.C. State
Manning struggles in pass coverage but is a formidable run-stopper. He did not play his senior season at N.C. State because of injuries.
Manning's demeanor and tackling ability make him an immediate special-teams contributor. 
125. San Francisco 49ers: Luke Nix, OG, Pittsburgh
Nix is a great value at this point. He is very experienced and shows great technique as a run-blocker. 
He is a possible replacement to Adam Snyder eventually. 
126. Houston Texans: Keshawn Martin, WR, Michigan State
The Texans picked up DeVier Posey earlier on Friday, but Martin will bring more depth to Houston's receiving corps. 
Martin is a reasonable candidate to play underneath because of his speed and quickness. 
The more attention anywhere but Andre Johnson, the better. 
127. New York Giants: Tom Compton, OT, South Dakota
Compton is mostly unknown coming from a small school. The Giants have a need at right tackle and will take the plunge here. 
Compton's a smart, athletic player with raw ability. His ability to play against tough competition is up in the air. 
128. Minnesota Vikings: Chris Rainey, RB, Florida
Adrian Peterson's durability is a concern. Rainey will never be Peterson, but he is a weapon. 
Rainey's speed makes him an intriguing option at this point in the draft. He can line up in the backfield or get touches in the slot.
129. Oakland Raiders: Nigel Bradham, LB, Florida State
Bradham will get a chance to start from day one in Oakland. 
He lacks upper-echelon athleticism, but is a tackling machine. He must work on his discipline before he takes his next step as a player.
130. Baltimore Ravens: Marvin Jones, WR, Cal
The Ravens need depth at wide receiver. Beyond Aquan Boldin and Torrey Smith, the pickings are slim. 
Jones brings good size and route-running ability to the Ravens receivers. He has potential if he can be more consistent.
131. New York Giants: Ladarius Green, TE, Louisiana-Lafayette
When you are good, you can afford to reach. Green is a huge project but is insanely athletic for a tight end. 
He has excellent speed and stretches the field very well. He is not a blocking factor and needs to polish his game. 
Tight end is a need for New York, and the position is thin at this point.
132. Green Bay Packers: Trent Robinson, S, Michigan State
This is the first of back-to-back Packers picks. The loss of Nick Collins makes safety a need, and Robinson is the best player available.
Robinson had a productive senior year. He is a solid all-around player. His ability to play against the run or the pass makes him an intriguing prospect moving forward. 
133. Green Bay Packers: Keenan Robinson, OLB, Texas

The Packers selected Nick Perry in the first round, but depth never hurts. Robinson played inside linebacker at Texas but expects to move outside. 
He is a good player with experience at a great program. He will contribute on special teams immediately, with bigger possibilities down the line. 
134. Minnesota Vikings: Danny Trevathan, OLB, Kentucky
Trevathan is a great athlete with size concerns. He could flourish as a situational player in the right system. 
The Vikings' big defensive line will keep Trevathan free, allowing him to make plays in space. He will be a great special teams player, if nothing else.
135. Dallas Cowboys: Duke Ihenacho, S, San Jose State
The final pick of the fourth round belongs to Dallas. 
The Cowboys grab Ihenacho here. He is a very good run defender with prior experience at cornerback. His athleticism allows him to cover balls in center field or step into the box as an extra tackler.