2012 NFL Draft
NFL Draft 2012 Results: Breaking Down Best Under-the-Radar Moves of Round 1

Al Bello/Getty Images
April 27, 2012
With the first round of the NFL draft in the books, everyone wants to know who had the best day and who made the biggest mistake. Instead of getting into all that, we want to take a look at the teams who didn't make a big splash but will end up looking like geniuses. 
A team's needs often dominate the conversation when discussing the draft, but there is something to be said for also going after the best player available. 
Here are the players who didn't get the biggest ovations on draft night, but they will end up being stars. 
Stephon Gilmore, CB, Buffalo Bills (No. 10 Overall)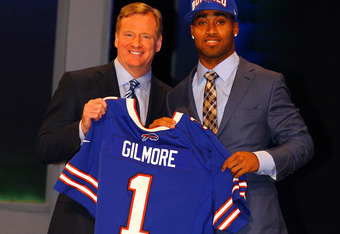 Al Bello/Getty Images
While some did not see Gilmore as one of the top 10 players available in this draft, his stock did rise in recent weeks and he helps a secondary that got picked apart in 2011. 
When you look at what the Bills have done this offseason, first signing Mario Williams to anchor the defensive line and now putting Gilmore in the secondary, suddenly that defense is starting to look a lot more formidable than it has in a long time. 
Playing in a division with the high-flying New England Patriots and a diverse New York Jets offense, the Bills had to get someone who could help them contain those teams and give their own offense a shot to succeed. 
Quinton Coples, DE, New York Jets (No. 16 Overall)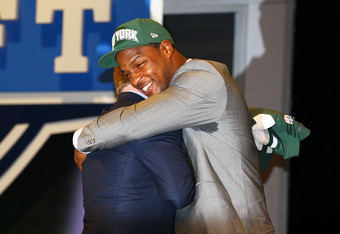 Al Bello/Getty Images
Speaking of the Jets, Rex Ryan could easily have hit a home run with his first-round selection. Coples had serious bouts of inconsistency last year with North Carolina, but the raw talent is still there and he gives them an edge-rushing machine to build their front seven around.
The only reason Coples didn't go in the top 10 is because there were games when he did not appear to be going all out, but he was stuck in a miserable situation with the Tar Heels. He needs to fix that to succeed in the NFL. 
With those concerns, it was astounding to see an athlete of Coples' caliber still available when it was their turn. Does he do anything to make Mark Sanchez better? No. But the Jets made two AFC Championship Games because they were so good on defense. 
Harrison Smith, S, Minnesota Vikings (No. 29 Overall)
With the Vikings finding the left tackle they so desperately needed, their encore was not going to have the same amount of impact, but it wasn't any less of an addition than Matt Kalil. 
The Vikings have fallen on hard times in the last two years thanks in large part to an aging secondary that was either too fragile to stay on the field or not athletic enough to keep up with the speed of the game. 
Smith not only gives the secondary more athleticism, but he has arguably the best instincts of any safety in the draft and can tackle as well as any interior linebacker. He is going to be the anchor of this defense for a long time to come. 
2012 NFL DRAFT FIRST-ROUND RESULTS
 1. Indianapolis Colts- Andrew Luck, QB, Stanford
 2. Washington Redskins- Robert Griffin III, QB, Baylor
 3. Cleveland Browns- Trent Richardson, RB, Alabama
 4. Minnesota Vikings- Matt Kalil, OT, USC
 5. Jacksonville Jaguars- Justin Blackmon, WR, Oklahoma State
 6. Dallas Cowboys- Morris Claiborne, CB, LSU
 7. Tampa Bay Buccaneers- Mark Barron, S, Alabama
 8. Miami Dolphins- Ryan Tannehill, QB, Texas A&M
 9. Carolina Panthers- Luke Kuechly, LB, Boston College
 10. Buffalo Bills- Stephon Gilmore, CB, South Carolina
 11. Kansas City Chiefs- Dontari Poe, DT, Memphis
 12. Philadelphia Eagles- Fletcher Cox, DT, Mississippi State
 13. Arizona Cardinals- Michael Floyd, WR, Notre Dame
 14. St. Louis Rams- Michael Brockers, DT, LSU
 15. Seattle Seahawks- Bruce Irvin, LB, West Virginia
 16. New York Jets- Quinton Coples, DE, North Carolina
 17. Cincinnati Bengals- Dre Kirkpatrick, CB, Alabama
 18. San Diego Chargers- Melvin Ingram, DE, South Carolina
 19. Chicago Bears- Shea McClellin, LB, Boise State
 20. Tennessee Titans- Kendall Wright, WR, Baylor
 21. New England Patriots- Chandler Jones, DE, Syracuse
 22. Cleveland Browns- Brandon Weeden, QB, Oklahoma State
 23. Detroit Lions- Riley Reiff, OT, Iowa
 24. Pittsburgh Steelers- David DeCastro, G, Stanford
 25. New England Patriots- Dont'a Hightower, LB, Alabama
 26. Houston Texans- Whitney Mercilus, DE, Illinois
 27. Cincinnati Bengals- Kevin Zeitler, G, Wisconsin
 28. Green Bay Packers- Nick Perry, LB, USC
 29. Minnesota Vikings- Harrison Smith, S, Notre Dame
 30. San Francisco 49ers- A.J. Jenkins, WR, Illinois
 31. Tampa Bay Buccaneers- Doug Martin, RB, Boise State
 32. New York Giants- David Wilson, RB, Virginia Tech
Like the new article format? Send us feedback!