2012 NFL Draft Order: Full 7-Round List of Picks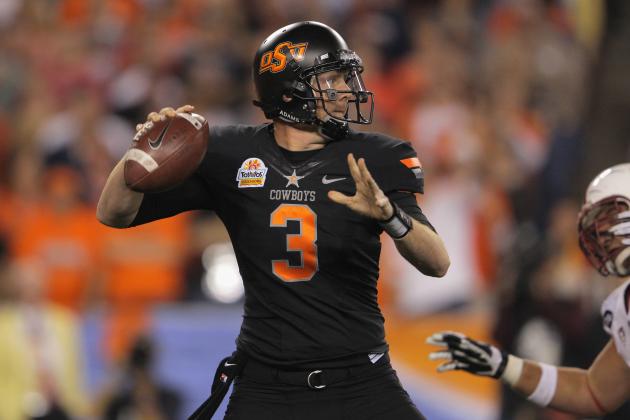 Doug Pensinger/Getty Images

The 2012 NFL draft is believed to be one of the most deep draft classes that we have seen in years. In fact, teams likely will want to be trading down rather than up, simply because this class is loaded with talent across the board.
The draft is just a few days away, as the first round is set to kickoff Thursday night at 8 p.m. while the second and third rounds will be held Friday night and the remainder of the draft will be held Saturday.
With that being said, let's take a look at my final mock draft of the season—and it's a big one.
Here is my final seven-round mock for the 2012 NFL draft.
Begin Slideshow

»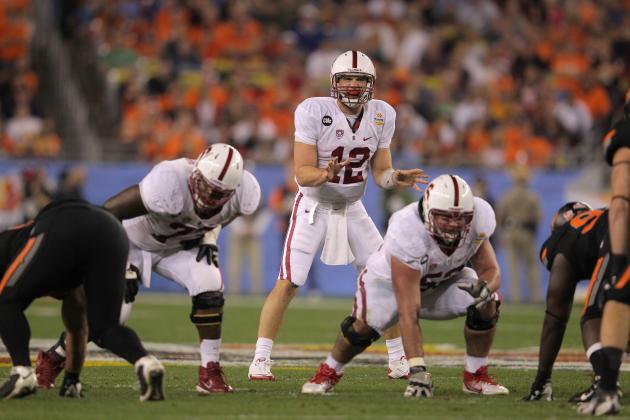 Doug Pensinger/Getty Images

1. Indianapolis Colts: Andrew Luck, Stanford, QB
No surprise here, right?
2. Washington Redskins: Robert Griffin III, Baylor, QB
Yet another shocker...(sarcasm).
3. Minnesota Vikings: Matt Kalil, USC, OT
The Vikings have a franchise quarterback in Christian Ponder, now they need to find a franchise left tackle to protect his blind side.
4. Cleveland Browns: Trent Richardson, Alabama, RB
The Browns may have missed out on Robert Griffin III, but they'll find plenty of offensive production out of this year's top running back.
5. Tampa Bay Buccaneers: Morris Claiborne, LSU, CB
Ronde Barber isn't getting much younger, it's time to add some youth into Tampa Bay's secondary.
6. St. Louis Rams: Fletcher Cox, Mississippi State, DL
The Rams will be going with a defensive stud with this pick, not wide receiver Justin Blackmon.
7. Jacksonville Jaguars: Melvin Ingram, South Carolina, DE
Many have Quinton Coples as the top pass-rusher, I have Melvin Ingram.
8. Miami Dolphins: Ryan Tannehill, Texas A&M, QB
Ryan Tannehill may not be ready to be a starter this season, but that's what David Garrard and Matt Moore are for.
9. Carolina Panthers: Justin Blackmon, Oklahoma State, WR
Many have the Panthers going with a defensive linemen at this pick, but if Justin Blackmon is still available, they simply cannot let him slip.
10. Buffalo Bills: Michael Floyd, Notre Dame, WR
The Bills have gone all defense this offseason and now need to find a No. 2 wide receiver to play opposite of Stevie Johnson.
11. Kansas City Chiefs: David DeCastro, Stanford, OG
I label David DeCastro as a once-in-a-decade offensive guard.
12. Seattle Seahawks: Luke Kuechly, Boston College, LB
Luke Kuechly is the real deal—he is primed to be a tackling machine at the NFL level.
13. Arizona Cardinals: Jonathan Martin, Stanford, OT
I am convinced that Levi Brown is the worst starting left tackle in the NFL today and that's why bringing in Jonathan Martin is a wise decision.
14. Dallas Cowboys: Quinton Coples, UNC, DE
Rob Ryan needs a pass-rusher and Quinton Coples is sitting on the board staring at him—perfect match for the Cowboys.
15. Philadelphia Eagles: Michael Brockers, LSU, DL
Michael Brockers is a stud defensive linemen and will fit perfectly with the Eagles.
16. New York Jets: Courtney Upshaw, Alabama, OLB
This is a match made in heaven for Courtney Upshaw and Rex Ryan's 3-4 defensive attack.
17. Cincinnati Bengals: Dre Kirkpatrick, Alabama, CB
The Cincinnati Bengals lost Jonathan Josephs last offseason and failed to replace him—Dre Kirkpatrick should do the job just fine.
18. San Diego Chargers: Cordy Glenn, Georgia, OG
The Chargers need to add some youth and depth along their offensive line—it's that plain and simple.
19. Chicago Bears: Nick Perry, USC, DE
Julius Peppers and Nick Perry? Can you say yikes?
20. Tennessee Titans: Stephon Gilmore, South Carolina, CB
Tennessee lost Cortland Finnegan this offseason and now need to find a replacement for their No. 1 cornerback position.
21. Cincinnati Bengals: Peter Konz, Wisconsin, C
The Bengals need a center and Peter Konz is this year's top center. #Winning
22. Cleveland Browns: Kendall Wright, Baylor, WR
Forget Robert Griffin III—Cleveland now has Trent Richardson and Kendall Wright to bolster their offensive attack.
23. Detroit Lions: Riley Reiff, Iowa, OT
Some might call this a steal for the Lions as they desperately need to find some quality protection for quarterback Matthew Stafford.
24. Pittsburgh Steelers: Mike Adams, Ohio State, OT
Priority No. 1 for the Steelers needs to be protecting quarterback Ben Roethlisberger and keeping him healthy and off of his back.
25. Denver Broncos: Dontari Poe, Memphis, DL
At last—this year's workout warrior goes to the Denver Broncos.
26. Houston Texans: Whitney Mercilus, Illinois, DE
The Texans might need help at wide receiver but need to find a replacement for Mario Williams.
27. New England Patriots: Harrison Smith, Notre Dame, SS
Mark Barron may be on the board, but Harrison Smith is the smarter of the two and is more of the complete package in my book.
28. Green Bay Packers: Jerel Worthy, Michigan State, DL
Let's just say that the Packers need help at almost every single defensive position.
29. Baltimore Ravens: Dont'a Hightower, Alabama, LB
Adding depth to their linebacker corps is a must for the Baltimore Ravens.
30. San Francisco 49ers: Coby Fleener, Stanford, TE
Coby Fleener and Jim Harbaugh? Makes perfect sense, right?
31. New England Patriots: Devon Still, DL, Penn State
The Patriots probably love Devon Still as he's versatile enough to play in the 3-4 or the 4-3 defensive systems.
32. New York Giants: Zach Brown, UNC, LB
Adding some depth to their linebacker corps would be a wise decision for the reigning Super Bowl champions.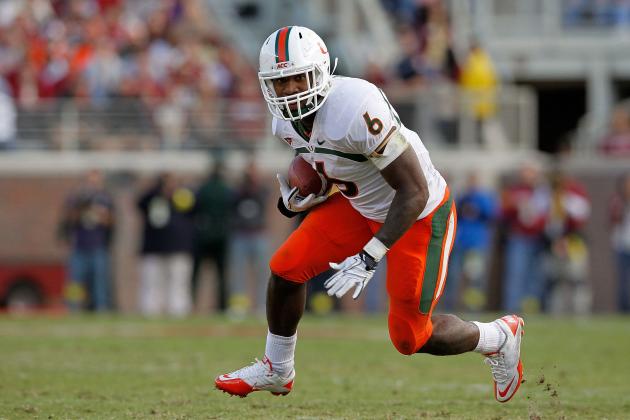 Mike Ehrmann/Getty Images

33. Rams: Alshon Jeffery, South Carolina, WR
The Rams didn't go with a wide receiver in the first round, so why not go with someone that was once considered a first-round selection? Makes sense to me.
34. Colts: Mark Barron, Alabama, SS
Many have Mark Barron going in the top 15 of this year's draft, but I'm not buying it. I like him right here with Indianapolis.
35. Vikings: Rueben Randle, LSU, WR
Minnesota needs to continue to build around Christian Ponder and they need to supply him with the best talent possible. It's just simple.
36. Buccaneers: Doug Martin, Boise State, RB
LeGerrette Blount might be a quality running back, but he shouldn't be the featured back and needs to have someone split carries with—that's where Doug Martin comes in.
37. Browns: Kevin Zeitler, Wisconsin, OB
The Browns need to continue adding talent to their offensive unit, as it was putrid in 2011.
38. Jaguars: Stephen Hill, Georgia Tech, WR
Blaine Gabbert isn't going to get any better unless if he has talent to throw to.
39. Rams: Lamar Miller, Miami, RB
Over the past few seasons, the Rams have failed to have a quality running back behind Steven Jackson. Lamar Miller should be able to be that guy.
40. Panthers: Andre Branch, Clemson, DE
Carolina went with a value back in the first round and now will address a need with the selection of defensive end Andre Branch.
41. Bills: Brandon Weeden, Oklahoma State, QB
Is anyone really sold on Ryan Fitzpatrick? Perhaps Brandon Weeden is the guy to lead the Buffalo Bills in 2012 and in the future.
42. Dolphins: Vinny Curry, Marshall, DE
Miami needs a ton of help in the pass-rushing department and Vinny Curry is the best available.
43. Seahawks: Chandler Jones, Syracuse, DE
Seattle didn't have much of a pass-rusher presence in 2011 aside from Chris Clemons, perhaps that will change with the selection of Chandler Jones.
44. Chiefs: Kendall Reyes, UConn, DT
Kansas City needs some help along their defensive front and UConn's Kendall Reyes is by far the best available at this point.
45. Cowboys: Jared Crick, Nebraska DE
The Dallas Cowboys could solidify their defensive front seven with this selection as Jared Crick is one of this year's top run-stopping defensive ends.
46. Eagles: Janoris Jenkins, North Alabama, CB
I'm assuming that Asante Samuel wont be back in 2012 and the Eagles will gladly welcome Janoris Jenkins—despite his character issues as you can't deny that he's one hell of a talent.
47. Jets: Mohamed Sanu, Rutgers, WR
The Jets wont be bringing back Plaxico Burress for another go-around in 2012. With that being said, they need to find his replacement and Mohamed Sanu could certainly be that guy.
48. Patriots: Shea McClellin, Boise State, OLB
This is a perfect match for New England and Shea McClellin as he's versatile enough to play multiple positions on the defensive side of the ball.
49. Chargers: Lavonte David, Nebraska, OLB
San Diego needs to add some depth at outside linebacker and Lavonte David is the best available at this point for the Chargers.
50. Bears: Amini Silatolu, Midwestern State, OG
Let's just say that Chicago's offensive line is a complete mess.
51. Eagles: Bobby Wagner, Utah State, LB
The Eagles need to find some production out of their linebackers in 2012 and the time to win is now for Andy Reid as this could very well be his last chance in Philly.
52. Titans: Brandon Brookes, Miami (Ohio), OG
The Titans need to add some stability at the offensive guard position if they want to continue winning games in 2012.
53. Bengals: Brandon Washington, Miami, OG
Cincinnati needs to find a replacement for offensive guard Nate Livings and it certainly appears that Brandon Washington out of Miami can be that guy to fill in and take the starting job.
54. Lions: Josh Robinson, UCF, CB
Detroit really has one of the worst secondaries in the NFL and needs to address that immediately.
55. Falcons: Kelechi Osemele, Iowa State, OL
Kelechi Osemele is a versatile offensive linemen that can fill multiple needs for the Atlanta Falcons.
56. Steelers: Brandon Thompson, Clemson, DT
Pittsburgh's defensive line is aging fast and it's time to start infusing that group with some youthful talent.
57. Broncos: Dwayne Allen, Clemson, TE
The Denver Broncos have Peyton Manning at quarterback but now it's time to find him some receivers to throw to—so why not bring in one of the draft's most talented receiving tight ends?
58. Texans: Chris Givens, Wake Forest, WR
Andre Johnson really needs someone to step up and perform well at the No. 2 wide receiver position for the Houston Texans.
*Saints: Forfeited*
59. Packers: Chris Polk, Washington, RB
Green Bay hasn't had a decent running game in quite sometime. Hopefully Chris Polk can change that entering 2012.
60. Ravens: Bobby Massie, Mississippi, OT
Baltimore really needs to stabilize their offensive line if they want Joe Flacco to succeed at any level in 2012.
61. 49ers: Jayron Hosley, Virginia Tech, CB
The only weakness to the San Francisco 49ers defense is their secondary—so adding Jayron Hosley wouldn't be that bad of an idea.
62. Patriots: David Wilson, Virginia Tech, RB
The Patriots lost BenJarvus Green-Ellis to free agency and may have Stevan Ridley and Shane Vereen entering their second seasons, but adding someone to their running back corps isn't something that we should be shocked about.
63. Giants: Isaiah Pead, Cincinnati, RB
New York needs to add another body to replace the loss of Brandon Jacobs via free agency.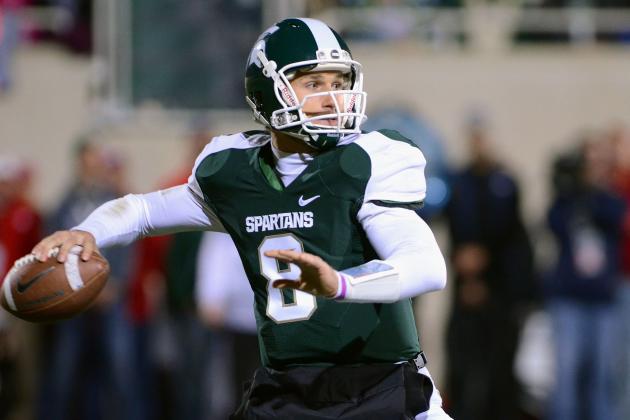 Mark Cunningham/Getty Images

64. Colts: Alfonzo Dennard, Nebraska, CB
65. Rams: Jeff Allen, Illinois, OT
66. Vikings: Trumaine Johnson, Montana, CB
67. Browns: Kirk Cousins, Michigan State, QB
68. Buccaneers: George Iloka, Boise State, FS
69. Redskins: Jamell Fleming, Oklahoma, CB
70. Jaguars: Bruce Irvin, West Virginia, OLB
71. Bills: Mitchell Schwartz, California, OT
72. Dolphins: Juron Criner, Arizona, WR
73. Dolphins: Ronnell Lewis, Oklahoma, OLB
74. Chiefs: Josh Chapman, Alabama, DT
75. Seahawks: LaMichael James, Oregon, RB
76. Texans: Zebrie Sanders, Florida State, OT
77. Jets: Mychal Kendricks, California, LB
78. Chargers: Orson Charles, Georgia, TE
79. Bears: Bernard Pierce, Temple, RB
80. Cardinals: A.J. Jenkins, Illinois, WR
81. Cowboys: Brandon Boykin, Georgia, CB
82. Titans: James Brown, Troy, OG
83. Bengals: Billy Winn, Boise State, DE
84. Falcons: Tyrone Crawford, Boise State, DE
85. Lions: Ben Jones, Georgia, C
86. Steelers: Brian Quick, Appalachian State, WR
87. Broncos: Trevin Wade, Arizona, CB
88. Eagles: Brock Osweiler, Arizona State, QB
89. Saints: Mike Martin, Michigan, DT
90. Packers: Casey Hayward, Vanderbilt, CB
91. Ravens: Sean Spence, Miami, OLB
92. 49ers: Cam Johnson, Virginia, DE
93. Patriots: Rishard Matthews, Nevada, WR
94. Giants: Ladarius Green, La.-Lafayette, TE
95. Raiders: Taylor Thompson, Southern Methodist, TE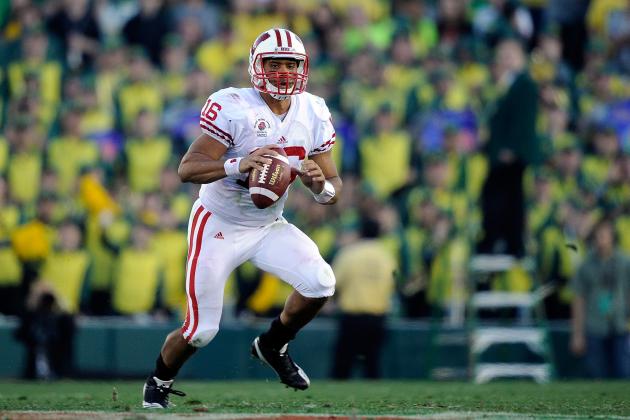 Kevork Djansezian/Getty Images

96. Rams: Nigel Bradham, Florida State, OLB
97. Colts: Donald Stephenson, Oklahoma, OT
98. Vikings: Alameda Ta'amu, Washington, DT
99. Texans: Brandon Taylor, LSU, SS
100. Browns: Ron Brooks, LSU, CB
101. Jaguars: Josh Kaddu, Oregon, OLB
102. Redskins: Robert Rubin, Utah State, RB
103. Dolphins: Joe Adams, Arkansas, WR
104. Panthers: Demario Davis, Arkansas State, OLB
105. Bills: Eric Page, Toledo, WR
106. Seahawks: Kheeston Randall, Texas, DT
107. Chiefs: Chase Minnifield, Virginia, CB
108. Broncos: Nick Toon, Wisconsin, WR
109. Redskins: Josh LeRibeus, Southern Methodist, OG
110. Chargers: Michael Brewster, Ohio State, C
111. Bears: Trenton Robinson, Michigan State, FS
112. Cardinals: Keenan Robinson, Texas, ILB
113. Cowboys: Ryan Broyles, Oklahoma, WR
114. Eagles: Cyrus Gray, Texas A&M, RB
115. Titans: Malik Jackson, Tennessee, DE
116. Bengals: Markelle Martin, Oklahoma State, FS
117. Lions: Marvin Jones, California, WR
118. Browns: Marcus Forston, Miami, DT
119. Steelers: Chris Rainey, Florida, RB
120. Broncos: Brandon Mosley, Auburn, OT
121. Texans: Emmanuel Acho, Texas, OLB
122. Saints: Dwight Bentley, La.-Lafayette, CB
123. Packers: Philip Blake, Baylor, C
124. Bills: Tom Compton, South Dakota, OT
125. 49ers: Kyle Wilber, Wake Forest, OLB
126. Patriots: Tony Bergstrom, Utah, OT
127. Giants: T.Y. Hilton, FIU, WR
128. Vikings: Ronnie Hillman, San Diego State, RB
129. Raiders: Leonard Johnson, Iowa State, CB
130. Ravens: DeQuan Menzie, Alabama, CB
131. Giants: Jonathan Massaquoi, Troy, OLB
132. Packers: Russell Wilson, Wisconsin, QB
133. Packers: Brandon Hardin, Oregon State, FS
134. Vikings: Michael Egnew, Missouri, TE
135. Cowboys: Senio Kelemete, Washington, OG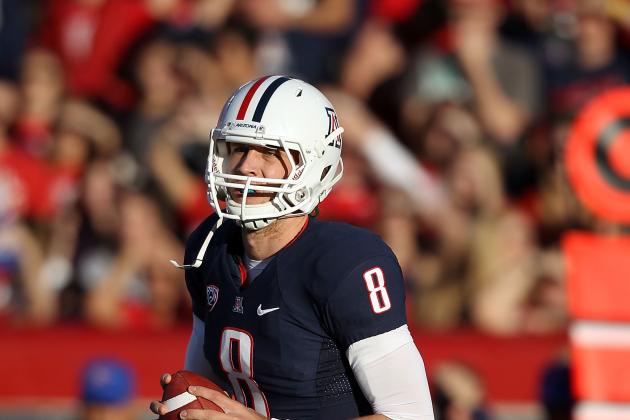 Christian Petersen/Getty Images

136. Colts: Trevor Guyton, California, DE
137. Broncos: Ryan Lindley, San Diego State, QB
138. Vikings: Omar Bolden, Arizona State, CB
139. Browns: Deangelo Peterson, LSU, TE
140. Buccaneers: Terrell Manning, NC State, OLB
141. Redskins: Shaun Prater, Iowa, CB
142. Jaguars: Derek Wolfe, Cincinnati, DT
143. Panthers, Bryan Anger, California, P
144. Bills: Jaye Howard, Florida, DT
145. Dolphins: Chase Ford, Miami, TE
146. Chiefs: Tommy Streeter, Miami, Florida
147. Bills: James-Michael Johnson, Nevada, LB
148. Raiders: Vick Ballard, Mississippi State, RB
149. Chargers: Aaron Henry, Wisconsin, FS
150. Bears: Jack Crawford, Penn State, DE
151. Cardinals: Nick Foles, Arizona, QB
152. Cowboys: Antonio Allen, South Carolina, SS
153. Eagles: Matt Reynolds, BYU, OT
154. Jets: Edwin Baker, Michigan State, RB
155. Titans: Brett Roy, Nevada, DT
156. Bengals: Chris Greenwood, Albion, CB
157. Falcons: Christian Thompson, South Carolina State, FS
158. Lions: Asa Jackson, Cal Poly, CB
159. Steelers: Lucas Nix, Pittsburgh, OG
160. Browns: Audie Cole, NC State, LB
161. Texans: David Molk, Michigan, C
162. Saints: Jarius Wright, Arkansas, WR
163. Packers: Rhett Ellison, USC, TE
164. Ravens: Tauren Poole, Tennessee, RB
165. 49ers: Ronald Leary, Memphis, OG
166. Bengals: Dwight Jones, UNC, WR
167. Mike Harris, Florida State, CB
168. Raiders: Tank Carder, TCU, LB
169. Ravens: Marvin McNutt, Iowa, WR
170. Colts: Keith Tandy, West Virginia, CB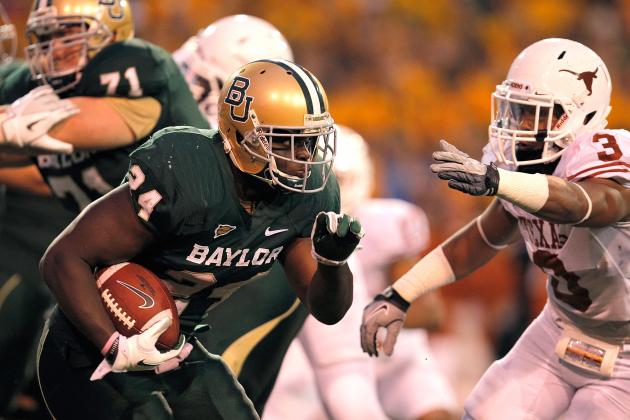 Sarah Glenn/Getty Images

171. Rams: Jake Bequette, Arkansas, DE
172. Eagles: Travis Lewis, Oklahoma, OLB
173. Redskins: Alex Hoffman-Ellis, Washington State, OLB
174. Buccaneers: Matt Reynolds, BYU, OT
175. Vikings: Duke Ihenacho, San Jose State, SS
176. Jaguars: B.J. Coleman, UT-Chattanooga, QB
177. Cardinals: Junior Hemingway, Michigan, WR
178. Bills: Nate Potter, Boise State, OT
179. Saints: Kellen Moore, Boise State, QB
180. Panthers: Hebron Fangupo, BYU, DT
181. Seahawks: Matt McCants, UAB, OT
182. Chiefs: Terrance Ganaway, Baylor, RB
183. Chargers: Jeff Fuller, Texas A&M, WR
184. Bears: Ryan Steed, Furman, CB
185. Cardinals: Jacquies Smith, Missouri, DE
186. Cowboys: DeAngelo Tyson, Georgia, DT
187. Jets: Garrett Celek, Michigan State, TE
188. Broncos: Dan Herron, Ohio State, RB
189. Raiders: Miles Burris, San Diego State, OLB
190. Titans: Justin Bethel, Presbyterian, FS
191. Bengals: Joe Looney, Wake Forest, OG
192. Falcons: Braylon Broughton, TCU, OLB
193. Steelers: James Hanna, Oklahoma, TE
194. Eagles: Eddie Pleasant, Oregon, SS
195. Texans: Evan Rodriguez, Temple, RB
196. Dolphins: Coryell Judie, Texas A&M, CB
197. Packers: Jeff Adams, Columbia, OT
198. Ravens: Donnie Fletcher, Boston College, CB
199. 49ers: DeVier Posey, Ohio State, WR
200. Eagles: Tim Fugger, Vanderbilt, DE
201. Giants: D.J. Campbell, California, FS
202. Jets: Najee Goode, West Virginia, LB
203. Jets: Devon Wylie, Fresno State, WR
204. Browns: Davin Meggett, Maryland, RB
205. Browns: Josh Norman, Coastal Carolina, CB
206. Colts: Michael Smith, Utah State, RB
207. Panthers: Coty Sensabaugh, Clemson, CB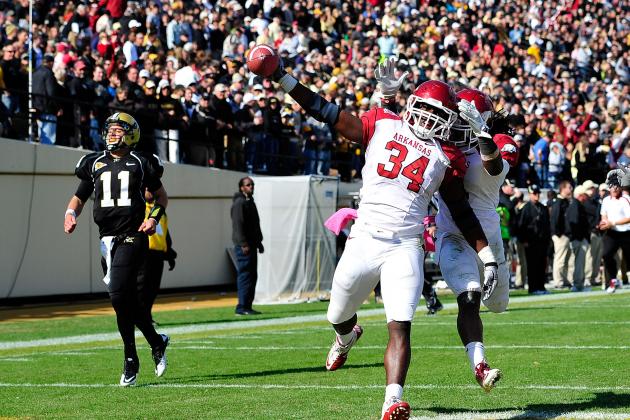 Grant Halverson/Getty Images

208. Colts: Joe Looney, Wake Forest, OG
209. Rams: Brad Smelley, Alabama, RB
210. Vikings: Tyler Nielsen, Iowa, OLB
211. Browns: Derek Carrier, Beloit, TE
212. Buccaneers: Tavon Wilson, Illinois, FS
213. Redskins: Quentin Saulsberry, Mississippi State, C
214. Colts: Danny Coale, Virginia Tech, WR
215. Dolphins: Tim Benford, Tennessee Tech, WR
216. Panthers: Matt Veldman, North Dakota State, TE
217. Bills: Markus Kuhn, NC State, DT
218. Chiefs: Tahir Whitehead, Temple, OLB
219. Lions: Oliver Vernon, Miami, DE
220. Bears: Desmond Wynn, Rutgers, OG
221. Cardinals: Vontaze Burfict, LB, Arizona State
222. Cowboys: Jeremy Lane, Northwestern State, CB
223. Vikings: Julian Talley, Massachusetts, WR
224. Packers: Tyler Nielsen, Iowa, OLB
225. Seahawks: Andrew Dalko, Florida State, OT
226. Chargers: Tydreke Powell, UNC, DT
227. Titans: Sean Richardson, Vanderbilt, SS
228. Jaguars: Daryl Richardson, Abilene Christian, RB
229. Lions: Chris Owusus, Stanford, WR
230. Falcons: Cory Harkey, UCLA, TE
231. Steelers: Jerrell Harris, Alabama, LB
232. Jets: Lionel Smith, Texas A&M, CB
233. Texans: Randy Bullock, Texas A&M, K
234. Saints: Dustin Waldron, Portland State, OT
235. Packers: Adam Gettis, Iowa, OG
236. Ravens: Brandon Carswell, USC, WR
237. 49ers: Garth Gerhart, Arizona State, C
238. Chiefs: Jordan, White, Western Michigan
239. Giants: Austin Davis, Southern Miss, QB
240. Steelers: Kelcie McCray, Arkansas State, SS
241. Packers: Josh Bush, Wake Forest, FS
242. Jets: Micah Pellerin, Hampton, CB
243. Packers: Akiem Hicks, Regina, DT
244. Jets: Jerry Franklin, Arkansas, LB
245. Browns: Brian Stahovich, San Diego State, P
246. Steelers: Frank Alexander, Oklahoma, DT
247. Browns: Lamar Holmes, Southern Mississippi, OT
248. Steelers: Gino Gradkowski, Delaware, OG
249. Falcons: Dale Moss, South Dakota State, WR
250. Chargers: Emil Igwenagu, Massachusetts, FB
251. Bills: B.J. Cunningham, Michigan State, WR
252. Rams: Josue Ortiz, Harvard, DE
253. Colts: Adrien Robinson, Cincinnati, TE