Tampa Bay Buccaneers NFL Draft Updates: Latest News, Trade Rumors and Storylines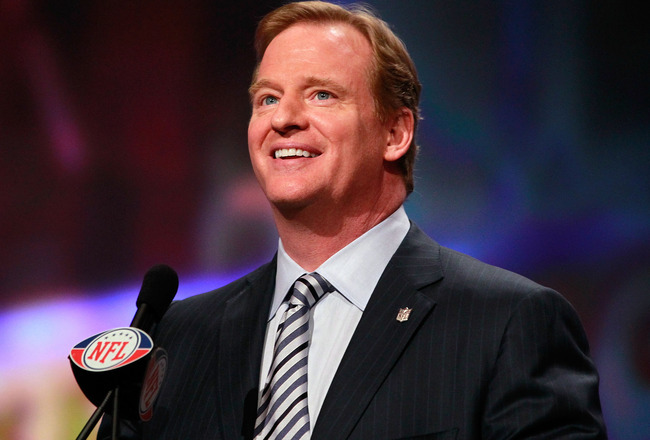 Chris Trotman/Getty Images
As the Tampa Bay Buccaneers inch closer to the 2012 NFL Draft, they could very easily find themselves with one of the hottest commodities available.
No, not barrels of crude oil. The fifth overall selection.
The prevailing theory—and most mock drafts—suggest that the Bucs will either wind up drafting Louisiana State cornerback Morris Claiborne or Alabama running back Trent Richardson with said fifth overall selection, depending upon which of the above-mentioned players is still available to draft.
But what happens if both Claiborne and Richardson are gone when the Bucs are asked to submit their draft selection?
Would that signal an immediate need to trade away the pick, or would it better serve the Bucs to stay the course and draft the best available player?
And if so, who should the Bucs select?
Receiver? Tackle? Linebacker?
This storyline and many more will begin to take shape as the draft draws near.
Latest News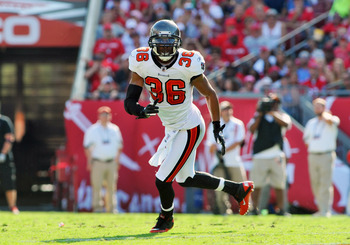 How will the recent release of safety Tanard Jackson impact draft plans?
Al Messerschmidt/Getty Images
When the Buccaneers parted ways with safety Tanard Jackson last week, it not only caught most fans and local media by surprise, but it also raised one very important question.
Who the heck is going to play safety now?
With Jackson gone, the Bucs are left thin and inexperienced at the position, with Larry Asante, Ahmad Black, Devin Holland and oft-injured Cody Grimm remaining.
And while the Bucs are not expected to select a safety in the opening round, the move all but assures they'll address the position at some point during the draft.
One possibility to consider is addressing the need as early as with their second-round selection, when Notre Dame safety Harrison Smith may still be available.
Smith, 6'2", 213 lbs, has seen his draft stock steadily increase of late due to better-than-expected results from both the scouting combine and Senior Bowl.

Trade Rumors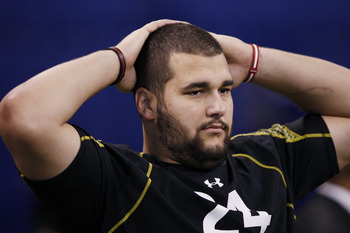 If Kalil is the best choice for the Bucs, should they trade the pick?
Joe Robbins/Getty Images
4/18: CBSSports.com is reporting that the Buccaneers are trying to trade Aqib Talib.
--------------------------------------------------------------------------------------------------
Most of the talk surrounding the Buccaneers and the likelihood of trading down from the fifth spot stems from the possibility—albeit remote—of both Claiborne and Richardson being gone when the Bucs are put on the clock.
In that scenario, Southern California tackle Matt Kalil would be the consensus best-available player on the board, and the Bucs would have to decide rather quickly whether or not Kalil is their guy. If they believe he is, they pull the trigger and further upgrade their already-improved offensive line.
But if not, their phone is sure to be ringing from one of the many teams who are rumored to be interested in Iowa tackle Riley Reiff. Those teams are said to include Jacksonville (seventh overall), Buffalo (10th overall) and Dallas (14th overall), among what would surely be many others.
If Tampa Bay decided to trade down in this scenario, Boston College linebacker Luke Kuechly or Alabama safety Mark Barron would become the likely targets for the Bucs.
Storylines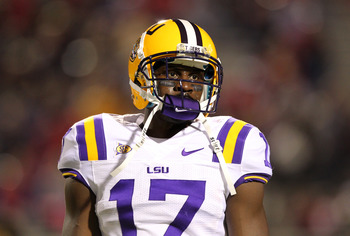 Players of Mo Claiborne's caliber are hard to come by in the NFL.
Joe Murphy/Getty Images
If—and that's a reluctant if—things unfold as many expect, then the first four selections would look something like this.

1) Indianapolis: QB Andrew Luck
2) Washington: QB Robert Griffin III
3) Minnesota: T Matt Kalil
4) Cleveland: RB Trent Richardson
This would then allow the Buccaneers to draft Claiborne and avoid having to literally choose between offense and defense, if say Cleveland acts like Cleveland and picks receiver Justin Blackmon instead of Richardson.
There are some who would rather upgrade the offense and others who believe the defense has greater needs, but realistically the Bucs couldn't go wrong with either player, as both would plug right into the starting role come Week 1 and would greatly impact their side of the ball.
For what it's worth, I'm of the opinion that elite cornerbacks—and that's what Claiborne is projected as—are a much more valuable asset to a franchise than elite running backs who, historically speaking, have much smaller windows of opportunity before injuries and age take their toll.
If given the choice, I would take Claiborne over Richardson any day, every day.
Especially Sundays.
Keep Reading

Tampa Bay Buccaneers: Like this team?