2012 NFL Draft: Jacksonville Jaguars Latest News, Rumors and Storylines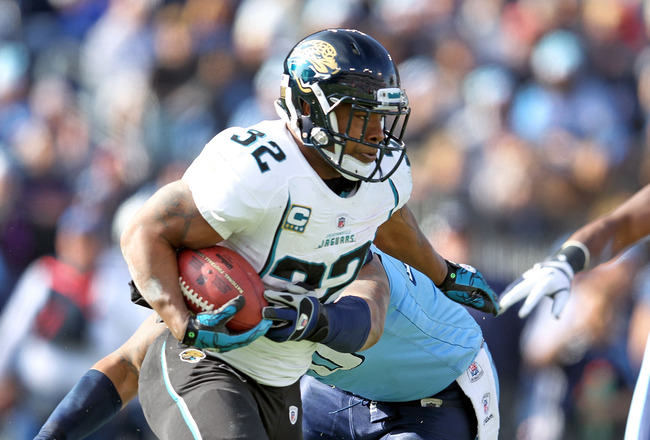 Andy Lyons/Getty Images
This is a franchise with tons of potential, playing in a community that is passionate about football and loves to win. I can't think of a better place to be—Shad Khan on buying the Jacksonville Jaguars.
It seems as though the Jacksonville Jaguars have been on the clock for the 2012 NFL draft the moment Blaine Gabbert stepped onto the field in the third game of the season at home against the New Orleans Saints in his first start as an NFL quarterback.
Since then, speculation, questions and lack of answers on offense have led to a 5-11 season last year, a changing of the guard with Mike Mularkey as the new head coach, and of course, Shad Khan coming in to by the team from long-time owner Wayne Weaver.
Are these the new and improved Jacksonville Jaguars? We won't know until they get onto the field and show what they are made of. And everything starts behind center.
Whether fans like it or hate it, Gabbert deserves another year, a full year, to prove he is the quarterback and future of this team. Can he be the next Boomer Esiason? Fans just want him to be another Mark Brunell.
But while fans wait for the second-year pro to show his true skills, the focus now is on the draft, which is less than two weeks away.
The Jaguars need to focus on loading up talent on the offensive side of the ball why firming up the defense that finished sixth overall last season.
While trades have been bantered about and there has been some speculation of either a wide receiver or pass-rusher being the team's top choice by general manager Gene Smith, one player alone will not make this team a contender.
The Jaguars were last in total offense in the NFL last season and were quiet in free agency. The biggest splash the team has made this offseason is losing out in the Tim Tebow Sweepstakes, bringing in Laurent Robinson to help the passing game, and now, having to deal with the possible loss of defensive tackle Terrance Knighton due to this past week's bar fight.
Everything aside, this writer is hoping the Jaguars will look for quality and quantity so fans have something to really be excited about.
You can follow me on Twitter @davidlevin71
Rumors and Speculation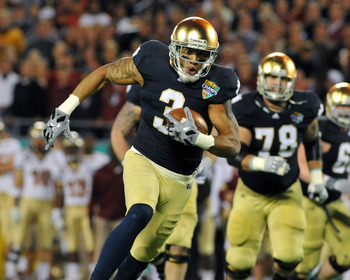 Al Messerschmidt/Getty Images
4/23: The Jaguars have made it clear they are willing to trade down in the first round.
----------------------------------------------------------------------------------------------
Haven't we been through this already?
What scenario haven't the Jaguars been involved in? Unless it was the top three choices in the draft, the Jaguars seem to be part of the draft buzz. That's what you get from being a team that will draft seventh overall and has a shot to bring in an impact player.
While names like Justin Blackmon, Michael Floyd, Quinton Coples, Melvin Ingram and Morris Claiborne seem to be the most logical choices, these are the Jaguars, and sometimes, logical is not part of their draft plans.
The team selected Tyson Alualu with the 10th slot in 2010 when they could have traded down for Tim Tebow. They drafted Eugene Monroe eighth overall in 2009 when they could have had Michael Crabtree.
They truly are an enigma.
Most draft rosters have Coples as the team's pick. The tall pass-rusher from North Carolina looks the part. But he sometimes takes plays off. The Jaguars can ill afford for him to be that way in the NFL if the team is going to succeed even further with a defense that's already pretty good.
Blackmon would be the "golden nugget" in the Jaguars' draft. He has been the top-rated receiver throughout the college football season and well into the offseason, through the combine and up until now. Jacksonville could have a chance at Blackmon, but players like Ryan Tannehill would have to affect the draft order.
Michael Floyd could wind up being the pick and the better receiver. He wowed everyone in his Pro Day last week and could be a top-10 choice. If the Jaguars cannot get their hands on Blackmon, they could find a gem in the 6'3" Notre Dame receiver.
Ingram is certainly someone to watch for and seems to be the "hot" pick for this team. The defensive end/linebacker can play outside on the edge, rush the passer and stop the run. Those are important
Who Is Coming to Visit?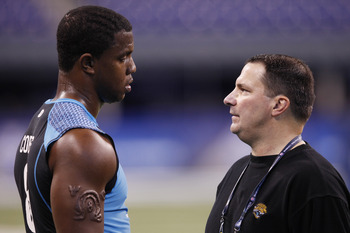 Joe Robbins/Getty Images
While there have not been any reports of any players coming to Jacksonville for a visit or the team targeting certain players directly, a lot can be deciphered by what was and wasn't done at the combine in February.
We know a few things that have happened, and the way the team has been talking, the areas of need are receiver and defensive end. Mix that in with defensive back and you have the game plan for this team. WE THINK.
We also know that some draft boards have Quinton Coples in this slot (seventh overall) or Melvin Ingram, the talented defensive end, linebacker from South Carolina. What we haven't seen is a lot of real talk about who the team is targeting. But maybe the past few weeks have given us some perspective.
We know the team spoke highly of Ingram while scouts and coaches were in Indianapolis. We also know that Coples has been on everyone's board and is currently the choice of his team by some draft experts.
Whether these two players have been in Jacksonville for a visit has not be disclosed.
Will They Trade Down?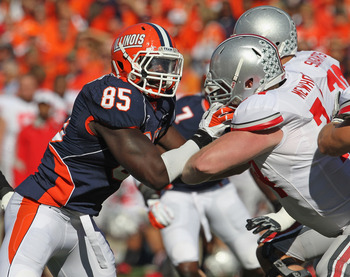 Jonathan Daniel/Getty Images
Will they stay or will they go?
There is so much talk about the seventh selection that Jacksonville may be the hottest team in the NFL come the evening of the draft.
Reports out of Jacksonville have the team looking to trade down and accumulate picks. Others, like in Sigmund Bloom's blog, have them trading up to take a defensive player.
Either way, the Jaquars must use their picks to accumulate stars more than anything. The fans are getting tired of the wait to see if this team can finally make a serious playoff run. Anything else may leave the fanbase in turmoil and may leave tickets at the gates when the season starts.
The Jaguars have not been the most successful team in the past when it comes to trading. Whether it was Blaine Gabbert last year or Derrick Harvey and Quentin Groves in 2008, trading has mainly plagued this team and left them holding an empty bag.
If they trade up, possibly to the fourth pick, look for them to still try and tab Blackmon as their pick. If they trade down, it is to acquire more picks, which means teams like Cincinnati and New England, who have extra first-round selections, may come into play.
Two selections in the first round may allow the Jags to get a receiver (Kendall Wright or Rueben Randle) and a pass-rusher (Whitney Mercilus or maybe Vinny Curry).
Trading down makes more sense in that there is more to choose from. The 5-11 franchise needs impact players who can start immediately. The Jaguars also need to follow the Patriots' and Cowboys' models of drafting where more picks can put them in the playoffs sooner than later.
When Will the Team Draft a Defensive Tackle?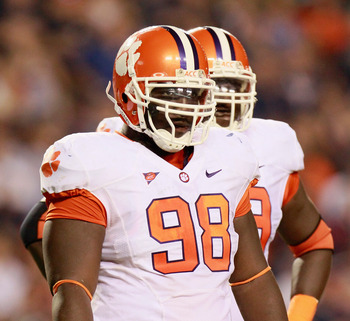 Kevin C. Cox/Getty Images
Probably later than sooner.
The spot is manned by Tyson Alualu, and hopefully, Terrance Knighton. But we all know what happened last week, and the injury Knighton suffered at a local night club, which conflicting reports have him threatening patrons and was hit over the head with a vodka bottle.
Knighton is the team's best defensive lineman, and now that we are not sure when and if he will return to the team, Alualu, the team's first pick in 2010, will have to pick up the slack.
Oh, by the way, Alualu had surgery in the offseason himself to repair his faulty knees. He was still on crutches two weeks ago. And the team is still waiting on the California product to come through as a pick worthy of a top-10 selection.
And also, the team selected Alualu instead of some guy named Tebow.
But if Knighton's injury is serious enough that he cannot play anytime soon, then the team may look for someone in the draft to add to depth. In the third round, someone like Brandon Thompson of Clemson could be available.
Thompson was once thought of as a first-round pick, but he has fallen on most depth charts, and if he is still around in the third round, he may be a true steal for this team.
Where Will the Team Take an Offensive Lineman?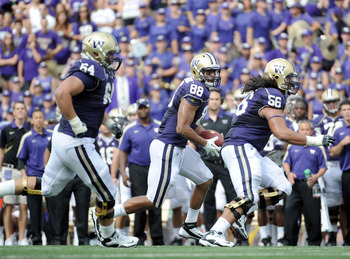 Harry How/Getty Images
They may not. But they need to.
The offensive line was good at opening holes for the NFL's rushing champion, Maurice Jones-Drew. But in the passing game, the line was nearly invisible.
Brad Meester is back for another season to anchor this line with Uche Nwaneri at guard. The tackles were up and down last year, leaving the outside of the line questionable. Eugene Monroe was a nice improvement at left tackle over his first two seasons, but he still needs to prove he is an elite player.
The right side was manned by many tackles, including Eben Britton, who spent most of the season on the bench injured and Guy Whimper, who looked good at times but also looked like a spinning top in other situations.
There also needs to be depth at guard.
The team could look at a solid backup or starter in the third round with someone like Senio Kelemete of Washington or a James Brown of Troy make sense.
If the team looks at a tackle, then maybe they show interest in someone like Brandon Mosley of Auburn or Matt McCants of UAB.
Who Is the Safest Pick for the Jaguars at No. 7?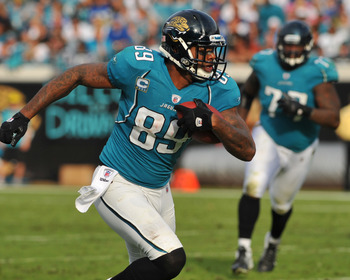 Al Messerschmidt/Getty Images
With this team, nothing is considered a "safe" pick. There are holes and holes and holes. There is need for depth on the lines, and of course, the receivers are still lacking. And if we have not noticed lately, there's still an issue at quarterback.
What's a team to do?
Based on talent alone, Claiborne of LSU is the best pick followed by Michael Floyd. Melvin Ingram is a good, solid pick as well, but if the team trades down, the Courtney Upshaw could come into play.
Again, what's a team to do?
I personally think the safest thing is to trade down, and that may happen. But anything is really possible.
The safest thing right now is for the team to assess the issues that are most prominent (receiver and defensive lineman) and see who is available at No. 7 and see if it likes its options. There will be many, and many teams may want to make a deal for someone like Ryan Tannehill in that slot.
Sometimes, not knowing what the Jaguars want to do may be the best thing for the team.
Why Gene Smith Must Hit a Homerun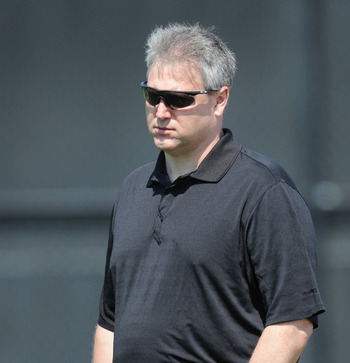 Al Messerschmidt/Getty Images
There may not be a general manager who is more under a microscope right now than Gene Smith of the Jaguars.
When Wayne Weaver sold the team to Shad Khan, he first signed Smith to a three-year contract extension. Smith made the hire of new head coach Mike Mularkey and signed free agents last season and this year.
He also drafted Blaine Gabbert by trading up in last season's draft. It will be Gabbert who will ultimately decide Smith's future. Hopefully, the second-year quarterback will show improvement so Smith has a stay of execution.
Smith has also been criticized for taking small-college talents who have not worked out and players like Scotty McGee, Tiquan Underwood, Cecil Shorts and others. He needs to prove he can take "big-time" talent and put them into the starting lineup so this team can win now.
Smith needs to find either Justin Blackmon or Michael Floyd and use the seventh pick on either one of them. Not doing so and the two or one of them being on the board means Smith will again be ridiculed for a poor draft, no matter who the Jaguars select.
Anything other than a top-flight receiver, if one is available, will not be tolerated by the Jaguars' faithful.
What Pick May Surprise Us?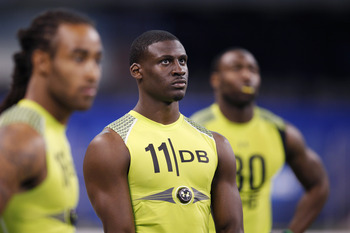 Joe Robbins/Getty Images
If the team takes Morris Claiborne after they trade up, we all may be surprised (except for Sigmund Bloom).
Based on talent, he is a safe pick. There's some question about him and his Wonderlic Test, but Claiborne, from a pure player standpoint, is one of the best to play his position and has been ranked as the top at his position since before the start of the college football season.
It also would be a total surprise if the team reached for another player (like Tyson Alualu) who is not within the team's immediate need.
And because of his track record, Gene Smith going to the well once too often to select a small-college player would immediately put this town up in arms.
There are many ways this team can go, but making the right travel plans, again, is so important.
And the Pick Will Be...
Ronald Martinez/Getty Images
My heart wants Melvin Ingram of South Carolina. I am one of those who believe this team can get a pass-rusher and a run-stuffing linebacker in the first round and then take a shot at someone like a Rueben Randle of LSU.
There's so much to this pick than just putting a name on a card and announcing it to the Jacksonville faithful. General manager Gene Smith has been criticized for missing on players and passing over others. This pick, with the new head coach and owner needs to be solid.
Receiver is the team's top priority, but I also see a need to trade down to accumulate picks. It works for teams like New England and Dallas, and it should work for the Jaguars. If they traded down to the 10th pick with Buffalo or even further down, to Cincinnati for the 17th and 21st picks, the Jaguars could find two solid starters.
Maybe a Rueben Randle and then Courtney Upshaw. New England also has two first-round picks.
But while writers like Bloom think this team will trade up to get Claiborne, I think they'll stay put and get Floyd of Notre Dame or take a shot at Ingram of South Carolina.
Coples is too much of a risk, and Blackmon will not be there when the team takes a swing with the seventh slot.
Keep Reading