Sources: Jaguars Not Sold on Options at No. 7, 'Very Interested' in Trade Down
April 13, 2012

Chris Graythen/Getty Images
The Jaguars are one of the toughest teams to project in mock drafts because, as I laid out when I estimated their first-round odds, a trade down and out of their No. 7 spot seems like the most likely outcome.
Charlie Bernstein of ESPN Florida reports that sources are telling him something that supports that theory.
According to Bernstein, the Jaguars would like to trade up with the Cleveland Browns at No. 4 to get LSU CB Morris Claiborne.
Bernstein believes that if the Browns are sold on QB Ryan Tannehill, the expectation that neither of the teams between No. 4 and No. 7 (Tampa Bay and St. Louis) would take Tannehill would allow the Browns to still land him at the Jaguars' No. 7 pick and pick up an extra third- and fourth-round pick, in addition to saving money on Tannehill's contract.
That possibility seems remote to me, because if the Browns are that sold on Tannehill, then how can they be sure that Miami wouldn't trade up to No. 6 with St. Louis to take him?
A few extra mid-round picks and some cash aren't worth the risk of losing a quarterback that a team covets so much that they would take him in the top seven picks of a draft.
The other angle, according to Bernstein, involves the trade down.
Bernstein's sources say the team is not "completely sold" on North Carolina DE Quinton Coples or Oklahoma State WR Justin Blackmon. Coples and Blackmon are the two highest-rated talents in consensus rankings at positions of need for the Jaguars that would likely be around at No. 7, so it makes sense for Bernstein to focus on the team's view of them in relation to using the pick.
The team would then be "very interested" in trading down to add extra value to its draft board.
Bernstein throws Kansas City and Philadelphia out as potential partners due to their pursuits of Tannehill, and the Jaguars choosing one pick ahead of Miami. He also mentions New England's two first-round picks and the possibility that they would want South Carolina DE/OLB Melvin Ingram.
Michael Floyd is mentioned as a trade-down target for the Jaguars.
Bill Belichick just does not make big moves up in the first round, despite often having the ammunition to do so. A trade up for Tannehill makes more sense, but not for Philadelphia, who would be drafting him as a quarterback of the future and likely giving up a future first to do it.
Kansas City, on the other hand, just had a private workout with Tannehill, which was followed by a visit. The drop from No. 7 to 11 is small enough that the Jaguars would likely land one of their primary targets, so this deal seems viable.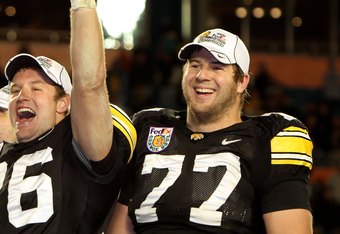 Doug Benc/Getty Images
Who would the Jaguars take if they are forced to stay home at No. 7?
Coples and Blackmon just don't feel like the safe pick that GM Gene Smith seems to like. In a conversation with Big Cat Country's Alfie Crow on Twitter this morning, he brought up three names: Iowa OT Riley Reiff, South Carolina CB Stephon Gilmore and Mississippi State DT Fletcher Cox.
If the Rams don't take Cox, I believe that he is the best player available and the pick for the Jaguars. Gilmore and Reiff would satisfy needs, and Reiff in particular makes sense as a high-floor, high-character player.
The first round seems to have only a few ways of shaking out through the first six picks.
But the Jaguars' No. 7 could spin us off into any number of alternate realities, and the range of reports and thoughts from those that cover the team are reflecting that as we are less than two weeks away from the draft.