Seattle Seahawks Look Likely to Draft a Quarterback Rather Than Sign Matt Flynn
January 21, 2012

Jonathan Daniel/Getty Images
For those thinking Matt Flynn would look good in a Seahawks uniform, it's starting to look a lot like the Hawks are not even close to "in like Flynn."
Just days after a Pro Football Weekly report indicated the Seahawks were unlikely to be interested in Green Bay's record-setting backup quarterback, the news that the Miami Dolphins have hired Green Bay offensive coordinator Joe Philbin as their coach probably makes it even longer odds.
If you believe PFW, the Seahawks aren't interested in Flynn anyway.
"It just doesn't seem that's the way they want to go," a team insider (likely a beat reporter) told PFW. "I think they'd really rather raise their own guy from the ground floor up."
While that speculation could be true, it's not like Flynn is Matt Hasselbeck, an aging quarterback with just two or three seasons left. Flynn is 26 and seems to have great potential. He is on the ground floor, and the Hawks should consider him an option in a year in which they really need to find a quarterback if at all possible.
But it looks like Flynn probably will go to Miami, Cleveland or Washington.
That leaves the draft for the Seahawks. The two best quarterbacks – as everyone knows -- are Andrew Luck and Robert Griffin III. Luck will go first overall, whether it's to the Colts or another team. And Griffin will go in the top five.
Pro Football Weekly's Seahawks source said, "I don't think the team is so desperate that it would consider trading up for one of them."
That's probably true, but is it really "desperate" to try to acquire one of the two best QB prospects in years? Both of these guys seem like much surer things than any of the recent top-10 picks: Cam Newton, Jake Locker and Blaine Gabbert in 2011; Sam Bradford in 2010; Matthew Stafford and Mark Sanchez in 2009; Matt Ryan in 2008; JaMarcus Russell in 2007; Vince Young and Matt Leinart in 2006; and Alex Smith in 2005.
If the Hawks had a chance to take the next Peyton Manning or a smarter Michael Vick, shouldn't they try? If the Colts were willing to trade the No. 1 pick, shouldn't the Seahawks be willing to try to get it?
It depends on how much better they think Luck is than any quarterback they might otherwise be able to draft in the next three years, because to get him they probably would have to give up their 2012, 2013 and 2014 first-rounders, plus a second this year and a third in 2013. It would be a king's ransom, to be sure.
If Luck were to develop quickly with the help of Seattle's running game and defense, the Hawks would be drafting at the bottom of the round the next couple of years, and if they won the Super Bowl in 2014, those four extra picks would have been quite worth it.
That said, the Hawks are very unlikely to spend such a fortune on one guy.
So, what about Griffin?
The Heisman Trophy winner from Baylor could turn out to be much better than Vick, who lacks the brain to go with the arm and legs. Even if the Rams can't get Cleveland, Washington or Miami to move up to No. 2, Griffin figures to go no lower than fourth, where Mike Holmgren's Browns currently sit.
The Hawks probably would have to move up to at least No. 3, where Minnesota resides. That kind of a leap from 11/12 might cost Seattle's first- and third-rounders this year and their first and second next year. That's still probably more than the Hawks would want to pay.
But what if the Browns sign Flynn and don't need to draft a QB? If Washington made no move from No. 6 and Miami didn't jump from No. 8/9, the Hawks could try to move up to Tampa Bay's spot at No. 5. That would be a much more palatable move -- probably costing their second- and fifth-rounders – and the Seahawks would have to consider it.
In the end, though, if the Seahawks don't sign Flynn in free agency, they likely will be third in the race for Griffin. And that's too far back.
That would leave them looking at a bunch of projects, led by Texas A&M's Ryan Tannehill.
The big, athletic QB was coached by Mike Sherman, a former Holmgren assistant in Seattle who also coached the Packers for six years. Tannehill is a young player who is still learning the position (he switched from receiver in 2010), but he has had good coaching and seems to have a high upside.
He's generally ranked in the 20s among draft prospects, but we saw last year with Locker (eighth overall) and Christian Ponder (12th) that teams will jump the gun to get a young quarterback, now that they don't have to pay an arm and a leg for him in the contract.
Since Tannehill won't play in the Senior Bowl and probably won't be able to work out at the Combine next month either, he probably will be there when the Hawks pick. But 11/12 would be too high to take him.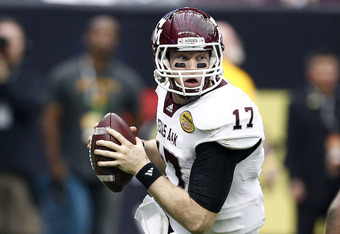 Bob Levey/Getty Images
If the Hawks were interested, they could try to trade down to get better value while picking up another pick or two. The Bengals have two first-rounders and might be interested in Trent Richardson, if he is still there at 11/12; Seattle could drop to the Bengals' spot at 17 (from Oakland) or 21 and still get Tannehill.  
Or, more likely, the Hawks could simply wait and see if Tannehill slides to them in the second round, at No. 43/44 overall.
Tannehill seems to have a lot of potential and be worth watching if the Hawks don't get Flynn, Luck or Griffin.
Here are some later-round options the Hawks might consider:
Nick Foles: The 6-5, 240-pound Arizona QB can definitely wing the ball around, but he has a lot of weaknesses (bad mechanics, fidgety in the pocket, erratic accuracy, shaky decision making) that make him a pretty raw prospect, and it's hard to tell where he should go – anywhere from second round based on potential to fifth based on his flaws.
Kirk Cousins: The Michigan State QB plays more with his head than with his pedestrian arm and really needs to work on his mechanics. He's a work in progress with potential who could go in the third round.
Brandon Weeden: The 28-year-old Oklahoma State QB has the arm strength and size (6-4, 218) but would have to work on the mental aspects of the pro game. He's viewed as a potential third-rounder.
Chandler Harnish: The four-year starter at Northern Illinois got better every year and is very athletic (he ran for 1,382 yards and 11 scores in 2011). He also is a savvy passer who can move the ball around.  The knock on him will be the small-school competition, but Harnish can make up for that with a great Combine and could climb from the fifth round to the second or third by April.
Ryan Lindley: The San Diego State senior coached by former NFL QB Brian Sipe has the size (6-4, 230) for the NFL, but he makes poor decisions and has been horribly inaccurate (53 percent in 2011 and 55.5 percent in his four years as a starter). He's probably not worth more than a fifth-round pick.