2012 NFL Mock Draft: Full First-Round Predictions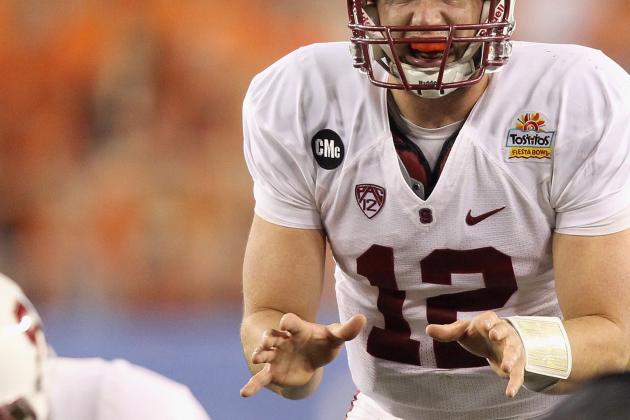 Christian Petersen/Getty Images

With only four teams still alive in the playoffs, the 2012 NFL draft is jumping into the spotlight.
It may be a given that the Indianapolis Colts will select Stanford's Andrew Luck with the No. 1 pick, but the other 31 slots of the first round are up for grabs.
We currently know exactly 26/32 of the first round's order. Odds are that there will be tons of trades on or before draft day. There are none in this mock, so it's not exactly perfect.
However, I do assure you that if you would take out the trades, every pick would be 100 percent accurate.
And until draft day comes, you can't prove otherwise.
Begin Slideshow

»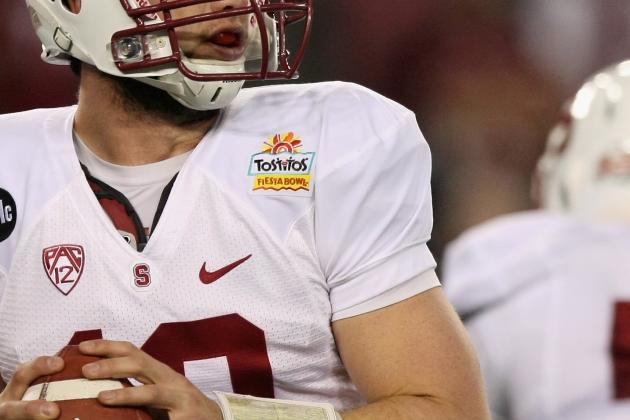 Donald Miralle/Getty Images

At this point, it's difficult to imagine the Colts not drafting Andrew Luck with the No. 1 pick.
Luck has all the abilities to succeed Peyton Manning as Indianapolis's franchise quarterback.
At 6'4", 235 pounds, Luck is an impressive athlete with perfect size. The Stanford star has a strong arm, great accuracy and unbelievable intelligence. Even in college, Luck was running the team's offense at the line of scrimmage, much like Manning has for years.
Last year, Luck was the guaranteed No. 1 pick if he entered the draft. He chose not to, and a year later, he's an even better prospect. It's not an exaggeration to call Luck the best prospect to enter the draft in more than a decade.
If the Colts don't select Luck, they will trade the pick away.
There really is no other option here.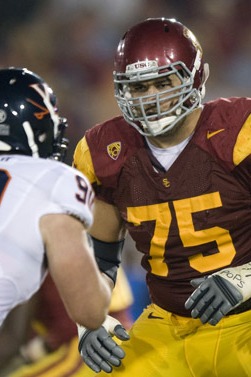 It is true that the Rams already have a lot invested along the offensive line, but the unit is still terrible.
The new rookie pay system limits how much money Matt Kalil would make, so St. Louis can afford to use a high pick here.
The 6'7", 295-pound Kalil is a superb athlete with great length. Kalil is nearly flawless technically and is easily the best left-tackle prospect since Jake Long.
On the other hand, Kalil needs to gain some weight and isn't an elite run blocker. There aren't many safer picks, though, and the Rams finally find their franchise left tackle.
St. Louis could also select a cornerback in Morris Claiborne or address their wide receiver need by taking Justin Blackmon.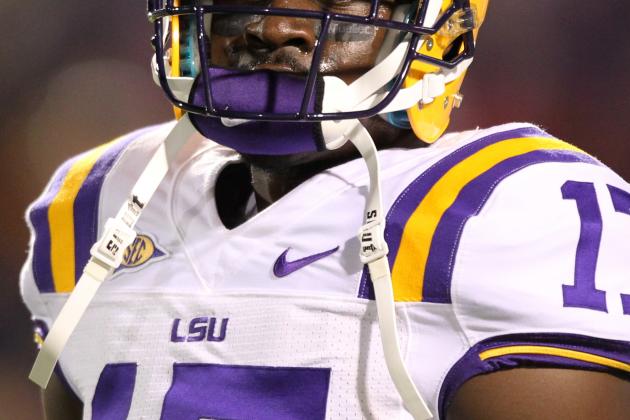 Joe Murphy/Getty Images

The Vikings have one of the NFL's worst secondaries and the team's two best cornerbacks are aging.
Antoine Winfield is almost 35 years old and Cedric Griffin may never recover from his recent knee injuries.
Though he isn't quite the prospect former teammate Patrick Peterson was a year ago, Morris Claiborne may be the better cornerback. Peterson relied on his physical abilities, but Claiborne has mastered his craft.
Claiborne is still a great athlete. The LSU star weighs in at 6'1", 190 pounds and can run with almost any wideout. Claiborne also possesses superb ball skills and jumping ability.
If Matt Kalil is available, the Vikings would almost certainly draft him.
Minnesota also needs wide receivers and Justin Blackmon's stock appears to be on the rise.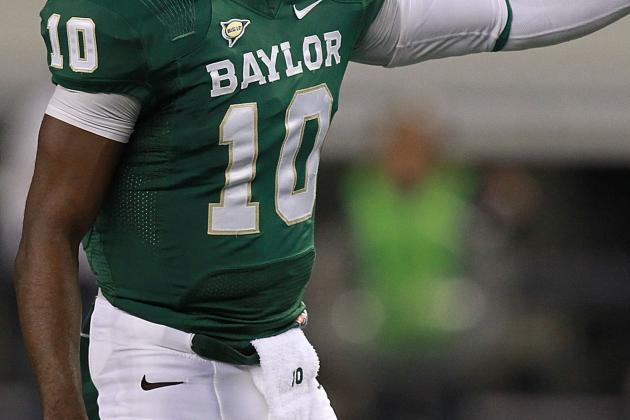 Ronald Martinez/Getty Images

Colt McCoy looked decent as a rookie.
But his 2011 season was a disaster.
Cleveland needs talent on offense, but they will not win until they upgrade at the quarterback position.
Robert Griffin is far from a once-in-a-decade prospect; however, he's a legitimate top-five pick. Griffin weighs in at just 6'2", 220 pounds, so he has to compensate with his athletic ability.
Fortunately, RG3 is a superb athlete who can outrun defensive backs, let alone defensive linemen.
Griffin isn't really a runner, though. The Heisman winner possesses a strong arm and excellent accuracy but lacks great running ability in the open field. Griffin is known for his sound decision-making and excellent accuracy.
It's possible the Browns will sign Matt Flynn in free agency, so they could look to add offensive talent by selecting Trent Richardson or Justin Blackmon.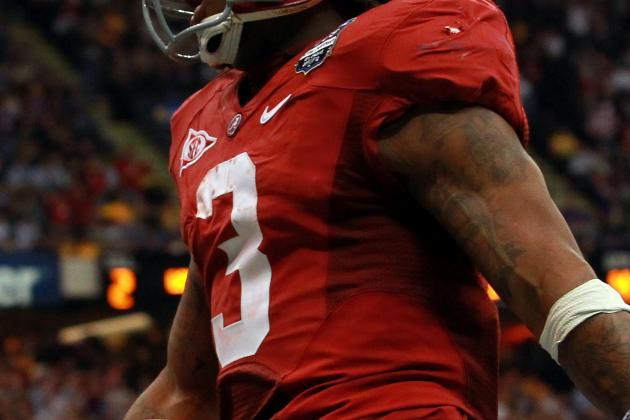 Ronald Martinez/Getty Images

Though LeGarrette Blount has been decent, he has been hurt and can't carry the Tampa Bay offense.
If the Buccaneers wish to regain their prior explosiveness, they need to add a star like Trent Richardson.
A power back with great speed, Trent Richardson is the best running back since Adrian Peterson, and he may be even better. Richardson is nearly impossible to tackle one-on-one and possesses good agility as well.
Unlike the typical power back, Richardson is a complete player who can also catch the ball. As crazy as it sounds, Richardson has literally zero flaws. He's the No. 2 player in this draft.
Dre Kirkpatrick would be a great fit at cornerback too.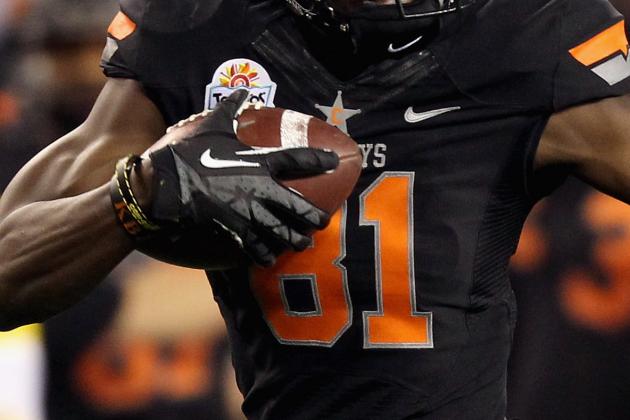 Christian Petersen/Getty Images

This is a terrible situation for Washington.
There isn't a quarterback worth the pick, so they have to settle for the next best option. The Redskins have plenty of wideouts, but they lack a star and need a No. 1 weapon.
Justin Blackmon isn't very tall or fast, so he lacks elite upside. However, the Oklahoma State star possesses great hands, route-running ability and will not be a bust.
A fantastic Fiesta Bowl performance has Blackmon's stock on the rise and could easily be gone by now. While some question Blackmon's upside, his production cannot be denied as many love him as a prospect.
In an ideal world, the Redskins are able to draft Robert Griffin III—but a trade will have to be made to make that happen.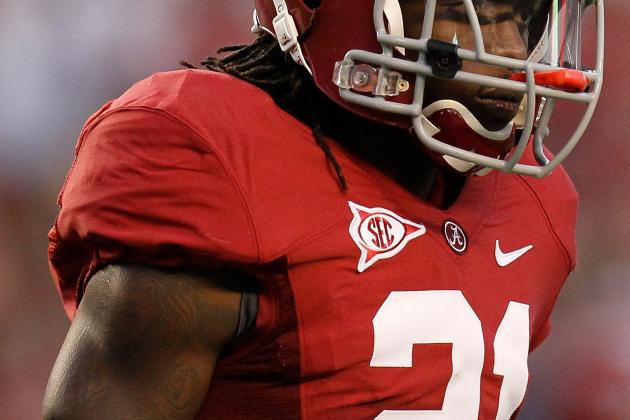 Kevin C. Cox/Getty Images

Rashean Mathis has been Jacksonville's best cornerback for years. But he is a 31-year-old recovering from a torn ACL and possibly leaving in free agency. Even with Mathis, the Jaguars have a poor secondary.
At 6'3", 192 pounds, Kirkpatrick possesses outstanding length and athletic ability. Kirkpatrick is excellent in zone coverage but occasionally struggles in man coverage. That has led some to speculation about a future at safety.
Most, however, feel that Kirkpatrick can stay at cornerback where he has incredible upside. In all likelihood, Kirkpatrick will not be ready to start at the beginning of 2012. The Jaguars have to start somewhere, though.
Justin Blackmon is also a strong possibility if he is still available here.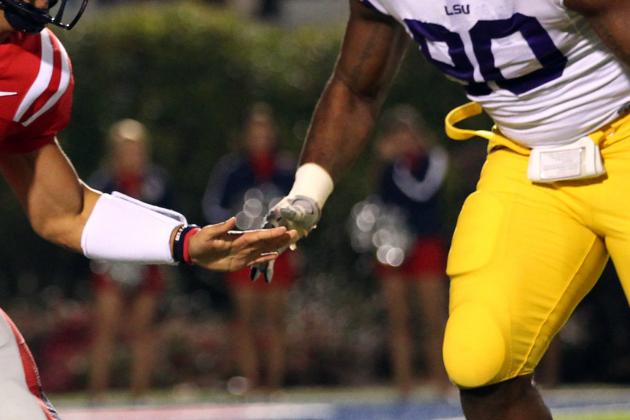 Joe Murphy/Getty Images

Carolina has a poor run defense and one of the NFL's worst defensive tackle units. The Panthers have one great defensive end in Charles Johnson, but the other three spots could use some work.
Michael Brockers isn't an elite defensive tackle prospect, but he isn't really a reach here either. The LSU star can do everything on the field—rush the passer, play the run and penetrate.
At 6'6", 306 pounds, Brockers has perfect length but may want to add some bulk to better maintain ground in the run game.
However, Brockers is already quite strong and did a great job of handling double teams at the college level.
If Dre Kirkpatrick is available, he would be a great pick for Carolina.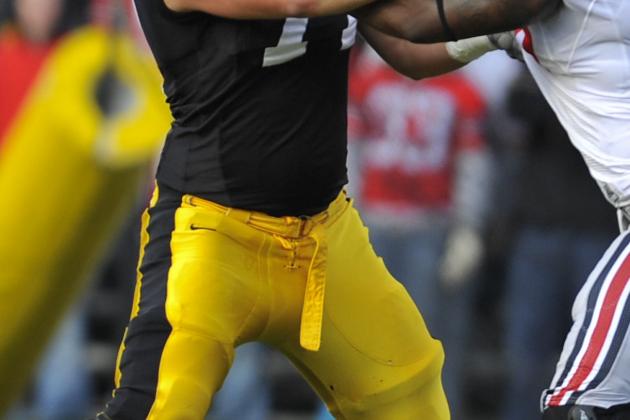 David Purdy/Getty Images

In 2011, Vernon Carey was pushed inside to guard and Marc Colombo was a bust at right tackle. Ideally, Miami would add an offensive playmaker here, but there aren't any great options there, so they settle for the value pick.
A former tight end, Riley Reiff is an excellent athlete and projects as a solid player in the NFL. At 6'6", 305 pounds, Reiff isn't particularly big, but he has the frame to add weight.
There are some concerns about whether Reiff can play left tackle; however, he could play on the right side in Miami. The Dolphins have an elite left tackle in Jake Long, and they are looking for a right tackle, not a blind-side protector.
In an ideal world, Miami moves up to select Robert Griffin. At nine, however, their best options are Reiff and Alshon Jeffery.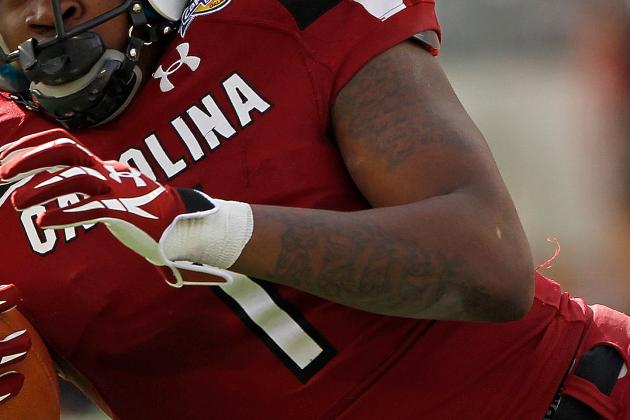 Mike Ehrmann/Getty Images

It seems likely that Stevie Johnson will leave in free agency and the Bills don't have many other receiving threats. If Buffalo does retain Johnson, they could still use help behind him and Alshon Jeffery is a potentially dynamic wideout.
At one point, Alshon Jeffery was widely considered a top-five pick, but his stock has fluctuated. During the 2011 season Jeffery has often looked slow and overweight, with his production taking a hit.
However, Jeffery still has significant upside and will likely be selected early. At 6'3", 235 pounds, Jeffery has fantastic size and the best hands in the draft. The South Carolina-star is incredibly smooth and is fantastic at going up for the ball.
Buffalo's offensive line is still weak, so either Mike Adams or David DeCastro could be selected here.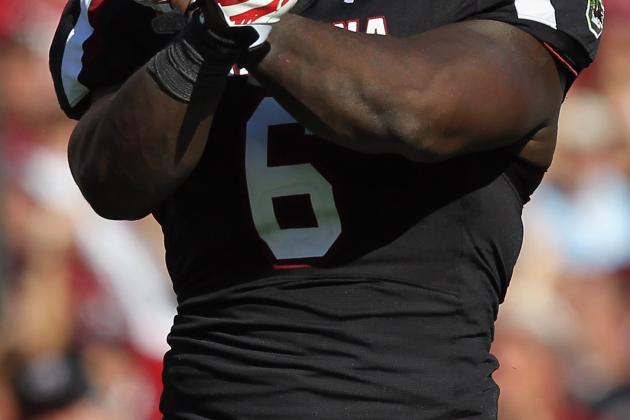 Streeter Lecka/Getty Images

Other than quarterback, Seattle's biggest need is its pass rush.
The Seahawks, who have a well above-average run defense, simply can't get after the quarterback.
Though he isn't an elite rusher off the edge, Melvin Ingram will provide value in a variety of ways. In Pete Carroll's weird defensive scheme, versatility is key.
A 6'2", 275-pounder, Ingram isn't especially speedy and could struggle in coverage. But he can rush the passer and defend the run. Though Ingram will never be an elite rusher, he would dramatically improve Seattle's pass-rush.
Luke Kuechly would be a great value here, providing a significant upgrade at linebacker.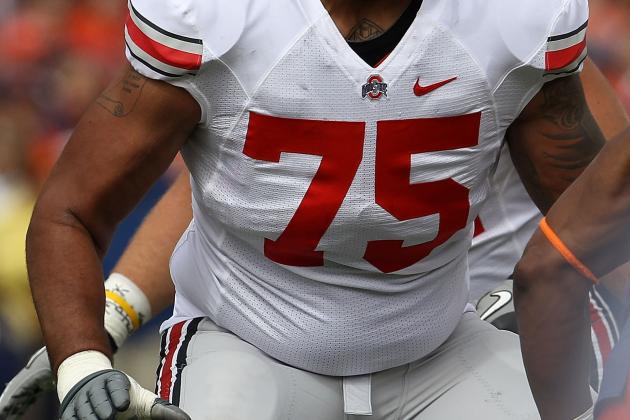 Jonathan Daniel/Getty Images

If the Chiefs decide to roll with Matt Cassel in 2012, they will likely address the offensive line early in the draft.
Branden Albert is a solid left tackle, but Barry Richardson is awful, and Kansas City desperately needs to add someone on the right side.
Historically, Mike Adams has been an underachiever, but he was excellent in 2011 after returning from a suspension. The 6'8", 320-pounder is a fantastic athlete with superb size.
After Matt Kalil, Adams has the most upside of any offensive tackle in the draft. Adams could definitely continue to underachieve as a pro, so he is not without risk.
Though he plays guard, David DeCastro is probably a better value at this point while also fitting a need.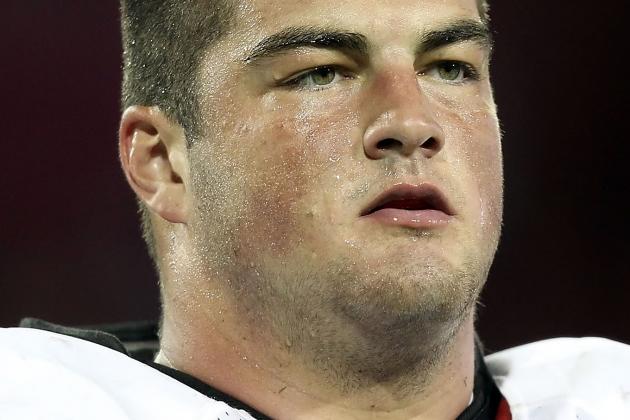 Christian Petersen/Getty Images

It's no secret that the Cardinals' offensive line is brutal and needs to be addressed before the 2012 season begins. Arizona needs help at virtually every offensive-line position.
A junior guard, David DeCastro is the best interior-line prospect to come along in years and could even be a top-10 selection. At 6'5", 310 pounds, DeCastro has perfect size and is a phenomenal athlete.
DeCastro is capable of power-blocking or pulling and picking up linebackers in space. Few offensive linemen are more versatile, and DeCastro is elite in literally every aspect of the game.
A pass-rusher would also make sense for Arizona and there are many available.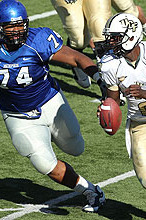 Though Jay Ratliff has been a solid nose tackle over the years, many are clamoring for him to move to defensive end where he would be a better fit in defensive coordinator Rob Ryan's two-gap defense.
Dallas's defensive line has not been great by any means and they could stand to upgrade at two of the three positions.
Men of Dontari Poe's size aren't supposed to move like he does. The 6'5", 350-pounder is an incredible athlete with enormous potential.
Poe could legitimately become the next Haloti Ngata and he can play either nose tackle or defensive end in Dallas's 3-4 scheme.
On the field, Poe is not worthy of this pick. He hasn't dominated as much as he should and his upside causes him to be selected this high.
The Cowboys could opt for a pure defensive end like Quinton Coples or a defensive back where the team needs help as well.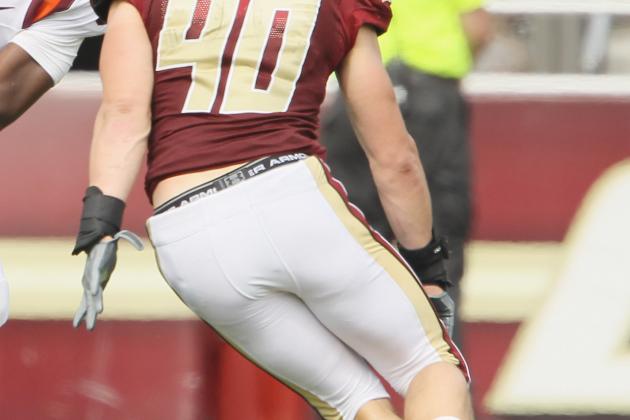 Elsa/Getty Images

Though the Eagles have historically ignored linebacker, they desperately need to add someone. Philadelphia's defense was putrid and their only huge weakness is at linebacker.
Luke Kuechly isn't a fantastic athlete, but he has superb instincts and racks up tackles. Though he is just 6'3", 235 pounds, Kuechly does a nice job of disengaging from blocks and making plays in the backfield.
Kuechly may never be an elite linebacker, but he will be a well-above-average player. The winner of the Bronko Nagursky Trophy, Kuechly has been incredibly productive and has an extremely-high ceiling.
It looks like DeSean Jackson may be leaving in free agency, so the Eagles could try to find his replacement here.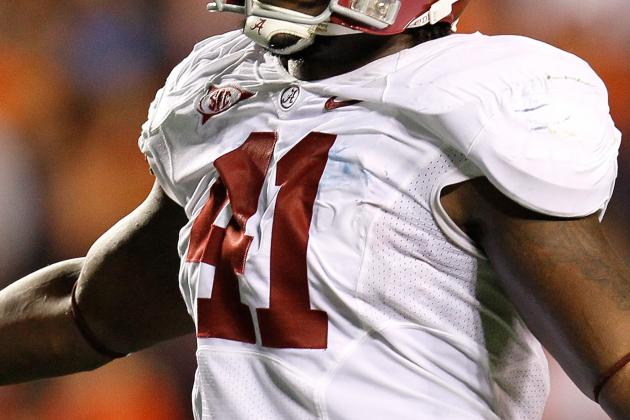 Kevin C. Cox/Getty Images

The Jets are known for their defense, but they really don't have a good pass rush. Bart Scott is likely gone after this year and New York needs to add linebackers—inside or outside.
At 6'2", 265 pounds, Courtney Upshaw has the size to play inside or outside linebacker. Upshaw isn't a great threat off the edge; however, he's great against the run and can play in coverage.
Upshaw already has experience playing linebacker, so he isn't as risky as most 3-4 outside linebacker prospects. Versatility is crucial in Rex Ryan's defense and Upshaw can move around much like Bart Scott did.
A wide receiver would make a ton of sense for New York and you shouldn't rule out a right tackle either.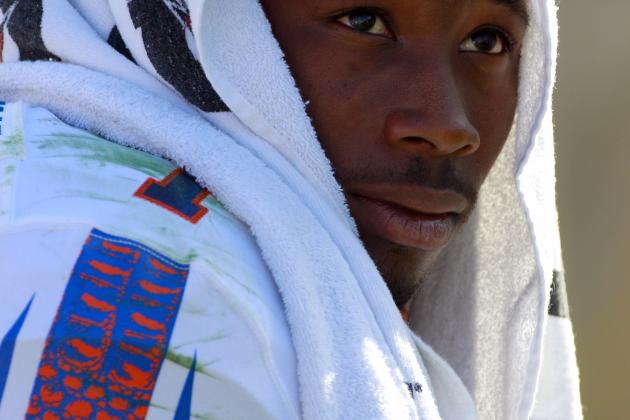 Sam Greenwood/Getty Images

This pick almost seems like too much of a stereotype, but it makes sense on many levels.
The Bengals obviously have a history of drafting "troubled" players and Janoris Jenkins certainly fits that bill.
After losing Jonathan Joseph in free agency to the Houston Texans, Cincinnati has a glaring hole at cornerback. While Leon Hall is an excellent player, he recently tore his Achilles tendon and is just one of two cornerbacks.
Jenkins was a great player at Florida prior to being kicked off the team for multiple off-the-field problems. Now at North Alabama, Jenkins has continued to excel and is definitely a first-round value on the field.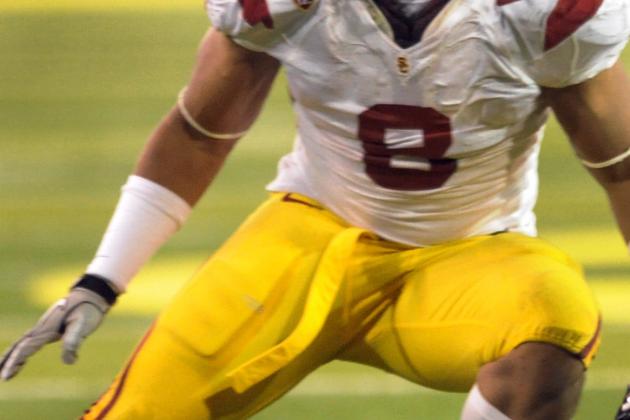 Steve Dykes/Getty Images

Shaun Phillips didn't produce at a high level in 2011 and struggled with injury, but he's still a good player. However, San Diego's other outside linebacker needs to be upgraded.
Like most 3-4 outside linebackers, Nick Perry is an undersized defensive end. The 6'3", 250-pounder is quick and explosive but needs to develop more pass-rush moves.
At times, Perry is a complete non-factor against the run. The USC end needs to improve his technique and add muscle to shred blocks.
A right tackle would make sense for the Chargers and a defensive linemen is possible too.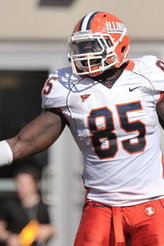 Julius Peppers is still a great player, but the Bears need help at the other end position.
Israel Idonije hasn't played well and Chicago doesn't have much potential behind him either.
No player racked up more sacks than Whitney Mercilus in 2011 and he is a promising pass-rusher. Mercilus weighs in at 6'4", 265 pounds and he has an unbelievable motor.
The Illini-star needs to add more moves and can be run at; however, there isn't a better pure pass-rusher left at this point. Mercilus is a perfect fit opposite Peppers and should, at the least, develop into a solid player.
Chicago could use help at wide receiver too, and Michael Floyd would be a great addition. An offensive lineman should not be ruled out either.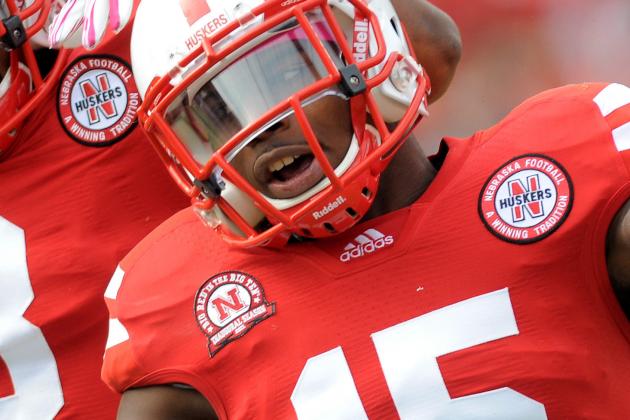 Eric Francis/Getty Images

It's starting to look like Cortland Finnegan will leave in free agency, and if he does, the Titans will be left with a hole at cornerback.
Neither Jason McCourty nor Alterraun Verner is awful, but Tennessee shouldn't feel comfortable with those two starting.
Prior to the 2011 season, Alfonzo Dennard was widely considered a top-15 pick. After missing some games with injury, however, Dennard's stock took a tumble and is just now recovering.
The 5'10", 205-pounder has a bit of an unusual build, but he can play any type of coverage. Dennard is at his best in press and is excellent against the run.
Chris Johnson's struggles in 2011 were partially due to poor interior line play, and though he might be a bit of a reach, the Titans could opt for center Peter Konz.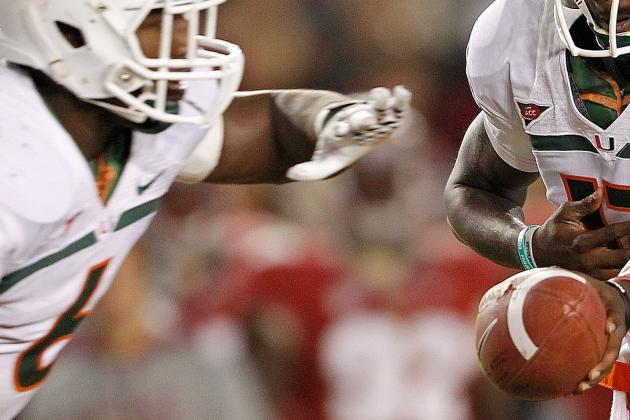 Mike Ehrmann/Getty Images

Cedric Benson has disappointed and will be a free agent this offseason. The Bengals have a talent-laden offense and are really only missing a dynamic weapon at running back.
Because of his speed and receiving ability, Lamar Miller has drawn comparisons to LeSean McCoy. Miller has good size at 5'11", 212 pounds and possesses significant upside. In theory, Miller should become a player who never has to come off the field.
Miller isn't a power back, but his shiftiness and speed makes up for it. The Miami star can outrun most defensive backs and has great burst through the hole. Miller truly can take over and dominate a game.
The Bengals could stand to add another star wide receiver and their offensive line could use some work.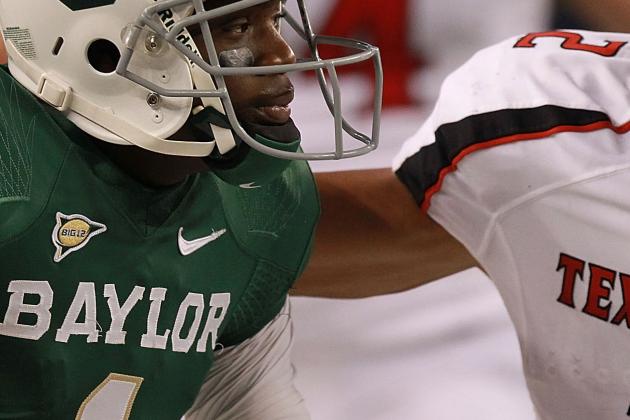 Ronald Martinez/Getty Images

After already selecting a quarterback, the Browns now need to add offensive playmakers. Greg Little may become a good receiver in the future, but he is unlikely to become a legitimate No. 1 wideout.
Kendall Wright is a fast, quick wideout with huge playmaking ability. Though he weighs in at just 5'10", 190 pounds, Wright has great upside and could develop into a Jeremy Maclin-esque player.
Wright is a fantastic fit opposite of Little and could immediately start. It's not likely that Wright will ever be an elite player, but he can be a No. 1 wide receiver. There is no reason why Wright shouldn't develop into at least a solid player.
The Browns also need to add a running back and they could even select a cornerback or defensive end.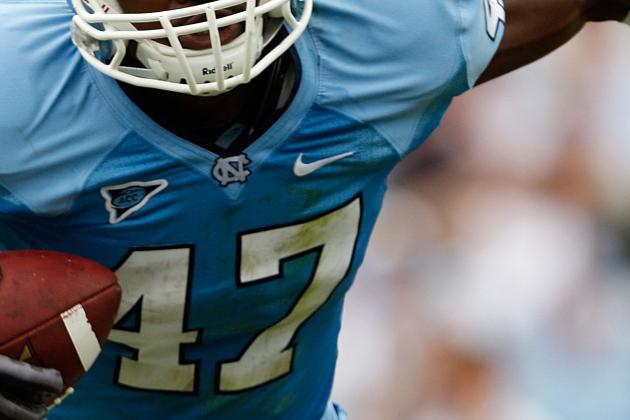 Streeter Lecka/Getty Images

Ideally, the Lions would add a cornerback here. Eric Wright is a free agent and, even with Wright, Detroit's defensive backs weren't very good in 2011.
However, there is no cornerback worth the pick. So the Lions turn to another need and select the best player left on the board in Zach Brown.
The 6'2", 230 pound Brown is a speedy linebacker who can play in coverage and attack against the run. Brown has some flaws, but he has a ton of potential and adds some excitement to an otherwise dull linebacking corps.
Detroit could reach for Stephon Gilmore if they really want to add a cornerback. It's no secret that the Lions need offensive line help either, and Jonathan Martin is still available.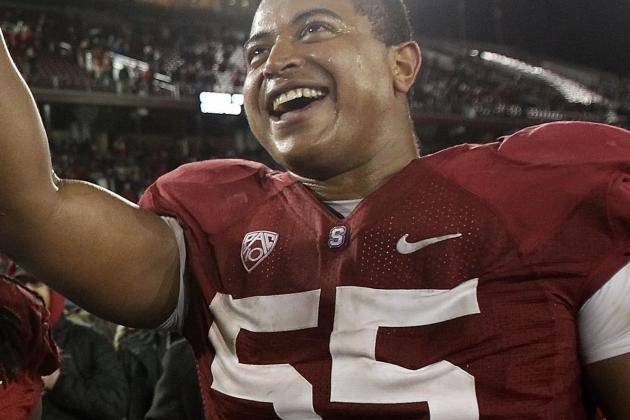 Ezra Shaw/Getty Images

Even after trying to address the offensive line through the draft, the Steelers need to upgrade. Max Starks isn't a good left tackle, and right tackle Marcus Gilbert struggled in his rookie campaign.
At 6'5", 310 pounds, Jonathan Martin has the build of a left tackle. Martin is far from a star offensive-line prospect, but he's a legitimate first-round pick.
Martin is a refined player with great technique, but he may not be athletic enough to play on the left side. Andrew Luck's left tackle is only a decent athlete and he isn't overly powerful either. Though Martin doesn't have much upside, he's still a solid player.
The Steelers would love to add Casey Hampton's replacement at nose tackle and the team could even look to add a running back.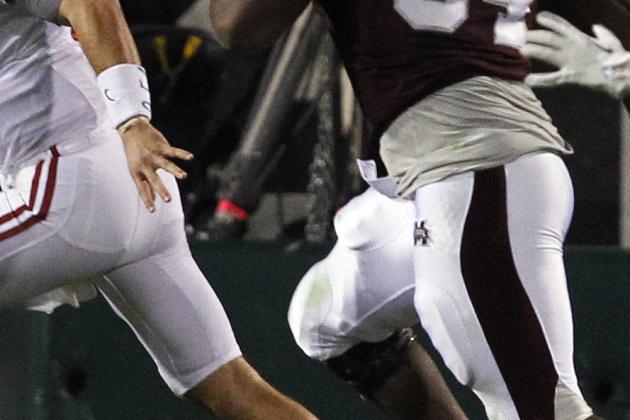 Butch Dill/Getty Images

It was obvious entering the season that Denver would have a weak defensive tackle unit.
Brodrick Bunkley is good, but the Broncos still need another starter and more depth. Bunkley is also a free agent.
At 6'4", 295 pounds, Fletcher Cox isn't much smaller than Bunkley is, but the two are incredibly different players. While Bunkley is a limited run-stopper, Cox is a pass-rushing demon with huge upside.
Right now, Cox is still raw with the potential to develop into a dynamic penetrating 3-technique. In the NFL, Cox could take over games with his huge playmaking ability.
Because Denver wants to improve its rushing attack, a running back like Lamar Miller would be a great fit.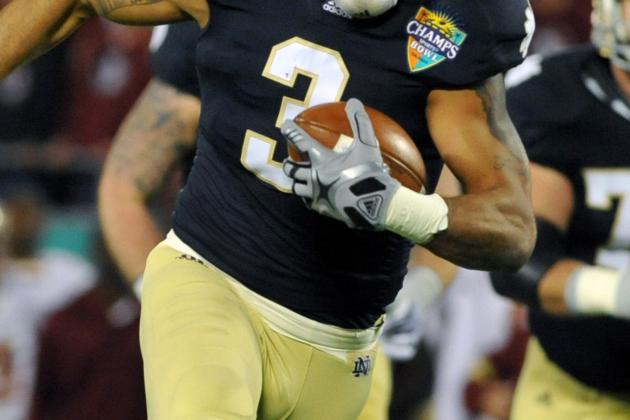 Al Messerschmidt/Getty Images

Andre Johnson is one of the game's elite wide receivers, but the Texans need a weapon opposite him. With Johnson often injured, Houston is regularly forced to rely on its secondary targets more than the team would like to.
Because of his off-the-field and injury issues, Michael Floyd is a risky prospect. However, his size, athleticism, body control and catching ability give him a big upside.
Floyd has been incredibly productive when on the field and he is talented enough to be selected in this range. In fact, Floyd has more potential than Justin Blackmon.
This is a no-brainer for the Texans. Floyd fits a need and is an excellent value at 26.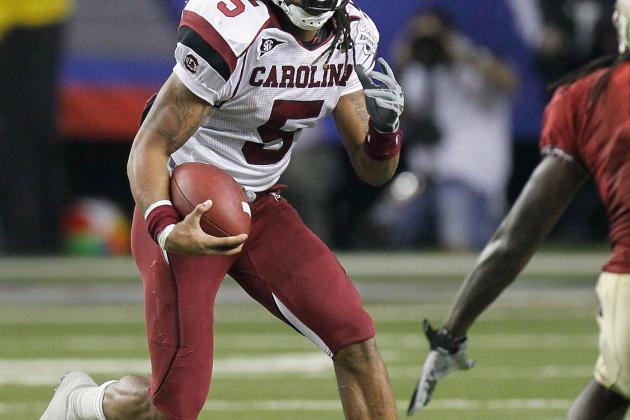 Kevin C. Cox/Getty Images

Devin McCourty has seriously regressed and none of New England's young defensive backs are really panning out. The Patriots draft a defensive back early every year and they obviously must continue to do so.
Stephon Gilmore is only an average athlete, but he can play in zone coverage, which is key in New England. The 6'1", 195-pounder is not a playmaker like many of Belichick's cornerbacks—instead he simply covers well.
These playmaking cornerbacks are hit or miss, and they don't seem to be making too many plays. Maybe Belichick will accept this and select a cornerback who will rarely get beaten in coverage.
At safety, Mark Barron would make sense for the Patriots. However, Barron is somewhat limited and isn't a great value here.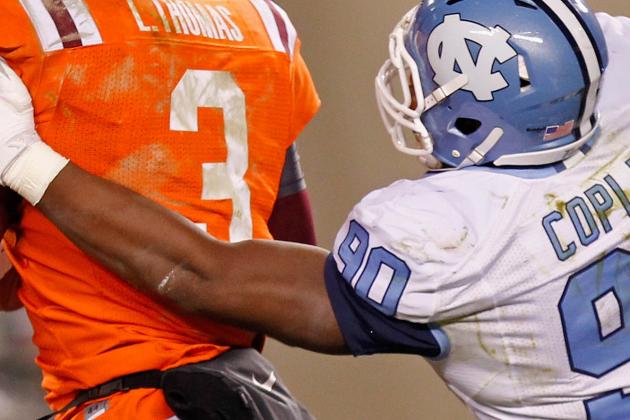 Geoff Burke/Getty Images

Green Bay's defense has been exposed. The Packers defense really needs to add a defensive end and outside linebacker.
Quinton Coples happens to be the best value on the board, so they go with an end.
At 6'6", 285 pounds, Quinton Coples is already big enough to play in Green Bay's 3-4 scheme and could gain more weight. Coples isn't a great pass-rusher in a 4-3 scheme, but in a 3-4, he is a threat to make plays in the backfield.
Despite being a fantastic athlete, Coples isn't a great pass-rusher. He doesn't have a great first step and is actually better suited for the 3-4 defense. Because he is excellent against the run, Coples should be fine playing five-technique.
There aren't any great values at outside linebacker, but the Packers would love to add Courtney Upshaw, Whitney Mercilus or Nick Perry if one of them fell.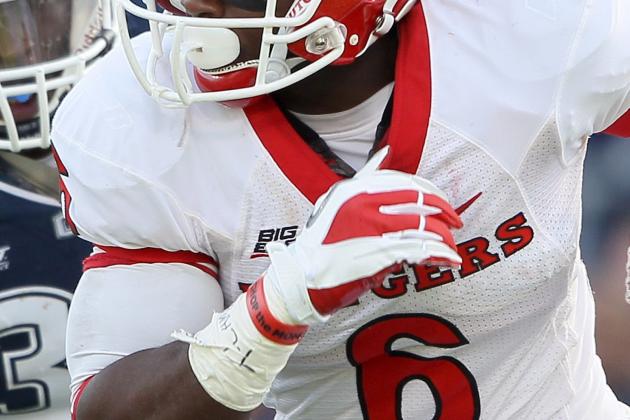 Elsa/Getty Images

Michael Crabtree hasn't developed into a stud like San Francisco hoped he would and Braylon Edwards flopped as a 49er. If Alex Smith is to lead San Francisco, the the team needs to add more playmakers for him.
Physically, Mohamed Sanu is one of the more talented wide receivers in this draft. The 6'2", 215-pounder is incredibly versatile and can help out in a variety of ways.
Sanu has decent speed to go along with his great size and is a weapon underneath. However, the Rutgers star probably isn't a No. 1 target in the NFL and is more of a solid player than an elite weapon.
San Francisco needs a cornerback to pair up with Carlos Rogers, who may or many not be a 49er in 2012, and they would likely to there if a good value presented itself.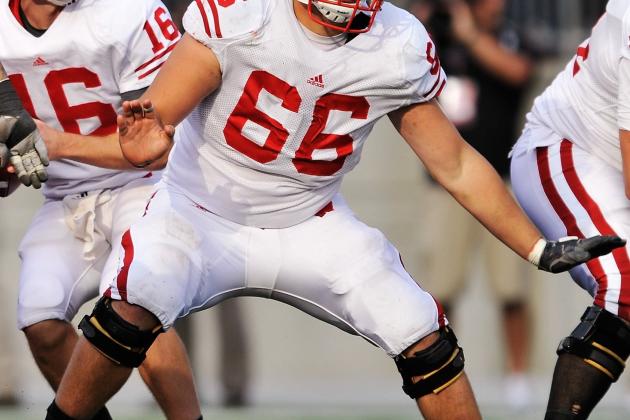 Jamie Sabau/Getty Images

With Matt Birk likely retiring after the 2011 season concludes, the Ravens need to add a center. Ben Grubbs is also entering free agency, so Baltimore could even look to add a guard.
Fortunately, Peter Konz can play either center or guard.
The 6'5", 315 pound Konz is the rare underclassmen center to enter the draft. Konz is a great athlete who can excel as a run or pass-blocker.
Though Konz has dealt with some ankle injuries, he's not a reach at the end of the first round. In fact, the Wisconsin center could easily be gone by this point.
The Ravens tend to draft the best player available, so they could easily draft Vontaze Burfict, who could be the next Ray Lewis for Baltimore.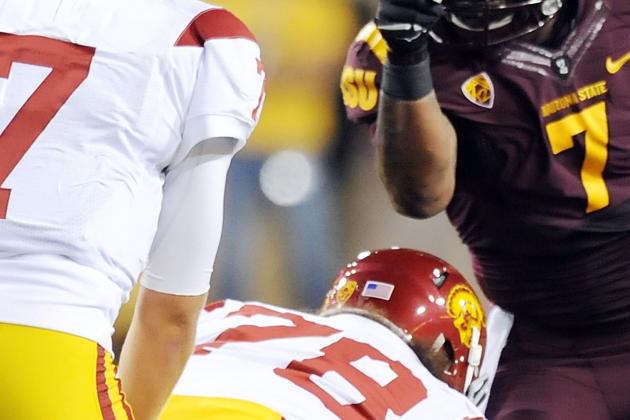 Norm Hall/Getty Images

Despite having an elite pass rush, New York's defense is not good. One of the team's biggest needs is at middle linebacker and Vontaze Burfict is a fantastic value here.
Burfict is a legitimate top-10 talent, but he racks up even more personal fouls than Ndamukong Suh does. At 6'3", 255 pounds, Burfict is a thumper with outstanding athletic ability.
The Arizona State star is famous for his ferocious hits and playmaking ability. Few players in all of football are more feared and Burfict could make an immediate impact on the Giants' run defense.
Cornerbacks Terrell Thomas and Aaron Ross are both free agents, so New York could address the defensive backfield. An offensive lineman is not out of the question either.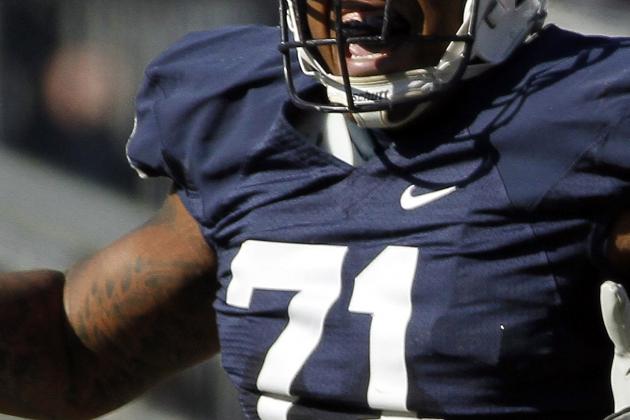 Justin K. Aller/Getty Images

A few years ago, the Patriots had an outstanding defensive line with Richard Seymour, Ty Warren and Vince Wilfork all dominating. Now, New England has just one solid lineman in Wilfork and need to upgrade at the other positions.
Bill Belichick is still experimenting with different defensive schemes, and Devon Still can play in a 4-3 or 3-4. At 6'5", 310 pounds, Still has the size Belichick looks for in his defensive linemen.
Still is an excellent athlete who has underachieved in the past. However, Still broke out somewhat in 2011 and flashed his talent. The Penn State lineman is still raw, but he has the potential to dominate in the NFL.
New England desperately needs to add a pass-rusher, and Vinny Curry fits Belichick's profile. Safety Mark Barron would fit a need too.