NBA Power Rankings: How Jeremy Lin's Injury Shakes Up Power Structure
April 2, 2012

Chris Chambers/Getty Images
Jeremy Lin's injury certainly shakes up the structure of the NBA's power rankings.
If you haven't already heard, via the New York Times:
 

Jeremy Lin to Have Knee Surgery; Will Miss Rest of Regular Season nyti.ms/Ha9uzz

— The New York Times (@nytimes) March 31, 2012
Lin now joins Amare Stoudemire on the New York Knicks' bench, leaving them with another huge void that won't easily be filled.
So, what do the latest rankings look like?
1. Chicago Bulls: The Bulls have been able to overcome adversity to keep on winning without Derrick Rose while he is out with an injured groin. Bad news for the rest of the NBA.
2. Oklahoma City Thunder: Russell Westbrook and Kevin Durant are two of the best young players in the league, and if Rose hadn't out when they dominated the Bulls recently, I'd have them at the top spot on this list.
3. San Antonio Spurs: Is it any surprise that the Spurs once again find themselves near the top of the rankings? As long as Tim Duncan is still playing, they will continue their strong play and contend for a title.
The Spurs are riding a seven-game winning streak, and they have won nine out of their last 10 games, making them the hottest team in the NBA at the moment.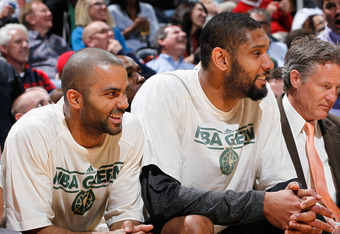 Kevin C. Cox/Getty Images
Tony Parker is balling out this year, scoring more than 19 points a game and collecting eight assists per game in the process.
If Manu Ginobili can somehow manage to get healthy for the stretch run, they might win another championship.
4. Miami Heat: The Heat haven't been able to get on any kind of run lately. In the last 10 games, they have only won six. Still, they will continue to hang around due to the immense talent on that roster.
5. LA Lakers: Kobe Bryant is still the best player in the world. He scored 40 in his latest effort against the Golden State Warriors, and as long as he is still around, the Lakers are going to have a chance to win.
6. LA Clippers: After hitting some rough patches for a while, the Clippers seem to be finding their way once again. They have won five straight games, and Vinny Curry's job seems safe for now.
7. Boston Celtics: Rajon Rondo has been playing out of his mind lately, and he's leading the old guys on another late-season push towards the playoffs. The Celtics have won their last five games.
8. Dallas Mavericks: The Mavs have fought back admirably after hitting some rough patches earlier in the year. They have won seven out of their last 10 games, and they are finally starting to gel on offense.
9. Indiana Pacers: The Pacers are a dangerous team. They have managed to keep all of their starters healthy throughout the season, and Danny Granger is doing some serious work for them, keeping them in just about every game they play.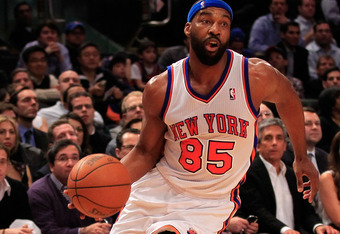 Chris Trotman/Getty Images
10. Orlando Magic: The Magic have fallen off a cliff lately. They are in the midst of a four-game losing streak, and they have lost six out of their last 10 games.
You have to know that much of the reason for this is due to the fact that Dwight Howard is still the "leader" there in Orlando.
Last week, they were absolutely demolished by the Knicks in New York. It was later discovered that the reason for their poor play was that the team had been out partying until 3 a.m. the night before. 
This isn't a team that is heading in the right direction. They are rudderless and without any accountability. 
Look for things to continue getting worse for the Magic as the season winds down.
11. Atlanta Hawks: The Hawks are an interesting team. They have put together a solid season and look to be heading into the playoffs with some momentum.
12. Philadelphia 76ers: The 76ers are in the middle of a bad run. They have lost six of their last 10 games, and the schedule is getting tougher for them as they enter into the month of April. 
13. Memphis Grizzlies: The Grizzlies are also on the way down. They had been surging until a recent losing streak knocked their record for a loop. They, too, have lost six of their last 10 and need to turn things around quickly.
14. Denver Nuggets: Things are starting to turn around in Denver. It seems as if the trade they made for JaVale McGee is starting to pay off, and if they can somehow manage to make a late-season push, they have a chance to leap-frog the Grizzlies and Mavericks in the standings.
15. Houston Rockets: The Rockets haven't managed to do much more than stay about level all year long. It is therefore fitting that they occupy the middle of these power rankings.
16. Utah Jazz: The Jazz are currently on the outside looking in on the playoff picture in the West. They are riding a three-game skid and will need to seriously pick up the pace if they hope to make an impact the rest of the way.
17. Phoenix Suns: The Suns are about as bland as oatmeal. They have won just as many games as they've lost, and unless a minor miracle occurs in the desert, they won't be making it into the playoffs this year.
18. Portland Trailblazers: Has an NBA franchise ever had as bad of luck as the Trailblazers have had with their lottery picks in the last decade? If only Greg Oden had worked out, they would be singing a different tune.
19. New York Knicks: Lin's injury and subsequent season-ending surgery puts the Knicks in a bind. 
With both him and Stoudemire out the rest of the way, they are missing two of their top three scorers. Worse than that, though, is the loss of their top distributor. 
Lin was averaging over six assists per game during his brief tenure as the starting point guard. The next-best man on the roster in that category is Baron Davis, who will be counted on from now on to handle the starting point guard duties.
Davis isn't exactly a slouch. He's been extremely successful in the past, and it will be interesting to see how well his 32-year-old body handles the heavy minutes he's sure to accrue.
20. Minnesota Timberwolves: There is a lot of Love in the air in Minnesota. Kevin Love, that is. It's going to be another year or two before they acquire enough talent to complement Love and start winning on a regular basis.
21. Milwaukee Bucks: Getting down into the bottom third here. Monte Ellis has struggled to play well since being traded, and the Bucks don't play any defense. They aren't scaring anyone these days. 
22. Detroit Pistons: The Pistons have scraped together a decent 10-game stretch, winning six. They will try to finish the season on a high note, though there isn't much to gain from doing so.
23. New Jersey Nets: The Nets have desperately been trying to put together a winning roster for years now. They struck out on the Dwight Howard sweepstakes, along with everyone else. They are now left to wonder what else they can do to somehow improve.
24. Golden State Warriors: The Warriors are in the midst of a five-game losing streak. They have been tanking since the beginning of the season, and adding Andrew Bogut isn't helping their cause. 
25. Sacramento Kings: The Kings have had a rough 2011-2012 season, by all accounts. 
First, there was the blowup between Paul Westphal and Jamarcus Cousins, which Cousins won handily, getting Westphal fired.
Then, many fans began to wonder what in the world Geoff Petrie was thinking by bringing in Jimmer Fredette. To date, Fredette has failed to live up to expectations.
Finally, there was the news that the Kings and Warriors had discussed the possibility of trading Tyreke Evans for Monte Ellis. 
All in all, it's been another disappointing year for the Kings and their loyal fans.
26. Cleveland Cavaliers: It's been an abysmal year in Cleveland. Thankfully for them, Kyrie Irving looks like the next big star at the point guard position, and they could be making another comeback sometime soon.
27. Toronto Raptors: Too bad Andrea Bargnani isn't playing for a team with a bigger market. He is good, but his talents are wasted up in Canada. The Raptors are horrible.
28. New Orleans Hornets: Ever since Chris Paul left for greener pastures, the Hornets have been lost out at see. They have only managed to win 13 game so far this season.
29. Washington Wizards: John Wall. That's all you need to know. He makes the Wizards worth watching once in a while.
30. Charlotte Bobcats: Michael Jordan has recently threatened to sell his portion of the Bobcats. That's how bad it's gotten in Charlotte. They are terrible.