NFL Picks for All 13 Games in Week 12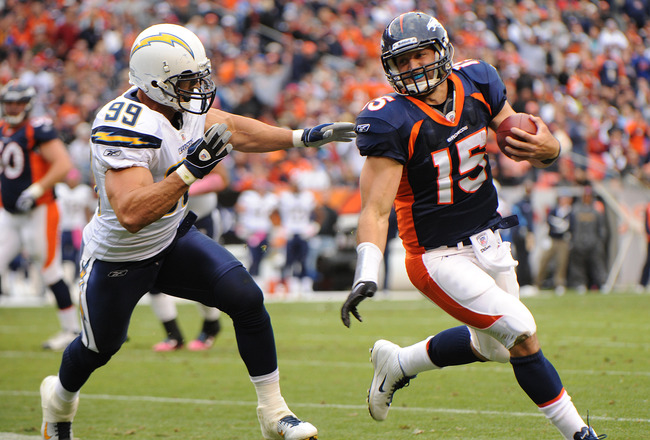 Bart Young/Getty Images
As we prepare to continue Week 12 of the 2011 NFL season, let's pick winners for all 13 remaining games.
Week 12 started on Thanksgiving Day with three marquee match-ups.
To begin the day, the Green Bay Packers pulled away from the Detroit Lions in the second half and won 27-15 to remain undefeated. Later, the Dallas Cowboys hung on by a thread at home, 20-19, against a Miami Dolphins team on a three-game winning streak.
The day was concluded with the Harbaugh Bowl. The Baltimore Ravens outlasted the San Francisco 49ers 16-6 behind a big-time performance from Terrell Suggs and the Ravens defense.
Who else will come out on top this week?
Minnesota Vikings at Atlanta Falcons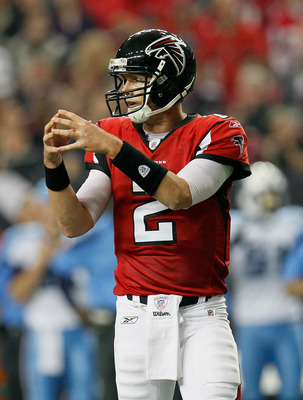 Kevin C. Cox/Getty Images
Clinging to their playoff hopes, the 6-4 Atlanta Falcons host the 2-8 Minnesota Vikings this week.
The Falcons normally play well at home. Quarterback Matt Ryan has had a good season with a 15-10 touchdown-to-interception ratio and a QB rating of 85.5.
Receivers Roddy White and Julio Jones and tight end Tony Gonzalez have all been solid targets for Ryan. Running back Michael Turner adds a third dimension to their offensive attack.
Atlanta's defense has some trouble stopping the pass, ranking 26th in the league, but they are second in the league in run defense. They are average in points allowed.
Atlanta's defensive strength matches up with the Vikings well. Minnesota has a good running game (although Adrian Peterson will be out this week), but rookie quarterback Christian Ponder hasn't gotten much going through the air since taking over as the starter.
The Vikings' defense is also good against the run and poor against the pass, but they allow almost a touchdown more per game than the Falcons. Defensive end Jared Allen is a standout player on a below-average defense.
The Vikings needed Peterson if they wanted to have much of a chance of winning this game. Unless Atlanta's secondary sleeps through this game, the Falcons will win comfortably and keep their playoff hopes alive.
Falcons 27, Vikings 10
Cleveland Browns at Cincinnati Bengals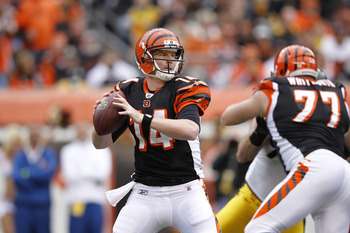 Joe Robbins/Getty Images
The Cincinnati Bengals and the Cleveland Browns meet in an important conference match-up, particularly for the Bengals.
Cincinnati still has a shot at the playoffs this year despite losing back-to-back games to the Steelers and the Ravens.
Rookie quarterback Andy Dalton has played surprisingly well this season, effectively moving the offense and developing a nice rapport with fellow rookie AJ Green, who has caught six touchdown passes. Running back Cedric Benson has provided the Bengals with a decent running game.
The biggest reason for Cincinnati's success has been the defense, which is ranked no lower than 11th in any major statistical category. Both the run and pass defense has been outstanding, and they are only allowing an average of 19.5 points per game.
That doesn't bode well for the putrid Cleveland offense. The Browns are led by quarterback Colt McCoy, who has not had a great season, but isn't getting much help from his receivers or his running game. Rookie Greg Little is McCoy's top target, and running backs Peyton Hillis and Montario Hardesty have both been injured.
The defense has been very good this season, however, allowing just 19.3 points per game despite having one of the worst run defenses in the league in terms of yardage.
Top to bottom, the Cincinnati Bengals are the better team and should pull out the win to stay in playoff contention.
Bengals 17, Browns 9
Carolina Panthers at Indianapolis Colts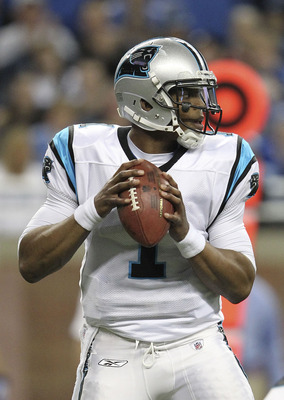 Leon Halip/Getty Images
The Carolina Panthers and the Indianapolis Colts are two of the worst teams in the NFL, combining for a 2-18 record.
The Panthers have had a promising season despite their 2-8 record. Rookie Cam Newton has been a star at quarterback, and the running game has been strong. Receiver Steve Smith has resurrected his career with Newton slinging him the ball.
Defensively, the Panthers are pretty awful in most areas. The pass defense hasn't been much worse than average, but the scoring defense and rushing defense has been pathetic. However, the Colts offense has the potential to make the Panthers' defense look decent.
Quarterback Curtis Painter has played poorly in the absence of Peyton Manning, and the running game, led by Joseph Addai, isn't good enough to pick up the slack.
Defensively, the Colts have two good pass rushers in Dwight Freeney and Robert Mathis but struggle in all other areas.
The Panthers are a much more talented team than the Colts, and I expect that to show as the Colts rack up another loss.
Panthers 35, Colts 17
Houston Texans at Jacksonville Jaguars
Al Messerschmidt/Getty Images
Although their records suggest otherwise, the game between the Houston Texans and the Jacksonville Jaguars will probably be close.
In the wake of Matt Schaub's injury, Matt Leinart will take over at quarterback for Houston. The return of Andre Johnson will be a boost to the offense, but questions remain whether Leinart will be able to consistently get the ball to him.
The running game, led by Arian Foster and Ben Tate, will have to carry this team the rest of the season.
The Texans have quietly put together one of the best defenses in the league, ranking third, first, second and fourth in scoring, total, pass and rush defense.
Jacksonville's offense might have a tough time moving the ball against the Texans. The Jaguars have a solid running game led by Maurice Jones-Drew, but they are last in total yards and passing yards and score just 12.5 points per game.
The Jags defense is very good as well, but their defensive weakness (if you can call it a weakness) is defending the run, which bodes well for the Texans.
Expect Houston to give both Foster and Tate a bunch of touches and win an ugly road game for their eighth win.
Texans 19, Jaguars 13
Buffalo Bills at New York Jets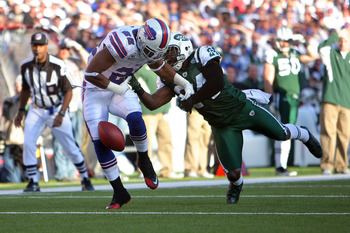 Tom Szczerbowski/Getty Images
The Buffalo Bills and the New York Jets meet in a very important division showdown. The winner will still have an outside shot at the playoffs, while the loser will be all but eliminated from contention.
The Jets, led by embattled quarterback Mark Sanchez, have underachieved on offense this year. What was supposed to be a dominant running game with Shonn Greene and LaDainian Tomlinson has gained less than 100 yards per game, while the passing game has been less than stellar as well.
The defense has been surprisingly susceptible to giving up points and yards on the ground, but they are still tough through the air.
Buffalo started this season on fire, but after losing four of their last five games, they are beginning to look more like the Bills we all thought we would see this season. Running back Fred Jackson was having a Pro Bowl-caliber year but is probably out for the rest of the season, and the passing game has fizzled recently.
Buffalo's defense has had its moments, but it ranks 20th or lower in every major statistical category.
New York seems to maintain their high level of confidence despite their disappointing season thus far, and I expect them to keep their playoff hopes alive at least for another week.
Jets 24, Bills 10
Arizona Cardinals at St. Louis Rams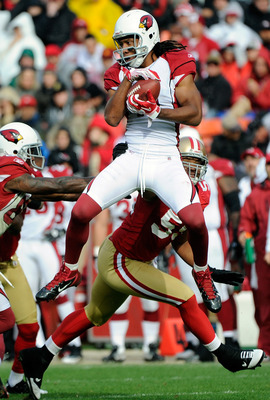 Thearon W. Henderson/Getty Images
The Arizona Cardinals and St. Louis Rams meet for the second time this year.
Arizona will be quarterbacked by either Kevin Kolb or John Skelton, depending on whether Kolb comes back from a turf toe injury this week.
The Cardinals' skill weapons are some of the best in the league. Larry Fitzgerald and Early Doucet form one of the league's top receiver combos, while Beanie Wells has come into his own at running back.
Arizona's defense has gotten better as of late, but it was terrible at the beginning of the year. They are still ranked no better than 22nd in all four categories.
The Rams have been awful on offense this year. Running back Steven Jackson has had a good year, but quarterback Sam Bradford has struggled this year amidst poor receiver play and poor pass protection. However, newly acquired target Brandon Lloyd provides Bradford with a good target.
St. Louis' defense has been surprisingly good against the pass, but statistically there isn't a worse run defense in the NFL.
Both of these teams look to have bright futures, but the Cardinals are more talented right now, and I think they win again.
Cardinals 28, Rams 23
Tampa Bay Buccaneers at Tennessee Titans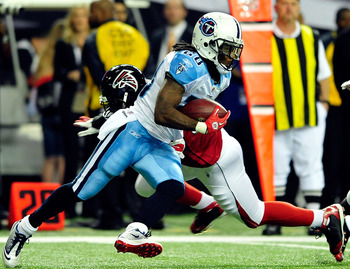 Grant Halverson/Getty Images
The Tampa Bay Buccaneers and the Tennessee Titans meet in Nashville as the Titans cling to playoff hopes.
The Buccaneers are led by young quarterback Josh Freeman and running back LeGarrette Blount. Receiver Mike Williams completes a very talented trio, albeit one that has altogether underachieved this season.
Tampa's defense is, surprisingly, one of the worst in the league, ranking no higher than 27th in any category. There is a lot of potential for this unit, but they are very young across the board right now.
The Titans have actually overachieved this year and hope the Texans get beat this week as their playoff hopes hang by a thread.
Matt Hasselbeck sustained a minor injury and was replaced by Jake Locker last week in a loss to the Atlanta Falcons, but Hasselbeck should remain the starter, as he has had a great year so far. Running back Chris Johnson has severely under-produced this year and needs to step it up.
Tennessee's defense has been average across the board in terms of yards allowed, but somehow they have allowed only 19.5 points per game, ranking ninth in the league.
This game should be a close one, but with more on the line this season, I'd expect the Titans to pull it out at home.
Titans 23, Buccaneers 20
Chicago Bears at Oakland Raiders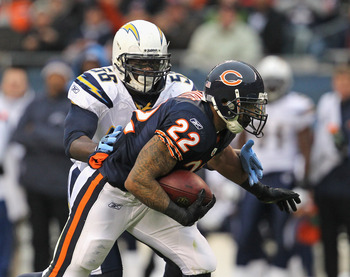 Jonathan Daniel/Getty Images
The 7-3 Chicago Bears travel to the 6-4 Oakland Raiders in a very interesting match-up.
Based on the way Chicago has played lately, they would normally have the edge in this game. But since they will be without starting quarterback Jay Cutler, who is out for the year, things get very interesting.
Caleb Hanie will take the reins at quarterback, and running back Matt Forte will be asked to carry the offense. Forte has had a great season up to this point, so he should be able to take some pressure off of Hanie.
Defensively, the Bears are ranked surprisingly low in most categories, but they've played much better lately and should give the Raiders a lot of trouble.
Oakland will be quarterbacked by Carson Palmer, who has seemingly shaken off the rust and started to play well. Denarius Moore has emerged as a great downfield target for Palmer, and Michael Bush has filled in well for an injured Darren McFadden.
Defensively, the Raiders are not impressive, ranking 20th or lower in all categories. Their pass defense is their strongest point according to the stats.
This game could be one of the best contests of the week as both teams are fighting for a leg up in the playoff race, but I like the Bears to come out on top.
Bears 27, Raiders 25
Washington Redskins at Seattle Seahawks
Dilip Vishwanat/Getty Images
The Washington Redskins and the Seattle Seahawks meet in a game that will probably be a defensive battle.
Quarterback Tarvaris Jackson has been a turnover machine this year but has played better in their last two wins. Running back Marshawn Lynch has been a pretty good weapon for them this year, while Sidney Rice supplies a great target downfield.
Defensively, the Seahawks don't have a lot of standout players, but they play very good team defense and rank no lower than 15th in any category.
The Redskins have had quarterback issues as well, and whether Rex Grossman or John Beck starts, they don't get very good production. The depleted running game is led by rookie Roy Helu, who has played well in both the run and the pass. Tight end Fred Davis is the team's leading receiver.
Washington was playing very good defense in the beginning the season, and although they haven't been as good lately, they are still pretty good in all categories.
This game should be a low-scoring affair, and I like the suddenly-hot Seahawks to take it at home.
Seahawks 17, Redskins 14
New England Patriots at Philadelphia Eagles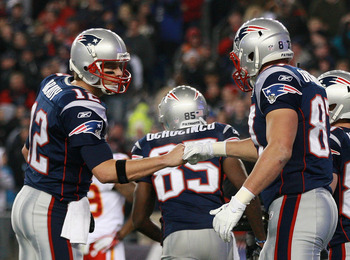 Jim Rogash/Getty Images
The 7-3 New England Patriots travel to face the 4-6 Philadelphia Eagles in one of the most intriguing games of the week. The Patriots look to extend their division lead while the Eagles look to keep their playoff hopes alive.
The Eagles have played some bad football this year, but may be gaining confidence coming off an upset win over the New York Giants.
New England, led by Tom Brady, has one of the best offenses in the league. Their passing game is second in the NFL and they score the third-most points per game.
The running game is good enough to get by. Brady to Wes Welker is one of the most prolific connections in the NFL, and tight end Rob Gronkowski is having a Pro Bowl season.
Defensively, the Pats have really struggled this year, but somehow they rank 10th in points allowed. The pass defense has been awful, but the run defense has been solid.
Philadelphia's offense took a big hit with the loss of Michael Vick, but Vince Young has done a decent job in his place. Vick could be back as soon as this week.
Receiver Jeremy Maclin is doubtful, but DeSean Jackson should be on the field. Running back LeSean McCoy, who is having one of the best seasons of any running back, is the straw that stirs Philly's drink on offense.
The Eagles struggled big time on defense earlier in the year, but they've been better lately. I'm not sold on their ability to stop New England, though.
I think the Eagles' playoff hopes are effectively dashed this week at the hands of the Patriots.
Patriots 31, Eagles 20
Denver Broncos at San Diego Chargers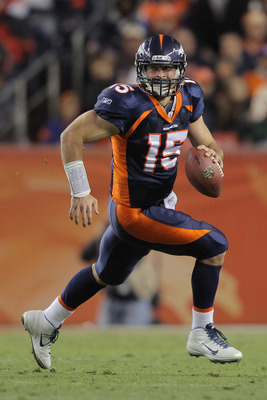 Doug Pensinger/Getty Images
Despite these two teams having a combined 9-11 record, the divisional game between the Denver Broncos and the San Diego Chargers is one of the most important games of the week. Whoever wins this game stays in the hunt to knock of the division-leading Oakland Raiders.
The Denver Broncos is led by possibly the most controversial player in the NFL, Tim Tebow. He has a 4-1 record as Denver's starter this season, and he almost led the Broncos to a comeback win over the Chargers earlier this season.
Eric Decker is his favorite receiver (though that doesn't mean he will catch many passes), and a good running game is led by veteran Willis McGahee.
Defensively, the Broncos are not overly impressive, but they have been playing much better as of late. Rookie Von Miller is a standout player for this group.
The Chargers are one of the most talented teams in the league, so it's puzzling why they are only 4-6. Quarterback Philip Rivers is struggling, though he has connected with Vincent Jackson quite often lately. Running backs Ryan Mathews and Mike Tolbert lead a modest running game.
Defensively, the Chargers have been good in pass defense and total defense but still allow 25.9 points per game, good for just 28th in the league.
This game is really hard to predict, but I like the Broncos' chances based on what we've seen from both of these teams so far.
Broncos 30, Chargers 28
Pittsburgh Steelers at Kansas City Chiefs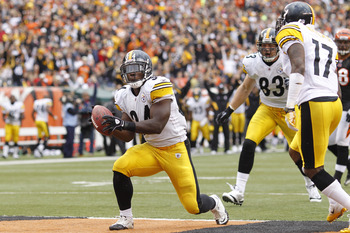 Joe Robbins/Getty Images
The 7-3 Pittsburgh Steelers invade Kansas City to take on the 4-6 Chiefs. Kansas City looked as though it was rising from the ashes with four straight wins, but they've lost three in a row since.
Ironically, if their season pattern continues, they will win their next four games. But I don't see that happening against the Steelers.
Kansas City signed Kyle Orton to shore up the quarterback position after Matt Cassel got injured, but whether it's Orton or Tyler Palko at quarterback, the production won't be eye-popping.
However, Orton will have more weapons with the Chiefs than he had with the Broncos, such as Dwayne Bowe, Steve Breaston and Jonathan Baldwin. KC's productive running game is led by Thomas Jones and Dexter McCluster.
Defensively, the Chiefs have some work to do. Their pass defense is ranked 13th in the league, but they rank just 25th and 28th in points allowed and rush defense.
The Steelers have a ton of weapons on offense, and it all starts with quarterback Ben Roethlisberger. Receivers Mike Wallace and Antonio Brown provide great targets for Big Ben, while running back Rashard Mendenhall has proven himself to be a solid featured back.
Pittsburgh's defense remains one of the strongest in the league, ranking fourth, second, third and sixth in scoring, total, pass and rush defense.
On paper, the Steelers look like the superior team. Based on the way Kansas City has played lately, I'd expect Pittsburgh to keep pace with the division-leading Baltimore Ravens this week.
Steelers 30, Chiefs 13
New York Giants at New Orleans Saints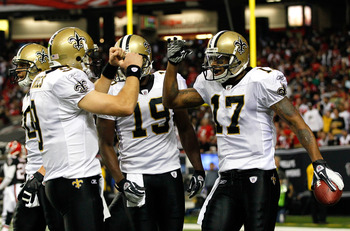 Kevin C. Cox/Getty Images
In what will widely be seen as the game of the week, the New York Giants will look to get back on track on the road against the New Orleans Saints on Monday Night Football.
The Giants have lost two in a row, most recently to the Philadelphia Eagles at home. Quarterback Eli Manning has played well and found himself an explosive target in Victor Cruz. Hakeem Nicks continues to be a very reliable target as well. An already unimpressive running game will take a hit with the absence of Ahmad Bradshaw.
In reality, New York's defense is its only chance for a win against the Saints. Despite being ranked 18th or worse in all major categories, the strongest pass rush in the NFL could disrupt quarterback Drew Brees and keep him off balance.
New Orleans, led by Brees, has one of the top offenses in the NFL, ranked first in total yardage and passing yardage and second in scoring. The running game is decent as well, ranking 13th.
Defensively, the Saints are ranked 19th or 20th in all four categories, so the Giants will have a chance to move the ball.
At this point, it looks like the Dallas Cowboys could be ready to wrest control of the division from the Giants, and they'll get some help by way of a Saints win.
Saints 33, Giants 29
Keep Reading