NFL's 10 Games Remaining with Greatest Playoff Implications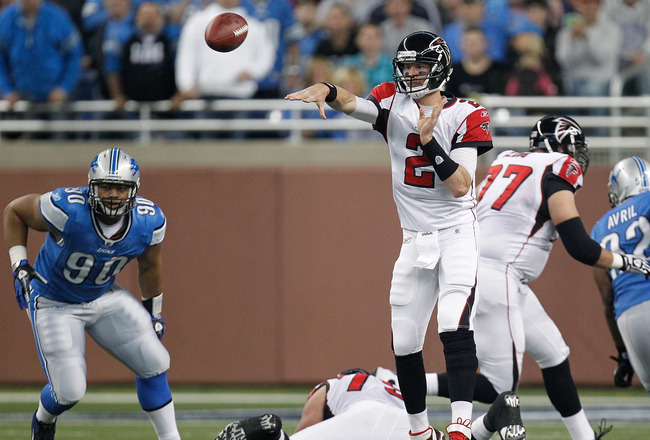 Gregory Shamus/Getty Images
Week 10 of the NFL season has arrived and it's a good sign when at least one game being played this weekend will be the deciding factor in why one team doesn't make the playoffs as another division rival does.
Last year, tiebreakers like the Philadelphia Eagles beating the New York Giants in the "Miracle at the Meadowlands" meant the Green Bay Packers made the playoffs while New York sat at home.
It's not too difficult in figuring out what games should be listed but where to rank them among each other is another task.
Division games dominate these rankings but there are sure to be more unexpected games that pop up with crucial playoff implications.
10. Week 15: Dallas Cowboys vs. Tampa Bay Buccaneers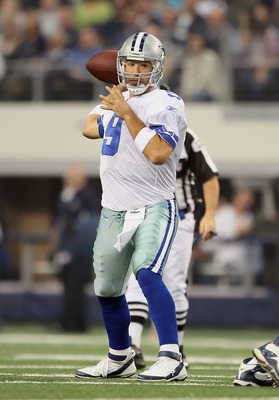 Jeff Gross/Getty Images
These two teams have been disappointing, Tampa Bay more so because greater progression was expected out of the young roster.
Dallas is more likely to pick up its play because of an easier schedule but it's not out of the realm of possibility for the Bucs to enter the playoff scene. Tampa Bay is much more likely to win the NFC South than Dallas is to dethrone the 6-2 New York Giants.
9. Week 17: Dallas Cowboys vs. New York Giants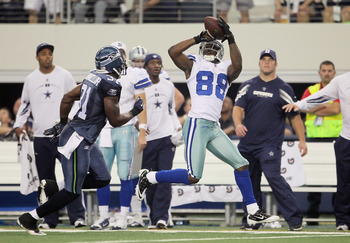 Jeff Gross/Getty Images
If Dallas can take advantage of its easier second-half schedule, Jerry Jones can see his "Stars" get in the playoffs via a NFC wild-card spot.
The Giants could collapse under their tough upcoming schedule but it's unlikely they'd fall so far that the team couldn't cash in on its current 6-2 record, even with the inconsistent Eli Manning as quarterback.
New York could have nothing to play for if it cannot get a first-round bye because it appears San Francisco will have that locked up because of the NFC West competition upcoming on Jim Harbaugh's schedule. Would the Giants want to put it to the Cowboys regardless?
If Dallas is to fall a game just short of an NFC wild-card spot, Tony Romo's collapse against Detroit at Cowboys Stadium would sum up Dallas' season not only because of Romo's inconsistent play, but because the game would likely serve as a tiebreaker between the two NFC teams.
8. Week 16: Chicago Bears vs. Green Bay Packers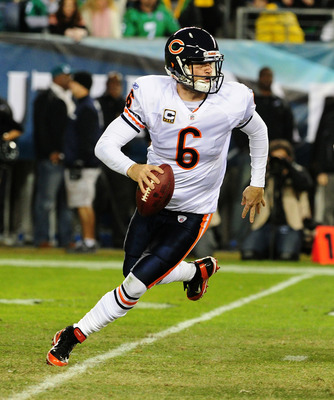 Scott Cunningham/Getty Images
The Packers have already beaten the Bears once, Week 3 in Chicago, and another loss would put the Bears in hibernation if the Lions can beat the Packers once.
Mike McCarthy holds the fates of both division rivals in his hands. If Green Bay rests its starters, which won't happen judging by the team's attitude, wins by both Chicago and Detroit will neutralize the foes and put both teams on even ground.
If Aaron Rodgers rests only in Week 17, it'll hurt the next team listed.
7. Week 17: Detroit Lions vs. Green Bay Packers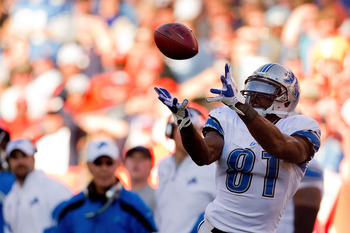 Justin Edmonds/Getty Images
This game will mean nothing for Green Bay unless Mike McCarthy and Aaron Rodgers have the Packers undefeated and that meaning is more sentimental.
Detroit isn't going to escape Chicago so easily and losing to Atlanta in Week 7 could serve as an NFC wild-card tiebreaker. Thanksgiving is the first game between Green Bay and Detroit, which definitely won't be overlooked by any football fan, but Chicago already has one game out of the way against Aaron Rodgers.
If the Lions are to lose this game, I'm saying it'll mean no playoffs.
6. Week 10: New England Patriots vs. New York Jets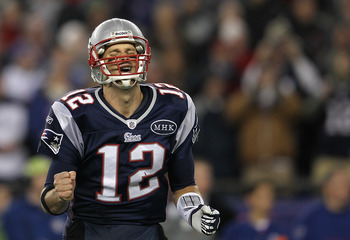 Jim Rogash/Getty Images
This AFC East rivalry seems a bit forced by the media but it still has two good teams going against each other.
New England sweeping the Jets would mean the Patriots winning the division unless Buffalo not only beats the Patriots Week 17 but wins at least four more games on top of that.
Losing this game would force New York to have more wins than New England because the division tiebreaker would be in favor of the Patriots.
5. Week 12: Buffalo Bills vs. New York Jets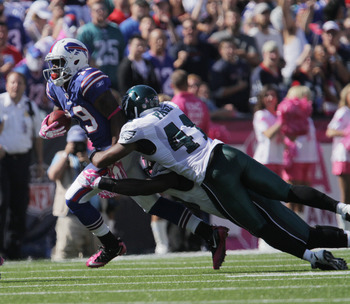 Brody Wheeler/Getty Images
Why is this matchup ranked ahead of the Jets-Patriots game this weekend?
For starters, this game is later in the season. It's also more likely that Rex Ryan sweeps Chan Gailey two games straight than it is for Bill Belichick to beat Ryan's Jets yet again this weekend.
With both the Bills and Jets at 5-3, this game will mean one team jumping past the other assuming both squads keep pace in the next few weeks.
It's unlikely that three AFC East teams make the playoffs and it's a good bet to pencil in Tom Brady getting one of the spots, at least a wild-card berth for New England.
4. Week 17: Buffalo Bills vs. New England Patriots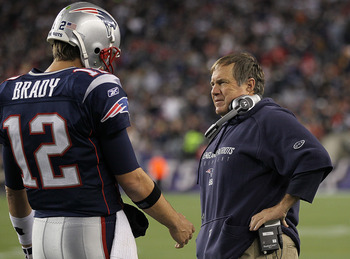 Jim Rogash/Getty Images
Buffalo intercepted Tom Brady three times in the Bills' Week 4 win against the Patriots. The entire AFC East is bundled up with three teams currently at 5-3.
The Bills may not be more likely to fall apart down the stretch. Chan Gailey's team is more well-rounded on both sides of the ball than Bill Belichick's.
Buffalo arguably would be a better playoff team in the cold, but the Bills won't host a home game unless the team shockingly beats out the Patriots and Jets for the division.
3. Week 10: Detroit Lions vs. Chicago Bears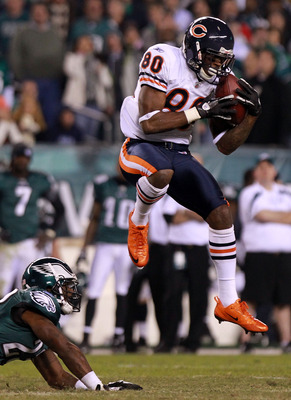 Nick Laham/Getty Images
This is a relatively early game to make the list, but it's the last game between the two NFC North rivals.
Both the Lions and Bears currently possess NFC wild-card spots with the division crown out of reach for the Packers. A loss for Chicago would mean much more negatively than a win would positively.
Chicago has an easier schedule down the stretch, but Jay Cutler cannot allow Detroit to get two games up on his team. If this happens Sunday, the Bears won't earn a wild-card spot at season's end.
2. Week 17: San Diego Chargers vs. Oakland Raiders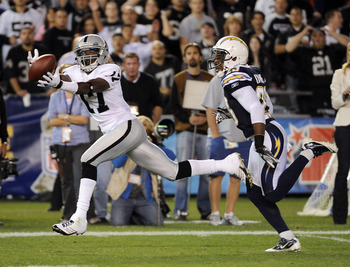 Harry How/Getty Images
If San Diego catches up in the win column with Oakland in the remaining seven games, this game will be for all the marbles.
Fans of no particular team in general should be rooting for both teams to enter the matchup with identical records because it'll mean whoever wins makes the playoffs and whoever loses is likely done.
There will not be two AFC West teams in the playoffs because it'll be either the AFC North or AFC East that sees two or three teams that get in, so San Diego may want to wake up before this game.
1. Week 16: Atlanta Falcons vs. New Orleans Saints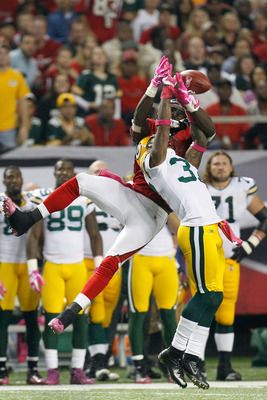 Kevin C. Cox/Getty Images
The only difference between Atlanta and New Orleans right now is the Falcons have one more loss as they've played one more game. The Saints can thank an untimely, terrible loss to the Rams.
This week's game at the Georgia Dome will be crucial because if any one team sweeps the series, that squad will be heading to the playoffs. If the Saints end up having the better record at the end of the season, the Falcons' win against Detroit will be huge because it will mean one of the NFC wild-card spots.
If Atlanta has the superior record, New Orleans may have to earn the win against the Lions in Week 13 to ensure a playoff berth. Neither NFC South team should count on an NFC wild-card spot as Detroit and Chicago currently occupy both. Atlanta's Week 1 loss to Chicago may end up being the nail in the coffin.
Tiebreakers are sure to come into play somehow, someway in the NFC wild-card race.
Keep Reading