2011 New York Jets: Predicting Every Remaining Game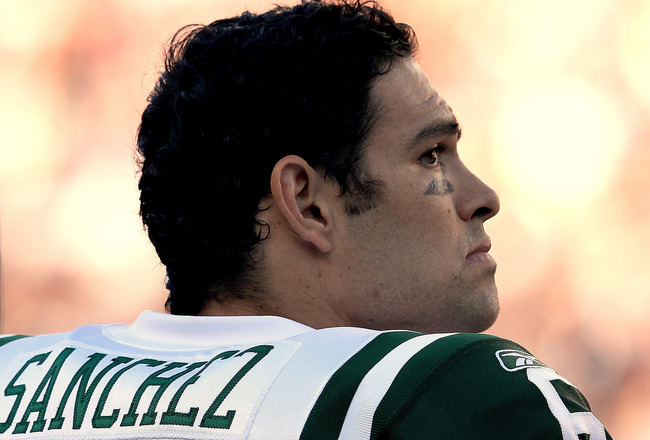 Jim Rogash/Getty Images
The New York Jets have been one of the most disappointing teams of the 2011 season, as they have appeared sluggish and weak through the first five games. One of the elite AFC franchises heading into the season, the Jets have dropped three straight road contests to tough opponents.
The Jets vaunted run defense has been awful through five games, as it currently ranks 28th in the league in rushing yards allowed. Despite their struggles, Gang Green still possess the talent to make a run. But will they?
Week 6 vs Miami Dolphins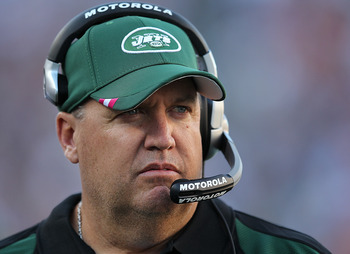 Jim Rogash/Getty Images
The Jets begin their road to redemption this week on Monday Night Football against division rival Dolphins. Miami has had New York's number in recent years, winning four of the last five meetings between the two. However, Miami look like one of the league's worst teams so far this season, as they have dropped to 0-4.
Expect the Jets defense to rebound this week by physically dominating a weak Dolphin offense, led by backup Matt Moore. Gang Green will get a huge win and reinstill some confidence back into the locker room.
Jets 27, Dolphins 10
Week 7 vs San Diego Chargers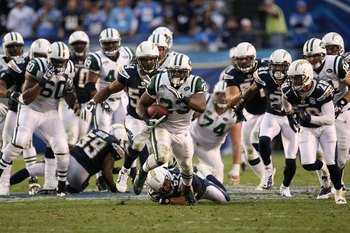 Stephen Dunn/Getty Images
New York will stay at home to play an elite Chargers squad fresh off a bye in Week 7. This will be a tough test for Rex Ryan and company, but home field advantage will play a significant role. The Jets will force Philip Rivers into some rare mistakes, while Mark Sanchez does just enough on the opposite side to help New York squeak out a win at home, en route to moving to 4-3.
Jets 20, Chargers 17
Week 9 at Buffalo Bills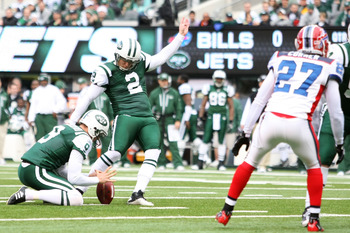 Michael Heiman/Getty Images
This will be the game where the Jets re-establish their bandwagon. Fresh off a bye, New York will travel to Buffalo to play a crucial contest against the Bills.
Buffalo looks like competition early, as they have marched out to a 4-1 start behind explosive performaces from Ryan Fitzpatrick and Fred Jackson. However, the Bills will come back to earth sooner or later, and the Jets will flex their muscles in a "must-win" AFC East game.
Mark Sanchez will have his best performance of the year against a weak Bills defense, and the Jets re-energized defensive unit will force a good amount of mistakes out of Fitzpatrick. New York moves to 5-3 while poising themselves for a playoff berth.
Jets 30, Bills 17
Week 10 vs New England Patriots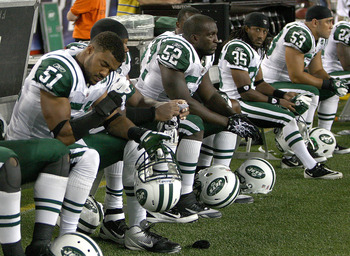 Jim Rogash/Getty Images
New York has never lost to the Patriots at home under Rex Ryan, and this will continue in 2011. The Jets, riding a wave of confidence after three consecutive wins, will play the game of the team's season in Week 10.
Gang Green's defense will manage to slow Brady while also stopping the Pats running game. Mark Sanchez and company will tear up a weak New England secondary en route to a HUGE win over the class of the division. New York establish themselves as one of the AFC's elite teams, as they move to 6-3.
Jets 27, Patriots 20
Week 11 at Denver Broncos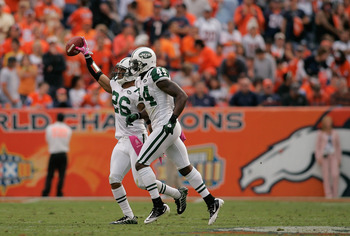 Justin Edmonds/Getty Images
The easiest portion of the Jets' schedule begins in Week 11, as they face four of the weaker teams on their slate. New York will have a very short travel week, though, as they travel to Denver to take on the Broncos on a Thursday night game.
The Jets will start off slow, perhaps letting Tim Tebow and company take an early 10-point lead. However, Gang Green will rebound, dominating the second half in route to a big win over a weak Broncos squad.
Jets 24, Broncos 17
Week 12 vs Buffalo Bills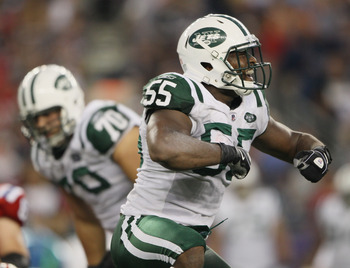 Elsa/Getty Images
The Jets face the Bills for the second time in four weeks at the end of November. At this point in the season, the rivals are going in opposite directions, as Buffalo will be really struggling, while New York will have won five straight. The Jets swagger will be noticeable in this contest, as they will frustrate Chan Gailey and company from start to finish en route to a blowout win over the reeling Bills.
Jets 34, Bills 13
Week 13 at Washington Redskins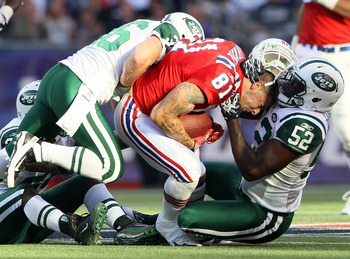 Elsa/Getty Images
At 8-3 and on a roll, the Jets seem poised to another big win over the Washington Redskins in Week 13. However, New York's momentum will be halted, as Rex Grossman and crew will pull of a major upset.
Gang Green's defense will be as stifling as ever, but the Washington defensive unit will shut down Mark Sanchez and force plenty of turnovers. The Jets suffer a frustrating loss as the offense pulls a stinker.
Jets 6, Redskins 10
Week 14 at Kansas City Chiefs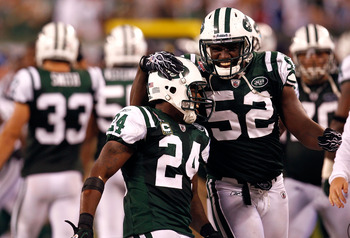 Jeff Zelevansky/Getty Images
After a devastating loss to the Redskins, New York will rebound in a huge way in Week 14 against the Chiefs. Kansas City have turned it around after a disastrous start, but are in no way the playoff team they were last year.
Arrowhead will give the offense some troubles, but with Revis shutting down dynamic wideout Dwayne Bowe, the Chiefs will be stifled all day long by the Jets vaunted defense.
Jets 17, Chiefs 6
Week 15 at Philadelphia Eagles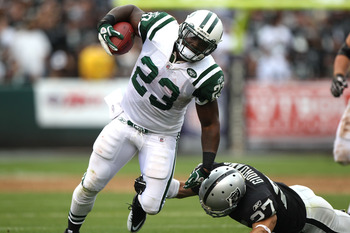 Jed Jacobsohn/Getty Images
Gang Green will suffer its second loss in three weeks against a talented Eagles team in Week 15. Philadelphia will be making a desperate playoff push late in the season while dismantling opponents in their path.
This will be a great game that goes down to the wire, but the Jets offense will be unable to answer an explosive Eagles team through four quarters.
Jets 20, Eagles 30
Week 16 vs New York Giants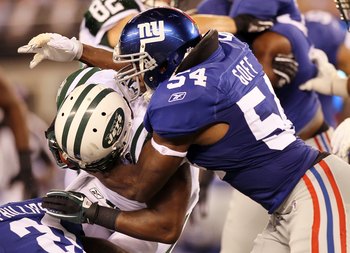 Jim McIsaac/Getty Images
The Battle of the Big Apple will be a fabulous game, with mistakes galore leading the headlines. With two great defenses and two mistake prone quarterbacks, all hell is likely to break loose.
The Jets, furious over last week's tough loss to the Eagles, will show up in this huge contest on Christmas Eve.
The Giants, also forming a late playoff push, will bring it all as well. This will be a terrific spectacle for any football fan, as the Jets seal the deal in the final minutes after an Eli Manning interception. With this win, Gang Green moves to 10-5 and clinches a playoff spot.
Jets 24, Giants 23
Week 17: At Miami Dolphins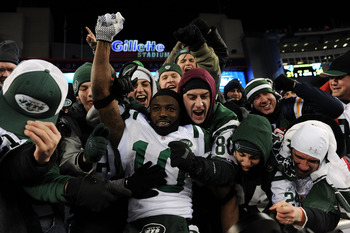 Michael Heiman/Getty Images
Having already clinched a playoff spot, but destined to be the six seed, Gang Green will rest their key backups for the final regular season game. Despite this, New York still manages to eek out a win against a dismal Miami Dolphins team. With this win, the Jets finish the regular season at 11-5 for the second straight season, but will once again have to be road warriors in the postseason.
Jets 20, Dolphins 14
Keep Reading

New York Jets: Like this team?