...Bleacher Report Week Six Power Rankings and Spread Winners
October 13, 2011
Scott Cunningham/Getty Images
Week 6 of the 2011 NFL season will be easy pickings for experienced point spread bettors.
Each team will be ranked, with this week's point spread winners broken down to a logical outcome.
1. Green Bay Packers  -14.5
The current Super Bowl champs are the best team in football right now, and Aaron Rodgers may be this season's MVP. The Packers are heavily favored at home this week playing the Rams. The Packers will cover the line and the over 75 percent of the time, making this a good play each and every week leading up to Week 14.
2. Detroit Lions  -4.5
The Lions, at 5-0, host the surprising 49ers who, at 4-1, find themselves atop the NFC West. I give the 49ers an excellent chance of a win on the road. Take the points in this one, and.Detroit will stay at No. 2 should they get the win.
3. New England Patriots  -7.5
Take the over every week with New England and you will do  fine. This week, Dallas visits Foxboro, and the line is 7.5 Dallas with the over is the correct play here.
Already now, the Bills have some big games coming up, so let's see if they are worthy of this high Week 6 rating as the season progresses.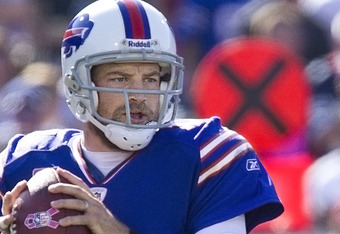 Brody Wheeler/Getty Images
Fred Jackson continues to impress week after week. One big win over a division rival does not quite get you in the elite status, but keep up the good work. Again, win this week and stay at No. 4.
Buffalo visits the Giants with 3.5 points on the Bills' side. In the NFC East, it is very difficult to win in their building—very difficult. Take the Giants with those 3.5 big points on Sunday.
This team could go a long way if Joe Flacco can gain one more step up the ladder to being a great quarterback. If this doesn't happen this season, you better think about a new guy. That being said, the Ravens are favored by 7.5 points at home against Houston.
Houston loses a key defensive player, and Andre Johnson is hobbled again..
Think about what this team did to Pittsburgh recently—I would lay the points out on a stretcher and carry them back to Houston. Matt Schaub is in for a long day.
6. San Francisco 49ers  +4.5
This week, we might finally realize that this team is not what we thought it was at the beginning of the season. A good showing in Detroit will showcase this team to the mainstream football nation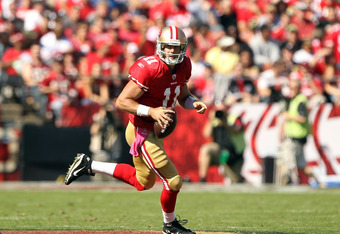 Ezra Shaw/Getty Images
In what should be a ground attack, and Frank Gore pounding the ball up the gut of Detroit may slow that nasty defensive line push, especially in the middle. The passing game and the playbook has slowly been opened up by Coach Harbaugh, and Alex Smith is now buying in the system.
Four-and-a-half points should be too many in what looks to be a field-goal game. Both red zones should be stingy this week, and I love the under in this one.
7. New Orleans Saints
The Saints keep winning, and at 4-1 will stay in the top 10, obviously with a healthy Drew Brees, adequate defense and someone to run the ball—namely Mark Ingram—as much as possible.
This week, New Orleans travels to a Tampa Bay team scratching its head after getting waxed by the 49ers, 48-3.
New Orleans is simply a better football team than the Bucs, and this will show on Sunday. The Saints are favored on the road by 4.5 points, which should be a solid play. Stay away from the over/under on this one, as this should be a one sided affair this week.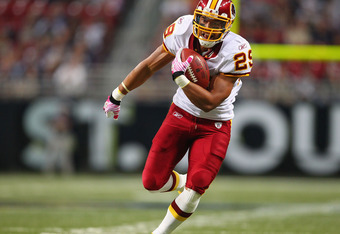 Dilip Vishwanat/Getty Images
The Chargers, at 4-1, rest this week, and will be a huge pick in Week 7, after a week of non-contact. This team seems different than past Charger teams that started slowly. These guys are not starting slowly and a very good regular season record seems likely.
Beating the Eagles really helped me out here, as normally you would not be thinking of the Redskins as a top 10 team. A record of 3-1 is really a big surprise for most fans. If the Redskins beat the Eagles this week, I hereby award them No. 9.
The main problem is that this is just an honorary position for being 3-1. I seriously doubt the Eagles will lose five games in a row, although it could happen.
I just don't think so, and I am right more than I am wrong.
The home team confidence with Vegas is only .05 points. A half-point spread for the home team spells doom! Take Vick and the Eagles to snap the bad vibes this week.
The Steelers' schedule gets easier as the season progresses. There are no gimmes in the NFL, but, looking ahead, the Steelers will finish this season at 11-5. The Ravens may very well be at 12-4, so expect a playoff meeting that should be memorable.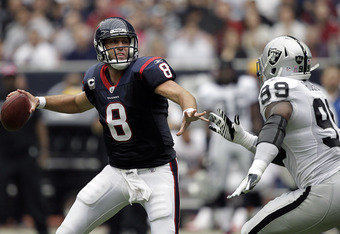 Bob Levey/Getty Images
This week, Pittsburgh beats up on Jacksonville and, not making the same mistake as last week, I will take Pittsburgh and give them 12-13 points.
Last week, I expected Matt Hasselbeck to extract some kind of revenge on the Steelers for that previous Super Bowl, but, alas, dumb reasoning. Learn from your mistakes.
11. Houston Texans  +7.5
This team will finally make the playoffs this season. At 3-2, the Texans will have a big test when traveling to Baltimore. The Ravens will kill them in Baltimore this week by 10 points, but Houston will move on and regroup for a few wins in a row. 
12. New York Giants  +4.5
The Giants are sleepwalking through the season so far, with little excitement. The better teams will beat the Giants this year, and I see them finishing 9-7 at best. Both Washington and Philadelphia will be in better shape by Week 14.
I do predict the Giants beat Buffalo at home this week.
13. Tampa Bay Buccaneers  +4.5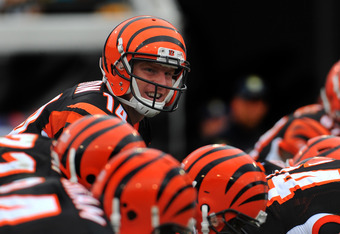 Al Messerschmidt/Getty Images
Tampa Bay fell out of grace with a 48-3 thrashing by the 49ers last week, This team may come up with a wild card, but displacing both Atlanta and New Orleans may be too difficult a task this season.
I like New Orleans to cover 4.5 on the road this week against Tampa Bay.
14. Cincinnati Bengals  -6.5
The Bengals are 3-2 so far this season. After Pittsburgh and Baltimore get two games each with this team, we will see who is left standing.
I don't see a playoff future for the Bengals this season.
Cincinnati might lose to Indy this week, but stay away from this useless endeavor. If you must wager on this mess, take Indy and the 6.5.
15. Oakland Raiders  -5.5
This team is on the verge of getting relevant once more in the football world. It has been a struggle for the Raiders over the last seven or eight seasons, but there is a light at the end of the tunnel.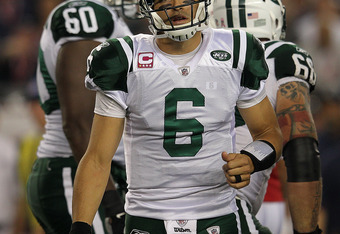 Jim Rogash/Getty Images
The passing of Al Davis may provide week-to-week inspiration for this team. We will see, but I don't see this team passing the Chargers in the standings this season.
I have the Raiders in let down mode after a big emotional swing last week. Cleveland gets 5.5 points and Peyton Hillis should be playing without strep throat. Take the Browns in a bit of a shocker in Oakland.
16. Dallas Cowboys  +7.5
Dallas has all kinds of small problems that might hurt them in their tough division. Dallas could win in New England, but it's doubtful. Still, seven and change is a lot of points—I will bite on the points and chose Dallas this week to beat the spread at least.
17. New York Jets  -7.5
I have the Jets covering this week at home against Miami, as the Dolphins are not well.
As for the Jets, both Buffalo and New England are going to be very hard to catch at this point. The Jets may be good enough for a Wild Card spot, but that's about it this season.
18. Cincinnati Bengals  -6.5
The Bengals are favored by almost a touchdown over the Manning-less Colts.This may be a trick. The Colts are hurting for sure. I have the Bengals to cover, but somehow Indianapolis might jump up and bite us this weekend.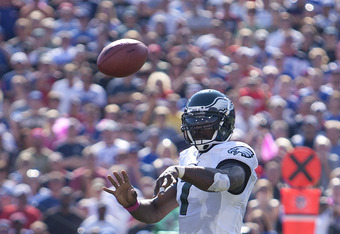 Brody Wheeler/Getty Images
19. Atlanta Falcons  -4.5
The underachieving Falcons need to get it together, or they risk missing the playoffs. I do expect this team to make a run, starting this week with Carolina at home, but Atlanta should score enough points to offset Cam Newton this weekend.
20. Chicago Bears  -3.5
A division game against the Vikings faces Chicago this week. Chicago is not a playoff team—at least not right now. These games are usually very close, and Minnesota showed signs of life last week.
The Vikings are on the correct side this week.
21. Philadelphia Eagles  +.5
Washington only gets a half a point at home? No Vegas confidence whatsoever. Take the Eagles this week, as Andy Reid will not lose five straight games.
The following teams, in no particular order, will not make the playoffs and will have a bit of work still to catch up with the better teams..
Carolina loses to Atlanta this week.
Indy loses to Cincinnati on the road.
The Rams get another loss to Green Bay.
Jacksonville loses to Pittsburgh.
Cleveland covers, or even wins this week against the Raiders, but still no playoffs here this season.
Miami loses another game.
Minnesota is almost toast this season.
Denver will start up again after their bye week. Chargers have this division. No Wild Card for Oakland, Kansas City or Denver.
Tennessee is a good team, not great. Work to be done there.
Arizona and Beanie Wells Have some good moments, but nothing to brag about.
Seattle and the Rams are chasing 49ers' dust in 2011.