Chargers' FC Weekly NFL Picks: Week Six with Spread
October 12, 2011
Doug Pensinger/Getty Images
Last Week's Results: 8-5
Week 5 Review: The Seahawks came out of nowhere to beat the Giants, thanks to some late game heroics byEli Manning. The Eagles beat themselves again. Al Davis died—which I didn't factor into my pick. Aaron Rodgers is the best QB in the league and the Bears O-Line couldn't block me coming off the edge.
***This week I am going with the spread...So things could get interesting. Spread will continually update until Friday, when I will make my final picks and give an analysis.
Bold = My Pick
St. Louis Rams @ Green Bay Packers: Packers (-14.5) 
Key Reasons: In their last meeting, the Packers pounced on the Rams by 19 points in St. Louis. The Packers offense looks unstoppable (they are averaging almost 35 points per game). So if averages play out, the Rams must score 10 points above their mean of 11 points per game to cover the spread. 
Jacksonville Jaguars @ Pittsburgh Steelers: Steelers (-13)
Key Reasons: The Jaguars got blown out by an above average Jets defense in Week 2 by 29 points. The Steelers, despite a slow start, are still very strong on defense (1st in the league versus the pass) and are coming off the heels of a Big Ben 5 TD performance. At home this season, the Steelers have outscored opponents 61-17. I wouldn't be surprised if the Jaguars lay a big goose egg this Sunday. 
Philadelphia Eagles @ Washington Redskins: Redskins (-1)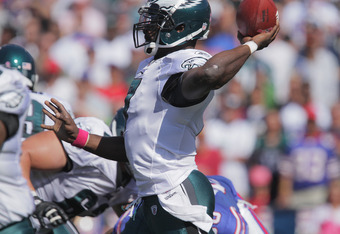 Brody Wheeler/Getty Images
Key Reasons: The Redskins pass rush is now one of the best in the league after the addition of Ryan Kerrigan. This defensive unit has been consistently underrated over the past couple seasons and have only been improving with solid draft picks (Brian Orakpo). The Eagles offensive line lost the game for them in Buffalo, and will do it again in Washington. A (-1) spread is generous in my eyes.
San Francisco 49ers @ Detroit Lions: Lions (-5)
Key Reasons: I am now a believer. I doubted the Lions going into that Monday night game, but they showed dominance against a very good Bears defense. The 49ers haven't really played anyone except for the Cowboys at home (a game in which they lost and gave up 345 pass yards to Tony Romo). I see "Megatron" going for another two scores against an undersized 49ers' secondary.
Cleveland Browns @ Oakland Raiders: Browns (+7)
Key Reasons: The Raiders haven't been able to stop anyone (22nd against the run, 29th against the pass) and will make this game closer than it needs to be. While I think the Raiders will win this game, it wont be a blow out. The Browns are a tough nosed team that will have Peyton Hillis back fresh after his illness. 
Dallas Cowboys @ New England Patriots: Patriots (-7)
Key Reasons: The Cowboys do have an ability to get after the quarterback, but may be without their two main deep threats in Miles Austin and Dez Bryant. Yes, the Patriots defense is last in the league, but the Patriots seem to make you pay for your mistakes on offense at the very least (Look at what they did to the Chargers). Tony Romo will foil under the pressure that Bill Belichick brings on his young offensive line and will be unable to keep up with Tom Brady's torrid offensive pace.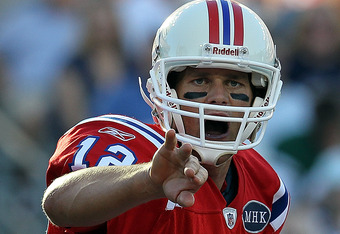 Jim Rogash/Getty Images
Minnesota Vikings @ Chicago Bears: Vikings (+3)
Key Reasons: Despite their slow start, the Vikings are still a very talented team. If you thought the Lions made the Bears offensive line look silly, you are going to laugh at what Jared Allen and gang (2nd in the league in sacks) do to them in Chicago. They terrorized Kevin Kolb last weekend and jumped out to a 28 point lead. Adrian Peterson is finally jumping into his 3rd gear and will be facing a defense that gave Jahvid Best his first 100+ rushing game of the season. This could get ugly. 
Carolina Panthers @ Atlanta Falcons: Falcons (-5.5)
Key Reasons: Despite their early struggles, the Falcons are still an elite team. Yes, the Panthers have played good teams (Packers, Saints) close, but that has been at home. The Panthers are also horrible against the run (27th) on defense. Look for Michael Turner to finally breakout against a depleted defensive unit.
Houston Texans @ Baltimore Ravens: Texans (+9)
Key Reasons: Not sure how the Texans are getting these type of points with the way they can run the ball. The Ravens are great against the run (2nd in the league), but will be facing a hungry Texans teams after a devastating loss at home to the Raiders. This game will be won by the Ravens, but will be closer than most think. Teams that can run the ball well rarely get blown out.
Indianapolis Colts @ Cincinnati Bengals: Colts (+7)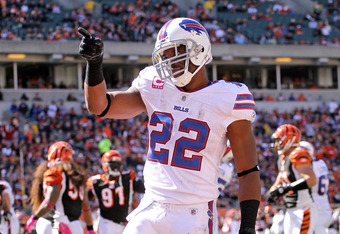 Andy Lyons/Getty Images
Key Reasons: Considering the Bengals only score 22 points a game, seven points seems quite generous against a still very talented Colts team. Curtis Painter is finally showing life and look very comfortable throwing to Garcon. Joseph Addai will be out for this game, but I think his back up Delonte Carter will be big in his first start.Colts get in the win column in Week 6.
Buffalo Bills @ New York Giants: Bills (+3)
Key Reasons: Obviously, the Bills still have doubters based off this measly spread. This is going to be a close game, but the Giants didn't prove much after letting the mighty Seahawks take away a game from them on the road.  Contrary to popular beliefs, the Bills offense is run through Fred Jackson, not Ryan Fitzpatrick. The Giants have been very ineffective against the run. They were gashed by Marshawn Lynch, who, before averaging 8.2 yards on the ground against the Giants in week four, was averaging 3.1 YPC. Fred Jackson leads Bills to another win.
New Orleans Saints @ Tampa Bay Buccaneers: Saints (4.5)
Key Reasons: Another interesting spread. The Bucs just got killed by the 49ers and Alex Smith. Drew Brees, simply put, is going to have a field day. Also, it looks as though LeGerrette Blount will be unavailable for this game.