Fantasy Football 2011: Musts, Trusts and Busts (Week 4)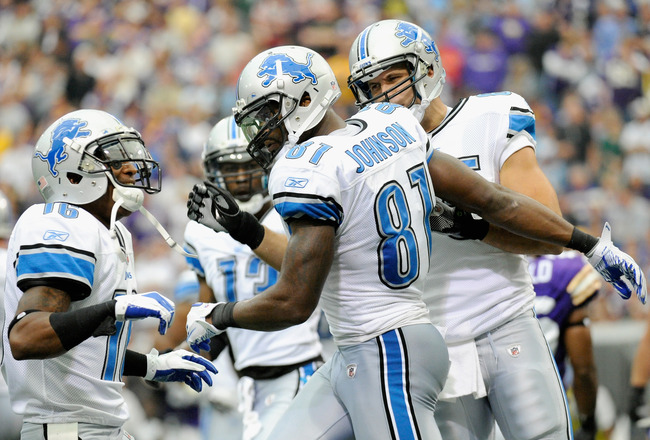 Deion Sanders in his prime couldn't handle Calvin Johnson, Megatron is almost uncoverable.
Hannah Foslien/Getty Images
Wide receivers Calvin Johnson and Andre Johnson are the new breed. Uncoverable freaks of nature with a propensity to make big plays.
But it's Calvin Johnson that has clearly established himself as the National Football League's preeminent receiving talent.
When asked if he was the best receiver in the NFL Andre Johnson said,
"No. I'm not the best (laughs)," he said. " … There's a lot of great guys out there, man. I'm a fan of the game. You look at … I'm a big fan of Calvin. Calvin Johnson. Right now, I would probably say he is the best."
With a young gun-slinger like Matthew Stafford under center Calvin is a lock to put up points in Detroit's high octane offense. The combination of Dallas' Terrance Newman and Mike Jenkins could provide a good test this week.
Version 5.0
Quarterback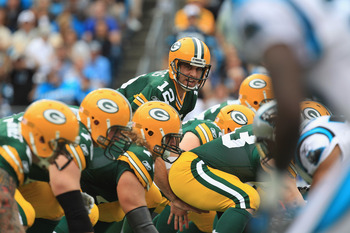 Streeter Lecka/Getty Images
Musts:
2. Tom Brady
3. Matthew Stafford
4. Drew Brees
Trusts: Tony Romo, Ben Roethlisberger, Matt Ryan, Josh Freeman
Value Depth: Ryan Fitzpatrick, Matt Schaub
Busts: Cam Newton, Eli Manning
Value Pickup: Rex Grossman
Analysis
This is the week that we see exactly what Cam Newton is made of. Chicago's Brian Urlacher is not someone you can "look off" at middle linebacker.
This will be an interesting matchup to watch.
This is also the week we find out if the Detroit Lions are for real.
Lead by Sean Lee the Dallas Cowboys defense has shown a propensity to make big plays.
Last seasons matchup featured Calvin Johnson without the injured Matthew Stafford as Johnson faced constant double teams. Look for more of the same out of the Cowboys in Week 4.
Runningback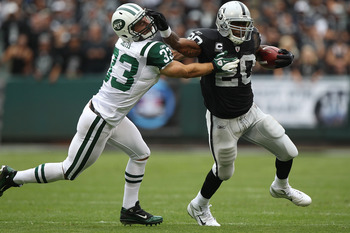 Jed Jacobsohn/Getty Images
Musts:
3. LeSean McCoy
4. Ray Rice
5. Matt Forte
Trusts: Maurice Jones-Drew, Ryan Mathews, Rashard Mendenhall, Chris Johnson
Value Depth: Peyton Hillis, LeGarrette Blount
Busts: Steven Jackson, Frank Gore, Felix Jones
Value Pickup: Knowshon Moreno, Kendall Hunter
Analysis
Yeah I said it, "trust" Chris Johnson.
Consider Weeks 1-3 CJ2K's training camp/preseason. I thought that Johnson would start slow, but I had no idea that by "slow" it meant non-existent.
But I trust that he'll bring it together, he has 53 million reasons to.
Speaking of non-existant, abandon ship on Frank Gore.
You should not have drafted him, I didn't.
If for some reason you did draft Gore you should have already handcuffed him with Kendall Hunter.
Mark my words, Hunter is legit.
With the fall of Antonio Gates in San Diego comes the rise of Ryan Mathews, he is now what he was projected to be last year.
Don't be afraid to play Ray Rice this week, he will do well, even against a tough New York Jets defense.
Knowshon Moreno will play this week as Willis McGahee was run into the ground last week. Go get Moreno if available.
Wide Receiver
Hannah Foslien/Getty Images
Musts:
1. Calvin Johnson
2. Andre Johnson
3. Roddy White
5. Greg Jennings
Trusts: Wes Welker, Mike Wallace, Steve Johnson, DeSean Jackson
Value Depth: Brandon Marshall, Dez Bryant, Hakeem Nicks, Sidney Rice
Busts: Santonio Holmes, Percy Harvin
Value Pickup: Nate Washington
Analysis
At any given time this entire list of wide receivers could be considered "musts."
In a time were the passing game has become more prevalent in the NFL we have seen some of these players enjoy career numbers through three games.
With Kenny Britt out for the season it's a good idea to go get Nate Washington if you haven't already.
If Dez Bryant is a go Sunday against Detroit at Dallas, start him.
When healthy Bryant has the skill set of that of Arizona's Larry Fitzgerald.
Keep Reading