Fantasy Football 2011: Musts, Trusts and Busts (Week 3)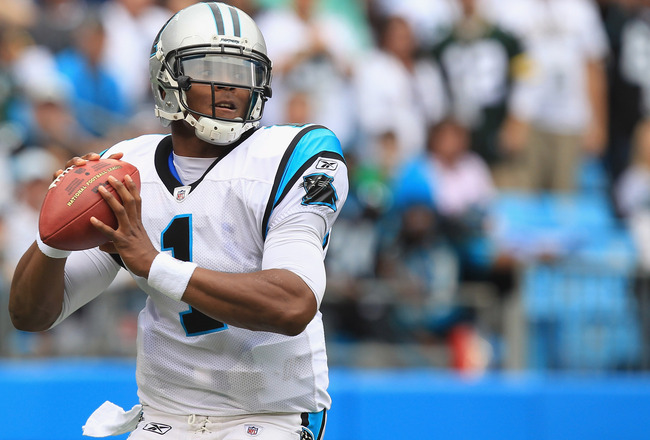 Streeter Lecka/Getty Images
As far as Musts, Trusts and Busts Version 3.0 is concerned, I must make a formal apology.
Cam Newton, I'm sorry.
I don't know whether to label Carolina Panthers rookie quarterback Newton a "must" or a "trust" for sure, but as far as fantasy football is concerned he certainly isn't a "bust." Through two regular season NFL games Newton has thrown for nearly 1,000 yards and three touchdowns, and he has also accounted for 71 yards and two touchdowns on the ground.
For all intents and purposes, Cam Newton is the Carolina Panthers and, barring injury, is someone you can rely upon on a weekly basis.
Injury Update
Michael Vick: concussion (will play)
Jamaal Charles: torn acl (out for season)
Arian Foster: re-aggravated hamstring injury
Tony Romo: collapsed lung
Miles Austin: re-aggravated hamstring injury
Dez Bryant: thigh
Jeremy Maclin: concussion
Quarterback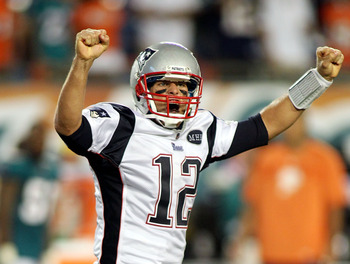 Marc Serota/Getty Images
Musts:
1. Tom Brady
5. Drew Brees
Trusts: Matt Schaub, Cam Newton, Ben Roethlisberger, Michael Vick
Busts: Kerry Collins, Jay Cutler, Chad Henne
Value Depth: Matt Ryan
Value Pickups: Matt Hasselbeck, Mike Kafka (Handcuff)
Analysis
I've officially labeled Cam Newton a "trust" with a dash of "must." Depending on your quarterback situation on your particular team, you may need to insert the first-year quarterback into your starting rotation.
Matt Ryan is a little banged up from the beating he took in last week's game, but, like Michael Vick, he should play in Week 3.
Speaking of Vick, it looks as Mike Kafka/Vince Young is an essential handcuff. We'll find in the coming weeks exactly who is the true No. 2 in Philadelphia.
Don't sleep on Matt Hasselbeck.
Jay Cutler will need help off the field at some point in Chicago's Week 3 contest against the Green Bay Packers.
Running Back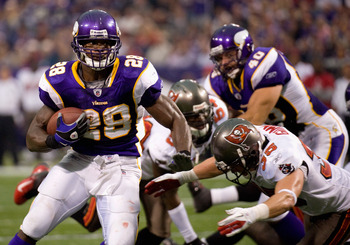 Hannah Foslien/Getty Images
Musts:
2. LeSean McCoy
3. Ray Rice
4. Rashard Mendenhall
5. Chris Johnson
Trusts: Peyton Hillis, Maurice Jones-Drew, Frank Gore, Ben Tate, Michael Turner, Darren McFadden, Ryan Mathews.
Busts: Matt Forte
Value Depth: Jahvid Best, Beanie Wells, Tim Hightower
Value Pickups: Dexter McCluster (RB/WR)
Analysis
This could be a big week for running backs, but no running back has a better matchup than Rashard Mendenhall against a porous Colts rush defense.
The Detroit Lions run defense has done a fantastic job shutting down opposing running backs through two weeks, but Adrian Peterson is Adrian Peterson and he typically plays well against Detroit.
Look for Chris Johnson to finally re-assert himself as an elite back in Week 3; if he is incapable of reaching the end zone it's time for CJ2K owners to hit the panic button.
Ben Tate is the back in Houston right now and will continue to get touches even if Arian Foster is able to make a healthy return this season.
It won't be long that Ryan Mathews takes his rightful place as the No. 1 back in San Diego and Mike Tolbert is relegated to spot duty.
Wide Receiver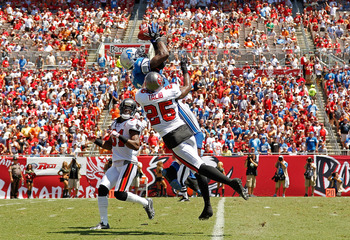 Mike Ehrmann/Getty Images
Musts:
1. Calvin Johnson
2. Andre Johnson
3. Vincent Jackson
5. Greg Jennings
Trusts: Kenny Britt, Mike Wallace, Hakeem Nicks, Roddy White
Busts: Brandon Marshall
Value Depth: Steve Smith (Carolina), Brandon Lloyd
Value Pickups: Eric Decker, Denarius Moore
Analysis
You can't go wrong with Calvin Johnson and Andre Johnson—no one quarterback relies more heavily on his No. 1 receiver than Matthew Stafford and Matt Schaub.
Vincent Jackson showed up in Week 2, and depending on the matchup, Mike Wallace is at the very least a "trust."
Hakeem Nicks will score in Week 3, and Kenny Britt looks to be unstoppable.
Denver's Eric Decker looks to be an Ed McCaffrey/Wes Welker hybrid. The healthy return of Brandon Lloyd could either significantly hurt or help Decker's stock in the coming weeks.
Keep Reading