NFL Week 2 Power Rankings: New Orleans Saints on the Rise
September 20, 2011
Chris Graythen/Getty Images
There's been quite a shakeup since I released my opening weekend power rankings.
Injuries are starting to take their toll on a few teams, and some guys just aren't living up to expectations. Here's a quick glance at my power rankings for this week. Previous rankings are in parentheses.
1. New England Patriots (1)
The juggernaut marches on. Tom Brady appears poised to smash a few records if the team doesn't wear itself down. It's hard not to picture the Pats steamrolling their way to Indianapolis this February.
2. Green Bay Packers (2)
The Pack let Carolina stay in the game too long, but a win is a win. They're still the class of the NFC at this point, and unless they start racking up injuries I don't foresee that changing.
3. New York Jets (4)
I said that as long as Mark Sanchez doesn't give away games, the Jets will continue to win. It takes more than two interceptions to give away a game to the 2011 Jacksonville Jaguars. This team's still in good shape even with a brutal schedule ahead.
4. Baltimore Ravens (3)
Give Joe Flacco a little praise and he returns to his deer-in-headlights ways. The man simply can't handle a good pass rush, and the Tennessee Titans have one. Overall talent and a very easy schedule keeps the Ravens in the top four here.
5. Pittsburgh Steelers (8)
The 2011 Seattle Seahawks are like Pepto-Bismol for opponents who are coming off a bad week. The Steelers are back in form, and may have an even softer schedule than the Ravens. They could very well be mediocre and still win 10 or 11 games.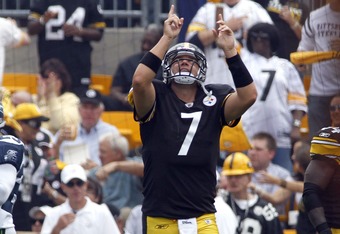 Justin K. Aller/Getty Images
6. New Orleans Saints (15)
The Saints are one of three big movers this week. They recovered nicely from their opening-night loss by abusing the Chicago Bears' offensive line and knocking Jay Cutler around en route to a convincing victory.
7. Detroit Lions (7)
Suddenly, football matters in the Motor City again. The offense is clicking, there are only minor health issues, and the defense is nasty. The road gets a bit tougher from here, but this team is built to do some damage if they stay out of the trainer's room.
8. Philadelphia Eagles (6)
If Michael Vick has to miss a game, it's not the end of the world for the Eagles. Mike Kafka looked pretty good in limited action on Sunday night. I'd be more worried about the defense at this stage. For having so many big names, they looked mighty vulnerable against Atlanta.
9. Houston Texans (11)
The Texans' ranking here is clearly boosted by the sorry state of affairs in the AFC South. The secondary appears to finally be competent, and the matchup in New Orleans on Sunday should be a lot of fun to watch.
10. Chicago Bears (5)
The Bears stay in the top ten based almost entirely on defense. Their offensive line looks like Swiss cheese in the face of a pass rush, and a Mike Martz offense can't function properly with zero quarterback protection. The Packers are coming to town this week. I expect it to get messy.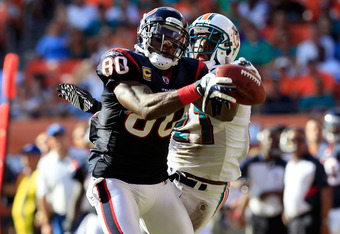 Sam Greenwood/Getty Images
11. Dallas Cowboys (14)
Obviously you'd like to have Tony Romo out there all the time, but I think last season illustrated that it's not the end of the world if Jon Kitna has to step in for you. Kitna is an extremely underappreciated quarterback, age be damned, and can lead this team if he needs to.
12. San Diego Chargers (9)
Phil Rivers continues to look uncharacteristically erratic, but the fact that he seems to be able to find Vincent Jackson again should scare a lot of defenses. I'm not so sure about my initial assessment of this being better than ninth-best now. They'll still win the AFC West in a landslide, but not much more.
13. Atlanta Falcons (17)
This team just isn't what it was last year. Matt Ryan is struggling to make the plays that he needs to make, and the defensive front seven isn't getting to the quarterback like it needs to. Perhaps it would be best for the Falcons to rethink this whole "turn Ryan loose" thing and return him to his system quarterback roots.
14. Buffalo Bills (10)
I foresee a grim fate for the Buffalo hype train. They've beaten the AFC's primary whipping boy and a mediocre team that had to fly all the way across the country for a 1:00 game. Now comes the fun part—hosting the Patriots. I'm getting off this bandwagon before too much blood is shed.
15. Tennessee Titans (25)
Despite the article's title, the Titans are actually the biggest movers this week. I spoke of underappreciated quarterbacks in the No. 11 spot. Matt Hasselbeck belongs in that discussion. The old man handled a vicious defense with poise and led Tennessee to a pretty big upset over an elite team. Now if only Chris Johnson would start earning his $53.5 million...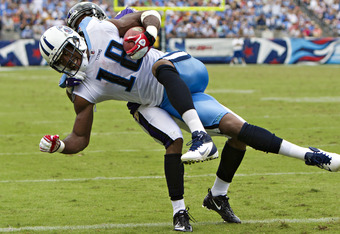 Wesley Hitt/Getty Images
16. Tampa Bay Buccaneers (24)
Things weren't looking so hot a week ago, but it appears the Bucs finally remembered that they had LeGarrette Blount on their roster. However, they forgot about Mike Williams in the process. Tampa needs to balance it out and keep both guys involved, because the defense is starting to come into its own and this young team has the potential to go places.
17. Cincinnati Bengals (12)
The Bengals aren't impressing me quite as much now. They were involved in a very winnable game in Denver, and they didn't capitalize. When you recover a fumble inside the opponent's 15, you should get seven points out of it. The fact that they were only able to get three was the difference in this game. They have to do a better job of seizing opportunities.
18. New York Giants (22)
I expected more from the Giants last night. The front seven was certainly putting a hurt on the ailing Sam Bradford, but the Rams' papier-mâché O-line played a huge part in that. Offensively, Eli Manning is as erratic as ever. The schedule is a mixed bag, mostly rough, with road games in New England and New Orleans, a home matchup with Green Bay and a cross-town bloodbath with the Jets in the works. There's not much reason for optimism here.
19. Minnesota Vikings (18)
The Vikes might be the best 0-2 team out there. Unfortunately, that isn't saying much. They couldn't put away the Buccaneers at home after building a 17-point first-half lead, showing that their inability to hold a 10-point lead against San Diego in week 1 was no fluke. The Vikings' biggest issue is discipline, as they've already committed 17 penalties. Undisciplined teams don't win football games.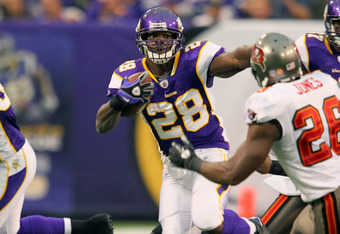 Adam Bettcher/Getty Images
20. Miami Dolphins (16)
The Dolphins are not a bad team, contrary to what you may be saying at the end of the year after they've gone 5-11 or 6-10. The fact of the matter is when you share a division with the Patriots and Jets, and your out-of-division schedule includes trips to San Diego and Dallas, you just aren't going to win many games. This is an average team cursed with a brutal schedule.
21. Oakland Raiders (19)
The Raiders, like the Chiefs before them, turned Ryan Fitzpatrick and Fred Jackson into stars. Unlike the Chiefs, however, the Raiders also a blew an 18-point halftime lead. Remember what I said about undisciplined teams not winning football games? It shouldn't surprise anyone that the Raiders, beacons of sloppiness that they've always been, committed 8 penalties for 85 yards on Sunday. If they play a cleaner game, they win it. Period.
22. Washington Redskins (13)
I realize that dropping a 2-0 team nine spots may seem crazy, but you know what's even crazier? Showing long-term faith in Rex Grossman. Trust me, I've seen him play, and it's going to get ugly any day now. Also, if you need a field goal inside of 2 minutes remaining to beat the Arizona Cardinals at home, you're going to be in deep trouble against real teams.
23. Cleveland Browns (26)
I'll be honest. Call it low expectations, but I didn't expect the Browns to win on Sunday. It happens when I see teams lose to the Bengals the week prior. The offense still has some work to do, but if Colt McCoy continues to develop, this team is good enough to win about 7 games. For those unfamiliar with the Browns, that's a lot of games.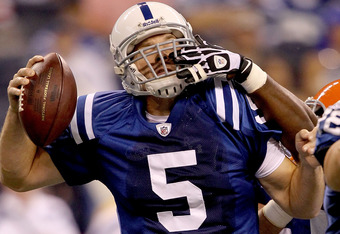 Matthew Stockman/Getty Images
24. Indianapolis Colts (21)
The Colts may want to consider going into the tank after that embarrassing display against Cleveland. The good news is it might not take much effort to do that, with Kansas City and Carolina being the only softies on their schedule. Let's be realistic—Peyton Manning is done, Kerry Collins isn't the answer, Curtis Painter isn't the answer, and David Garrard, should you choose to court him, isn't the answer. Do yourselves a favor and enter the Suck for Luck Sweepstakes™.
25. San Francisco 49ers (23)
The 49ers, like all NFC West teams, look better than they actually are because...well, because it's the NFC West. Soft schedules are the only thing keeping the entire division from going 3-13. That's how dismal things are. The good news is San Francisco is still the class of the field. The bad news is that just makes them a somewhat tall midget.
26. Jacksonville Jaguars (20)
Forget my 7-9 prediction from last week. If Jack Del Rio talks himself into any more of this Luke McCown nonsense, and I'm sure he will, the Jaguars are going to suck. Badly. Not that Blaine Gabbert is the answer either, but how can you just overlook a 1.8 passer rating? My God, Paris Hilton scores higher than that on IQ tests. Brutal matchups lie ahead in October, with home games against the Saints and Ravens and road beatings courtesy of the Steelers and Texans. Time to pack it in.
27. Denver Broncos (28)
I'll never understand the fascination that Broncos fans have with Tim Tebow. I want to see him succeed in the NFL as much as anyone, but he is not a better quarterback than Kyle Orton at this point. It's not even particularly close. So please stop chanting for him to be put in and start pointing your fingers at the players who are actually responsible for your team's miserable state. You can't run the ball at all, and you can't stop an NCAA Division III offense. Scapegoating Orton isn't going to solve these problems.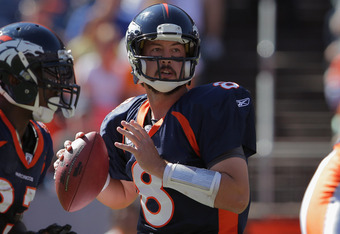 Doug Pensinger/Getty Images
28. Arizona Cardinals (29)
Again we come to an undisciplined team giving a game away. The Cardinals, however, have significantly less talent than the Vikings and Raiders, so they especially can ill afford to make these mistakes. They held a 21-13 lead over the Redskins with 10:58 to go, but ultimately came up short for several reasons. Was it the 10 penalties? Was it the poor play-calling that led to them burning less than a minute off the clock while holding a two-point lead? Was it Chansi Stuckey's fumble? Or are the Cardinals just that bad altogether? I'll take D for $1600, Alex.
29. Kansas City Chiefs (27)
Now we're getting into the legitimate contenders in the Suck for Luck Sweepstakes™. Jamaal Charles is done for the year, meaning defenses can feel free to pull guys out of the box and render Dwayne Bowe irrelevant. Oh no, please don't give the ball to Thomas Jones! You're scaring us! And with Eric Berry also finished, the Chiefs simply can't stop anyone. They've been outscored 89-10, and they're heading to San Diego next week. Prepare yourselves for these words from Roger Goodell, Chiefs fans: "With the first pick in the 2012 NFL Draft, the Kansas City Chiefs select Andrew Luck, quarterback, Stanford."
30. Carolina Panthers (32)
You often hear about some teams being on the verge of greatness. Well, the Panthers don't fit that description, but they're on the verge of winning a game. And if they're going to do it, hosting the Jaguars next week will be a prime opportunity. Cam Newton hasn't been figured out yet, so we could very well see him air it out for 400 more yards. Nonetheless, a high draft pick is definitely in the works again, but if the Panthers draft wisely, that pick combined with a matured Newton and a healthy linebacking duo of Jon Beason and Thomas Davis could lead to good things in 2012.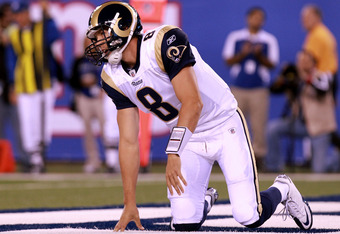 Nick Laham/Getty Images
31. St. Louis Rams (30)
I love Sam Bradford, but he's not going to last long behind this line. He was pressured, hit and otherwise abused for 60 minutes last night, and a fragile quarterback can't take that kind of beating week in and week out. Bradford needs a healthy Steven Jackson behind him to keep defenses honest. You can't pull guys out of the box against Jackson, but you certainly can against the corpse of Cadillac Williams. The Rams may win 4 games or so this year just on the shoulders of Bradford, but they have to get him some help.
32. Seattle Seahawks (31)
I was very, very wrong about the Seahawks. They're not better than the Cardinals. In fact, they're not better than anyone. They're terrible in all phases of the game on both sides of the ball. I can't say a single nice thing about them. The worst part about this is that they're still in the NFC West, meaning their schedule is soft enough to keep them from winning the Suck for Luck Sweepstakes™ unless they openly tank. They have three easily winnable games, and three more that can be won with some effort. Sorry, boys, but that won't win the grand prize.
That about does it. Thanks for reading, and feedback is always appreciated.