2011 NFL Schedule: 8 Must-Watch NFL Games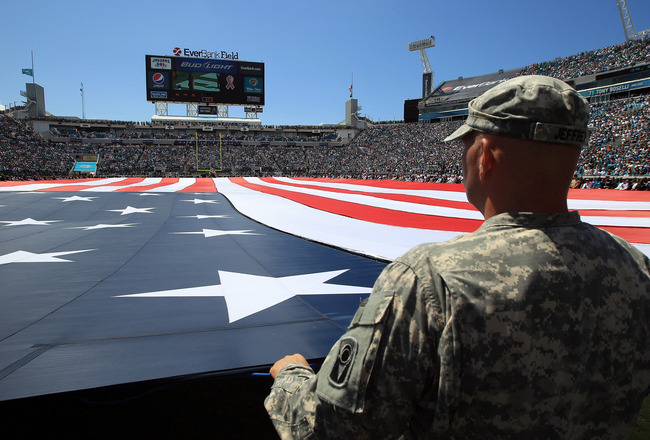 Streeter Lecka/Getty Images
The 2011 NFL schedule began on a weekend that, 10 years ago, shook our country. I felt privileged to watch each football game and see them honor the men and women who sacrificed their lives on September 11th, 2001.
It will be hard to top the emotion and excitement of the 2011 NFL season's opening weekend, but I wanted to take a look at some games that are worthy of tuning into.
The 2011 NFL schedule is packed with big games, so it was hard for me to narrow it down to eight games that I thought had a great story behind them, could be close, well fought games and had playoff implications.
As I scanned through each week, I noticed that I was picking a lot of the same teams in matchups against a lot of similar teams, so I tried to get a nice mix in the end.
This is by no means a list of the best games in order, but simply eight games that I think are going to be great football games worth watching. I did not just list out these games and tell you to watch them because they are going to be good.
Instead, I gave you a story line for the game, a brief thought on how I think the game might go, a key matchup and even a final verdict on the score.
If there are other games that you really think would be great for fans to watch, let us know in the comments below. I have listed some honorable mentions of my own that are not included in this list.
Honorable Mentions
Week 2 - San Diego vs New England
Week 3 - Houston vs New Orleans
Week 4 - New York Jets vs Baltimore
Week 5 - New York Jets vs New England, San Diego vs Denver and Green Bay vs Atlanta
Week 6 - Houston vs Baltimore
Week 8 - New England vs Pittsburgh
Week 9 - Baltimore vs Pittsburgh
Week 10 - New Orleans vs Atlanta
Week 11 - San Diego vs Chicago
Week 12 - Arizona vs St. Louis
Week 13 - Atlanta vs Houston
Week 15 - New York Jets vs Philadelphia
Week 16 - Philadelphia vs Dallas
Enjoy!
Week 2: Philadelphia Eagles at Atlanta Falcons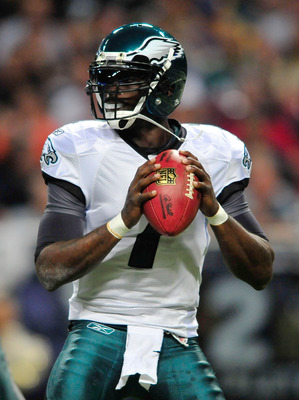 Can Michael Vick lead the "dream team" from Philly to a win in week 2?
Jeff Curry/Getty Images
Sunday, September 18th, 8:20 PM
Why You Need To Watch This Game
It is the homecoming of a messiah that turned out to be a plague.
Michael Vick captivated crowds in Atlanta for six years with his quick feet and tremendous throwing power. His skills translated into two trips to the playoffs and high hopes for fans in Atlanta.
Little did they know that they were going to be losing Vick after 2006 because of his involvement in the underground dog-fighting world.
After two years away from the game, Vick was accepted back into the league as a third-string quarterback with the Philadelphia Eagles. His first year showed that he still had the raw athleticism and talent to be a threat, but many wondered if he could re-create the entertainment that he had once provided.
In 2010, after Donovan McNabb was traded to the Washington Redskins and Kevin Kolb failed to produce the desired results, Michael Vick was named the starter.
Ever since that moment, he has proven that not only can he play as well as he used to, but is actually better as an all-around quarterback.
This game against the Falcons will be the third matchup between the two teams since Michael Vick entered back into the league, but it will be the first game that he starts against them.
In 2009, Vick actually threw and completed two passes (one for a touchdown) and rushed for a second touchdown against the Falcons.
The Game
The Atlanta Falcons are coming off an extremely disappointing loss in Week 1 against the Chicago Bears. I expect them to come out and really be firing on all cylinders.
Matt Ryan had a solid game last Sunday besides two huge mistakes that turned the game around—an interception thrown to Brian Urlacher that led to a 56-yard touchdown catch by Matt Forte and a fumble that was recovered by Urlacher for a touchdown.
The Philadelphia secondary will be another challenge for Ryan, but I think he will have solid results.
In the end, it will be the big plays that Vick, McCoy and Jackson perform that put the Eagles over the top.
Key Matchup
Roddy White vs. Nnamdi Asomugha
Final Verdict
Philadelphia 31, Atlanta 24
Week 4: Pittsburgh Steelers at Houston Texans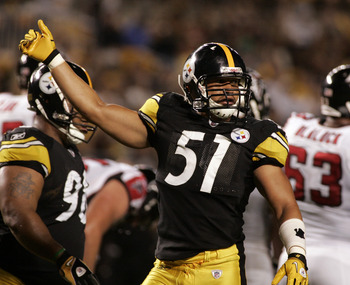 Can the Steeler's defense prove that they still one of the best defenses in the league?
Justin K. Aller/Getty Images
Sunday, October 2nd, 1:00 PM
Why You Need To Watch This Game
Pittsburgh looked absolutely overmatched in their Week 1 slaughter versus their division rivals, the Baltimore Ravens.
The Steelers defense had only given up thirty-five points in a game once during the 2010 season, and it was against one of the best offensive teams in the league—the New England Patriots.
I know that the attitude of the gritty Steelers will be juiced up even more as they try to prove they are still a formidable opponent on the defensive side.
The Houston Texans have been similar to the Steelers over the last few years, as they continue to get hype as a playoff team but have yet to really prove anybody right.
Even if Arian Foster is not at full health, we saw that their run game does have talented backs in Ben Tate and Derrick Ward. These runners, along with Schaub, Johnson and Daniels, should be another good test for Pittsburgh.
The Game
The Steelers are just too intent on proving that they are still a wrecking ball on defense and put the pressure on early.
The Texans are not able to get their running backs going as the Steelers prove why they were the top defense against the run in 2010.
Matt Schaub rushes passes and ends up having a sub-par game by his standards. The Steelers really show that they still have it against a formidable foe in Week 4.
Key Matchup
The Steelers D vs. Arian Foster, Ben Tate and Derrick Ward
Final Verdict
Steelers 20, Texans 17
Week 7: Chicago Bears at Tampa Bay Buccaneers in London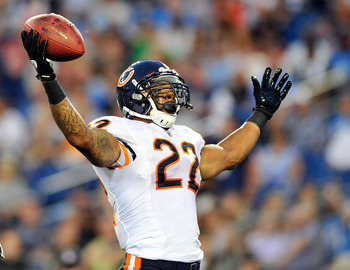 Matt Forte has the big play capability to change a game.
Grant Halverson/Getty Images
Sunday, October 3rd, 1:00 PM
Why You Need To Watch This Game
It is always fun to watch the games that are played across the pond, but sometimes the matchup is not that great. The only really good game was in 2008, when the Saints defeated the Chargers by a score of 37-32.
This year's matchup includes a couple of surprises from 2010. Neither team was supposed to be that great, yet both posted a season with double-digit wins and a playoff berth.
Going into this year, it seemed that most people saw the Buccaneers as a football team on the rise in the National Football League and the Bears as a team that was still not that great.
In Week 1 of the 2011 NFL season, the Bears changed everyone's minds by defeating a playoff-hopeful Atlanta Falcons team. On the other hand, the Bucs looked like the overrated team in their loss to the Detroit Lions.
These are two teams that will be under the microscope the entire season, and this Week 7 matchup could really show us who is the real deal and who is a faker.
The Game
In 2010, the Chicago Bears proved they still have a solid defense, ranking ninth in the league for total yards allowed.
They have a big playmaker in Matt Forte, who should really give the Tampa Bay Buccaneers defense (ranked 28th against the run last year) a run for their money.
I believe that Jay Cutler is a very solid quarterback and should be able to pick the Tampa Bay defense apart by spreading the ball around to many different receivers.
Key Matchup
Matt Forte vs. Tampa Bay linebackers
Final Verdict
Chicago 27, Tamp Bay 13
Week 9: Green Bay Packers at San Diego Chargers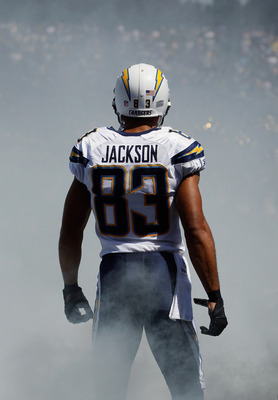 Vincent Jackson is back and he looks to take the Chargers to the next level
Jeff Gross/Getty Images
Sunday, November 6th, 4:15 PM
Why You Need To Watch This Game
I definitely wanted to get one of the Green Bay games on this list—why not against the team I think could really turn it around this year?
By Week 9, we will have seen if the Chargers have gotten over the early-season woes that we have seen in the past few years. If so, I think we are definitely looking at a possible Super Bowl preview.
Phillip Rivers should have the opportunity this year to have an MVP-caliber season with the solid two-man running attack of Tolbert and Matthews and two of the top receiving options in the NFL—Antonio Gates and Vincent Jackson.
Even with these two defenses ranking first (Chargers) and fifth (Packers) overall, this matchup should produce results that light up the scoreboard.
The Game
As I stated in the previous section, both of these teams had Top Five defenses last season. What they also have are two Top Five quarterbacks who tend to pick apart the best of defenses.
Last season, Rodgers was able to put up 300-plus yards against the Bears and the Steelers. On the other side, Rivers put up 431 yards and two touchdowns against the second-best pass defense in the league, the Oakland Raiders.
The difference-maker in this game could be the two-headed run game that is Mike Tolbert and Ryan Mathews. The two of them mixing it up and staying fresh could help Rivers out in the passing game.
Key Matchup
Antonio Gates vs. Green Bay's outside linebackers and safeties
Final Verdict
San Diego 38, Green Bay 35
Week 10: New England Patriots at New York Jets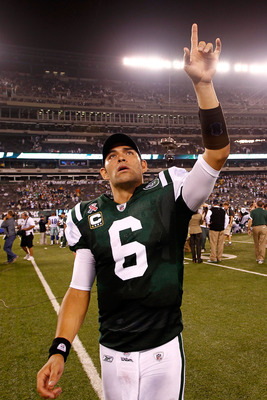 If Mark Sanchez can stop himself from turning the ball over, the Jets have a good shot
Jeff Zelevansky/Getty Images
Sunday, November 13th, 8:20 PM
Why You Need To Watch This Game
This rivalry has heated up over the years, as the Jets have become a much-improved team. In the past, it was always a good matchup, but recently it has been dominated Tom Brady and the Pats.
That is until Rex Ryan showed up.
In the 2000s, the Patriots had 14 wins and seven losses to the Jets. In 2011, Rex Ryan was fed up with losing to their rivals and not only took one of the games in the regular season, but went on to beat the Patriots at Gillette Stadium in the playoffs.
Ryan has stated many times that he takes the games again the Patriots and Bill Belichick personally.
Expect to see a hard-fought battle between two bitter rivals.
The Game
If Week 1 was any type of indicator for the Jets this year, they are going to give Mark Sanchez the opportunity to throw the ball more.
If this is the case, they may have a much better chance against the New England Patriots. Out of the 32 teams in the NFL, the Patriots were only better than two other teams in defending the pass. Just look at the three games the two teams played last year and how Sanchez's play dictated the outcome of the game.
Game 1 - 220 passing yards, 3 touchdowns, 0 interceptions and a passer rating of 124.3. Result- Jets Win
Game 2 - 164 passing yards, 0 touchdowns, 3 interceptions and a passer rating of 27.8. Result - Patriots Win
Game 3 - 194 passing yards, 3 touchdowns, 0 interceptions and a passer rating of 127.3. Result - Jets Win
Key Matchup
Mark Sanchez vs. the New England secondary
Final Verdict
New York 28, New England 27
Week 12: New England Patriots at Philadelphia Eagles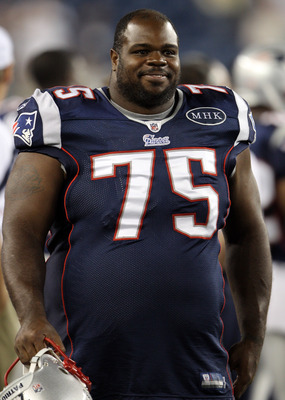 Vince Wilfork could really disrupt the suspect offensive line of the Philadelphia Eagles
Elsa/Getty Images
Sunday, November 27th, 4:15 PM
Why You Need To Watch This Game
I know that I just featured the Patriots for the last game, but this is also a must-see game.
With all of the new weapons that Philadelphia has in their arsenal, they will be looking to knock off the top team in the league over the last decade and lay claim to the NFL landscape.
This game should be interesting as we look to see if the electric Vick can keep pace with the consistent, dominating performance of Tom Brady.
This could very well be a Super Bowl preview.
The Game
The Patriots are going to score, they are not going to turn the ball over much if at all and they are going to be more prepared than most teams. This could spell trouble for the Eagles.
While Vick has been a much better quarterback in the traditional sense as of late, he might find himself running a lot in this game.
The combination of Vince Wilfork and Jerod Mayo will keep the rush coming from Vick's blind side. I see a few turnovers occurring in this game for the Eagles.
I think that a well-thought-out game plan and consistent play with no turnovers by the Patriots is the difference in this one.
Key Matchup
Vince Wilfork vs. Philadelphia Eagles offensive line
Final Verdict
New England 31, Philadelphia 20
Week 14: San Francisco 49ers at Arizona Cardinals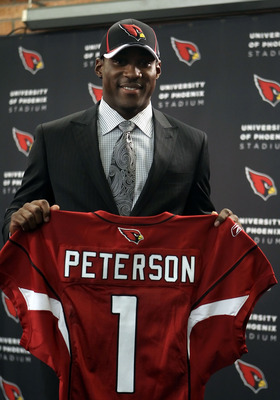 First round pick Patrick Peterson and the rest of the Cardinal's secondary could be the key factor in this important division game
Christian Petersen/Getty Images
Sunday, December 11th, 4:05 PM
Why You Need To Watch This Game
Even if the NFC West is the worst division in football, there may be a good playoff race.
Last year, we saw the St. Louis Rams lose to the Seattle Seahawks in the last week of the season to decide on a division winner. The Seahawks even managed to win a playoff game, going to show that anything can happen when you take it one game at a time.
This year, I think that a similar scenario is going to play out—this time with the other two teams in the division: the Cardinals and the 49ers.
As the year progresses, Kevin Kolb and his young receiving corps should start becoming more and more in sync. When Week 14 rolls around, they should be fully prepared to show off their passing attack against the 49ers.
This game could really decide which team from the West makes it into the playoffs.
The Game
This game's big battle will be the passing game of the Arizona Cardinals versus the running game of the 49ers.
Frank Gore and company should have a solid day running the ball against a Cardinals team that was ranked 30th overall in rushing yards allowed in 2010.
Kevin Kolb will have a field day throwing the ball all over the field against last year's 24th-ranked passing defense. Look for a high-scoring battle in the desert.
Key Matchup
Alex Smith/Colin Kaepernick vs. Cardinals secondary
Final Verdict
Arizona 38, San Francisco 24
Week 16: Atlanta Falcons at New Orleans Saints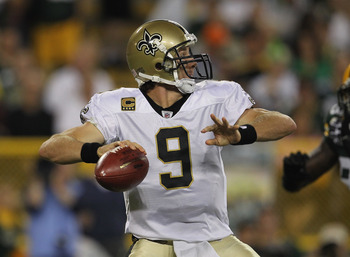 The experience of Drew Brees should be able to hold of the Falcons for one more year
Jonathan Daniel/Getty Images
Monday, December 26th, 8:30 PM
Why You Need To Watch This Game
This battle between division rivals could be the most anticipated game of year.
The Super Bowl representative from the NFC could very easily be one of these teams, and they both want to prove that it is them.
Matt Ryan is now in his fourth year and is looking to really make his mark on the league, while Drew Brees is still showing everyone that they were wrong about him when they said he was too small to be a quarterback.
Both of these teams should have a playoff-type year, and they seem very similar on paper.
The Saints and the Falcons defenses are both in the bottom half of the league, with the Falcons being slightly better. Also, both offenses feature a lightning quick, big-play passing game and a large running back who can power through defenses. New Orleans gets the edge on offense.
With the division on the line and such similar teams playing each other, this could be a war of epic proportions.
The Game
Neither team wants to lose this game.
Even if the division is already locked up, a lot of bragging rights and pride are at stake. Expect players to be jumping out of their cleats to make big plays this game.
While the two teams are trying to make game-changing plays, look for mistakes to occur. Since the Falcons are not as experienced as the Saints, they are more apt to make these mistakes.
Watch for a big defensive play in the second half by the Saints to be the game-changer.
Key Matchup
Roddy White vs. Tracy Porter
Final Verdict
New Orleans 35, Atlanta 28
Keep Reading