San Francisco 49ers Beat the Seahawks: The Fleeting, the Notable, the Flags
September 12, 2011
Ezra Shaw/Getty Images
Good start. Good start. As the San Francisco 49ers played (and subsequently laid the special teams lumber to) the Seattle Seahawks yesterday, you could see an offensive and defensive unit stretching their limbs after a long, lockout-ruined offseason. I cited what I won't miss last week and much of that came true—but not all of it.
We'll divide this up into three sections: (1) "The Fleeting," which are the little things that likely don't mean much; (2) "The Notable," which are things to watch that likely do mean something and (3) "The Flags," both red and green, which are major facets to remember.
The Fleeting
(1) Let's get an easy negative out of the way: Harbaugh's challenge of the supposed "the ball touched Leon Washington!" on the punt in the first quarter. This was a really terrible challenge.
The replay did make you wonder; the ball sort of looked like it changed direction, but here's the thing: no return man would play it cool if the ball glanced off him (and don't say it could hit his pads and he wouldn't know it). Washington just waved the ball past.
If he had flipped out and dove for it, then Harbaugh should have challenged. But always watch the immediate reaction of the guy at the center of the play. Without the interference call to keep the end-of-half drive alive, that lost timeout was looking like it was going to hurt.
Either way, no harm was done. We'll call it first-game jitters by Harbaugh.
(2) Alex Smith was 9-of-11 in the first half. 9/11. I have no idea what that means, but I will tell you that I tried to draw some sort of divine sign-based conclusion for about 20 minutes.
Is he a uniter? A divider? Does it mean he is really here to destroy the franchise? Does it mean that now, after 10 long years of suffering, he is finally going to turn this ship around? It's probably none of the above, just that he completed nine of his first 11 passes. But it was fun to think about.
(3) It's nice having David Akers. He's one guy whose points you can take to the bank.
(4) Alex Smith has had seven offensive coordinators since coming to the NFL. He's like a kid that changes high schools every semester. No wonder!
(5) Joe Montana talked a little about this in my interview: A defense is much easier to install than an offense. We saw that on Sunday.
(6) Patrick Willis has the most beautiful tackling form in the history of the NFL. I don't believe I'm exaggerating. Ray Lewis is overly violent. Brian Urlacher hits just a little too high. Other guys get caught using too much arm.
Willis is just perfect. He puts his pads low on the hips, wraps up and somehow drives 110 percent through the ball carrier—every time. Seriously, any kid wanting to play football should just watch how he tackles. It's textbook.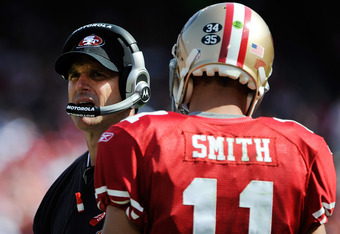 Thearon W. Henderson/Getty Images
The Notable
(1) Ted. Ginn. Jr. Holy moly, have I forgotten what it's like to cheer for an X-factor! I'm not even sure who the last X-factor was for the Niners—probably Terrell Owens. But you have to love the "Hold your breath! And hold on!" when that guy touches the ball.
Sadly, I think that magic is only going to last another couple of games. One of the biggest effects of the lockout seems to be disjointedness on special teams; guys don't have their lanes.
Just look at how many big kick returns there were yesterday around the league. Just about every game had a run-back. Plus, it was the Seahawks. By no means do I think that's the last time Ginn will see the end zone, but yesterday was probably more of an early season aberration. (Sadly.)
(2) Alex Smith is following receivers with his eyes, staring them down from the snap of the ball. The Niners are lucky he didn't have three interceptions yesterday. Again, we were playing the Seahawks.
He has to cut that crap out; Harbaugh has to make this a priority. Any half-decent linebacking crew will follow Smith's eyes and nab those passes like he is an eight year old at a family barbecue.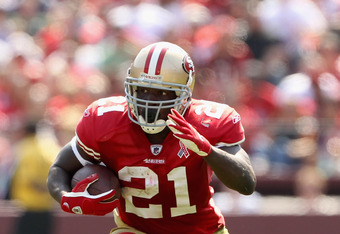 Ezra Shaw/Getty Images
I am putting this under "Notable," not "Flags," because I think you have to give a guy a hall pass, especially with the lockout-shortened offseason, for the first game. But he has to get better at checking down options with his eyes—or those familiar interceptions will be back in no time.
(3) Smith also didn't attempt many passes past the line of scrimmage. Though he has cooled his velocity a bit since last year's 100 mph screen passes, he did look nervous about putting the ball across the middle.
Harbaugh is likely (smartly) keeping these early games out of his hands, but it would be nice to see him test the field a little more. That said, he did have two gorgeous passes to Josh Morgan and Vernon Davis on the sidelines. The accuracy is there—when it wants to be.
(4) Marshawn Lynch didn't get farther than his shadow until the second half. Tavaris Jackson never had a chance to set due to the pounding D-line. The Seahawks receivers were open now and then, but the Niners were making Jackson make those throws, which he can't, so they only got burned badly once.
(5) All in all, it was a great defensive performance—against the Seahawks.
My only little note was that a lot of guys, including Patrick Willis, were looking around and making adjustments as the ball was snapped. More than a couple of times, Willis was completely turned around, yelling to the secondary when the play started. That's a defense getting its season stride, but they need to get those ducks lined up just a little sooner.
My second little defensive note: The secondary, when the camera panned out, looked like it was chasing more than covering.
(6) Aldon Smith looks beastly. And quick. We need a name for the two Smiths on the line. My first instinct is Sacksmith, but that may be a little too academic and non-intuitive.
(7) When Alex Smith has his feet set (i.e., not hopping around like he's barefoot on broken glass), he has a beautiful arm. When his feet are jumping (during any blitz), I can't watch.
The Flags
(1) Green: I like that Smith was making audibles at the line. He'd rearrange entire formations. He may not have been correct each time, but I like that Harbaugh is empowering the quarterback to make those changes and that Smith is showing the confidence to take him up on it.
You have to have a QB that feels like he owns the field and pre-snap routines are where you start. Again, he checked into a couple of bad plays, but he's stretching his Peyton Manning legs—just a little.
(2) Red: Gore on the goal line four straight times in the fourth quarter. One of those has to be a play-action. At least one. The Niners won't be able to get anything going if they don't have more creative ways than Frank Slam/off-tackle to pick up short yardage.
Harbaugh seemed pretty set to never put the game in Smith's arm (I'm fine with that), but he needs to show a little more faith than that. Even a shovel pass would have mixed things up.
All in all, it was a nice, easy first win.
I have no idea what to think of the Cowboys defense. Everyone is hurt. But the Cowboys offense will be a test. I worry that a lot of the Niners secondary spent time chasing, not covering. If that was the case, Miles Austin and Dez Bryant will certainly expose it.
Here's to the Sacksmith's laying the lumber to Tony Romo and Patrick Willis pile-a-driving Felix Smith.
Until next week…
[Caleb writes for Wired and says other stuff at   www.twitter.com/calebgarling]