The 2011 San Francisco 49ers and Everything We Won't Miss from 2010
September 8, 2011
Ezra Shaw/Getty Images
With the NFL season kicking off today with the Packers vs. Saints, there is really little left to say about what lead up to today. It's been said. Exhaustively. Whether real or somewhat manufactured, these last six months of offseason football have been a complete doozy of a roller coaster and now fans are finally going to get exactly what they'd wanted all along.
Football.
So, I'm just going to talk about my favorite team: The 49ers.
Here are a few things I am excited to—hopefully—not see this season.
Frank Right, Frank Left, Frank Center
The worst, and I mean worst part of Mike Singletary's tenure was the absolute lack of creativity in the offense. Apparently, Midway Mike thought an offense with zero passing threat (more on that in a minute) could just get by with "pounding the ball with Frank Gore." And by that I mean, "being super super predictable."
There were Sunday mornings when I'd sometimes text a friend and ask if there was perhaps a chance that someone slipped some sort of far Eastern drug in my drink the night before and now I was damned to spend my day watching four loops of time over and over again in my brain. That's how lame those Singletary play calls were. Frank here, Frank there, Frank nowhere.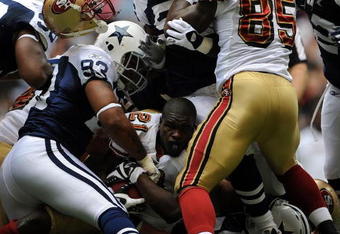 Ronald Martinez/Getty Images
Now the Niners have a coach that actually has some—actually a great deal of—understanding about how to run an offense. I'm excited to see the new ways we can use one of the league's most underrated tailbacks.
100 MPH Screen Passes
Here's the scenario: Alex Smith snaps the ball. Play begins. He checks down his options while his footwork resembles a man trying to walk on hot coals for the first time. No options appear open. In actuality, they are. Regardless, Smith checks down to his safety valve, Frank Gore swinging out of the backfield.
BLAM! Rather than twirling a nice outlet pass that'll let Gore get his hips turned as he catches, Smith unleashes some sort of hell demon of a pass and nearly kills seven people.
Jim Harbaugh will address this with Smith. I'm guess Singletary just thought that getting assassinated with a football would make Gore tougher. A coach with a sound offensive understanding will correct that.
A Dumbfounded Look on My Coach's Face
How many times did the Niners screw something up only to have the camera pan to the sidelines to Singletary looking onto the field as if someone just whispered in his ear that he needs to figure out the square root of 234,453,492 or his house will burn down. Everything appeared like a shock to him.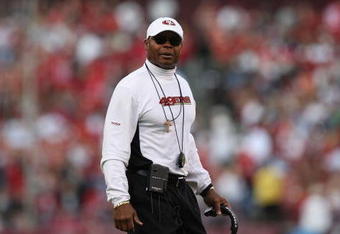 Jed Jacobsohn/Getty Images
Hey Mike, they're screwing up because of YOU.
Even if the Niners make some bonehead plays—and they will—at least we'll get a pan to the sidelines of a coach with a calm, collected demeanor, a coach that will actually have a constructive way to fix the problem rather than pointing at the bench and ending the conversation.
Okay, I'll say it: Mike Singletary
Here's to the Harbaugh Era.
Let's watch some football.
Go Niners. 
[Caleb writes for Wired and says other stuff at  www.twitter.com/calebgarling]