NFL Predictions Week 1: 3 Teams Doomed to an 0-1 Start
September 5, 2011
Joe Robbins/Getty Images
The start of the NFL season is supposed to mean a new beginning for teams all across the league. There is hope that no matter how badly things have gone in the past, there is a chance that things will be better.
Even if that is true, there are certain teams that are powerless to prevent a loss in the first week of the season.
These three teams are among them.
Indianapolis Colts
With Peyton Manning out thanks to his long rehab from neck surgery, the Colts simply don't have the offensive firepower to hang with the Texans. Houston will put up its share of points. It would be tough for the Colts to hang with them even if they had Manning.
It won't help matters that this isn't the same Texans defense. They have improved the talent across the board and new defensive coordinator Wade Phillips has them playing incredibly well.
The Colts might struggle for longer than just one week, as Chris Mortensen is now reporting that Peyton Manning is being re-evaluated after his recovery has taken longer than expected.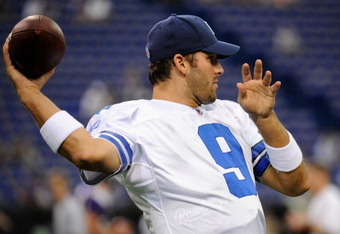 Hannah Foslien/Getty Images
Dallas Cowboys
After what can only be described as a disappointing 2010 season, there was hope that the Cowboys could turn it around with Jason Garrett as the full-time head coach.
On this day, though, they will appear to be far off.
The Jets have the defense to stifle the Cowboys' revamped offense, and Mark Sanchez will, as he often does, find a way to make plays.
This is also just a game you would expect a Rex Ryan-coached team to play well in. This is an NBC prime-time game against the NFL's marquee franchise.
His team will be fired up and ready to go.
Carolina Panthers
There is hope that the Panthers will get the Cam Newton era of to a quick start, but it won't play out that way.
The Cardinals offense, now led by Kevin Kolb, will flourish against the Panthers' weak defense. Expect Larry Fitzgerald to have a big day against their secondary.
Newton had some inspiring moments in the preseason, but his accuracy was bad throughout. I wouldn't expect that to change, and an otherwise shaky Cardinals defense will make enough plays to come out victorious.