Fantasy Football 2011: Updated Top 25 Quarterback Rankings
September 3, 2011
Andy Lyons/Getty Images
For all the talk about running backs being the most important position to stock up on, in a standard 10-team format, six of the top seven scoring players were quarterbacks—Arian Foster being the lone non-quarterback in that bunch.
One of the biggest strategies regarding fantasy football is trying to get into position to grab two elite running backs, then just sit back and snatch a quarterback in the middle rounds.
That strategy has worked in the past. However, with the NFL's shift to the passing game, having an elite quarterback on your team is becoming ever so important.
But what if one of those players were both a quarterback and a running back? Michael Vick is precisely that. When he's not chucking up 60-plus-yard touchdowns to either DeSean Jackson or Jeremy Maclin, he's breaking off 20-yard touchdown runs. Vick does it all, and he seemingly does it with ease. You simply get the best of both worlds with him.
If you can get over all the talk of him getting injured—everyone has just as much of a chance to get injured as the next player—take him if you can and ride him to your championship.
1.  Michael Vick—A quarterback and a running back. There is a good argument for taking him No. 1 overall.
2.  Aaron Rodgers—Take him over Vick if you like going the safe route, but not No. 1 overall worthy.
3.  Tom Brady—Not that he needs a big name wide out, but he has one again this year in Chad Ochocinco. 
4.  Drew Brees—He's a stat machine!
5.  Philip Rivers—This dude just doesn't care who he's throwing the to; the ball is headed into the end zone.
6.  Peyton Manning—The last time, 2008, when Manning missed all of training camp and didn't play in any preseason games, he won his third MVP Award. Don't worry.
7.  Ben Roethlisberger—Missed four games last year and still put up numbers that averaged out to him being sixth overall among QBs for a 16-game season.
8.  Matt Schaub—Leads a great offense. Now put it all together.
9.  Josh Freeman—I can't say enough about this kid. Did you know Freeman was second in the NFL in rushing among QBs in 2010? Not sayin', just sayin'.
10.  Tony Romo—Always be skeptical of players coming back from major injury.
11.  Matthew Stafford—The same for Romo goes for Stafford, but if this kid stays healthy for a full 16 games, he's a top eight fantasy QB.
12.  Matt Ryan—An elite quarterback, but not necessarily an elite fantasy quarterback. They are two totally different things. The addition of Julio Jones could change that, though.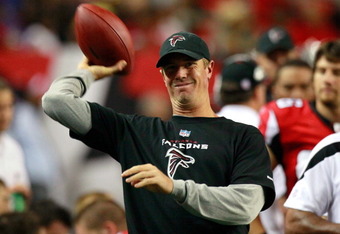 Kevin C. Cox/Getty Images
13.  Eli Manning—I probably should have him ranked higher, but I think I am sucked in with all the talk about his turnover issues. I shouldn't be, though.
14.  Jay Cutler—Same rocket arm. Same garbage receivers.
15.  Matt Cassel—Look for Cassel to have the same kind of year he did last year. What is all this talk about the Kansas City Chiefs not being as good as last year's team?
16.  Kevin Kolb—This may take a couple weeks, but he will gel nicely with Fitz and company.
17.  Joe Flacco—He finally has a deep threat in Lee Evans. Let's wait to see what he does with that.
18.  Sam Bradford—This kid has all the tools to be a great NFL QB. He just lacks the necessary tools to be a great fantasy QB: no receivers.
19.  Kyle Orton—A top 10 fantasy QB last year and very well could be again this year. The Broncos will be playing from behind a lot—a lot!
20.  Donovan McNabb—He is looking real comfortable in the Vikings offense and is working quite well with not just Percy Harvin, but Benard Berrian as well. Berrian as a fantasy sleeper?
21.  Ryan Fitzpatrick—Face it people" Fitzpatrick can sling the pill. Don't let where he went to school fool you.
22.  Matt Hasslebeck—He's a game manager, not a fantasy QB.
23.  Colt McCoy—If you love taking chances, this kid may be the steal of your draft.
24.  Mark Sanchez—People bag on this guy, and I don't get it. Is it not the start of just his third season in the NFL—and now he has a legitimate red-zone threat.
25.  David Garrard—He has his moments, but could lose his job if the team is struggling.
Be sure to check out my latest positional rankings: