Fantasy Football 2011: Updated Top 25 Receiver Rankings ; Andre Johnson No. 1?
September 2, 2011
Bob Levey/Getty Images
Is it me, or has there been a lot of talk about the wide receiver position becoming more important than the running back position?
The recent holdout of Tennessee Titans running back, Chris Johnson, seems to have sparked a ton of debate about this.
There has also been debate over whether or not Johnson is deserving of the same kind of money that Larry Fitzgerald just received. 
Now that debate is for another time and place, but with the NFL seemingly moving toward more of a passing league, one could only assume that wide receivers would become more crucial than running backs, especially since basically every team has gone to a two and sometimes three back rotation.
With that transformation, fantasy players are putting more of a necessity on drafting a stable of elite receivers than ever before.
This list will be plucked through quite heavily over the first three rounds of your draft. Not paying attention will leave you scrambling in the late rounds.
1.  Calvin Johnson – Megatron will emerge as the No. 1 fantasy wide out in 2011.
2.  Roddy White – White has had a very good pre-season. Watch out!
3.  Andre Johnson – Could be a rough couple of weeks without Arian Foster and a balanced running game.
4.  Larry Fitzgerald – Arguably the best wide receiver in the league.
5.  Greg Jennings – Really don't think that Jermichael Finley's return hurts him.
6.  Hakeem Nicks – He's quickly putting himself into that conversation of best wide outs in the NFL.
7.  Mike Wallace – A bigger, stronger and as fast of a version of DeSean Jackson.
8.  Vincent Jackson – Looks like his head is in the right place this year.
9.  Mike Williams (Tampa Bay) – First rookie wide out with double-digit touchdowns since Randy Moss.
10.  Reggie Wayne – Peyton Manning makes all the difference for Wayne.
11.  DeSean Jackson – Will the lack of contract talks cause Jackson to cry?
12.  Dwayne Bowe – 15 touchdowns last year will be tough to duplicate.
13.  Brandon Lloyd – Will not have the year he had in 2010.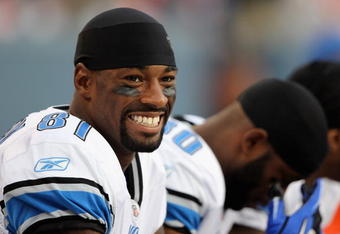 Doug Pensinger/Getty Images
14.  Miles Austin – A healthy Tony Romo will be nice.
15.  Jeremy Maclin – Give him a week or two to get back into the swing of things.
16.  Marques Colston – The best option on a Saints team with a ton of options.
17.  Stevie Johnson – Stay off Twitter and focus on catching balls.
18.  Santonio Holmes – Holmes' success all depends on the development of Mark Sanchez.
19.  Mario Manningham – Will benefit with the departure of Steve Smith to Philadelphia.
20.  Anquan Boldin – Pairs well with Lee Evans.
21.  Plaxico Burress – 10 touchdowns is not unrealistic.
22.  Chad Ochocinco – Tom Brady. Enough said.
23.  Percy Harvin – The re-emergence of Bernard Berrian will make all the difference in the world.
24.  Wes Welker – The Slot Machine should have one of his standard seasons.
25.  Kenny Britt – Nobody on that Tennessee Titans team benefits more from Chris Johnson signing his new deal than Britt.
Check out my latest Top 25 Running Backs.
Feel free to become a fan...  I won't get upset.