2011 NFL Predictions: Electric Cheese and the Super Bowl Matchup
August 31, 2011
It's that time of the year again. We've all taken for granted the simple pleasures of having football (real football, not arena, not Canadian) around, but this year is different. We will have 16 full games and not have to worry about any stoppage or shortened season. However, with a non-existent offseason, that makes the art of prognosticating that much more challenging. So let me look into my crystal ball and see what I envision…
AFC EAST
New England 
Let's see. Evil genius head coach…check. Quarterback who can throw as long as no defender is within a mile of him…check. Disgruntled players getting second chances with new team…check.
Jets
It's all about keeping up with the Joneses. The Jets will not skip a beat, but any hopes of getting past just being in the AFC Championship Game hinge on Mark Sanchez' ability to step up and be the man. There's always next year.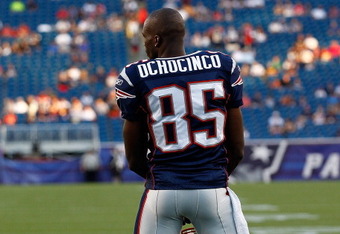 Jim Rogash/Getty Images
Buffalo
Maybe I'm just sick of picking Buffalo to finish in last, but they did have some moments last year. Steve Johnson has stepped up and, his dropped pass in the end zone against Pittsburgh notwithstanding, will be a bigger weapon this year, as long as he's not "So Serious."
Miami
Lame duck coach, lame duck quarterback, and a team that only had one win at home last year. Hard to understand why a team that plays in perhaps the warmest climate of any other team prefers the road. Oh, but they do have Reggie Bush (insert rolling eyes).
AFC NORTH
Baltimore
They should have beaten the Steelers in the playoffs last year. They had them where they wanted, but they just could not hold onto the ball, literally. One thing about QB Joe Flacco and head coach John Harbaugh is that they've made the playoffs all three years together, but have NEVER been able to clinch the division. This is a put-up-or-shut-up year this year, and they will get it done.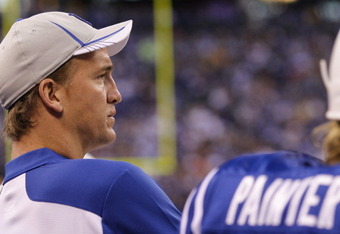 Joe Robbins/Getty Images
Pittsburgh
Putting aside the history of the recent Steelers' Super Bowl teams missing the playoffs the following year, I have to say that their playoff wins were not impressive at all. I've already mentioned the Ravens game, but the title game was against a Jets team that clearly did not show up in the first half. The Steelers jumped out to a 24-0 lead, and almost let the Jets back in by not scoring a single point the rest of the game. With the Colts basically taking the year off that means only one team will come out of the South in the playoffs so Pittsburgh should be playing into January.
Cleveland 
Don't look now, but Cleveland might start to get recognized as more than just a spin-off of "Family Guy".  Who would have ever thought a Browns' players would have such an impact that he makes the cover of Madden? Of course, that may also be a bad thing given the state of the curse. But playing for Cleveland, the only "curse" would be if cover boy Peyton Hillis was knocked out for the season. Sure he's had hamstring problems, but that's preseason. Wins will not mount up, but they will play hard.
Cincinnati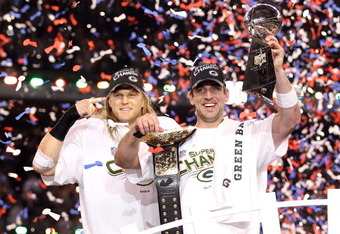 Al Bello/Getty Images
Quick, name ANYONE on their team. Hard, isn't it? Marvin Lewis was given an extension by the team. He might regret taking it.
AFC SOUTH
Houston
They've been my sleeper the last two years. Why is this year different? Houston started out 2-0 last year and was the talk of the league. Then they stumbled and it became another disappointing season in Houston. My take is that they overestimated themselves after that start. They had beaten the Colts for only the second time in their history and let it get to their heads. They have a triple threat on offense with Schaub, Johnson, and now Foster. If their defense can pick it up, and the team can avoid fourth quarter collapses, it's "hello playoffs".
Tennessee
Yeah, Chris Johnson is the darling pick of fantasy owners. But how far did that get this team last year? It all depends on how much gas Matt Hasselbeck has left in his tank. Right now I see him as a Jon Kitna. Average, but not spectacular.
Indianapolis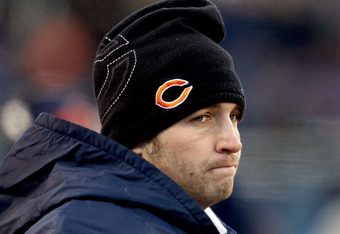 Jonathan Daniel/Getty Images
Well, it's official. Peyton Manning will miss more than just a few games. I can't say that they will go 4-12 as I previously stated, but to say the least they will not extend their playoff streak. Their coach is going to actually do some coaching for once and this team will be lost.

Jacksonville
Let's be honest. The Jaguars are one of the most boring teams in the league. Sure, they start out well and talk about dethroning the Colts. Then, when push comes to shove, they get pushed back and choke harder than a teammate of Jeremy Shockey. Add in the fact that Maurice Jones-Drew is coming off surgery, and the Jags might have to consider taking that offer to move to Los Angeles.
AFC WEST
San Diego
It became a pattern in San Diego. Start slow, dominate the second half, and then find a way to choke in the playoffs. Last year, they went a step further by NOT dominating the second half and not even getting the chance to blow it in the playoffs. They have a chip on their shoulder. Their kicking game gave new meaning to "special" teams. The only obstacle in their way is coach Norv Turner. Maybe it's the fact that his face is more wrinkled than Lance Henriksen, but I don't see him as a champion level head coach.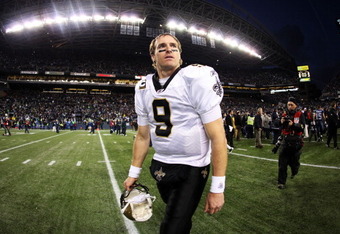 Otto Greule Jr/Getty Images
Kansas City
The Chiefs shocked the league last year by winning the division for the first time since 2003. Then they were humiliated in the playoffs at home, reminding us that maybe this team just wasn't ready yet. They might be better this year, but their record will not indicate it.
Oakland
There is talk that the Raiders might…MAKE THE PLAYOFFS! Well that's why it's called talk. The Raiders only won two games outside of their division last year, and this year, they won't sweep the division. They will continue their climb, but that mountain is still just a little too high.
Denver
Speaking of mile high, Denver's nicknamed home takes on new meaning. The Broncos are not a 4-12 team. You have to go back to 1990 the last time they were almost as bad with a 5-11 record. Taking a line out of "The Other Guys", Kyle Orton is a peacock, and you must allow him to fly. Forget about Tebow. If he is the future, the future can wait. Orton has never been given a fair chance. However, his new head coach, John Fox, is a defensive minded coach who believes in run first and pass if necessary.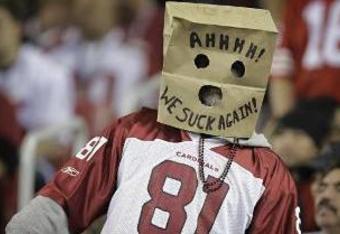 NFC EAST
Philadelphia
It's hard to imagine that a team that hasn't won a championship in over 50 years can be called a "dream team". Sure, they might have the right players for a dream fantasy team. But fantasy is just that. They should be tough, but Michael Vick has to shake his history of inconsistent play. He IS the Eagles now, for better or worse. If he falters, Vince Young will not pick up the pieces.
Dallas
All right, here it goes. It's my theory that Jason Garrett, then offensive coordinator, took a dive, so to speak, early in the year, knowing that if the team got off to a slow start, then coach Wade Phillips would be fired and Garrett would get the job. Might be too much of a conspiracy theory for some, but look at the results. All of a sudden, the offense, with a 40 year old backup quarterback, is putting points on the board. Garrett can now start fresh this year. Unfortunately, he also starts fresh with Tony Romo.
Giants
For as long as I can remember, the Giants' biggest obstacle has been…the New York Giants. Like their former receiver still playing in the same city but for the other team, they constantly shoot themselves in the foot. I know I've used that analogy before, but the team keeps on doing it. Eli needs to cut down on his interceptions, but with still no go-to-guy at receiver, that's easier said than done. Add in the fact that Brandon Jacobs has worse anger management problems than John McEnroe, and it results in the same story as the last two years…dream of a start, nightmare of a finish.
Washington
Usually getting rid of Donovan McNabb has been a positive (see Philadelphia). But getting rid of McNabb in favor of Rex the hex cost my team a Super Bowl Grossman! Could someone please do an "Inception" like experiment on coach Mike Shanahan to figure out how he's coming up with this. Grossman has gone out and said that the Redskins will win the division. Sure Rex. As long as you're not playing and someone has some DNA on hand of Doug Williams circa 1987.
NFC NORTH
Green Bay
The injury bug bit and bit hard into the skin of the Packers, but that didn't stop them. I think the Packers will be even better this year, getting back all of their players. And having two rings will be another dagger into Brett Favre's heart.
Minnesota
Speaking of Favre, the city of Minneapolis can rejoice "Ding dong, the witch is gone." No longer will the drama queen of the NFL have any effect on the team, and there is no more Super Bowl-or-bust pressure. Add in the fact that Donovan McNabb is now their quarterback and looking to get revenge on, well everybody, and the Vikings might still be playing football in mid January again.
Detroit
Maybe 2012 is the year the world ends. Positive outlooks for both the Lions and the Browns! Yup. Detroit is getting better. Sure, they couldn't have gotten much worse, but they finally climbed out of the cellar (sure it was by a tiebreaker). They are the darling pick to go to the playoffs, but I still think they need at least another year.
Chicago
The Vikings went from division champs to cellar dwellers last season, why not Chicago? Their dream season last year started on an obvious blown call against the Lions on opening day, and fortune just smiled on them the rest of the year (hosting a playoff game against a 7-9 team being the biggest). We can all say what we want about Jay Cutler quitting on his team last year (and God knows I have), and whether he did or not only he knows. But I do know that he will not respond well to the criticism and could lead the Bears back into hibernation.
NFC SOUTH
New Orleans
A problem with the NFL's playoff system is that even if you are an 11-5 team but don't win your division, you will have to go on the road against a 7-9 team that made the playoffs because, well, that is the rules. New Orleans got overconfident going into their wild card date with Seattle. They will learn from that lesson.
Atlanta
Atlanta will continue to be competitive but will swap spots with the Saints. I do see them as a playoff team, but if they were so good last year, why did the Packers light them up at home in the playoffs?
Tampa Bay
Along with the Chiefs, the Bucs were the surprise of the league last year. But, they have the unfortunate challenge of playing in the most competitive division in football. Josh Freeman will continue to develop (take notes Mark Sanchez) and the team will continue to grow. But having to face the Falcons and Saints twice each this year does not help.
Carolina
Hard to know what to say about Carolina. Uh, they should have more than two wins this year. Then again, maybe they won't. Rebuilding with a capital "R".
NFC WEST
Arizona
I don't really like any of the teams in this division and it is an insult that one of them will get to go to the playoffs. I like to the Cardinals because they have the easiest schedule in the league (of course a lot of that has to do with playing these opponents twice a year). And now they actually have at least a competent quarterback in Kevin Kolb to throw to Larry Fitzgerald. They won't be great, but in this division, great isn't a requirement.
St. Louis
My first instinct is to go with the Rams to win this pitiful division. Sam Bradford will continue to progress, and having Josh McDaniels as his offensive coordinator will only help. But they will have a very tough start to the season with games against the Eagles, Giants, and Ravens. If they can win just one of those games, that could change the whole outlook.
Seattle
You go from Matt Hasselbeck at quarterback to Tarvaris Jackson? At least Jackson will get the chance to lose his job to someone not named Brett.
San Francisco
Alex Smith should conduct a seminar on how to keep your job when you're failing at it miserably. How he is not only still in the league, but a starter, is remarkable. Smith, when the team finally gets 20/20 vision and sees your lack of talent, you have a future in the business world.
AFC CHAMPIONSHIP: San Diego over New England
NFC CHAMPIONSHIP: Green Bay over Philadelphia
SUPER BOWL XLVI: Aaron Rodgers hoists the belt again in February.