Fantasy Football Rankings 2011: Chad Ochocinco Worth More Than Plaxico Burress?
August 13, 2011
Elsa/Getty Images
The NFL's lockout-shortened offseason had months of drama jammed into a two-week period of time, and most of it was thanks to a pair of mouthy, rebel-rousing, trouble-causing, media-manipulating wide receivers who changed uniforms, both going to teams no one would have believed they would have gone to.
If you had wagered which team Chad Ochocinco would have been on at the start of training camp, smart money could have been bet on the Oakland Raiders (because he is an outlaw), the Washington Redskins (because they needed a receiver and prefer big-name players past their primes) or the Cincinnati Bengals (because they have put up with his nonsense for a decade). 
But NO! The New England Patriots swooped in like storks delivering babies and acquired Ochocinco at a bargain basement price. So now Tom Brady has a tall wideout to throw to, and opposing defenses cannot focus all of their attention on Wes Welker on third downs.
If you had guessed which team Plaxico Burress would have been on at the start of training camp, logical choices would have been the New York Giants (old friends who know his hatred for alarm clocks), the Pittsburgh Steelers (older friends who know his hatred for alarm clocks) or the Philadelphia Eagles (because they sign everybody). 
WRONG! Burress must really love Bon Jovi, Bruce Springsteen, Snooki and guaranteed money, because he signed with the New York Jets. Or maybe Burress figured signing with the Jets was the best way to stick it to both the Giants and Steelers. Or maybe, just maybe, Burress thinks he can help Mark Sanchez the same way he helped another erratic, inconsistent quarterback from the same stadium.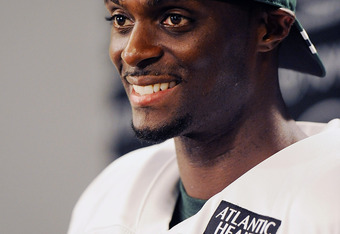 Patrick McDermott/Getty Images
Ochocinco and Burress have combined for 11 1,000-yard years for fantasy football owners in their careers. But does either have a chance of reaching that plateau in 2011? And which one is the better buy for fantasy owners this season? Here is a look at how each will do:
Chad Ochocinco, New England Patriots
Fantasy football's favorite name-changing reality star finally found a way out of Cincinnati after years of threatening to bolt and years of the Bengals threatening to trade him. If only Carson Palmer could find his own way to escape instead of opting to retire. 
Ochocinco landing in New England was about as unlikely as one of the captains on "Deadliest Catch" retiring from catching crab to become a coin collector. You would think Ocho's rambunctious, self-serving, me-me-me attitude would not fit into New England's team-first philosophy. But New England has suddenly turned into the place where malcontents go to salvage their careers.   
Tom Brady turns receivers into fantasy gold mines. Welker went from being a solid slot receiver to one of the most valuable receivers to own in fantasy football. Deion Branch has been an 800-yard receiver when Brady is throwing him, but during his non-Brady seasons he never made it to the 800-level.
And we know how Brady rescued Randy Moss from the scrap heap, transforming him back into the fantasy demigod he had been earlier in his career.   
Now it is hard to predict chemistry. People thought Ashton Kutcher and Natalie Portman would have it in No Strings Attached, and those people are currently out of the movie business.
Brady and Moss was an odd couple that worked. Will Brady and Ochocinco be on the same page as much? Remember, for all the problems Ochocinco caused in Cincy, Palmer and he were one of the top QB-WR tandems in the NFL for a long time. 
My biggest question is how Ochocinco fits into the Pats' passing game. The Patriots really needed a vertical threat, something they desperately lacked once Moss was given his walking papers.
But Ochocinco is no longer a blazer—he has not caught a pass for over 50 yards since 2007. He has become a flashy possession receiver. New England already has the best possession receiver in the NFL (when healthy) in Welker, though, along with two super sophomore tight ends and countless running backs with pass-catching ability, so how valuable can Ochocinco be?
One thing to be wary of—Bill Belichick will cut bait on Ochocinco immediately if things go awry. Look at how the last days of the Moss saga went down. As soon as Moss became a liability with diminishing returns, he was offed quicker than an enemy of the Sopranos. 
Prediction: Ochocinco's main squeeze, Evelyn Lozada from Basketball Wives, and Brady's wife, supermodel Gisele Bundchen, will not plan any shopping trips together, but Ochocinco will become buddies with Brady and will be far from a non-factor.
Ocho will not be the All-Pro he was in his glory days, but he will get 915 yards and seven scores as he buys into the team concept in his attempt to reach his first Super Bowl.
Plaxico Burress, New York Jets
Has two years in jail helped Plaxico realize that he should not carry guns inside his sweatpants, that he should show up to team meetings on time and that he is blessed to have the physical ability to be one of the best receivers in football?
Honestly, fantasy football owners do not care. What they want to see is whether or not two years in the slammer have made Burress lose a couple steps and made his hands as unreliable as Braylon Edwards'.
Michael Vick did not exactly look like a greyhound in his first year back on the field after getting released from the pokey. His legs really did not come back until his second season.
The same could hold true for Plax, although he was never Willie Gault anyway, so how fast his feet are is not as important as how sticky his fingers are.
Mark Sanchez and the Jets desperately need a red-zone target in the passing game. Santonio Holmes is the home run threat, Derrick Mason is the key third-down catcher and Dustin Keller is the main man over the middle.
Burress needs to be the Dennis Rodman-type that uses his size to box out puny cornerbacks and leap over them on alley-oop fade routes. His jail time might have slowed his speed, but I doubt he shrunk while he was away.
It is not like Burress has shoes to fill that are too big for his feet. While Edwards put up decent numbers and made some memorable catches, his spectacular drops were more memorable.  Burress is a different type of receiver, and thus should put up different numbers—think more touchdowns, fewer yards.
My prediction is that Burress' preseason leg problem and accompanying MRI will cause him to slide a few notches on fantasy draft lists, although all signs point to him being okay. But I think Burress will get off to a rough start thanks to this injury setback, shaking off the jail rust, having to learn a new offense, having the inconsistent Sanchez throwing to him and battling many other offensive options for passes when the Jets are a run-first team.
Holmes will be the one getting the 100-yard games. Burress will be the one averaging 40-50 yards per Sunday. But inside the 20-yard-line, Burress will be the one Sanchez zones in on. Expect Burress to finish with around 770 yards and eight touchdowns. 
I believe, in a head-to-head fantasy matchup, Ochocinco will put up slightly better stats than Burress. As well he should. New England throws more than New York, Brady is a much better quarterback than Sanchez and Ochocinco has not spent the last two years in jail (although some might say Cincinnati is akin to one).
Just know that, if you draft one of these characters, you are not getting the same guy who used to rack up 1,000 yards. These former No. 1 receivers are now No. 2 receivers, and where they go in fantasy drafts in 2011 will be much different than where they were drafted in 2007.