NFL 2011: Buy or Sell These 25 High-Profile Free Agents?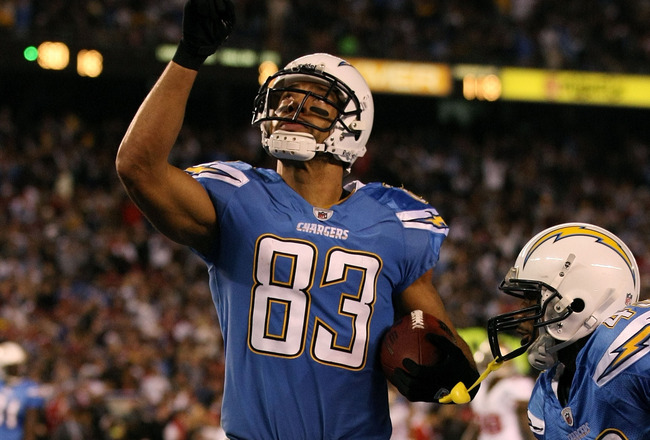 Donald Miralle/Getty Images
There's a lot of confusion going on during this deranged labor-free NFL offseason.
We don't know if a player's minimum amount of years before being eligible for unrestricted free agency is four or six. So some of the top guys could be instantly available, while others could be forced to wait a few more years before they're free to test the market.
Either way, here are 25 of the the top possible free agents.
Should teams keep these rising (or falling) stars? Or should they let them take a hike?
"Buy" means the team will retain the player.
"Sell" means the player will hit the market.
Eric Wright (Cornerback, Cleveland Browns): SELL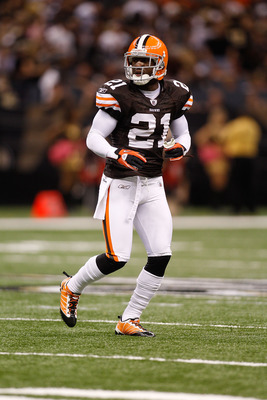 Chris Graythen/Getty Images
Eric Wright is one of the more underrated players in the NFL, which by default makes him one of the more overlooked potential free agents.
He is a sure tackler that can make plays, and he's going to be a great value for whatever team is smart enough to sign him.
But that team's not going to be Cleveland, as T.J. Ward and Joe Haden are two suitable defensive backs, so they can likely afford to let Wright walk in order to focus their money towards other team needs.
Barry Cofield (Defensive Tackle, New York Giants): SELL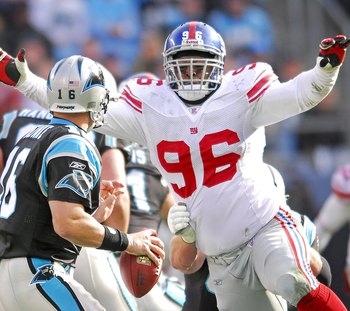 Grant Halverson/Getty Images
Barry Cofield is not a game-changing defensive tackle.
He'll produce, and get the job done at a satisfactory level, but he's not going to completely devastate the opposition's backfield.
He'll make a solid addition to any team looking for a full-time starter that's still in his prime, as long as that team runs a 4-3 defense.
The only question is, will the Giants retain him?
No, they'll let him walk.
They want to focus on their more high profile free agents (Ahmad Bradshaw, Steve Smith). In fact, they probably drafted Marvin Austin (North Carolina) in the second round as Cofield's replacement.
Richard Marshall (Cornerback, Carolina Panthers): BUY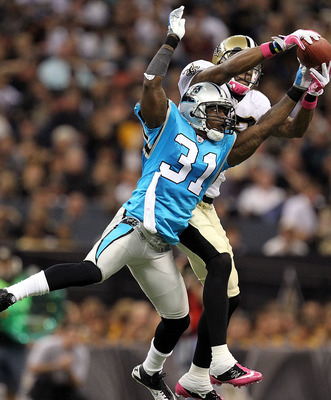 Ronald Martinez/Getty Images
Richard Marshall struggles in pass coverage, but he's very solid up front against the run.
However, all of the offseason talk from the Carolina Panthers has indicated that they'll let him walk.
But it doesn't make a lot of sense that they'd let him go. What's the point in taking the time to develop players if you're going to let another team reap the benefits?
The 26-year-old Marshall is just entering his prime, and he could be a solid piece towards the team's future plans.
Unfortunately Carolina has shown little interest in retaining the defensive back, so some other team will be getting a good value by signing Marshall.
Matt Hasselbeck (Quarterback, Seattle Seahawks): BUY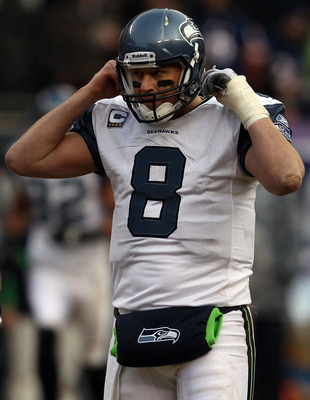 Jonathan Daniel/Getty Images
Prior to the 2010 season, the Seattle Seahawks swapped second-round picks with the San Diego Chargers in the 2011 draft, and they gave the Chargers an additional third-round pick on top of that, all in order to acquire quarterback Charlie Whitehurst, who was the third-string quarterback for San Diego.
That's a lot of value to give away for a third-string player, so they obviously see something they admire in Whitehurst. He will likely be given a chance to lead the Seahawks offense, but they probably won't force it.
As long as Matt Hasselbeck is around, they'll be fine with Whitehurst waiting under his wing.
Hasselbeck is a huge part to the organization as a whole, so he'll be given an opportunity to come back if he chooses to do so.
Yes, they invested a lot in Whitehurst, but it's not as though he's a blue-chip prospect.
Given their quarterback situation, they'll have no problem with the most experienced quarterback on the roster returning for another year. He's not the same player he used to be, but he gives them the best chance to win.
Ray Edwards (Defensive End, Minnesota Vikings): BUY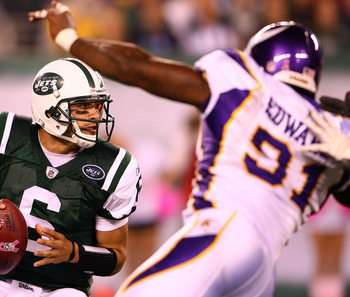 Andrew Burton/Getty Images
Ray Edwards plays a secondary role to Jared Allen, as Allen is clearly the designated franchise pass-rusher.
But you have to wonder if Allen would be able to produce at the same level without a guy like Edwards stealing some attention away from the opposing offensive line.
Brett Favre was clearly the poster boy for the Minnesota Vikings' 2009 campaign that took them to the NFC Championship game. However, the other aspect that solidified that team—which played second fiddle to Favre's circus show—was the defensive line.
The 2009 front four, which consisted of Allen and Edwards, as well as defensive tackles Pat and Kevin Williams, was arguably the best defensive line in the entire NFL that year. And it showed, as the four of them accumulated a combined 31 sacks.
The first step in replicating their success in 2009 was to find another quarterback, which they did by drafting Christian Ponder in the first round last April.
Now, the second step should consist of preserving a dominant defensive line; and to do so, they need to keep Edwards.
Shaun Ellis (Defensive End, New York Jets): BUY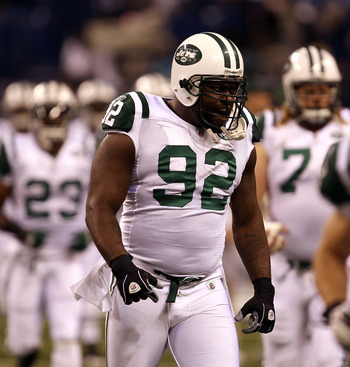 Jonathan Daniel/Getty Images
Do you let the 33-year-old Shaun Ellis walk, or do you keep him around?
The New York Jets should stick with the latter.
It's true that they just spent a first round pick on Muhammad Wilkerson (Temple), who could potentially serve as Ellis' replacement. But that strategy would rely on a rookie to produce immediately, and it would not be wise to put that kind of pressure on him.
Whether Ellis is high or low on the Jets' list of priorities is beside the point. If they want to protect their investment in Wilkerson, then it would be best to keep him.
It would take a load of pressure off the rookie if he didn't have to start immediately, and it would provide him with a mentor.
Rocky McIntosh (Linebacker, Washington Redskins): BUY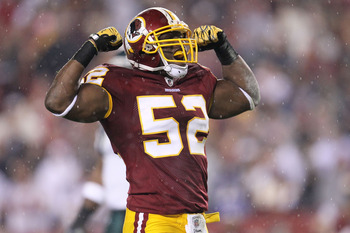 Chris McGrath/Getty Images
The Washington Redskins aren't going to win the NFC East anytime soon.
Their offense is dismal and they just can't compete with the other teams in their division, such as the Philadelphia Eagles and the New York Giants.
However, despite the fact they ranked 31st in the NFL in overall defense (average yards per game), they still have some talented players on defense—such as London Fletcher, Brian Orakpo, DeAngelo Hall, O.J. Atogwe and even Albert Haynesworth—so they need to keep that talent intact.
Rocky McIntosh is another key piece to the Redskins defense.
Defensive coordinator Jim Haslett historically focuses on developing effective linebackers, as it's a key position in his defense (especially since he was a linebacker himself during his playing days). So that means he'd prefer to keep McIntosh around for the future.
Also, the Redskins are big on signing free agents and veterans, so bringing McIntosh back with a new contract would fit that philosophy.
Chad Greenway (Linebacker, Minnesota Vikings): SELL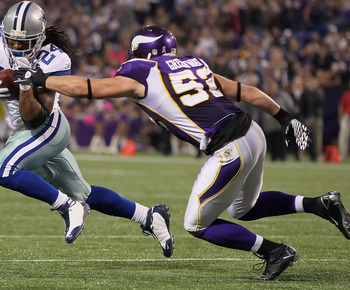 Jeff Gross/Getty Images
Most of the offseason news has indicated that the Minnesota Vikings will use their franchise tag to retain outside linebacker Chad Greenway, as oppose to wide receiver Sidney Rice.
That could all change depending on the new rules dictated by the new CBA (Collective Bargaining Agreement), as we're uncertain on how many franchise tags the future agreement will allow (if any).
Greenway is a very productive player, and he's a major asset for the Minnesota defense.
But having said that, outside linebacker is just not a very valuable position in a 4-3 style defense. The void could be filled by a younger player that's more cost efficient.
Sidney Rice is prone to injury, as he's missed out 22 out his 48 career games, but when he's healthy he's an elite wide receiver.
A receiver with Rice's capabilities is much more valuable to a rookie quarterback like Christian Ponder than a 4-3 outside linebacker.
Tamba Hali (Defensive End, Kansas City Chiefs): BUY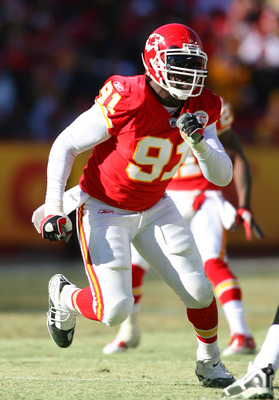 Tim Umphrey/Getty Images
There shouldn't be any doubt that Tamba Hali wants to remain with the Kansas City Chiefs, but he's coming off a 14.5-sack season, which will significantly drive up his price.
Hali will be looking for a contact that's worthy for a top-tier pass-rusher (such as DeMarcus Ware's $78 million deal in 2009).
A loaded contract will be the most important thing to him, as oppose to staying home in Kansas City. Not that there's anything wrong with that, as he has to secure his future.
If the Chiefs were the same 4-12 team they were in 2009, then it would be smart to let Hali go and focus on rebuilding. But this is a team that just won the AFC West, so they're ready to compete.
They need to retain their best pass-rush specialist in 2011, as the AFC West title will be a tight race between them and the San Diego Chargers.
They need someone to get after Chargers' quarterback Philip Rivers, and Hali will help them accomplish that.
He will require a major contract, but it's worth it if it means giving the team a slight edge over San Diego.
Davin Joseph (Offensive Guard, Tampa Bay Buccaneers): BUY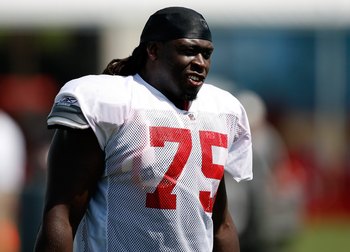 J. Meric/Getty Images
It seems as though the Tampa Bay Buccaneers will reserve their franchise tag for either Davin Joseph or linebacker Barrett Ruud.
Both are very valuable players in their own right, but they need to stick with Joseph.
The Bucs have invested a lot of high draft picks into the defensive line (Gerald McCoy, Brian Price, D'Quan Bowers), so they'll eventually expect some production out of their investment.
If the defensive line turns into what they want it to be, then the unit should be able to compensate for less talented linebackers, which makes Ruud expendable.
The better move would be to use the franchise tag on Joseph, as it would greatly benefit the young weapons they have in the backfield, such as quarterback Josh Freeman and running back LaGarrette Blount.
Logan Mankins (Offensive Guard, New England Patriots): SELL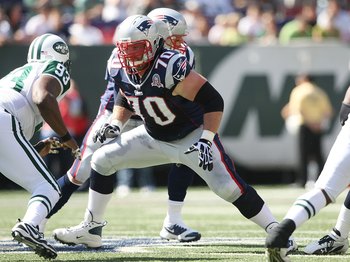 Nick Laham/Getty Images
The New England Patriots have not been known to retain veterans for the long run, at least veterans not named Tom Brady.
Logan Mankins is no exception to this rule.
Some may disagree with the Patriots' unwillingness to re-sign players that have contributed to the organization in big ways, but it's their philosophy, so there's no reason for them to abandon their plans now.
Some may deem the strategy as "unfaithful," but it has kept them competitive for years.
What Mankins will expect out of a new contract, versus what the Patriots are willing to pay, just doesn't equate. He'll be let go.
Carl Nicks (Offensive Guard, New Orleans Saints): BUY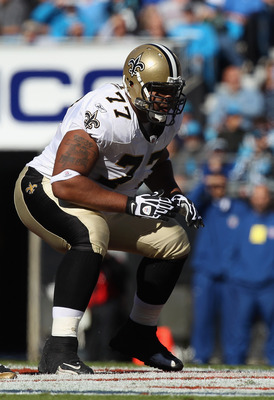 Streeter Lecka/Getty Images
The game of football is won up front, and the Saints have two of the better offensive lineman in the NFL in Jahri Evans and Carl Nicks.
It's important that they keep their line intact, as it is for any team.
The Saints just drafted Mark Ingram, who is primarily an inside runner. So it would not be ideal to deprive their rookie running-back of pro-bowl caliber protection.
And believe it or not, but Drew Brees is not untouchable. He needs that protection as well. Just look at what happened to Peyton Manning last season when he lost his protection.
Having an All-Pro line can make average skill-position players look like stars, and it can take elite skill-position players to the Super Bowl. The Saints need to get a deal done here.
Mike Sims-Walker (Wide Receiver, Jacksonville Jaguars): SELL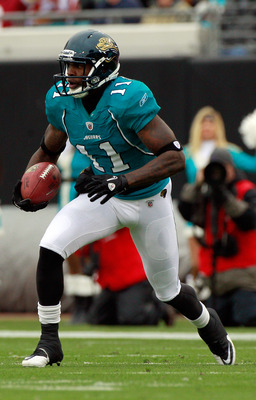 Sam Greenwood/Getty Images
Mike Sims-Walker—though overrated—is a valuable piece to the Jacksonville Jaguars' offense.
But just because the team appreciates his value doesn't mean that the feeling is mutual.
Sims-Walker will not only be looking for a big payday, but he wants to be somewhere competitive, and judging by the direction the team has taken as of late, that place is not Jacksonville.
To further validate that theory, one needs to look no further than Twitter, where he told Miami Dolphins wide receiver Brandon Marshall that he wishes to "pull a LeBron."
It was a clear reference to the NBA's LeBron James, who left the Cleveland Cavaliers for the Miami Heat, which indicates that Sims-Walker would apparently like to play alongside Marshall in Miami.
The Jaguars would like to keep as many offensive weapons as possible since they used their first-round draft pick on quarterback Blaine Gabbert (Missouri), but Sims-Walker will probably look to enhance the future of his career, rather than the future of the Jaguars.
Ike Taylor (Cornerback, Pittsburgh Steelers): BUY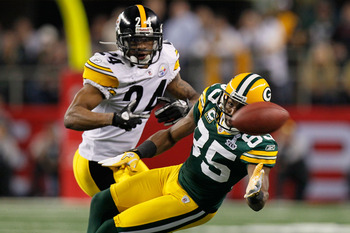 Kevin C. Cox/Getty Images
Pittsburgh Steelers cornerback Ike Taylor is set to become a free agent, but the entire city of Pittsburgh is anticipating his return.
Taylor wants the Steelers, the Steelers want Taylor, and so they'll make it happen.
He's been an invaluable part of the Steelers defense over the years—a defense that has appeared in three Super Bowls over the last decade, winning two of them.
Taylor wants to remain in Pittsburgh, so he'll accept a fair offer. And since the organization has respect for him, they'll meet that offer.
Steve Smith (Wide Receiver, New York Giants): BUY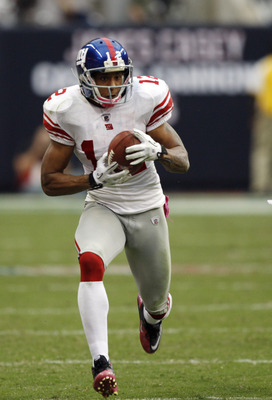 Bob Levey/Getty Images
One thing we know about Giants quarterback Eli Manning is that he needs weapons, as he greatly struggled after losing Plaxico Burress in 2008.
On one hand, they already have Hakeem Nicks and Mario Manningham.
They also finished with the No. 5-ranked passing offense in the NFL (based on average passing yards per game), so they could possibly afford to let Smith walk, which would allow them to focus on their other free agents (Ahmad Bradshaw, Barry Cofield, Mathias Kiwanuka).
On the other hand, there's a chance that they'll lose Bradshaw (therefore hurting their run game), so they need to keep as many offensive weapons as they can.
In the end, the Giants will likely retain Smith for a fair price, and Manning will thank them.
Haloti Ngata (Defensive Tackle, Baltimore Ravens): BUY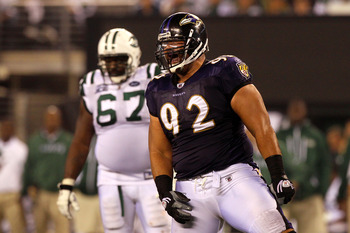 Jim McIsaac/Getty Images
Football is won in the trenches—that's Football 101.
So it's hard to put a price tag on Haloti Ngata's value to the Raven's defense.
Yes, Ray Lewis is Ray Lewis.
But believe it or not, he's still human, and his play will eventually decline. When that happens, the Ravens need some younger players in place that can contribute to the defense's future success.
Ngata is one of those guys that will contribute to the post-Ray Lewis era, so they need to ink him for the long run.
Mathias Kiwanuka (Defensive End, New York Giants): SELL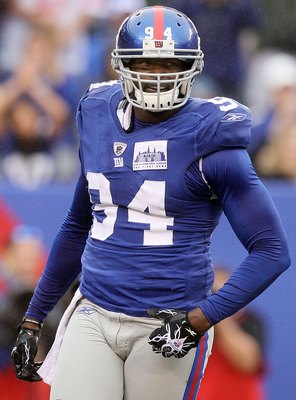 Jim McIsaac/Getty Images
In recent years the New York Giants have made a living by stockpiling defensive ends.
It was the most important aspect to their defense the year they won the Super Bowl, and it's seemingly something that they want to continue.
Having said that, the team drafted Jason Pierre-Paul in the first round of the 2010 draft, and he had a promising rookie campaign.
The team also has veterans Justin Tuck and Osi Umenyiora, who are both in their primes and playing at a very high level.
Mathias Kiwanuka has not been very productive ever since his eight-sack season in 2009. He also has only seven starts over the last two seasons due to injury.
The Giants are set at defensive end, despite their philosophy to stockpile them. Also, the team has a lot of other free agents to worry about signing (Steve Smith, Ahmad Bradshaw, Barry Cofield), so it's safe to say that Kiwanuka is a likely goner.
Santonio Holmes (Wide Receiver, New York Jets): BUY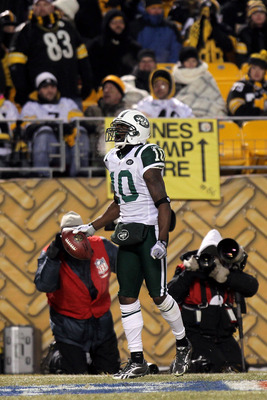 Nick Laham/Getty Images
Between the New York Jets' top two receivers (Santonio Holmes and Braylon Edwards), who are both set to be free agents, Holmes is the more reliable of the two and has better chemistry with quarterback Mark Sanchez.
Edwards is good for an occasional big play, but Holmes is a more reliable bail-out option for Sanchez, which they can't afford to give up.
There's a chance that the Jets will try to retain both, but they can't afford to keep everyone, as the salary cap will likely return in 2011.
Braylon Edwards (Wide Receiver, New York Jets): SELL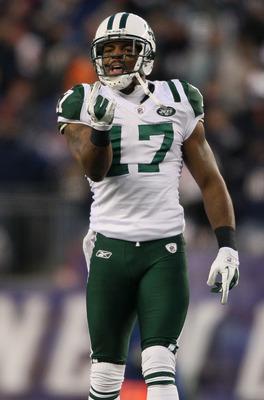 Elsa/Getty Images
Edwards' impressive 17.1 yards per catch average in 2010 was a statement to his style of play.
He's not a reliable possession receiver that his quarterback can turn to on any given play, which he made clear by accumulating only 53 catches in 16 games—but he's certainly good for a long bomb on occasion.
If the Jets have to decide between Edwards and Santonio Holmes, then they'll pick Holmes. So expect Edwards to look for work elsewhere in 2011, unless he's willing to sign for a fair price.
Malcom Floyd (Wide Receiver, San Diego Chargers): SELL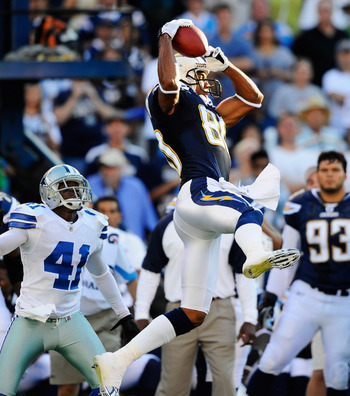 Kevork Djansezian/Getty Images
Malcom Floyd was able to efficiently fill in as the San Diego Chargers' top receiver in the place of Vincent Jackson, who held out 11 games in 2010 due to a contract dispute.
In only 11 games, Floyd had 717 yards and a career high six touchdowns.
His production led some people to believe that the Chargers might save money by cutting Jackson loose and sticking with Floyd as the team's top receiver.
However, Floyd has never started more than nine games in one season throughout his seven-year career. It's also reasonable to suspect that he's just a product of his environment, meaning Philip Rivers is the primary reason for his success.
Overall, it would be the appropriate move on the Chargers' part to spend the extra money on Jackson rather than Floyd. Jackson is more sturdy and productive, and he's just a more valuable receiver all around.
Sidney Rice (Wide Receiver, Minnesota Vikings): BUY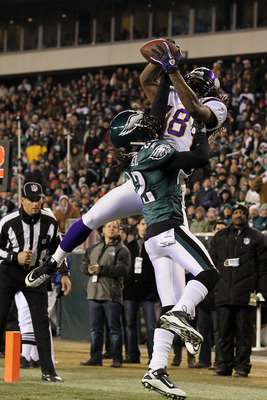 Jim McIsaac/Getty Images
Offseason indications told us that the Minnesota Vikings were leaning towards keeping linebacker Chad Greenway over Sidney Rice.
Overall that would probably be the right move. Greenway is a productive player who can keep himself on the field, whereas Rice has missed 22 out of his 48 career games due to injury.
Rice's 2009 campaign was quite remarkable, as he raked in 1,312 yards and eight touchdowns. It was the first time that he was healthy for the majority of a season (and he still missed two games).
He can certainly play at an elite level if he's healthy, but that's a big "if."
But still, the Vikings just invested a No.12 overall draft pick on a quarterback (Christian Ponder), so you have to believe that a potentially elite wide receiver is more valuable to the team than an outside linebacker.
And besides, Greenway may be good, but outside linebackers are just not very valuable in a 4-3 defense.
Ahmad Bradshaw (Running Back, New York Giants): BUY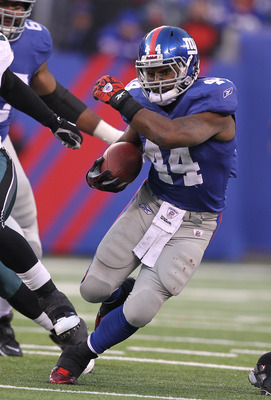 Al Bello/Getty Images
Ahmad Bradshaw proved last season that he is more than capable of carrying the load for the New York Giants.
Bradshaw ran for 1,235 yards and eight touchdowns during the 2010 season.
Brandon Jacobs did a suitable job as the No. 2 running back, as he complemented the offense with 823 yards and nine touchdowns.
However, the Giants need to do everything in their power to retain Bradshaw.
The Giants typically like to have a duo of running backs share the carries, but if they do go to a single primary back, then that guy needs to be Bradshaw, not Jacobs.
Bradshaw will likely want to be paid like a top running back, so it's understandable if the Giants let him go.
But if they don't cough up the money, then their offense will feel the blow.
Vincent Jackson (Wide Receiver, San Diego Chargers): BUY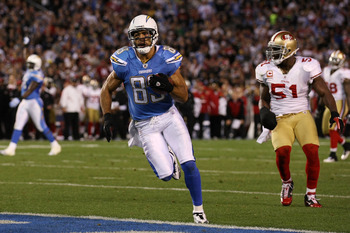 Donald Miralle/Getty Images
It's already been reported that the Chargers want to use their franchise tag on their top wideout Vincent Jackson, which will allow wide receiver Malcom Floyd to test the open market.
Jackson was frustrated with the Chargers for not giving him a new contract, which led to him holding out and missing 11 games last season. But despite any bitter feelings between Jackson and San Diego's front office, the indications are clear that the team wants to keep their star receiver.
The Chargers missed the playoffs last season, but regardless, they still have an extremely talented team capable of making a Super Bowl run.
They had both the No.1-ranked offense and defense in the NFL (average yards per game) last season.
Bringing Jackson back, despite any tension, is a smart move if they want to preserve the same kind of offensive production they had last season.
DeAngelo Williams (Running Back, Carolina Panthers): BUY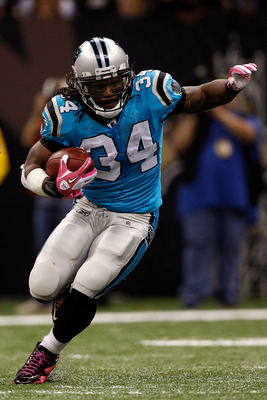 Chris Graythen/Getty Images
Typically it's not smart for rebuilding teams to get into bidding wars, especially since they won't be competitive anytime soon.
But the Carolina Panthers have a unique situation, as they have a rookie quarterback that needs to succeed.
Yes, DeAngelo Williams and Jonathan Stewart had very disappointing 2010 seasons. But that's typical given how bad the surrounding talent was.
Remember, prior to last season Williams and Stewart were considered the best running back tandem in the entire NFL.
Whether it's Sam Bradford and Steven Jackson, Matt Ryan and Michael Turner, Ben Roethlisberger and Jerome Bettis, or Mark Sanchez and his committee of of running backs, one thing all successful rookies have in common is a solid backfield.
The Panthers may concentrate their money elsewhere, but if they do keep Williams, then No.1 overall pick Cam Newton will thank them.
Nnamdi Asomugha (Cornerback, Oakland Raiders): SELL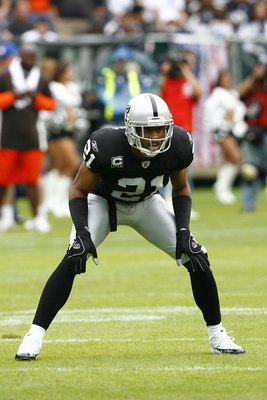 Kevin Terrell/Getty Images
The Raiders need to be smart and let Nnamdi Asomugha walk away.
It's embarrassing to even think about how much money he'll command from another team.
The Raiders showed a lot of promise as a football team in 2010, as they finished with an 8-8 record after going 5-11 in 2009.
If they want to be a future contender in the fairly competitive AFC West, then they need to start doing things the right way.
This does not include trading a first-round draft pick for an aging lineman named Richard Seymour, and it certainly does not include giving a cornerback that is almost 30 years old a disgustingly large contract.
Oakland isn't going to win a Super Bowl in the next three years due to the play of Asomugha. So they need to build through the draft, and they need to save that money for younger free agents that could help the team in the long run.
Keep Reading