2011 NFL Draft Grades: Grading All 32 NFL GMs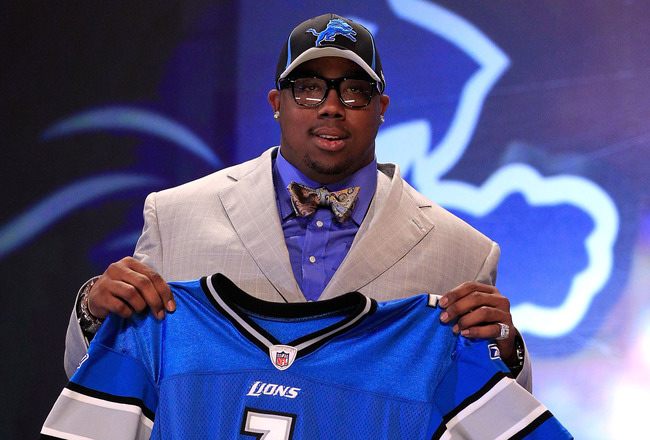 Chris Trotman/Getty Images
In the NFL, if a team loses, the quarterback usually gets the blame. Except if the quarterback is a stud, then the coach gets the blame for not coming up with the right game plan. But if the coach comes up with the right plays and the QB executes them correctly, that's when the blame goes to the General Manager.
Because if it's not the superstar quarterback's fault and the genius coach is calling the right plays, they must not have enough talent around them to win. So this is where the GM gets to prove his worth, one time a year, at the NFL Draft.
If they did their job correctly the last few days, then they might get their share of the credit when the Vince Lombardi trophy is passed around.
And if they did a terrible job, that's when the blame goes to the owner...for hiring a bum of a GM.
32. Miami Dolphins: Jeff Ireland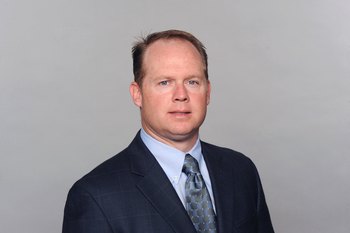 NFL Photos/Getty Images
Jeff Ireland has the keys to the front office and no one to blame now that Bill Parcells is no longer around to shield away criticism.
Best Pick (tie): Mike Pouncey. He'll probably start soon, so that was a pretty good first pick. Receiver Edmund Gates has big time speed.
Worst Pick: More like worse non-pick. First, Ireland struck out trying to get another coach. He left his coach, Tony Sparano, dangling in the wind then signed him to an extension when things got awkward. And now he goes into this season without picking a quarterback when several were available.
Final Grade: D. You can't build a team on a coach and a quarterback that you wish you didn't have.
31. San Francisco 49ers: Trent Baalke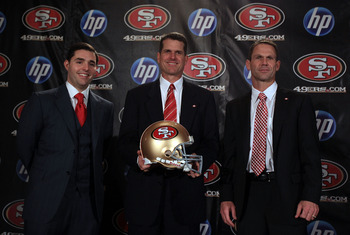 Ezra Shaw/Getty Images
Trent Baalke has an interesting name, and he made some interesting picks in his first draft as the 49ers GM.
Best Pick: Kendall Hunter, RB, Oklahoma State. Hunter was productive and has soft hands. He will get in there so that Frank Gore doesn't wear down. Late round pick Ronald Johnson was productive, if unspectacular, at Southern Cal.
Worst Pick: Some might say everyone other than Hunter might fall in this category. Not many experts felt that Colin Kaepernick was the right QB pick. And everyone thinks Aldon Smith was a huge reach at No. 7 of the first round.
Final Grade: D+. Not a great start to the Jim Harbaugh era.
30. Carolina Panthers: Marty Hurney
Getty Images/Getty Images
Marty Hurney has been on the job for close to a decade now.
Best Pick: Sione Fua Defensive Tackle from Stanford. Huge, powerful guy. You know he's probably smart since he's a Cardinal. Should play early.
Worst Pick: More like the riskiest pick, Cam Newton. Newton has only one year of big time football under his belt. Don't get me wrong; he did a lot in that year (national title and the Heisman), but still...
Final Grade: C-. Can't give Hurney a failing grade until we find out what Newton can do.
29. Seattle Seahawks: John Schneider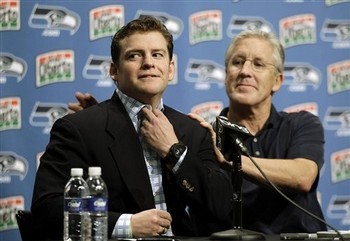 This is John Schneider's first draft as general manager of the Seattle Seahawks.
Best Pick: John Moffitt, guard out of Wisconsin. You can never have too many good offensive linemen, and Moffitt is one of the guys that all the experts think will be good for a long time.
Worst Pick: Another guy who didn't necessarily have any one bad pick but didn't hit any home runs either. This team made the playoffs with a 7-9 record, an aging quarterback and a bunch of guys that played over their heads. Coach Pete Carroll can only do so much with his rah rah speeches. They need play makers.
Final Grade: C-. This draft can get them back to 7-9. But I'm not sure that can get them back to the playoffs.
28. Minnesota Vikings: Rick Spielman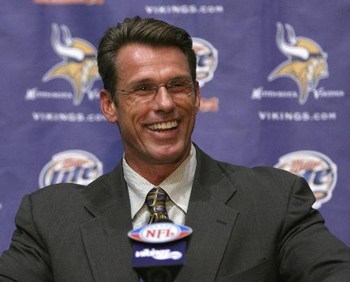 Rick Spielman sure looks happy in this picture. I wouldn't be smiling so much after this draft.
Best Pick: Kyle Rudolph, Tight End from Notre Dame. Rudolph can find the end zone and is ready to play right away.
Riskiest Pick: Not that I have anything against Christians; I am one. But he picked one Christian too early (Ponder) and the one just might be a knucklehead (failed drug test at the combine).
Grade: C-. Reaches and picks with sketchy backgrounds get you an average grade. If Ponder isn't ready, is it time to go after old number four again?
27. Buffalo Bills: Buddy Nix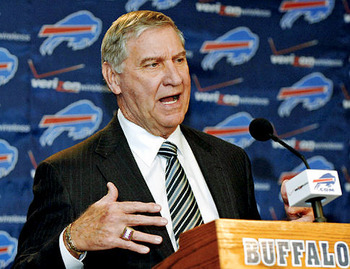 How can you not like a guy named Buddy Nix? Unfortunately, if the Bills don't figure out a way to compete in the hardest division in football, he won't be anyone's buddy for long.
Best Pick: Marcell Dareus, defensive tackle, Alabama. Though there is no such thing as a can't miss pick, Dareus might be close to one.
Worst Pick: No huge misses by Buddy. Just no huge swings on offense.
Final Grade: C. It's going to take more than C's to catch up to the Pats, Jets and 'Phins.
26. Kansas City Chiefs: Scott Pioli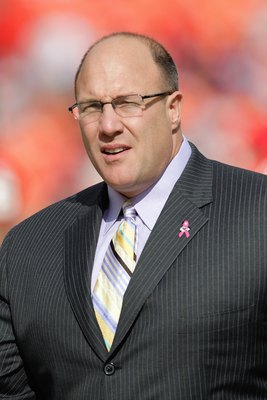 Jamie Squire/Getty Images
Scott Pioli has a heck of a reputation as a football guy after helping craft the Patriots dynasty. But he might have gambled too much this year.
Best Pick: Rodney Hudson, their second-round pick, is loved by all that experts. You can never go wrong if you get a good O-lineman.
Riskiest Pick: Neither Jon Baldwin, their first pick, or Justin Houston, their third pick, is a flat out fail, but both of them bring off field issues to the table. And Baldwin is said to have an attitude problem on top of that. Another diva receiver is just what the league needs. Hopefully he and Bowe can co-exist.
Final Grade: C. It's probably lower than most optimistic KC fans would say, but when you take huge gambles, they can pay off big or they can flop. How many bad games will Cassel get before the fans start asking for Ricky Stanzi?
25.Tennessee Titans: Mike Reinfeldt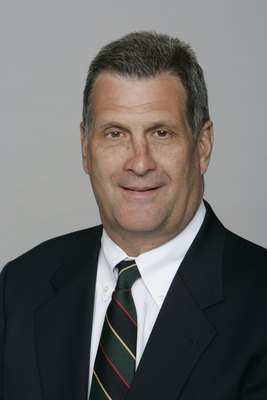 NFL Photos/Getty Images
Tennessee Titans and Mike Reinfeldt decided to go to the Pac-10 for all three of their first picks.
Best Pick: Jurrell Casey is a serious talent. Could have gone much higher in the draft.
Worst Pick: Jake Locker is not a top 10 talent. He might have been the top pick last year, but he came back and all his warts were out there for everyone to see. Might be the biggest risk of the draft.
Final Grade: C. Mike Munchak starts his era with a lot of pressure now. If Locker ends up being a stud, then the grade goes to B-. If he is a bust...
24. Oakland Raiders: Al Davis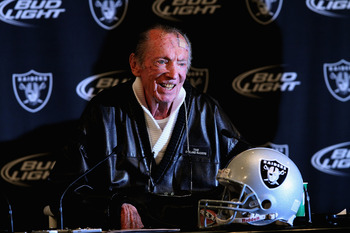 Justin Sullivan/Getty Images
Maybe old Al gets a bad rap. This is two years in a row that he didn't have a disastrous draft.
Best Pick: Penn State center Stefan Wisniewski. Solid and mean, just like the Raiders like them. Ausberry is probably the biggest and toughest wide receiver in the draft.
Riskiest Pick: He is fast, but definitely the riskiest pick is DeMarcus Van Dyke, CB out of Miami. On one hand, if he really ran a 4.2 40-yard dash, there is no way Al Davis could pass on that. But at barely six feet and a hair over 170 lbs, he is light in the cakes.
Final Grade: C. Davis is a gambler, so it's weird that he didn't get into the mix any earlier. Yes, they gave up their first-round pick to get Richard Seymour, but it would have been cool to see the Raiders make some more moves.
23. Washington Redskins: Bruce Allen
Jonathan Ernst/Getty Images
Bruce Allen has one of the hardest jobs in the NFL. He has to figure out what is going on in Dan Snyder's head.
Best Pick: Everyone is in love with the first round pick of defensive end Ryan Kerrigan.
Worst Pick: Though the Skins reached for a few picks and showed a strange attraction for Nebraska players (three in a row), the biggest mistake of their draft is that they still need a leader in the huddle.
Final Grade: C+. Can't win ball games without a quarterback.
22. Atlanta Falcons: Thomas Dimitroff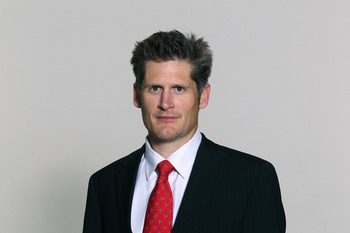 Handout/Getty Images
The word is out that Thomas Dimitroff is a riverboat gambler.
Best Pick: Jacquizz Rodgers, RB, Oregon State. Quizz was the best back in the Pac-10 when healthy and is going to be an immediate contributor to that Falcons offense.
Worst Pick: Not an awful pick but a reach. Julio Jones is a top talent and can make an already great offense even more explosive.
Final Grade: C+. This could go up to B+ if the dirty birds make it all the way to the big show.
21. Arizona Cardinals: Rod Graves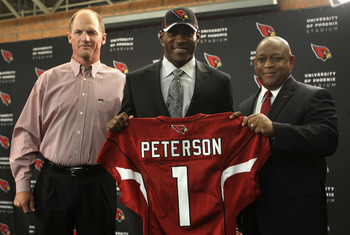 Christian Petersen/Getty Images
Rod Graves had a really solid draft, but one thing is missing...
Best Pick: LSU corner Patrick Peterson is as close to great as this draft offers. A corner who can make plays is a commodity in a QB poor division like this.
Worst Pick: Like I just said, in a QB poor division, the team with even a decent one wins (see 7-9 Seahawks from last year). Not picking one was a huge miss.
Final Grade: C+. Graves must have a back up plan on getting a quarterback. Until then, he keeps this grade.
20. Jacksonville Jaguars: Gene Smith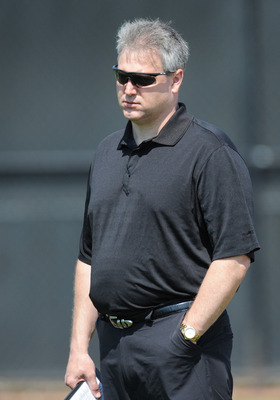 Al Messerschmidt/Getty Images
Gene Smith knew that he and the Jags had to get a quarterback, so by all means, he went for it.
Best Pick: The jump to get Blaine Gabbert was an onions move that could pay off in the end.
Worst Pick: Not much else to speak of in the rest of the draft. Although some folks are high on Will Rackley, OG, Lehigh.
Final Grade: C+. Gabbert could be big time, but if he isn't and the rest of the no-names don't pan out, well then...
19. New York Jets: Mike Tannenbaum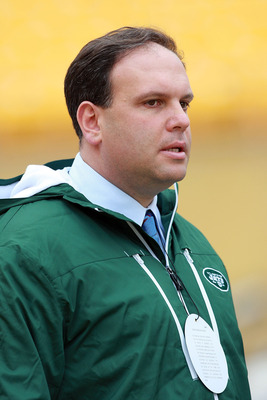 Karl Walter/Getty Images
You knew the Jets would go defense first if no pressing need could be addressed.
Best Pick: None of the picks blow you away, but they were all solid, including nose tackle Muhammad Wilkerson in the first round.
Riskiest Pick: Again, for a team that likes to be loud, they didn't make any noise at wide reciever or outside linebacker, so definitely an un-Jetlike and an un-Rex Ryan-like performance. Yes, I am making up words.
Final Grade: C+. Middle of the road draft gets a middle of the road grade.
18. New England Patriots: Floyd Reece / Bill Belichick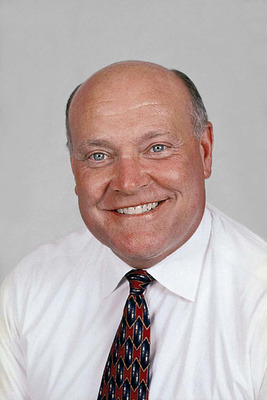 NFL Photos/Getty Images /Getty Images
Bill Belichick has been known as a genius in the draft, but this time, he made several singles, no home runs. Though New England doesn't have a general manager in name, most think Belichick shares the responsibilities with Floyd Reece.
Best Pick: Ras-I Dowling can pair with second year corner Devin McCourty and make lives miserable for wide receivers in the AFC East.
Worse Pick: Shane Vereen, RB, California. It's not often that the Patriots reach, but they did just that with Vereen. He would have been there in the next round.
Final Grade: B-. If Marcus Cannon can remain healthy and Ryan Mallett turns out to be a stud, then Belichick will get his draft genius label back.
17. Philadelphia Eagles: Howie Roseman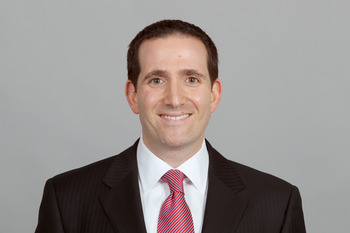 Handout/Getty Images
I've always been suspicious of guys named Howie. Just saying.
Best Pick: No one is saying anything negative about their number one pick, Danny Watkins, OG, Baylor, so that's a good thing. Both Stanley Havili and Dion Lewis are going to pay immediate dividends.
Worst Pick: Kicker Alex Henery must really be good for them to pick him this high.
Final Grade: B-. The draft never seems like a problem for the Eagles. What to do with Kevin Kolb is their major concern.
16. Cleveland Browns: Tom Heckert, Jr.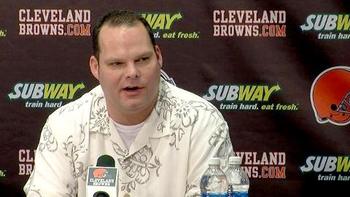 Tom Heckert wants to build on some of the positive things his Browns did last year. He made some moves, and most of them were the right ones.
Best Pick: Trading out of the sixth spot and taking a bunch of picks. No guarantee they will get great players just because you have a bunch of later picks. But the effort is there.
Riskiest Pick: Jordan Cameron, tight end from USC. Really athletic and still developing, Cameron can sky for the ball and can play soon. Kind of a reach in the fourth round, since he didn't put up big numbers at Southern Cal.
Final Grade: B-. Picking up a nose tackle in the first round when you don't run a 3-4 anymore is weird. Trading up to pick him is even weirder. But getting picks is never a bad thing.
15. St. Louis Rams: Bill Devaney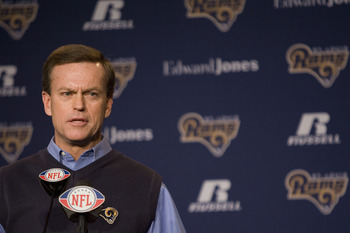 Dilip Vishwanat/Getty Images
Bill Devaney and the Rams were one game away from the playoffs. So they tried to get Sam Bradford some help.
Best Pick: Some experts say Robert Quinn the defensive end from North Carolina is the best pass rusher in the draft.
Worst Pick: Sam Bradford needed help, but the Rams went for quantity over quality at receiver. Now they have to hope one or more of the lower round receivers pans out.
Final Grade: B-. The Rams know they are getting close and they have a stud at QB, so getting him help was important. They did well.
14. Denver Broncos: Brian Xanders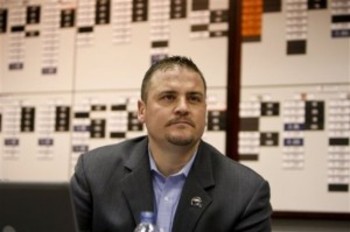 Mr. Xanders has a pretty tough task from here on out. Everyone thinks John Elway is making the decisions. So does that mean the X-Man gets the blame but Elway gets the glory?
Best Pick: The Broncos were awful on defense, so they needed big time help there. Raheem Moore is a stud safety who will get on the field in a hurry.
Riskiest Pick: Vonn Miller might end up being the pass rusher that they hope he is, but Elway, er Xanders, messed up a lot of mock drafts by not taking Marcel Dareus.
Final Grade: B-. Not bad for Elway and Xanders' first draft together. Especially if they are right about Miller.
13. Chicago Bears: Jerry Angelo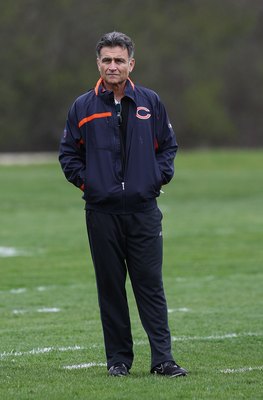 Jonathan Daniel/Getty Images
The Bears didn't have too many concerns, but they still need some depth. A couple of playmakers would've helped as well.
Best Pick: Stephen Paea is said to be an injury risk, but with Tommy Harris gone, he might be just want they needed. Everybody loves Gabe Carimi.
Worst Pick: No really bad picks; just a lack of them. No offensive players at all except for Nathan Enderle, the quarterback out of Idaho.
Final Grade: B-. One thing Jay Cutler could use is a couple more weapons. None coming via the draft.
12. Indianapolis Colts: Chris Polian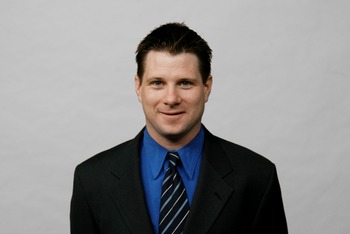 NFL Photos/Getty Images /Getty Images
The Polian name carries a lot of weight in Indy, even if the first name is different.
Best Pick: The pick of Anthony Castonzo, OT, Boston College, not to be confused with George Costanza, was a solid one as he was a first rounder on everyone's mock draft.
Worst Pick: It's not that Benjamin Ijalana, the lineman from Villanova, isn't a solid pick. It's just that they reached for him, and had to trade up, and give up a pick for him.
Final Grade: B. The Colts got Peyton Manning the lineman that he needs to keep him upright, but when are they going to start worrying about getting his heir apparent?
11. Dallas Cowboys: Jerry Jones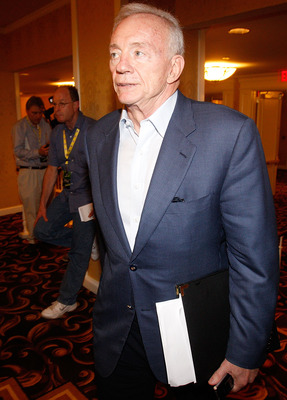 Sean Gardner/Getty Images
The word is that Jerry Jones was ready to wheel and deal but couldn't find anyone to do it with. So he took the best picks that he could.
Best Pick: In Tyron Smith, the Tackle out of USC he knows that he has a future starter, which is what you want out of a first round pick.
Riskiest Pick: Bruce Carter, the outside linebacker from North Carolina, is still recovering from a torn ACL. Not sure how much of his speed he'll still have.
Final Grade: B. Jones addressed needs (except for DeMarco Murray, which was kind of a strange pick) and got the best guy he could in the first round.

10. Pittsburgh Steelers: Kevin Colbert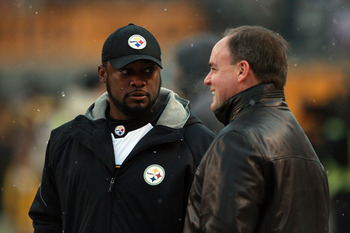 Karl Walter/Getty Images
Colbert is arguably as good as any GM in the business at finding talent.
Best Pick: Cameron Heyward, Ironhead's kid, fits perfectly in with what the Steelers do on that side of the ball.
Worst Pick: Marcus Gilbert, OT, Florida was a major reach. But he does fill a depth need.
Final Grade: B. You can't give a A grade for reaches. But they seem to know how to find their way to Super Bowls.

9. San Diego Chargers: AJ Smith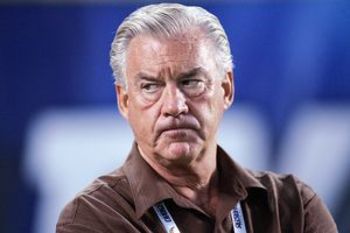 Smith is another guy who is always talked about using four letter words, but he always ends up being the last guy standing.
Best Pick: (tie) Corey Liuget fits the proverbial need. And Marcus Gilchrist is a future starter in the secondary.
Worst Pick: Everyone hates the late second round pick Jonas Mouton, Michigan outside linebacker who was formerly a safety and thought to be a late round prospect. Huge reach, says the experts.
Final Grade: B. They whiffed on Mouton, and Shareece Wright might be a tad overrated, but AJ did pretty well the rest of the time.

8. Houston Texans: Rick Smith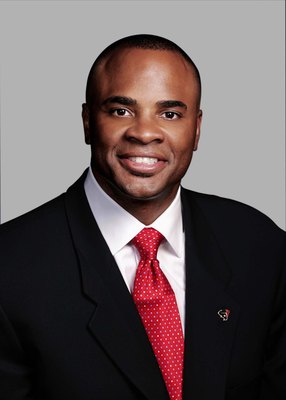 Getty Images/Getty Images
The Houston Texans are constantly hovering around mediocrity. Rick Smith has to be frustrated, which is why this solid draft might help put them over the top.
Best Pick: Brooks Reed, OLB, Arizona should be a starter for them within a few years.
Worst Pick: None to speak of. TJ Yates is a project, though.
Final Grade: B+. Smith could be just a couple drafts away from getting over the hump.
7. Cincinnati Bengals: Mike Brown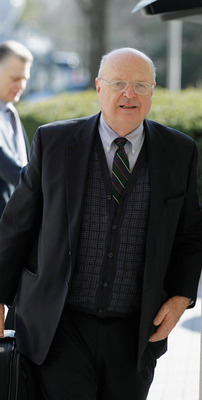 Rob Carr/Getty Images
Cincinnati GM Mike Brown takes a lot of grief, most of it deserved, but no one made a bigger splash this draft day than the Bengals.
Best Pick: Andy Dalton, South Park is wrong, I've seen this kid play, and this ginger definitely has a soul. He signals the end of the Carson Palmer era.
Riskiest Pick: Dontae Moch. This outside linebacker didn't exactly play against top flight competition every week, and he is a track and field guy who everyone is saying is raw. But they have enough backers that they could wait on this Moch draft. Get it? Moving on.
Final Grade: B+. In one draft, you signal the end of Palmer to Ochocinco and introduce Dalton to AJ Green. Good work.
6. New Orleans Saints: Mickey Loomis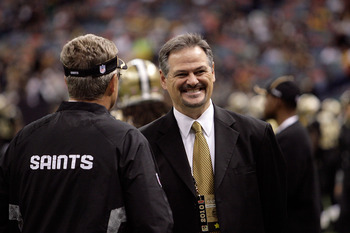 Matthew Sharpe/Getty Images
We've had a Buddy, an Ozzie and now we have a Mickey. NFL GM's sound like a fun bunch of guys to hang out with.
Best Pick: Cameron Jordan fell in their lap. He's a play making defensive end. Solid pick.
Riskiest Pick: Some experts hate that they traded up to get Mark Ingram and gave up a first round pick next year. I like it. It was either that or over pay Reggie Bush. I think Ingram can be the poor man's Emmitt Smith if you give him a line and the ball. Grab playmakers.
Final Grade: B+. They might have the steal of the draft if seventh round pick Pittsburgh defensive end Greg Romeus can stay upright.
5. Baltimore Ravens: Ozzie Newsome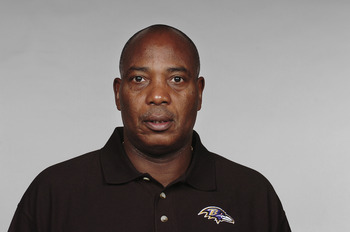 Getty Images/Getty Images
Newsome went from Hall of Fame Tight end to equally as good in the front office. He's like the Jerry West of the NFL.
Best Pick: Jimmy Smith. With the type of defense the Ravens put on the field every year, a shut down corner is exactly what they need to get back to the top.
Riskiest Pick: Jimmy Smith. Yes, him again. The off field issues shouldn't arise with guys like Ed Reed and Ray Lewis visiting you at home if you mess up. Ray Lewis can scare issues out of anybody. Speedster Torrey Smith and Va Tech's Tyrod Taylor can pay off down the road.
Final Grade: B+. Newsome is on the list of top three GM's in the game and proves it every year.
4. Green Bay Packers: Ted Thompson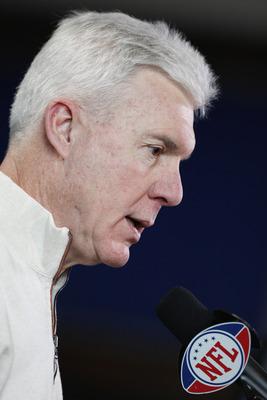 Joe Robbins/Getty Images
What do you give to the guy who has everything? A pretty good draft; that's what.
Best Pick: Derek Sherrod, left tackle to protect your most valuable commodity, Aaron Rodgers. Solid pick.
Riskiest Pick: Well none stand out, but not grabbing a backer earlier than they did, maybe. Yes, I'm searching for something.
Final Grade: B+. We'll hear from wide receiver in Randall Cobb sometime this year. And the Packers will be in the mix again, and this time they will probably be healthy.
3. Detroit Lions: Martin Mayhew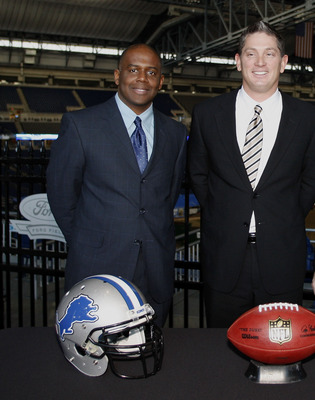 Gregory Shamus/Getty Images
Talk about a team and a guy making moves. I can't remember the last time someone said Detroit Lions and didn't snicker. They aren't doing it anymore.
Best Pick: Nick Fairley fell to Mr. Mayhew, so he had to take him. And now Mr. Suh has a partner in crime. Scary D-line.
Riskiest Pick: Most folks say that since they already have Jahvid Best, Mikel LeShoure was not a pick they needed to make. I disagree; Best gets injured a lot. Grab skill players and figure it out later.
Final Grade: A-. Yes, their draft was top heavy. So what? The Lions are making moves.
2. New York Giants: Jerry Reese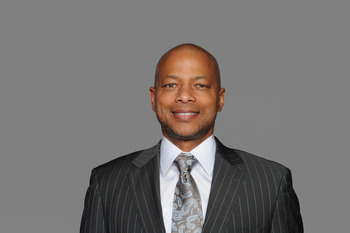 Handout/Getty Images
Jerry Reese is going to give the Giants a fighting chance to come out of that tough NFC East.
Best Pick: There is no way the G-Men thought they had a chance of getting Prince Amukamara. Or his huge family.
Riskiest Pick: Marvin Austin is another one of those UNC character issue guys, and he didn't play last year. But talent-wise, top 10 pick. Two for two early for Reese. And look for Tyler Sash to find a way onto the field.
Final Grade: A-. When you are pretty much stealing the first two days, you gotta get a high grade. Just hope these steals pan out.
1. Tampa Bay Buccaneers: Mark Dominik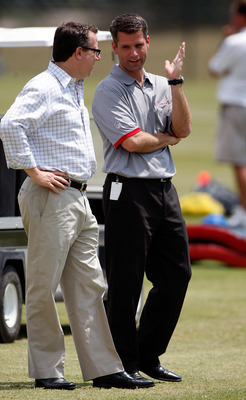 J. Meric/Getty Images
You heard it here; Mark Dominik and the Tampa Bay Bucs had the best draft of the year.
Best Pick: Take Da'Quan Bowers in the middle of the second round when folks had him in the top 10? Why not?
Riskiest Pick: Mr. Bowers has health issues, but the risk/reward ratio is off the charts in Tampa's favor.
Final Grade A. Even late picks like Allen Bradford could end up paying major dividends. Great job, Bucs.
Keep Reading