2011 NFL Mock Draft: Buffalo Bills' Draft Take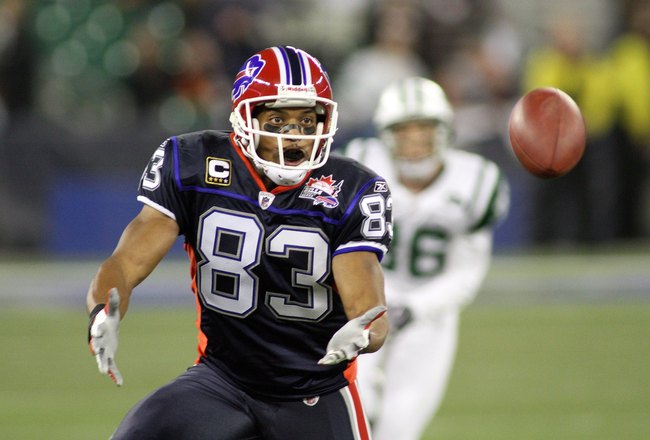 Rick Stewart/Getty Images
The Buffalo Bills were exactly who we thought they were last season, which was a team that didn't have a great chance of winning football games. The move to the 3-4 defense may pan out in the long run, but it was a disaster last year. This should improve over time when the Bills get the proper personnel in place.
Ryan Fitzpatrick had a pretty solid season last year, and he'll likely be the starter for next season. However, I think that the Bills are fooling themselves if they think he is the franchise quarterback, so I think that the Bills need to consider drafting a franchise quarterback in one of the first three rounds. Fred Jackson is a very underrated starting running back, and he should hold down that role next season.
C.J. Spiller needs to make a much bigger impact next season to avoid being looked at as a big time bust. Lee Evans is a solid starting receiver, but he is due a lot of money for next season and the Bills may want to go younger moving forward. Steve Johnson has emerged as a potential number one receiver, and he should only continue to get better moving forward.
The tight end position is a huge question mark, as David Martin and Jonathan Stupar aren't starting-quality tight ends. The offensive line is missing a blindside protector, and it is weak overall at the tackle position. Demetrius Bell could make a solid right tackle, but the Bills must acquire an upgrade for the left tackle position. The interior of the line is pretty solid, as Andy Levitre and Chad Rinehart are solid guards, and Eric Wood is a talented young center.
The defensive line was one of the biggest reasons that the Bills defense struggled last year, and they must bring some more talent in at the defensive end position. Alex Carrington will probably get a chance to start next season due to his high draft status, but the Bills need to take at least one defensive end early on in this year's draft.
Kyle Williams played excellent at nose tackle last season, and he will continue to be the anchor of the line. Torrell Troup played decent as a rookie, and gives them solid depth behind Williams. The Bills are lacking an impact pass rusher, so this is another position they must address. Arthur Moats is a nice player, but he isn't a top notch pass rusher.
Shawne Merriman can be that guy, but he hasn't proven that he can stay healthy in recent seasons. Paul Posluszny and Akin Ayodele are a very solid pairing at defensive tackle, but the depth behind them is lacking. Leodis McKelvin and Drayton Florence are a decent tandem at cornerback, and Terrence McGee is a pretty good backup. However, the depth behind those guys is severely lacking. Jairus Byrd and Donte Whitner are a top duo at safety, and George Wilson is a much better than average backup at safety.
2010 Draft Recap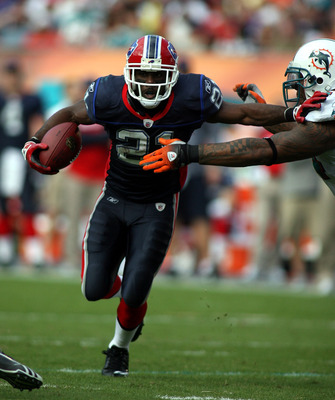 Marc Serota/Getty Images
1. (9) RB C.J. Spiller, Clemson: Spiller did not have the impact that was expected of him, and he needs to have a better year next year to justify his draft position. 14 GP/ 1 GS
2. (41) DT Torrell Troup, Central Florida: He played well in a rotational role, but he will have a bigger role in 2011. 15 GP/ 1
3. (72) DE Alex Carrington, Arkansas State: Carrington didn't get a lot of playing time, and he looked lost when he did actually get out on the field. 9 GP/ 0 GS
4. (107) WR Marcus Easley, Connecticut: Easley spent the entire season on injured reserve, and he'll get a chance to make an impact next season. 0 GP/ 0 GS
5. (140) OT Ed Wang, Virginia Tech: He didn't play much last season, and I'm not sure if he has the ability to develop into a starting offensive tackle. 6 GP/ 0 GS
6. (178) OLB Arthur Moats, James Madison: He was a pleasant surprise last season, and he will contend for the starting position at outside linebacker in 2011. 15 GP/ 4 GS
6.. (192) OLB Danny Batten, South Dakota State: He missed the entire season after getting injured in training camp. 0 GP/ 0 GS
7. (209) QB Levi Brown, Troy: He only got into one game, but at this point he is nothing but a long term project. 1 GP/ 0 GS
7. (216) OG Kyle Calloway, Iowa: He was expected to compete for a backup role, but he was released in training camp. 0 GP/ 0 GS
Summary: This draft class was very disappointing in its first season. Spiller didn't make much of an impact, and he doesn't look like a full time player to me. Troup and Moats made a decent impact in limited playing time, but the rest of the class contributed basically nothing to the team last season.
Grade: D-
Team Need: Offensive Tackle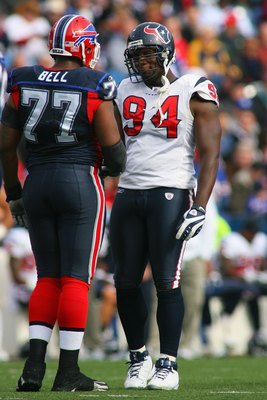 Rick Stewart/Getty Images
The offensive tackle position is the biggest concern in my opinion for this team. Demetrius Bell didn't play horribly last season, but he has no business being at left tackle. I think that he would make a solid right tackle, and he may be moved to that position next season. The right tackle position saw four different players start there last season, so it would make sense to move Bell to that position.
However, the Bills can't justify moving Bell to the right side unless they have a suitable player to replace him at left tackle.
Potential Offensive Tackle Targets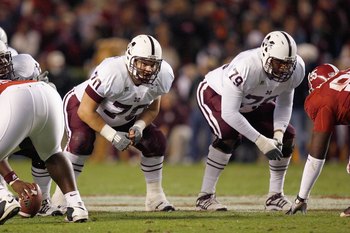 Kevin C. Cox/Getty Images
Round 1: Derek Sherrod, James Brewer, Marcus Cannon, Ben Ijalana
Round 3: Orlando Franklin, Marcus Gilbert, James Carpenter, Lee Ziemba
Round 4: Chris Hairston, Joe Barksdale, DeMarcus Love, Jason Pinkston
The Bills won't be able to take a tackle in Round 1, as any player they could take there would be a huge reach unless they move down. I think Brewer would be a perfect fit for them, as he could come in right away and be an upgrade over Demetrius Bell protecting the quarterback's blind side.
Team Need: Quarterback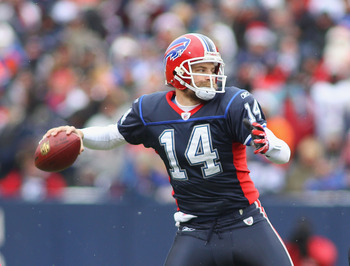 Rick Stewart/Getty Images
The Bills are missing a franchise quarterback, and they have been for a long time. Ryan Fitzpatrick is best suited for a backup role, and he is not the type of player who can lead his team to the playoffs. The Bills will not go anywhere as a franchise unless they can find a new long-term quarterback. They may go the free agent route this offseason, but they will also strongly consider a quarterback in Round 1 or 2.
The Bills will strongly consider a quarterback in round one, but the team seems to have a lot of confidence in Ryan Fitzpatrick, so it'll be interesting to see what they do.
Potential Quarterback Targets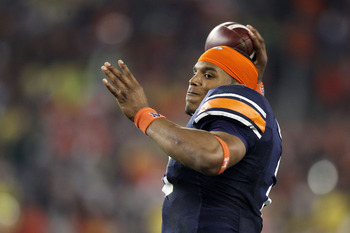 Christian Petersen/Getty Images
Round 1: Cam Newton, Blaine Gabbert
Round 2: Colin Kaepernick, Ryan Mallett, Andy Dalton, Christian Ponder
Round 3: Ricky Stanzi
The Bills will take a hard look at Newton and Gabbert, but I get the feeling that they will go in a different direction on Thursday. They can wait until Round 2 and get a franchise quarterback, and I think that Mallett would be a good fit for them in Round 2.
Team Need: Outside Linebacker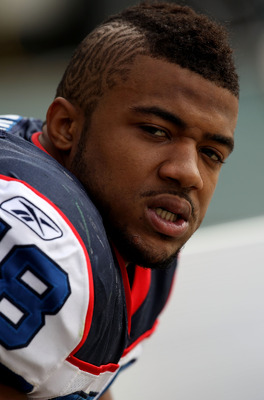 Jonathan Daniel/Getty Images
The Bills don't have a lot of talent at this position, and they need to add some better pass rushers to make their 3-4 defense more affective. Aaron Maybin is looking to be a gigantic bust, as he doesn't have a single sack in his two seasons in the league. Arthur Moats showed some solid ability, but he isn't the impact pass rusher that the Bills need.
Shawne Merriman could be that impact pass rusher they are looking for, but his inability to stay healthy is concerning.
Potential Outside Linebacker Targets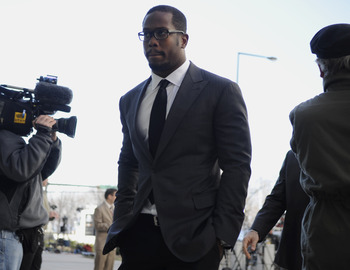 Hannah Foslien/Getty Images
Round One: Von Miller, Robert Quinn
Round Two: Jabaal Sheard, Brooks Reed, Dontay Moch
Round Three: Jeremy Beal, Sam Acho
Round Four: Cliff Matthews
The Bills will strongly consider Miller in round one, as he would instantly give them a top notch pass rusher. They may take a different position in round one, but they can still find a solid player such as Reed or Acho in round two or three.
Team Need: Wide Receiver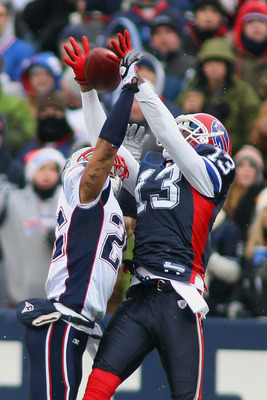 Rick Stewart/Getty Images
The Bills' receiving corps looked pretty impressive overall last season. Steve Johnson emerged as a potential number one receiver, and they had a few rookies makes some decent impacts. However, Lee Evans is due a lot of money this season, and he may not be back next year because of it. If he isn't back the Bills will need to find a replacement for him in the starting lineup.
This won't be a top need heading into next season, but it is something the Bills should consider if they plan on releasing Evans.
Potential Wide Receiver Targets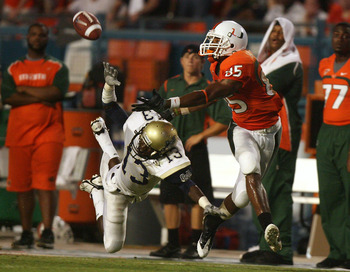 Doug Benc/Getty Images
Round Two: Leonard Hankerson, Greg Little, Torrey Smith, Titus Young
Round Three: Vincent Brown, Greg Salas, Niles Paul, Dwayne Harris
Round Four: Edmund Gates, Cecil Shorts, Jeremy Kerley
The Bills won't likely consider a receiver in round one, but they surprised me last season by taking a running back in round one, so it wouldn't completely shock me if they took A.J. Green in round one. Hankerson would be an excellent addition in round one, and he would create a very solid pairing with Steve Johnson in the starting lineup.
Team Need: Defensive End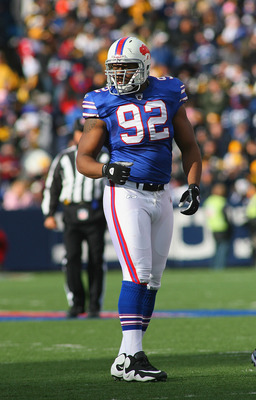 Rick Stewart/Getty Images
This position is a huge weakness on this defense, especially now that Marcus Stroud has been released. The Bills took Alex Carrington in the third round to become a future starter, but he didn't show a lot of ability last season. The Bills can't count on him to become a solid starter next season. The Bills will likely take a defensive end early on in the draft.
The run defense suffered last season, and that can be attributed to the lack of quality defensive linemen, specifically the defensive ends.
Potential Defensive End Targets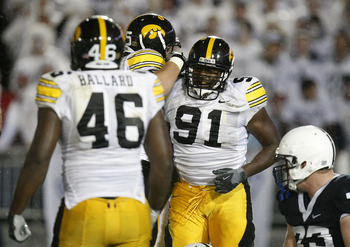 Gregory Shamus/Getty Images
Round One: Marcel Dareus, Nick Fairley
Round Two: Christian Ballard, Allen Bailey, Cameron Heyward, Stephen Paea, Marvin Austin
Round Three: Jarvis Jenkins, Terrell McClain
Round Four: Cedric Thornton, Lawrence Guy
Dareus and Fairley will be very tempting in round one, but I think that the Bills have a couple bigger needs that will most likely lead to them waiting until at least round two to take a lineman. Heyward or Ballard would be solid picks, who would instantly become the best defensive end on the roster.
Other Possible Needs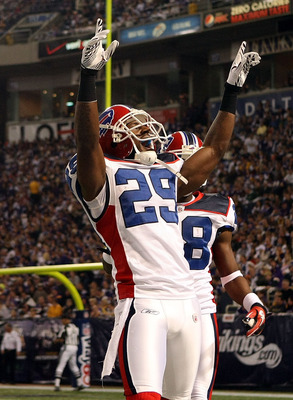 Nick Laham/Getty Images
Tight End: This unit is in need of a major overhaul, as the Bills simply cannot continue to rely on David Martin and Jon Stuper to produce as the starting tight ends.
Cornerback: Leodis McKelvin and Drayton Florence are a solid starting duo, but Florence is a free agent and there isn't much depth aside from Terrance McGee.
Inside Linebacker: Paul Posluszny and Akin Ayodele are solid at the starting inside linebacker positions, but there isn't much depth behind him.
Team Draft Strategy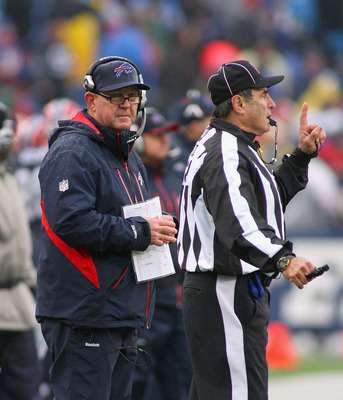 Rick Stewart/Getty Images
The Bills need to use this draft to continue to add new personnel for their 3-4 defense. They didn't have the right players last year, which is why the defense was so unsuccessful. They need at least one impact pass rusher in this draft, as well as another run stuffing defensive lineman. The defense will likely be the unit that the Bills target the most in the draft on Thursday.
The other glaring need is the lack of a franchise quarterback, and this team will go nowhere unless they can find a franchise signal caller. The Bills can't afford to keep passing on top quarterbacks, as it has really set their franchise back. However, they also need to find a new left tackle to protect that franchise quarterback. This team doesn't look like they have a lot of promise for next season, and I expect to see them picking in the top five again next season.
Previous 2011 NFL Team Draft Takes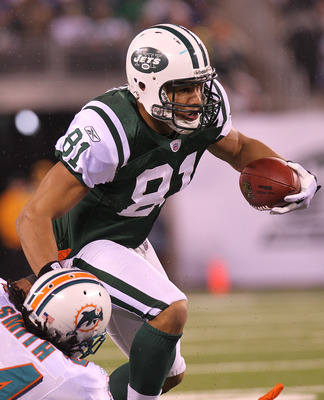 Nick Laham/Getty Images
Keep Reading

Buffalo Bills: Like this team?