2011 NFL Mock Draft: Cincinnati Bengals' Draft Take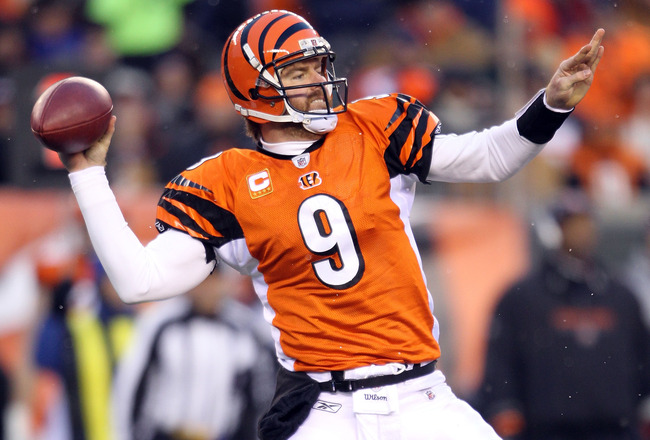 Andy Lyons/Getty Images
The Cincinnati Bengals had an extremely disappointing season in 2010, and I am surprised Marvin Lewis kept his job.
They have a lot of question marks heading into next season, and it's possible that a couple of long-time stalwarts in Cincinnati, namely Carson Palmer and Chad Ochocinco, will not return next year. The Bengals have a lot of talent on their roster; they just have to play better than they did last year.
Palmer has been the franchise quarterback for many years, but he didn't look very impressive last season, and he may be going downhill. He has said he doesn't want to play for the Bengals ever again, so they may have to start searching for a long-term option if they let him go.
Cedric Benson is a solid running back, but he is currently a free agent, and he may also not be back in Cincinnati. There isn't a whole lot of depth behind him, so they may be in need of a new starting running back.
Chad Ochocinco is not the same player he once was, and the Bengals will most likely send him packing before next season. Terrell Owens had a nice season last year, but he won't be back with the team in 2011. Jordan Shipley and Jerome Simpson are two nice young receivers to build around.
Jermaine Gresham performed well last season at the tight end position, and he will be a big part of the offense moving forward.
The offensive line is suspect, where only Andrew Whitworth is a reliable starter. Kyle Cook and Bobbie Williams are solid players too, but the rest of the line could use some upgrades.
The defensive line struggled at the beginning of last season, but they really started to show some improvements down the stretch. Carlos Dunlap and Michael Johnson are both pretty good pass-rushers, but the depth behind them is questionable due to Antwan Odom's injury problems.
The defensive tackle position is set with Domata Peko, Pat Sims and Geno Atkins being the main contributors.
Keith Rivers and Rey Maualuga are two solid young linebackers who will man two of the three linebacker spots. Dhani Jones led the team in tackles, but he is getting older and is a free agent. I don't expect him to be back next season, so the team will have to find a replacement for him.
Jonathan Joseph is a free agent, but I don't expect the Bengals to let him get away. He makes up one part of a very good cornerback tandem with Leon Hall, and Adam "Pacman" Jones is a solid backup when he is healthy. Reggie Nelson was impressive last season after being brought in via trade. Roy Williams is solid in run-defense, but he is a liability in coverage, so the Bengals may decide to bring in some competition for him.
2010 Draft Recap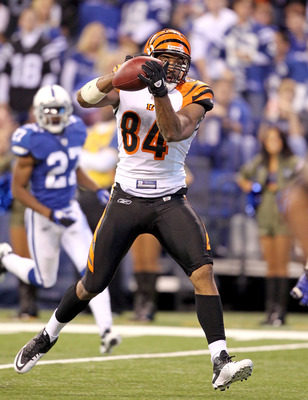 Andy Lyons/Getty Images
1. (21) TE Jermaine Gresham, Oklahoma: Gresham had a very good rookie season, and he became the most reliable target for Carson Palmer; 15 GP/10 GS.
2. (54) DE Carlos Dunlap, Florida: He had a very productive season last year, and he emerged as the Bengals' top pass-rusher; 12 GP/0 GS.
3. (84) WR Jordan Shipley, Texas: Shipley is a very good weapon in the slot, and he should have an even bigger role next season; 15 GP/4 GS.
3. (96) CB Brandon Ghee, Wake Forest: Not much of a factor last season, but he will get an opportunity to make more of an impact next year; 6 GP/0 GS.
4. (120) DT Geno Atkins, Georgia: Atkins is a pretty solid pass-rusher from the defensive tackle position, and he will contend for the full-time starting spot next season; 16 GP/1 GS.
4. (131) OLB Roddrick Muckelroy, Texas: A solid reserve lineman who will make most of his impact on special teams; 14 GP/0 GS.
5. (152) OG Otis Hudson, Eastern Illinois: Had a red-shirt season in 2010, as he spent the entire year on the practice squad; 0 GP/0 GS
6. (191) WR Dezmon Briscoe, Kansas: He was signed off of the practice squad by the Buccaneers, and he looks like he will be a solid back-up receiver; 2 GP/0 GS
7. (228) OG Reggie Stephens, Iowa State: He made the team as a reserve lineman, but he didn't make it into any games; 0 GP/0 GS
Summary: This group showed some talent, especially the top three picks. Gresham and Shipley will be long-time contributors in the Bengals; offense. Dunlap and Atkins are both future starters along the D-line, but Ghee must make more of an impact next season.
Grade: B-
Team Need: Wide Receiver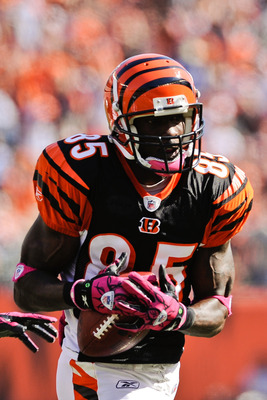 Jamie Sabau/Getty Images
The Bengals could look very different at the wide receiver position next year. Chad Ochocinco just isn't the top threat he used to be. The Bengals may have had enough of him, and it's possible he is traded or released before the season starts. Terrell Owens had a pretty solid year, but he is a free agent, and I don't see the Bengals bringing him back.
Jerome Simpson and Jordan Shipley give the Bengals a solid couple of receivers, but they are lacking a true No. 1 threat at the position.
Potential Wide Receiver Targets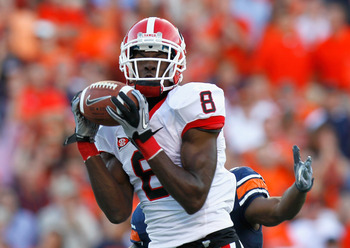 Kevin C. Cox/Getty Images
Round 1: A.J. Green, Julio Jones
Round 2: Torrey Smith, Greg Little, Jon Baldwin, Titus Young, Leonard Hankerson
Round 3: Jerel Jernigan, Randall Cobb, Vincent Brown, Greg Salas, Niles Paul
Round 4: Edmund Gates, Cecil Shorts, Austin Pettis
I think it is very likely that the Bengals take A.J. Green in Round 1 if he is available. He would give them an instant No. 1 receiver who can be an excellent weapon in the passing game.
They can still get someone like Hankerson or Baldwin in Round 2, who can most likely become a No. 1 receiver.
Team Need: Quarterback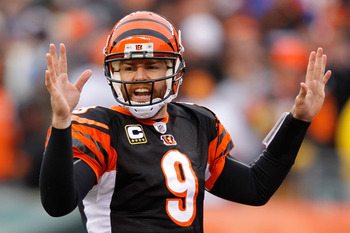 Matthew Stockman/Getty Images
It'll be interesting to see how the Carson Palmer situation will work out.
He has stated he doesn't want to return to Cincinnati, but so far it seems as if the Bengals will refuse to trade him. Either way, I think the Bengals should draft a quarterback in the early-to-middle rounds so they are prepared to continue on without Palmer.
If Palmer is traded or if he decides to retire, the Bengals will need to be ready because they have nobody else currently on the roster that is ready to start full time.
Potential Quarterback Targets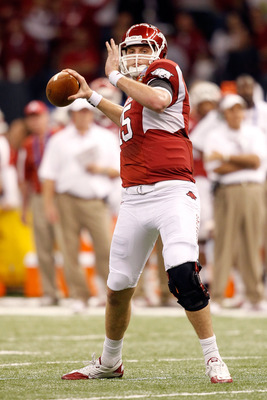 Matthew Stockman/Getty Images
Round 1: Cam Newton, Blaine Gabbert
Round 2: Ryan Mallett, Christian Ponder, Andy Dalton, Colin Kaepernick
Round 3: Rickey Stanzi
The Bengals may not select a quarterback at all if they feel Palmer is bluffing on his threat to never play for Cincinnati again. They can probably wait until Round 2 to select somebody like Mallett or Ponder to become the quarterback of the future.
Team Need: Defensive End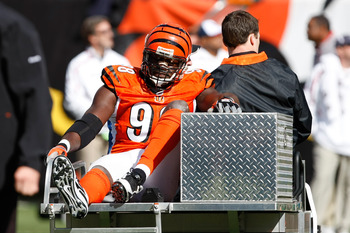 Scott Boehm/Getty Images
Carlos Dunlap emerged as the Bengals' best pass-rushing threat, and he should have one starting spot locked down for years to come. Michael Johnson is also a solid player, but the Bengals don't have much behind those two. They would if Antwan Odom could stay healthy, but the Bengals cannot count on that to happen for a full season at this point.
I don't see this as a serious need, unlike a lot of other people, but I do think they need to take one at some point in this draft to improve the depth and overall quality of this position.
Potential Defensive End Prospects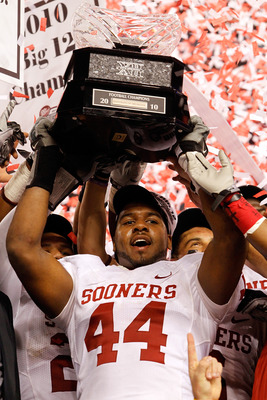 Tom Pennington/Getty Images
Round 1: Da'Quan Bowers, Robert Quinn
Round 2: Jabaal Sheard, Brooks Reed
Round 3: Sam Acho, Jeremy Beal, Greg Romeus
Round 4: Cliff Matthews
Round 5: Ricky Elmore, Ryan Winterswyk
You can never have too many quality pass-rushers, so Bowers and Quinn will be considered in the first round, especially if A.J. Green is off the board.
A player like Matthews or Elmore in the fourth or fifth round would help to improve the depth at this position.
Team Need: Safety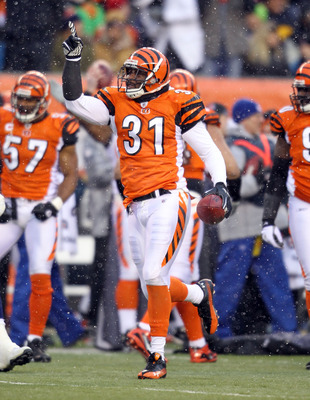 Andy Lyons/Getty Images
Roy Williams is a very good safety in terms of run coverage, but he is a liability in coverage. He is a free agent, and while I do think he will be brought back, the Bengals will need to improve the depth, as top back-up Chinedum Ndukwe is also a free agent.
The Bengals could also decide to bring Williams back as a part-time player, but they would need a safety who is better in pass coverage.
This is somewhat of a secondary need in my opinion, as I think the Bengals will want to bring Williams back as the starter due to his ability to stop the run.
Potential Safety Targets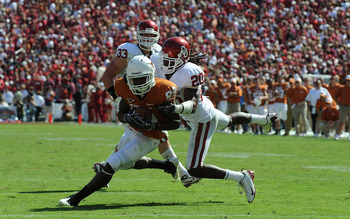 Ronald Martinez/Getty Images
Round 2: Rahim Moore, Jaiquawn Jarret
Round 3: Tyler Sash, DeAndre McDaniel, Ahmad Black
Round 4: Quinton Carter, Robert Sands, Jeron Johnson, Deunta Williams
Round 5: Da'Norris Searcy, Joe Lefeged, Will Hill
The Bengals will most likely look for a safety in the middle rounds to help out in the passing game. This position could be much higher on the priority list if Bengals' management decides they don't want to bring back Roy Williams.
Team Need: Offensive Guard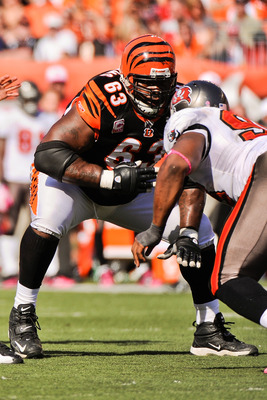 Jamie Sabau/Getty Images
The left guard position is a huge weakness along the offensive line, as Nate Livings isn't starting material. There is a possibility that former top pick Andre Smith could be moved to guard, but he hasn't shown any signs he will be an effective player in the NFL.
Evan Mathis could take over the left guard position, but he is a free agent, and he also has some concerns on whether or not he can stay healthy.
Potential Offensive Guard Targets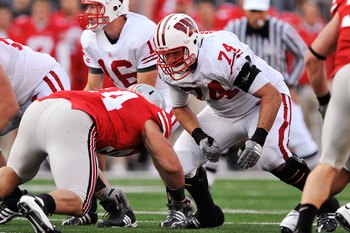 Jamie Sabau/Getty Images
Round 2: Clint Boling, Danny Watkins, Rodney Hudson, Marcus Cannon
Round 3: Will Rackley, John Moffitt
Round 5: Zach Hurd, Andrew Jackson, David Arkin
This could be higher on the priority list for the Bengals than many people may think because the run game wasn't as effective last season due to the porous offensive line. Moffitt would be a good fit in Round 3, but I think the Bengals will need to address this position at some point this offseason.
Other Possible Needs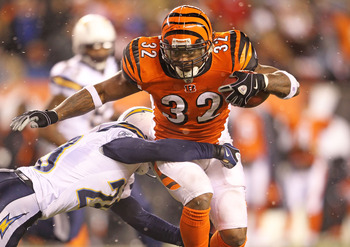 Andy Lyons/Getty Images
Running Back: Cedric Benson is a solid running back, but he is a free agent, and the Bengals may choose to move on without him.
Linebacker: Dhani Jones is heading toward the end of his career, and he is currently a free agent. The Bengals may want a younger option moving forward.
Offensive Tackle: Andrew Whitworth is solid on the left side, but Anthony Collins and former first-round pick Andre Smith have been ineffective at times on the right side.
Team Draft Strategy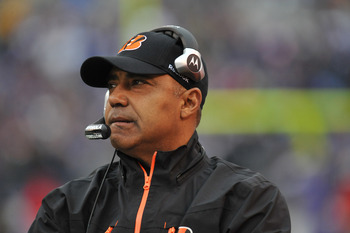 Larry French/Getty Images
The Bengals' main priority heading forward is to figure out what to do at the quarterback position. If they decide to give up on Carson Palmer, they will have to find a replacement either through the draft or free agency. The Bengals will also most likely have a much different look on offense next season, especially at the wide receiver position.
Cincinnati a much more talented team than what their record showed from last year, but they still have some major flaws they need to fix before next season. I think Carson Palmer will end up in Cincinnati for at least one more season, but they will still have to look for a long-term option at that position.
This could be a do-or-die season for Marvin Lewis in Cincinnati.
Previous 2011 NFL Team Draft Takes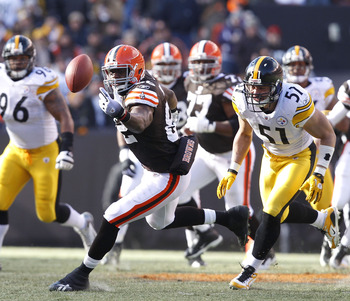 Matt Sullivan/Getty Images
Keep Reading

Cincinnati Bengals: Like this team?